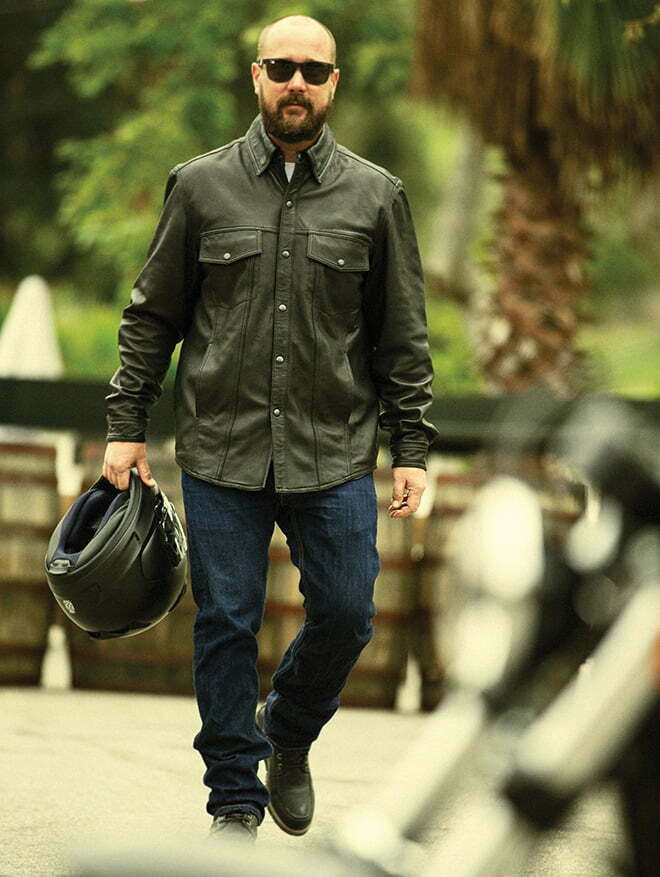 I've been testing the First Manufacturing Milestone leather shirt, a comfortable and stylish moto shirt for many riding types, since last summer, and it's by far my go-to for multiple types of rides. First off, the Milestone is stylie. I'm not a fan of over-the-top doodads on anything, especially riding gear, and this jacket's simplicity is what gets my vote for when it comes to raiding the closet.
The Milestone is a high-quality, lightweight leather shirt made from soft 0.8–1mm lambskin, and its supple feel provides a comfort like no other every time I slip it on. Featuring six easy front button snaps to make removing and wearing it a breeze, the Milestone also features two snap-enclosure breast pockets, two external waist pockets, and two deep inside pockets for storing multiple belongings. The soft satin liner is also very comfy, and I especially like how it feels against my skin. It's available in sizes small through 5XL in your favorite color (black).
---
The cuffs also feature two snap adjustments for varying wrist diameters, but I find these to be right in the middle of where I need them to be. I find myself scaling up to get nongauntlet style gloves under the cuff, and using the tighter snap with larger, longer gloves. I've worn the Milestone in various conditions (except rain). It does well with heat in that air still finds its way in through the front snap enclosures, but when the temps drop, it's definitely best to layer up a tad. Not that you need to rock a snow parka underneath, but a comfortable flannel easily does the trick.
Overall, for $170, the First Manufacturing Milestone is a must-have for any rider's gear repertoire.