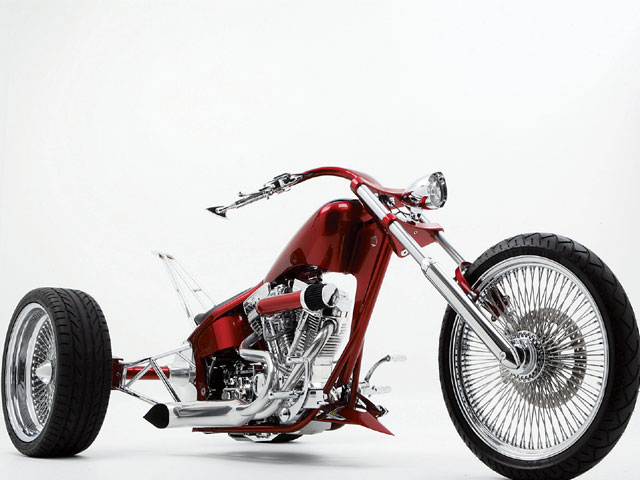 Very few things make as bold a statement in the custom motorcycle world as a trike. Two wheels will always be two wheels, but add a third one, and things really start changing! Knowing his next bike on an already long list would have the mythical third wheel, John Nicodemus chose renowned builder Doug Keim to bring it to life. Doug recognizes an opportunity when he sees it and quickly realized that John's vision of a stripped-down street rod of a trike would not only be an interesting build but one hell of a cool custom.
Doug's shop is called Creative Cycles, and besides one-off motorcycles, he produces a complete line of parts and accessories. Amongst them is a Softail-style chassis he calls the Icon that both he and John agreed would lend itself nicely to this build. Each frame Doug builds is a handmade work of art; this project would be even more so. As trick as the chassis is, the real custom work resides in the swingarm. Naturally, it was built from scratch and also includes a unique differential and axle, which pull on Legends air shocks. A set of Doug's own custom-made forks rounds out the suspension setup. As you might expect, the wheels are just as exceptional as the trike, with a 21×3.5-inch hoop laced to a billet hub via 100 spokes up front. Rears are 20×8.5, running 150 spokes each, and are attached to the rear axle with traditional knockoffs.
Power comes from a breathed-on TP 121-inch motor and is fed through a Baker five-speed. Minimalist bodywork is from the Keim catalog and was coated in candy red and black by Bob Schroeder of Dragon Studios to further enhance the statement the trike already makes. The end result has caused many double-takes. In fact, so impressive were the results that Creative Cycles has repeatedly borrowed the trike back for shows and TV appearances. It might be time for Doug to start building his own.
| | |
| --- | --- |
| SPEC SHEET | |
| **OWNER ** | John Nicodemus |
| **SHOP ** | Doug Keim Creative Cycles (DKCC) |
| **PHONE ** | (732) 751-1403 |
| **WEBSITE ** | www.creativecycles.com |
| **YEAR/MAKE/MODEL ** | '05/Trike |
| **FABRICATION ** | Doug Keim/Jeff Johnson/ |
| ** ** | Rich Young |
| **ASSEMBLY ** | Doug Keim/Jeff Johnson/ |
| ** ** | Rich Young |
| **BUILD TIME ** | Nine months |
| | |
| --- | --- |
| ENGINE | |
| **YEAR/TYPE/SIZE ** | '04/TP/121ci |
| **BUILDER ** | TP |
| **CASES ** | TP |
| **FLYWHEELS ** | TP |
| **RODS ** | TP |
| **PISTONS ** | TP |
| **CYLINDERS ** | TP |
| **HEADS ** | TP |
| **ROCKERS ** | TP |
| **ROCKER BOXES ** | TP |
| **PUSHRODS ** | TP |
| **CAM ** | TP |
| **LIFTERS ** | JIMS |
| **CARBURETOR ** | Mikuni |
| **AIR CLEANER ** | DKCC |
| **EXHAUST ** | DKCC |
| | |
| --- | --- |
| TRANSMISSION | |
| **YEAR/TYPE ** | '04/Baker five-speed |
| **CASE ** | Baker |
| **CLUTCH ** | BDL |
| **PRIMARY ** | BDL |
| **GEARS ** | DKCC |
| | |
| --- | --- |
| FRAME | |
| YEAR/TYPE | '05/Creative Cycles Icon Softail |
| **RAKE ** | 45 degrees |
| **STRETCH ** | 5 inches out |
| | |
| --- | --- |
| SUSPENSION | |
| **FRONT ** | '05/DKCC 41mm |
| **LENGTH ** | 4 inches over |
| **TRIPLE-TREES ** | DKCC Billet by Mean Street |
| REAR | |
| **SWINGARM ** | DKCC |
| **SHOCKS ** | {{{Legend}}} Air |
| | |
| --- | --- |
| WHEELS, TIRES, AND BRAKES | |
| **FRONT ** | DNA |
| **BUILDER/SIZE ** | DNA/21x 3.5 |
| **TIRE ** | Metzeler/120/70/21 |
| **CALIPER ** | RevTech |
| **ROTOR ** | DNA |
| **REAR ** | |
| **BUILDER/SIZE ** | DKCC/20×8.5 |
| TIRE | Bridgestone 255/35/20 |
| **CALIPER ** | Brembo |
| **ROTOR ** | DKCC |
| | |
| --- | --- |
| FINISH/PAINT | |
| **COLORS ** | Candy Red and Black |
| **PAINTER ** | Bob Schroeder/Dragon Studios |
| **MOLDING ** | Bob Schroeder/Dragon Studios |
| GRAPHICS | Bob Schroeder/Dragon Studios |
| **CHROME PLATING ** | Floyd Williams/Steve Zima |
| | |
| --- | --- |
| ACCESSORIES | |
| **FRONT FENDER ** | DKCC |
| **GAS TANK ** | Matt Hotch Customs/DKCC |
| **OIL TANK ** | DKCC |
| **HANDLEBARS ** | DKCC |
| HAND CONTROLS | Performance Machine |
| **FOOT CONTROLS ** | UMI Racing |
| **HEADLIGHT ** | Headwinds |
| MIRRORS | PYO |
| **GAUGES ** | {{{Dakota}}} Digital |
| **FOOTPEGS ** | Yaffe |
| **SEAT ** | DKCC |
| **LICENSE MOUNT ** | Arlen Ness/DKCC |
| TURN SIGNALS | Arlen Ness |
| TAILLIGHT | Arlen Ness |