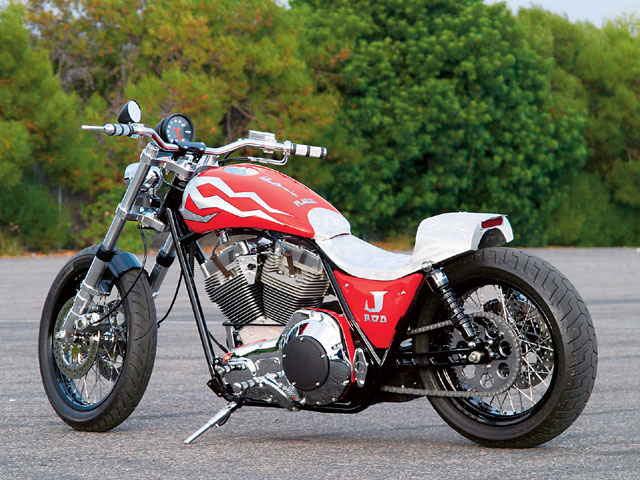 Although no one may ever know for sure if Elvis has left the building, we can certainly authenticate his love for the Harley. Decades of photos of the big E on his Big Twin, as well as movie appearances and even a cover of Harley's own Enthusiast magazine (appearing in 1956), have left the two icons inextricably linked in history. His original bikes are considered by some to be the pinnacle of H-D collectibles. Several are ensconced in Graceland Manor, and the Factory itself retains a fine example (a '56 Harley-Davidson KH). Persistent urban legend even has vintage barn-fresh models sporting some sort of Elvis inscription turning up all the time, but as of yet their existence remains steeped in the same sort of legend that surrounds the King himself.
Always on the lookout for rare treasures, we heard that a Presley bike had been spotted in Northern California, Elvis inscription and all. Our team of investigative reporters was immediately dispatched to track it down. Upon our arrival in Penngrove, CA, it was readily apparent we were on the right track. The building was marked "Elvis' Place," so naturally we assumed the bike would have to be there. No attempt had been made to hide the fabled machine, and we spotted it immediately. The Harley was clearly marked with the rumored script, although it seemed to be of a decidedly more modern origin then we had anticipated. Things started looking a little hinky. A sit-down with the colorful proprietor (who insisted we call him Elvis) helped iron out most of the confusion.
Elvis' Place was not the mythical treasure trove of long-hidden celebrity motorcycles but, as it turned out, was indeed a wealth of OEM and custom bike parts. This seemed just as interesting to us, so we stuck around. The bike itself was also really cool in a sort of anti-glitz road-bomber sort of way. Elvis explained that his specialty was second-hand Harley parts and that he catered to the true garage builder who was blessed with ample creativity more than ample cash. The FXR-style bike we were ogling was an example of just such a build. Utilizing stock from the 5,000 square feet of used and surplus parts that surrounded him, Elvis created the eclectic "J-Rod" in a mere 90 days with the help of his good friend and motorcycle guru Jeff Smith.
We're told that the "J" in J-Rod stands for junk, although this machine is anything but. The compact drag-race stance is courtesy of a Chopper Guys Pro-Street-style frame and a traditional-length Storz frontend, but the minimalist look is all Elvis. Eschewing such clutter as fenders, blinkers, and even seats, the bike has a pared-down Mad Max feel that probably would have confused the singing Elvis. The bike-building Elvis sees it as an expression of what a custom can be without having to break the bank. J-Rod is powered by an 88ci Twin-Cam motor built from a collection of H-D and S&S; components, linked to a Harley trans by an H-D primary ('cause that's what he had!). The unique shift linkage of the FL primary, combined with mid-mounted pegs, necessitates an upside-down shift pattern, but that hasn't seemed to slow it down any. Inhalation is done through a 42mm Mikuni and a Northeast Machining Velocity stack. Spent gasses exit via a modified Thunder Header wrapped in heat tape, further enhancing the vintage bomber look.
Rolling stock is also a bit nontraditional, with a wire-spoke 19-incher up front and an 18-inch rim out back, both in subtle black finish and wrapped with Avon and Dunlop rubber. The front and rear brakes are also of different origins, with a black-anodized Performance Machine unit in the rear and a pair of old school (but polished) single-piston Harley units grabbing PM discs up front. Things get even more interesting when you lay an eyeball on the bodywork. The Midwest Motorcycles fuel tank is topped with an aircraft-style cap, the front fender is just a fork brace, and the tail section is something they hand-pounded in-house. The seat is raw metal and unpadded but sporting a trap door (you have to put your gloves somewhere). You can't help but think, "Man, I could build this," and that's just what the Big E wants to hear. Not only does it look as if Elvis is still in the building, but the building is full of cool old parts, and he still loves Harleys!
| | |
| --- | --- |
| SPEC SHEET | |
| GENERAL | |
| OWNER | ELVIS |
| SHOP | ELVIS' PLACE |
| PHONE | (707) 794-8687 |
| WEBSITE | WWW.ELVISPLACE.COM |
| YEAR/MAKE/MODEL | '05/J-ROD |
| FABRICATION | ELVIS' PLACE |
| ASSEMBLY | ELVIS' PLACE |
| BUILD TIME | THREE MONTHS |
| | |
| --- | --- |
| ENGINE | |
| YEAR/TYPE/SIZE | '04/TWIN-CAM/88CI |
| BUILDER | JEFF SMITH |
| CASES | S&S |
| FLYWHEELS | H-D |
| RODS | H-D |
| PISTONS | H-D |
| CYLINDERS | H-D |
| HEADS | H-D(WITH WORK BY "BEAN") |
| VALVES | H-D |
| ROCKERS | H-D |
| ROCKER BOXES | Stock H-D |
| PUSHRODS | Adj. H-D |
| PUSHROD TUBES | H-D |
| CAMS | SCREAMIN' EAGLE |
| LIFTERs | SCREAMIN' EAGLE |
| CARBURETOR | MIKUNI 42MM |
| AIR CLEANER | NORTHERN MACHINE |
| IGNITION | H-D |
| EXHAUST | ELVIS' PLACE |
| | |
| --- | --- |
| TRANSMISSION | |
| YEAR/TYPE | H-D/FIVE-SPEED |
| CASE | H-D |
| GEARS | H-D |
| CLUTCH | H-D |
| PRIMARY DRIVE | H-D |
| | |
| --- | --- |
| FRAME | |
| YEAR/TYPE | '05/CHOPPER GUYS PRO STREET |
| RAKE | 33 DEGREES |
| STRETCH | 2 INCHES |
| | |
| --- | --- |
| SUSPENSION | |
| FRONT | |
| LENGTH | STOCK |
| TRIPLE-TREES | CERIANI/STORZ |
| REAR | |
| SWINGARM | CHOPPER GUYS |
| SHOCKS | PROGRESSIVE SUSPENSION |
| | |
| --- | --- |
| WHEELS, TIRES, AND BRAKES | |
| FRONT | |
| SIZE | 19-INCH ALUMINUM RIM |
| TIRE/SIZE | AVON |
| CALIPERS | H-D |
| ROTORS | PM |
| REAR | |
| SIZE | 18-INCH ALUMINUM RIM |
| TIRE/SIZE | DUNLOP |
| CALIPER | PM FOUR-PISTON |
| ROTOR | RUSSELL |
| | |
| --- | --- |
| FINISH/PAINT | |
| COLOR | RED |
| PAINTER | LEE'S BODY SHOP |
| GRAPHICS | WARREN PERCELL |
| MOLDING | ELVIS' PLACE |
| POWDERCOATING | WEST COAST |
| | |
| --- | --- |
| ACCESSORIES | |
| FRONT FENDER | NONE |
| REAR FENDER | ELVIS' PLACE |
| GAS TANK & CAP | MIDWEST |
| OIL TANK | H-D |
| GAUGES | AUTO METER TACH |
| HANDLEBARS | FLANDERS |
| RISERS | ELVIS' PLACE |
| MIRRORS | NESS |
| HAND CONTROLS | JAY BRAKE |
| FOOT CONTROLS | H-D |
| FOOTPEGS | H-D |
| HEADLIGHT | HEADWINDS |
| SEAT | ELVIS' PLACE |