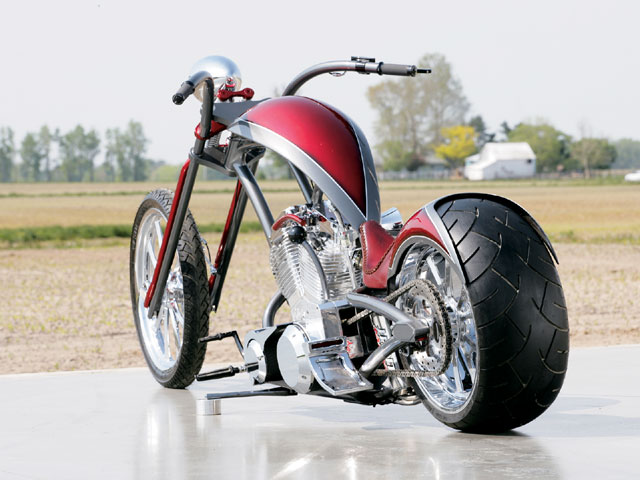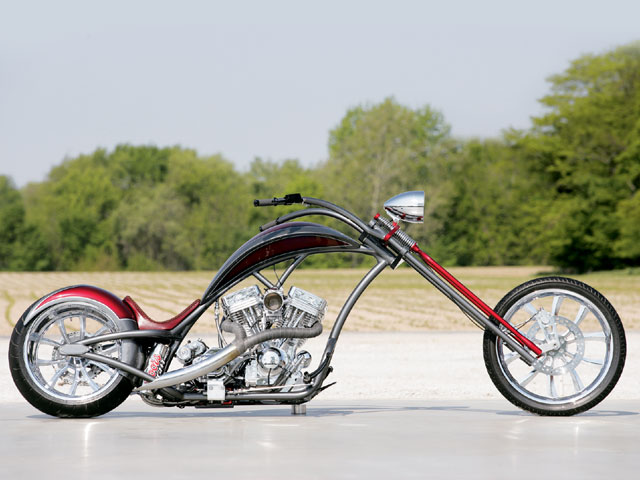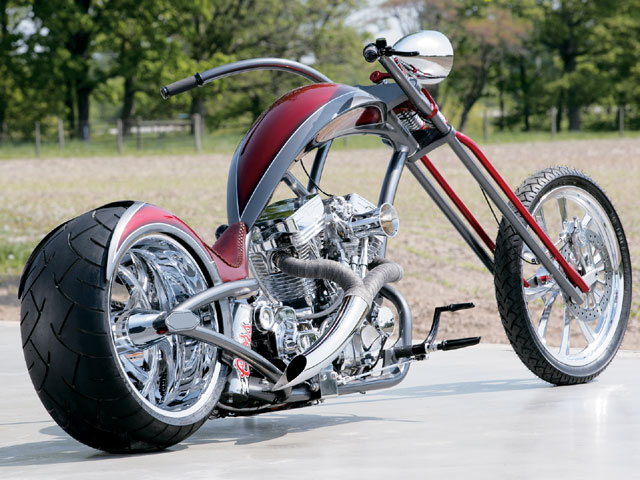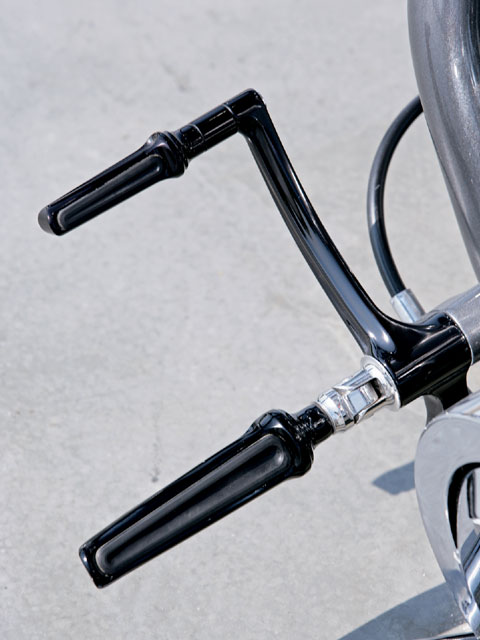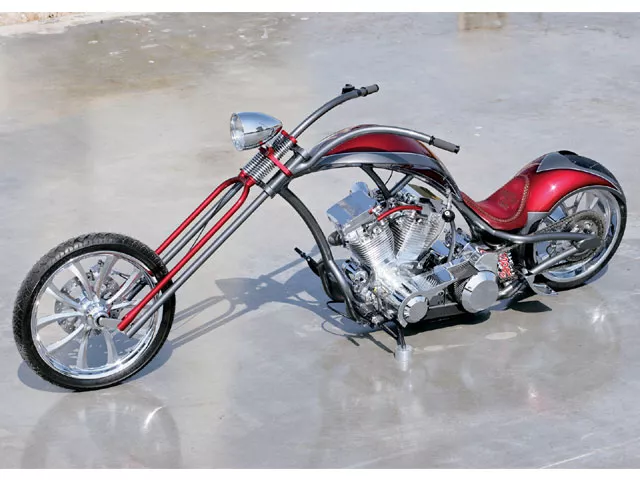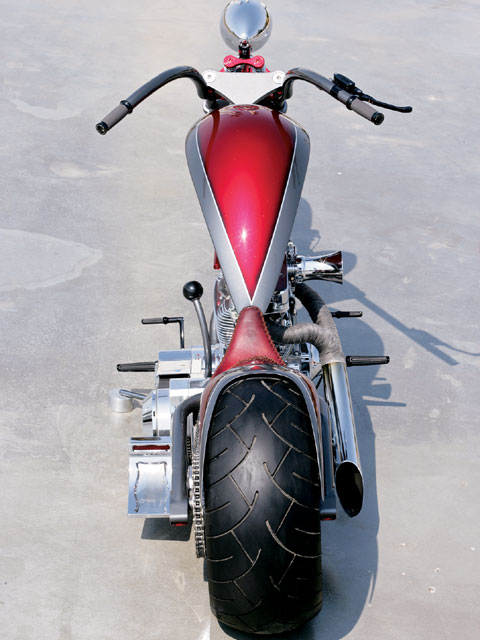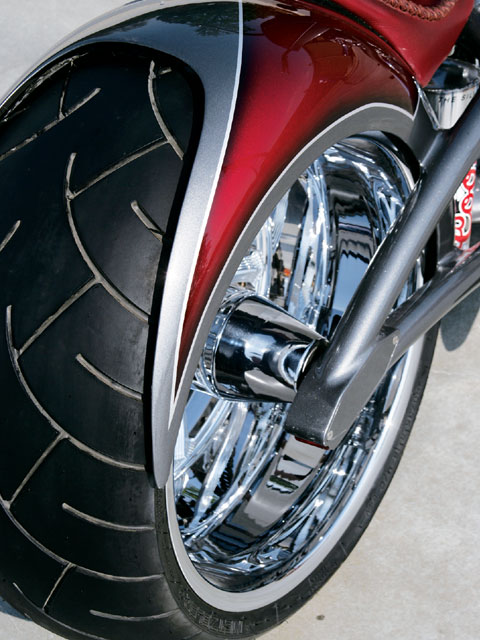 In an industry where builders are constantly pushing the envelope, creating something original is sometimes very difficult. Jake and Jerrod Walter of Walter Brothers Customs have tried to ignore what everyone else is doing in the motorcycle industry and just build what they like and what they feel flows.
This particular radical custom bike was built on a Redneck Engineering Curves platform, but that is where the similarities with any other Curves platform bike out there stop. Jake worked to make this his signature bike: A long, low, stretched-out chopper like no other.
One would think that Jerrod, the man behind the fabrication work, went to design school for some of the high-tech ideas he came up with for this Walter Brothers Customs original. In reality, he is just another Midwesterner who didn't see any bikes he liked, so he decided to build some himself. He and his brother Jake grew up farming in Illinois; Jake, an MMI graduate, handles all the mechanical aspects and Jerrod does all the fabrication. This is a full-time occupation for them, but they also find time to continue running the family farm that they were raised on. Learning values on the farm contributed greatly to their success. They were always told that almost anything can be handmade, and that if you wanted something done right, do it yourself. They rode dirt bikes growing up, but they didn't really get the custom motorcycle bug until 1999, when they were in their late teens. By their early 20s they were building show winners, and from there they have continued to push the limit of their builds from a design standpoint, and work on their fabrication skills.
Building a bike that is over 11 feet long takes a lot of preparation and thought to keep it proportional. There will obviously be spatial voids, but they need to be in all the right places; otherwise, the bike ends up looking like something was forgotten. With the frame and frontend being Redneck Engineering-based, Jake knew he would want to get his hands dirty and see if he could create a fuel tank that would accentuate the curvature of the backbone and the insane 6-inch stretch. It was radiused so that it matched the backbone completely and also took up just enough space to leave some light coming through the top motor mounts. With a bike that has 42 degrees of rake, 6 inches of stretch in the backbone, and 4 inches in the downtubes, reaching the handlebars could be a problem. Jake had a simple solution: He fabricated and machined several parts that fit right to the triple trees and came back in a smooth arc. This way the bars were comfortable and matched the lines of the rest of the bike with the proper clearances.
The drop seat aspect of this bike made for an unusual dilemma: Where do you put the oil bag and have enough capacity? Jake thought about going for the super-sleek bag, and then decided to go in the opposite direction. He knew it was going to be two cylinders next to each other, but initially they were going to run horizontally, like two barrel-type oil bags. It just didn't look right. Then he glanced over at the workbench where his favorite beverage was sitting: Coors Light. He decided right then that it would have two Coors Light cans for oil bags, and they fit perfectly with the theme of this less-is-more bike.
The rear fender was hand-fabricated, and instead of featuring a full wrap included a cutaway that revealed a good chunk of the 280 rear tire. The LED taillights are super-slick, hidden on the frame below the axle adjuster plates. The cables had to be hidden so they didn't distract from the front of the bike, so he opted for internal throttle and routed the brake line from the Performance Machine hand controls in the handlebars. The bike had a foot clutch that was actuated by a modified V-Rod foot control, and shifting came easy with a slick jockey shift setup. Jake opted for front and rear Weld Racing wheels that would add to the overall feel of the bike.
When it came time to decide on drivetrain components, Jake stuck with top-of-the-line products that went with the theme of the bike. He chose a TP 124-inch motor, Baker six-speed transmission, and a Primo beltdrive. After the bike was completely mocked up, it was torn down and sent out to paint. They wanted it to be a simple paint scheme with the Coors Light colors-gunmetal grey and red. The oil bags were painted to look like huge Coors cans and the rest of the bike got a coat of Gunmetal Grey with a Candy Apple red that was applied by Eric Rubul at Extreme Powdercoat and Paint. When each piece came back from paint, Jake couldn't wait to get his ride up and running. Everything came together just as planned after he worked on it a bit. He rode it and after just a few minutes on the bike, he was grinning ear to ear because it fit him perfectly and was like no other bike he had seen before. Of course, Jake came up with another idea for a bike, and now this one is leaving the stable to be replaced by a newer, wilder creation. Not bad for a couple of brothers who were just setting out to build something because they didn't like what else was out there.
Spec Sheet
| | |
| --- | --- |
| GENERAL | |
| OWNER | Jake Walters |
| SHOP | Walter Brothers |
| PHONE | (217) 971-0949 |
| YEAR/MAKE/MODEL | '05/Walter Brothers |
| FABRICATION | Walter Brothers |
| ASSEMBLY | Walter Brothers |
| BUILD TIME | Four months |
| | |
| --- | --- |
| ENGINE | |
| YEAR/MANUFACTURER | TP Engineering |
| SIZE | 124ci |
| BUILDER | TP |
| CASES | TP |
| CYLINDERS | TP |
| HEADS | TP |
| ROCKER BOXES | TP |
| CARBURETOR | Mikuni 45 mm |
| AIR CLEANER | TCD Velocity stack |
| EXHAUST | Martin Brothers |
| | |
| --- | --- |
| TRANSMISSION | |
| YEAR/TYPE | Baker Six-speed LSD |
| CASE | Baker |
| GEARS | Baker |
| CLUTCH | Primo |
| PRIMARY DRIVE | Primo |
| | |
| --- | --- |
| FRAME | |
| YEAR/MANUFACTURER | '05/Redneck Engineering |
| RAKE | 42 degrees |
| STRETCH | 4 inches downtubes, |
| | 6 inches backbone |
| SUSPENSION | |
| FRONT | Redneck Springer |
| LENGTH | 6-over |
| | |
| --- | --- |
| WHEELS, TIRES, AND BRAKES | |
| MANUFACTURER FRONT/TYPE | Weld |
| SIZE-WIDTH/HEIGHT | 21×2.5 |
| TIRE/SIZE | Metzeler |
| CALIPER | PM |
| ROTOR | Weld |
| MANUFACTURER REAR/TYPE | Weld |
| SIZE WIDTH/HEIGHT | 18×9 |
| TIRE/SIZE | Metzeler/280 |
| CALIPER | Exile |
| ROTOR | Exile |
| | |
| --- | --- |
| FINISH/PAINT | |
| COLOR(S) | Gunmetal grey, candy apple red |
| PAINTER | Extreme Powdercoat and Paint |
| GRAPHICS | Eric Rubul |
| MOLDING | Walter Brothers/Eric Rubul |
| | |
| --- | --- |
| ACCESSORIES | |
| REAR FENDER | Walter Brothers |
| GAS TANK(S)∩(S) | Walter Brothers Customs/Hotmatch |
| OIL TANK | Walter Brothers Customs |
| HANDLEBARS | Walter Brothers Customs |
| HAND CONTROLS | PM |
| FOOT CONTROLS | H-D V-Rod/Walter Brothers |
| FOOTPEGS | H-D |
| HEADLIGHT | H-D |
| TAILLIGHT | Thunder Cycles |
| LICENSE MOUNT | Thunder Cycles |
| SEAT | Chopper Seat |