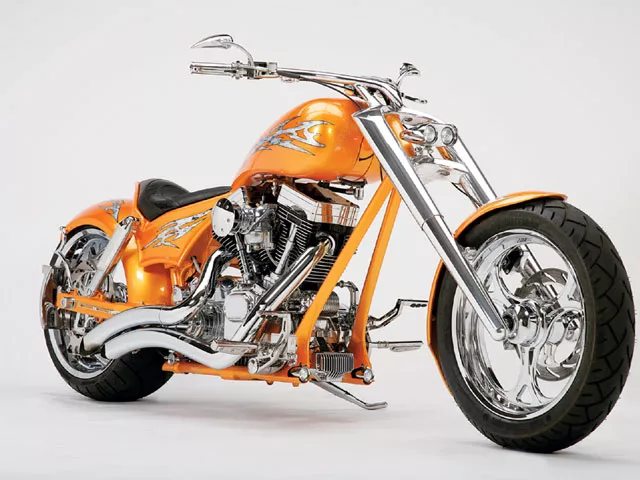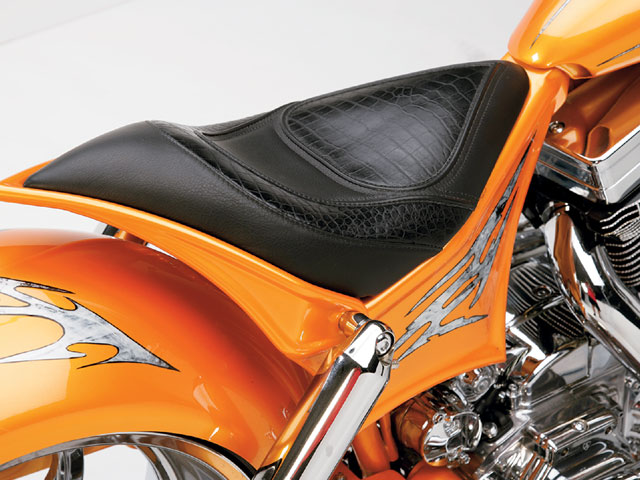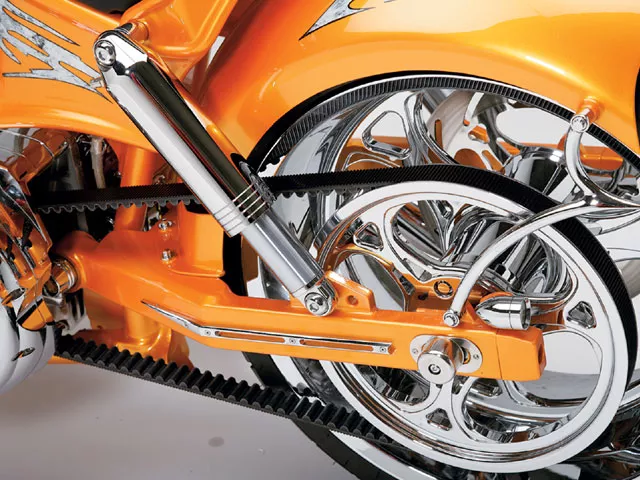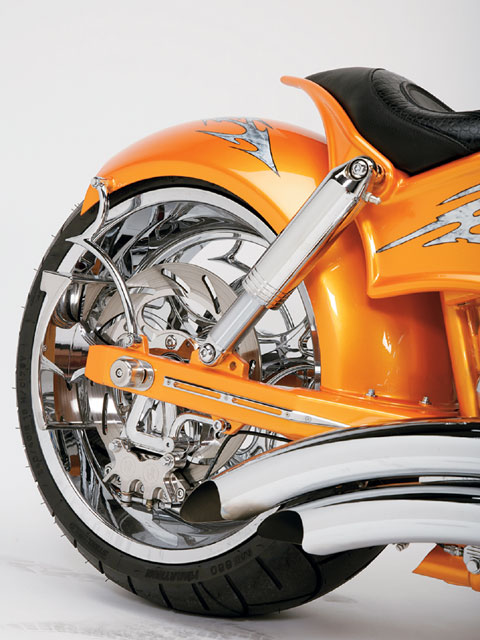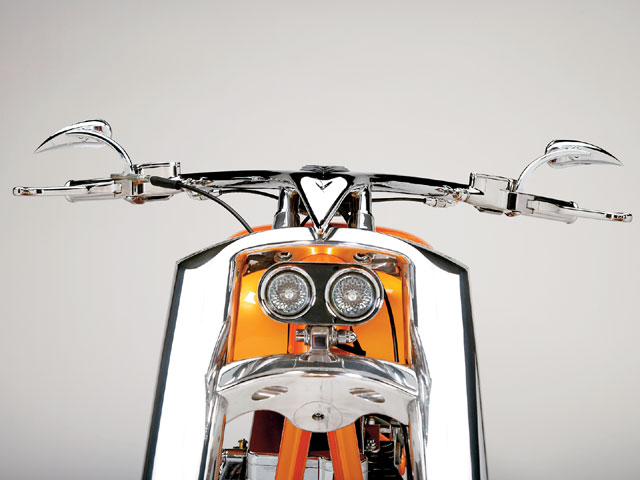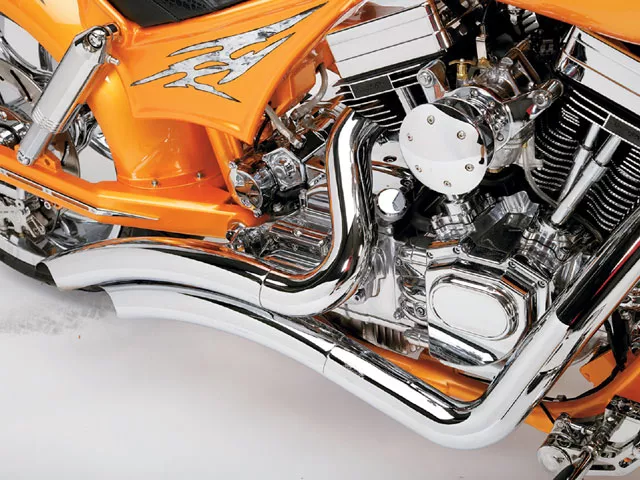 You could say that this is really the story of three bikes, not just the one in the photos. It began a couple of years back when Carolina Harley-Davidson created an Arlen Ness Y2K scoot for Morri Irvin. He fell in love with the rubber-mount bike, but as often happens with a great motorcycle, someone made him an offer he couldn't refuse. After the check cleared, Morri found himself with a pile of money but no ride.
This brings us to motorcycle number two. Morri again showed up at Carolina H-D in Gastonia, NC, to replace his beloved Y2K. This go-'round, however, he wanted to try a different rubber-mount chassis. After talking it over with Carolina Harley's Jim Bortles, Morri went with a brand-new (at the time) Dyna Low Rider. Plans were made, and the bike went straight into the shop area like a caterpillar into a cocoon.
It emerged eight months later as bike number three (depending on how you count): this orange beauty. Jim put so much work into Morri's ride that it's only barely a Harley and nowhere near a stocker.
That's because Morri wanted something closer to his Y2K than a Dyna. On Jim's recommendation, Irvin gave the go-ahead to cut and reweld the frame with the neck at 41 degrees and 6 more inches stretch outward for length; that set the tone for a longer bike. Jim also widened out the back with a new swingarm and 240mm rear tire like the fat rubber on the other ride. New frame work wasn't the only stylistic nod to Morri's old ride, though. More than a few Ness parts were swapped onto this motorcycle, most notably the primary, wheels, back fender, and gas tank.
Insofar as the motor work goes…well, the cases are still Harley. You can't really say that for the rest, though. Part of what Morri loved about his last bike was the combo of a 116-inch motor set in a rubber-mount frame that insulated him from vibration. He absolutely had to have the same feel with this bike. Buddy Cook took care of that by stripping the Twin Cam down to the cases and re-creating it from the bottom up, using JIMS Twin Cam flywheels, rods, pistons, and cylinders to bump up the displacement on a platform that could handle the additional wear and tear. It's topped off by Screamin' Eagle heads and valves as well as JIMS rockers with Pro-One boxes.
Even though Morri and Jim went into the transformation looking to make something along the lines of a Pro-Streeted Harley/Y2K lovechild, as the creation process flowed along, Jim grew more ambitious, and Morri was cool with that. The whole seat area and battery box were hand-fabricated and flow with the lines of the seat and back fender, almost as if the pan were trimmed for the pointed solo butt rest. Moreover, the pointed and curved struts were a great touch that fits the general design to a "T."
It's true that a lot went into dressing up the backside, but the front got some love, too. Follow the downtubes down low, and you'll find a set of running lights snugged into the molding. Topside, Jim cut the tank tunnel to hide the coil and made longer risers for the bars in order to better fit Morri's reach. He even took a V-Rod front fender and welded on a pointed end to make it longer so it would fit with the vision Morri had for this bike.
While the bike evolved under Jim's welding and grinding, Morri revised his ideas for it just to keep up, including the paint scheme. He knew that come hell or high water it'd be orange; that's what he wanted for the first bike but changed his mind. This time around, he'd stick to his gut feelings. However, he was pretty picky about the type of orange, and as the Dyna morphed, painter JoAnn Bortles went to great lengths to get Morri just the right pigment. The hunt took her two weeks, but she finally came across an obscure Pearl Crystal Orange that was precisely what Morri wanted.
It was the crowning touch to this jewel, and, like a jeweler, Jim took the original Dyna and used welder and grinder to bring out the diamond within it. In the end he gave Morri everything he'd loved about his last rubber-mount, plus a whole lot more through the blood and sweat he poured into the fabrication.
| | |
| --- | --- |
| SPEC SHEET | |
| GENERAL | |
| OWNER | MORRI IRVIN |
| SHOP | CAROLINA HARLEY-DAVIDSON |
| PHONE | (704) 867-2855 |
| WEBSITE | WWW.CAROLINAHARLEY.COM |
| YEAR/MAKE/MODEL | '05/H-D/DYNA LOW RIDER |
| FABRICATION | JIM BORTLES AT CAROLINA H-D |
| ASSEMBLY | JIM BORTLES AT CAROLINA H-D |
| BUILD TIME | ONE YEAR |
| | |
| --- | --- |
| ENGINE | |
| YEAR/TYPE/SIZE | '05/H-D/JIMS TWIN CAM/116CI |
| BUILDER | BUDDY COOK AT CAROLINA H-D |
| CASES | H-D |
| FLYWHEELS | JIMS |
| RODS | JIMS |
| PISTONS | JIMS |
| CYLINDERS | JIMS |
| HEADS | SCREAMIN' EAGLE |
| VALVES | SCREAMIN' EAGLE |
| ROCKERS | JIMS |
| ROCKER BOXES | PRO-ONE |
| PUSHRODS | JIMS |
| PUSHROD TUBES | H-D |
| CAM(S) | ANDREWS |
| LIFTERS | JIMS |
| CARBURETOR | S&S; E-SERIES |
| AIR CLEANER | TRIBAL MOTORWORKS |
| IGNITION | DYNATEK |
| EXHAUST | VANCE & HINES |
| | |
| --- | --- |
| TRANSMISSION | |
| YEAR/TYPE | '05/H-D FIVE-SPEED |
| CASE | H-D |
| GEARS | H-D |
| CLUTCH | PRIMO |
| PRIMARY DRIVE | PRIMO |
| | |
| --- | --- |
| FRAME | |
| YEAR/TYPE | '05/H-D DYNA LOW RIDER |
| RAKE | 41 DEGREES |
| STRETCH | 6 INCHES OUT |
| | |
| --- | --- |
| SUSPENSION | |
| FRONT | GOLDAMMER |
| LENGTH | 4 INCHES OVER |
| TRIPLE-TREES | GOLDAMMER CYCLE WORKS |
| REAR | |
| SWINGARM | CENTRAL VALLEY CUSTOMS |
| SHOCKS | B&T; |
| | |
| --- | --- |
| WHEELS, TIRES, AND BRAKES | |
| FRONT | |
| BUILDER/SIZE | ARLEN NESS/16-INCH |
| TIRE/SIZE | METZELER/130 |
| CALIPER(S) | PM |
| ROTOR | ARLEN NESS |
| _REAR | |
| BUILDER/SIZE | ARLEN NESS/16-INCH |
| TIRE/SIZE | METZELER/{{{240}}} |
| CALIPER | PM |
| ROTOR | ARLEN NESS |
| | |
| --- | --- |
| FINISH/PAINT | |
| COLOR | PEARL CRYSTAL ORANGE |
| PAINTER | CRAZY HORSE PAINTING |
| GRAPHICS | JOANN BORTLES |
| MOLDING | LITTLE ROCK AUTO BODY |
| | |
| --- | --- |
| ACCESSORIES | |
| FRONT FENDER | V-ROD (EXTENDED) |
| REAR FENDER | ARLEN NESS |
| GAS TANK | ARLEN NESS |
| OIL TANK | PYO |
| GAUGES | DAKOTA DIGITAL |
| HANDLEBARS | PYO |
| MIRRORS | ARLEN NESS |
| HAND CONTROLS | PM |
| FOOT CONTROLS | PM |
| FOOTPEGS | PM |
| HEADLIGHT | ACCESSORIES UNLIMITED |
| TAILLIGHT | PYO |
| TURN SIGNALS | NONE |
| LICENSE MOUNT | PYO |
| SEAT | DANNY GRAY |