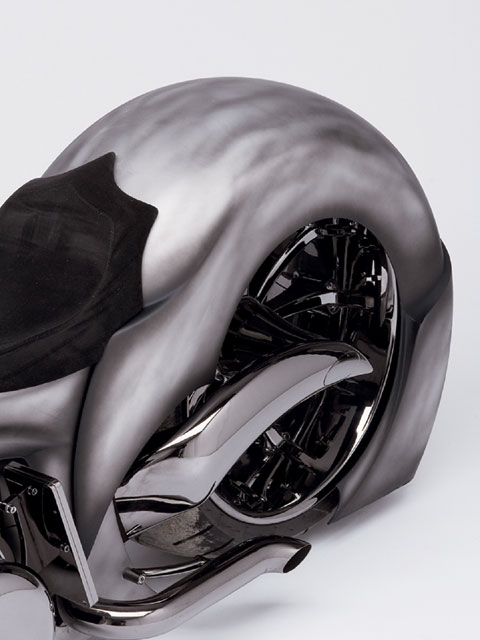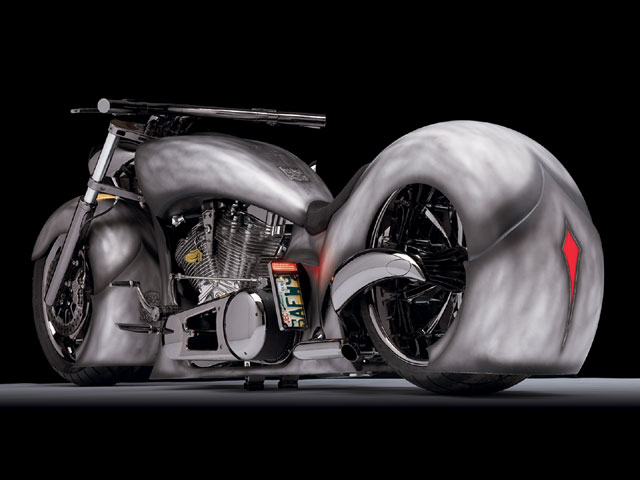 As a motorcycle magazine editor, I think the highest compliment you could pay a motorcycle builder would be, "That bike is so amazing, it doesn't even look real." And that's exactly what I heard over and over again from the staff here at HOT BIKE as we studied the photos of Jim Nasi's wild custom, "Sangre Azul." Even though I've seen the bike in person on multiple occasions, while selecting photos I would still catch myself thinking, "This is crazy-this bike looks like some sort of multi-million-dollar Hollywood CG creation."
But this kind of quality and craftsmanship is just standard practice for Jim and his talented crew at Jim Nasi Customs (JNC) in Phoenix, AZ. Where some builders have resorted to jumping on the TV bandwagon to help get them noticed, over the years Jim has just let his shop's work speak for itself. The pieces of rolling art that leave the JNC shop speak volumes-so much so, in fact, that they have earned Jim a steady following of loyal fans and customers.
The bike was built for Robert Ranuro of New Jersey. Before hooking up with Jim, Robert was no newcomer to the custom bike scene; he had been around the block before, as he had a bike or two built (or more like assembled) by others in the industry. Robert had become a fan of Jim's work by following his career via Jim's many magazine spreads. So in February 2005, when Robert decided he wanted another bike built, he placed a call to JNC. "I wanted someone who could take an idea and not just build a bike out of it, but build a reliable, rideable bike," Robert told us.
After calling up the shop and leaving a message, knowing how busy of a guy Jim was, Robert didn't really expect him to call back. But within minutes Robert's phone was ringing, and he and Jim started talking shop.
"This bike has a special meaning to me. I have wanted to build this bike for years. I've had it in my head. I don't pay attention to trends or fads, but try to go in the opposite direction, or just a direction that I feel right about. I wanted this bike to look different from anything I have ever seen," Jim told us.
"I wanted something different. I wanted a medieval-themed bike, but not a theme bike. I mean, anyone could just bolt on a bunch of gaudy knives and swords and call it a medieval bike. But I was looking for a specific builder more than the bike. I wanted the bike to speak for itself, and I had only one request: I wanted my family's crest on the tank, without having to have a big mural splashed across it," said Robert.
Jim immediately went to work, creating what would be dubbed Sangre Azul, which is Spanish for "Blue Blood." Jim pointed out to us that the meaning of Sangre Azul comes from a couple of similar backgrounds. It's a tie-in to the "purebred" medieval royal blood line of Spanish decent, along with the deep-seated traditions of Castilian society that associate aristocracy with blondness, as well as the sangre azul, or blue blood of Spain, referring to the blue eyes of the Goth, whose traditional claim to lordship is also shown in the Spanish name for "gentleman," hidalgo, or "son of the Goth." With the sort of eerie, old-world vibe this bike gives off, the name seems to fit quite well.
For the past several years, Jim has been using Independent Cycle Inc.'s Lowlife frames as the basis for many of his builds, and has even created a line of his own parts specially for this frame, thus creating the Afterlife build kit. While Robert's bike was based on this same frame, Jim took a different approach from his standard long, sleek, and elegant look by going shorter, beefy, and menacing. The frame was de-raked to bring the tire closer. The crew at JNC widened the Perse frontend and installed a 200mm front tire, and then dropped the front closer to the ground by setting it up with an internal air ride. In fact, there's air pulsing from end to end on this bike, as the rear has a Legend Air Ride system…did you see the kickstand (or lack thereof)? The bike is held up by an air-operated center stand that disappears up under the frame when not in use.
The amount of fabrication and customization on this bike is endless. The JNC crew flush-mounted an LED taillight into the rear fender, made a stretched-out 7.2-gallon steel gas tank with flush-mounted pop-up gas caps, fabricated the oil tank into the downtubes, and made a steel box to hold all the air for the bike before melding it into the spot where the oil tank would normally go. They even machined a billet housing for all the air-ride switches and mounted it out of the way on the inside of the primary just under the shift linkage.
The finishing touches, however, really give this bike its tough, medieval look. The black chrome accents on the wheels, swingarm, frontend, motor, pipes, and dual velocity stacks give the bike a sharp gleam and add contrast to the cold, old-armor feel of the paint. "The unique look of the paint was achieved by laying down a gray base, and then black highlights were airbrushed in to make it look like old steel. We then used a flat clear to help protect it. My crew here at JNC is incredibly talented, and I thank them for helping me create this bike. Robert really likes it; I've heard him say this bike has that 'get the f*ck out of my way' look," Jim said.
One of the craziest things about this entire build is that Robert only had only seen the bike twice; the first time was when it was still in its early raw-metal stage, and the second time was last year, when he met up with Jim for its debut in Sturgis.
"The bike came out way beyond my expectations. Jim took my idea and went past what I could have ever thought of. I mean, not only did he incorporate my family crest into a 3-D effect on the gas tank, but he also had my wife's family crest painted on the rear of the front fender. And as for rideability, I ride the hell out of this bike. I've ridden it up to a couple hundred miles at a time. This bike is 1-percent me and 99-percent Jim," Robert stated. "Like I said before, anyone could have created a medieval-themed bike by bolting a bunch of crap on it, but Jim nailed the theme without having to do any of that, and that proves how talented of a designer and bike builder he is. Jim created something I was looking for-but I didn't even know I was looking for it."
| | |
| --- | --- |
| SPEC SHEET | |
| GENERAL | |
| OWNER | ROBERT RANURO |
| SHOP | JIM NASI CUSTOMS (JNC) |
| PHONE | (623) 879-8600 |
| WEBSITE | WWW.JIMNASICUSTOMS.COM |
| YEAR/MAKE/MODEL | '06/JNC/RADICAL |
| FABRICATION | JNC |
| ASSEMBLY | JNC |
| | |
| --- | --- |
| ENGINE | |
| YEAR/TYPE/SIZE | '06/S&S;/124CI |
| BUILDER | JNC |
| CASES | S&S; |
| FLYWHEELS | S&S; |
| RODS | S&S; |
| PISTONS | S&S; |
| CYLINDERS: | S&S; |
| HEADS | S&S; |
| VALVES | S&S; |
| ROCKERS | S&S; |
| ROCKER BOXES | S&S; |
| PUSHRODS | S&S; |
| PUSHROD TUBES | S&S; |
| CAM | S&S; |
| LIFTERS | S&S; |
| CARBURETOR | DUAL KEIHIN |
| AIR CLEANER | JNC VELOCITY |
| IGNITION | DYNA 2000I |
| EXHAUST | JNC DUAL |
| | |
| --- | --- |
| TRANSMISSION | |
| YEAR/TYPE | '06/RSD SIX-SPEED |
| CASE | BAKER |
| CLUTCH | RIVERA PRO-CLUTCH |
| PRIMARY DRIVE | ICI/KARATA |
| FINAL DRIVE | ICI/JNC |
| | |
| --- | --- |
| FRAME | |
| YEAR/TYPE | '06/ICI LOWLIFE |
| RAKE | 40 DEGREES |
| STRETCH | 3 INCHES |
| MOLDING | JNC SHEETMETAL |
| FINISH | DEANO'S/PAINTED |
| | |
| --- | --- |
| SUSPENSION | |
| FRONT | PERSE PERFORMANCE/JNC |
| LENGTH | N/A |
| TRIPLE-TREES | JNC WIDE AIR RIDE |
| REAR | |
| SWINGARM | JNC BILLET/BLACK CHROME |
| SHOCKS | LEGEND AIR RIDE |
| | |
| --- | --- |
| WHEELS, TIRES, AND BRAKES | |
| FRONT | |
| BUILDER/SIZE | ICI/18 X 5.5 |
| TIRE/SIZE | METZELER/{{{200}}}/18 |
| CALIPER | PM SIX-PISTON |
| ROTOR | ICI 10-SPOKE |
| REAR | |
| BUILDER/SIZE | ICI/18 X 10 |
| TIRE/SIZE | METZELER/280/18 |
| CALIPER | PM FOUR-PISTON DRIVE-SIDE |
| ROTOR | ICI 10-SPOKE DRIVE-SIDE |
| | |
| --- | --- |
| FINISH/PAINT | |
| COLORS | SILVER BASE/BLACK AIRBRUSH WORK |
| PAINTER | DEANO'S CUSTOM PAINTING |
| GRAPHICS | DEANO'S CUSTOM PAINTING |
| MOLDING | DEANO'S CUSTOM PAINTING |
| CHROME PLATING/POLISHING | MECLEC BLACK CHROME |
| | |
| --- | --- |
| ACCESSORIES | |
| FRONT FENDER | JNC SHEETMETAL |
| REAR FENDER | JNC SHEETMETAL |
| GAS TANK & CAP | JNC SHEETMETAL |
| OIL TANK JNC | SHEETMETAL |
| GAUGES | DAKOTA DIGITAL SPEEDO |
| HANDLEBARS | JNC ONE-PIECE 1.5-INCH |
| HAND CONTROLS | PM CONTOUR/HYDRAULIC CLUTCH |
| FOOT CONTROLS | PM CONTOUR/JNC RAISED |
| FOOTPEGS | PM CONTOUR/JNC |
| HEADLIGHT | HEADWINDS 7-INCH ROCKET |
| TAILLIGHT | JNC FLUSH-MOUNT LED IN REAR FENDER |
| LICENSE MOUNT | JNC SIDE MOUNT |
| SEAT | GUY'S UPHOLSTERY |