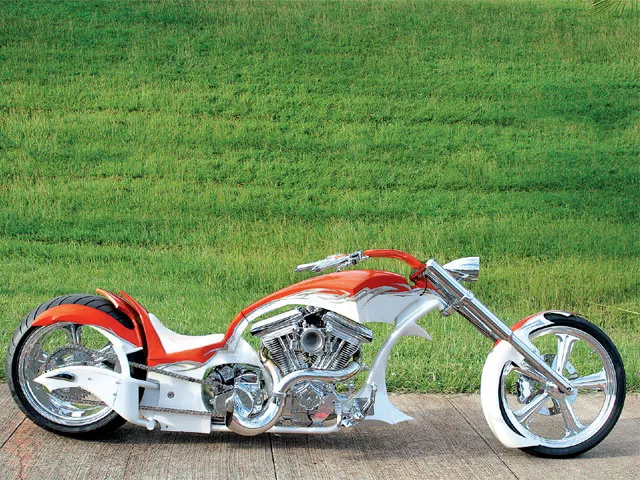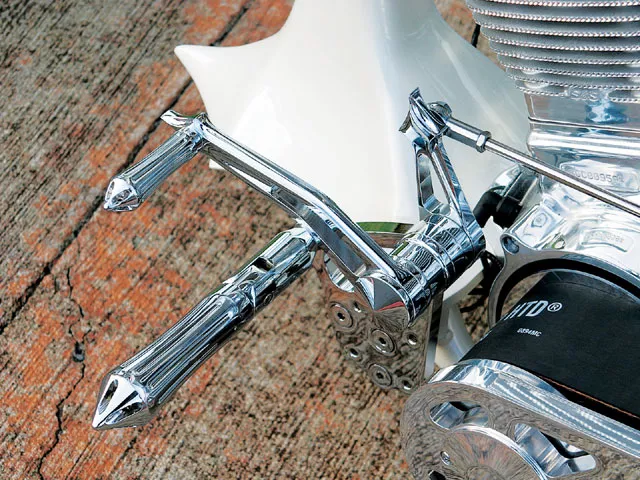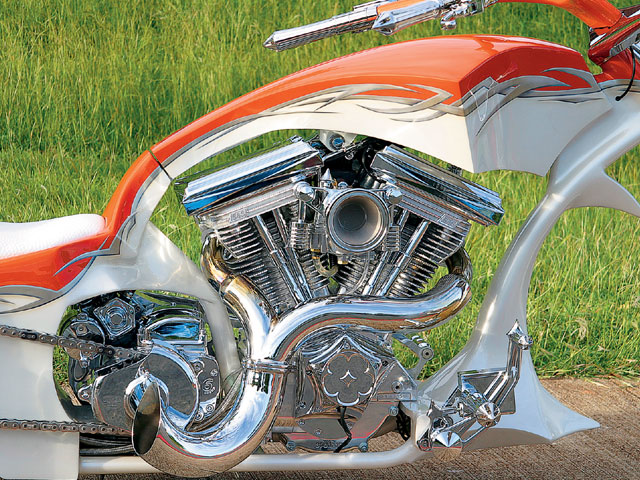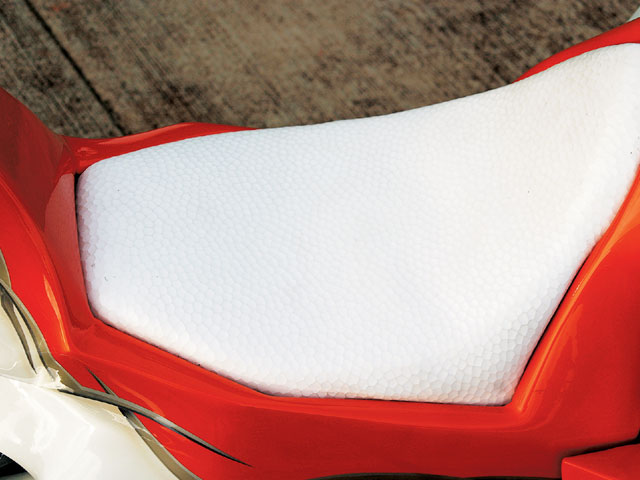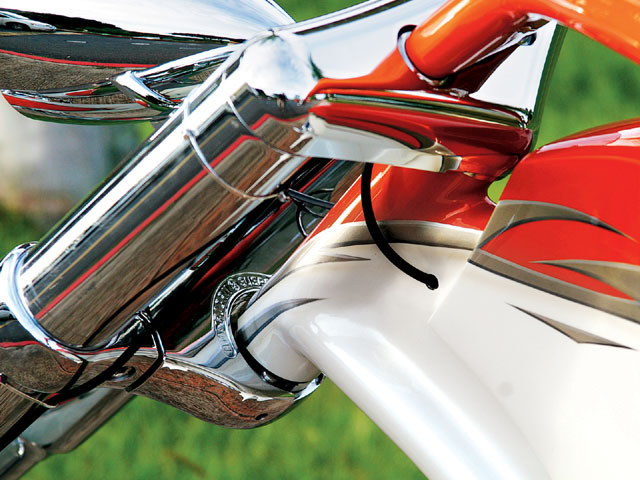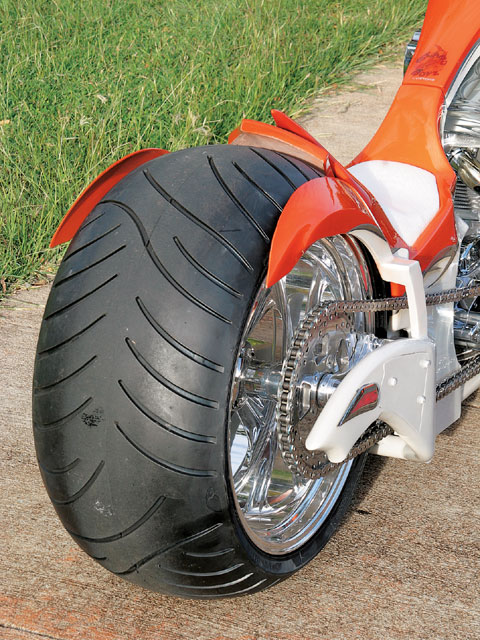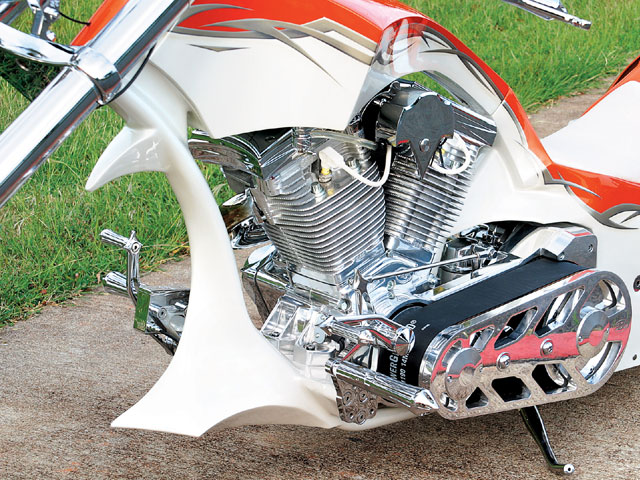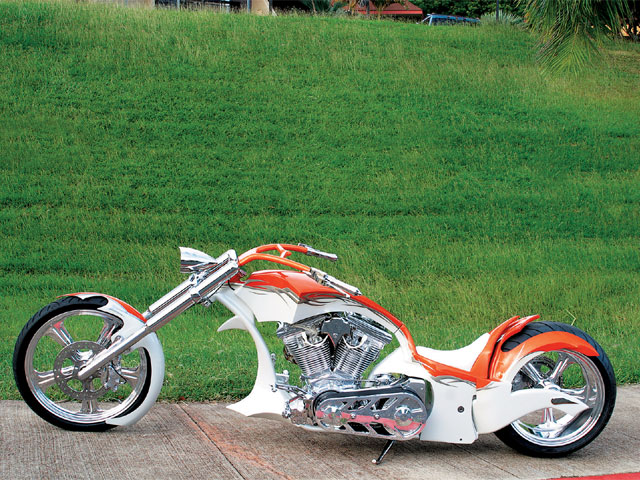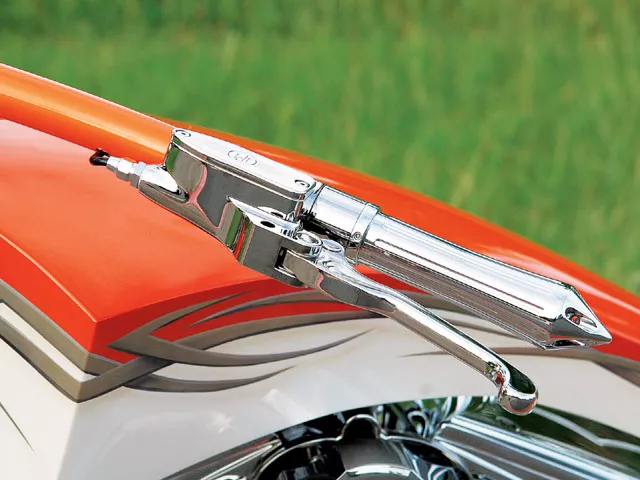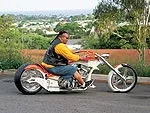 Riding the asphalt waves of Honolulu, Hawaii, Ken Puahi, owner of Island Boyz Customs, builds aggressively unique bikes for the custom motorcycle enthusiast. These ground-up customs provide the long and low rides needed to carve up the Hawaiian roads.
"We call them, 'look at me' bikes here in Hawaii," Ken said, and added that he likes to build bikes with a similar style to Jesse James and the Martin Brothers, but with his own approach.
Franco Tekneef wanted a bike that matched the Island Boyz Customs style, so he went to Ken to do the job. Ken decided on a shark theme when building this bike, naming it "Mano," a Samoan word for shark. The downtube forms into two points that give the feel of shark teeth ready to bite into the Hawaiian ocean air as Mano rips along the beaches of Honolulu.
With a name and a basic theme for the bike, Franco gave the go ahead for Ken to create this sleek, stretched out bike. The bike has 6 inches of stretch and 48 degrees of rake, making it as long as some small sharks.
"The bike can be hard to ride around the island because it is so low. That's why I put in the air ride suspension, so you can adjust the height," Ken said. He used a Legend Air Ride system on the rear and an American Suspension frontend. To keep this bike floating on top of the asphalt, he used a 21-inch Performance Machine wheel up front and a Performance Machine 300 for the rear. Both wheels were fitted with Avon rubber.
Following a sort of gothic style, Ken said he fabricated the fenders and the tank with sharp edges and points. This look also adds to the aggressive shark theme he envisioned. The rear fender is almost non-existent, but leaves just enough on the outside of the rear wheel to finish off the flow of the bike. "I'm into that style, no back fender," Ken said.
For the heart of this shark-inspired bike a 107-inch S&S; engine was used, topped with Arlen Ness rockers and rocker boxes. Arlen Ness pushrods and pushrod tubes were installed as well. To get this bike into gear Ken used a Baker transmission that he had sitting on a bench at his shop. A 2-into-1exhaust setup gave Mano some bite. Ken used an exhaust system from the Wanted Choppers NFA series that starts at 1-3/4 inches stepped to 2-1/2 inches merging into a 3-inch collector. With the seat so far back and low, it looks like the right leg might have some issues. Ken assures that the setup works great and that the forward controls can be reached comfortably.
Staying true to the "look at me" style of bikes that Island Boyz Customs have created, they took their bike to Dennis Matthewson at Cosmic Air Brush to give Mano some pop. Using a bright orange on top of pearl white gave Mano that head turning appeal that Ken strives for. Some nice grey tribal designs break between the colors of orange and white, topped off with some polished chrome. Mano is a bike that demands some attention. One unique feature about this paint job is that there is a shark design inlaid in the orange paint on top of the tank. The only way to see it is to be right on top of it, otherwise it can't be seen.
Little features such as a hidden shark design give Mano its own character while contributing to the overall theme of this bike. Island Boyz Customs is bringing the custom bike world to Hawaii, one scoot at a time. So if you ever find yourself over in the Paradise of the Pacific be sure to check out Island Boyz Customs shop and beware of the sharks, both in the water and on the asphalt.
Spec Sheet
| | |
| --- | --- |
| BIKE OWNER | Franco Tekneef |
| SHOP NAME | Island Boyz Customs |
| YEAR/MAKE/MODEL | '06/Island Boyz Customs |
| FABRICATION | Island Boyz Customs |
| ASSEMBLY | Island Boyz Customs |
| BUILD TIME | 4 Months |
| | |
| --- | --- |
| ENGINE | |
| MANUFACTURER/SIZE | S&S;/107ci |
| CASES | S&S; |
| CYLINDERS | S&S; |
| HEADS | S&S; |
| CARBURETOR | S&S; |
| EXHAUST | Wanted Choppers |
| IGNITION | Crazy Customs |
| | |
| --- | --- |
| TRANSMISSION | |
| MANUFACTURER | Baker |
| CASE | Baker |
| CLUTCH | BDL |
| PRIMARY DRIVE | BDL |
| | |
| --- | --- |
| FRAME | |
| MANUFACTURER | Island Boyz Customs |
| RAKE | 48 Degrees |
| STRETCH | 6 Inches |
| | |
| --- | --- |
| SUSPENSION | |
| MANUFACTURER FRONT | American Suspension |
| TRIPLE TREES | American Suspension |
| MANUFACTURER REAR | {{{Legend}}} Air Ride |
| SWINGARM | Legend Air Ride |
| | |
| --- | --- |
| WHEELS, TIRES, AND BRAKES | |
| MANUFACTURER FRONT | PM |
| SIZE-WIDTH/HEIGHT | 21-inch |
| TIRE/SIZE | Avon |
| CALIPER | PM |
| ROTOR | PM |
| MANUFACTURER REAR | PM |
| SIZE-WIDTH/HEIGHT | {{{300}}} |
| TIRE/SIZE | Avon 300 |
| CALIPER | PM |
| ROTOR | PM |
| | |
| --- | --- |
| FINISH/PAINT | |
| COLOR | Orange/White |
| PAINTER | Dennis Matthewson |
| GRAPHICS | Dennis Matthewson |
| PLATING/POLISHING | Hawaii Plating |
| | |
| --- | --- |
| ACCESSORIES | |
| FRONT FENDER | Island Boyz Customs |
| REAR FENDER | Island Boyz Customs |
| FENDER STRUTS | Island Boyz Customs |
| GAS TANK∩ | Island Boyz Customs |
| OIL TANK | Island Boyz Customs |
| DASH | Island Boyz Customs |
| HANDLEBARS | Island Boyz Customs |
| RISERS | Island Boyz Customs |
| HAND CONTROLS | PM |
| FOOT CONTROLS | PM |
| FOOTPEGS | Legend |
| HEADLIGHT | Headwinds |
| SEAT | AL Upholstery |