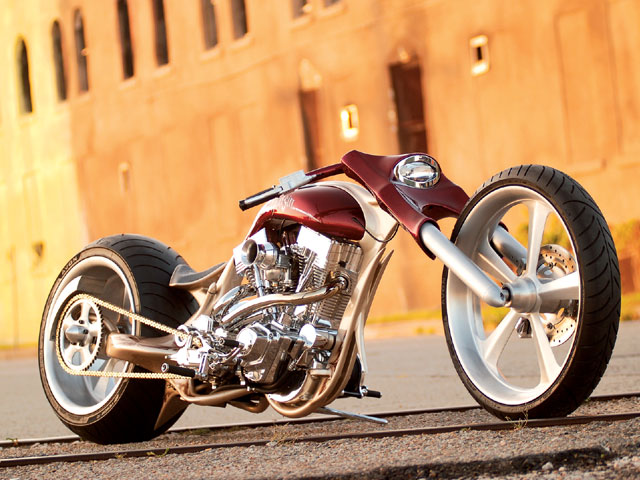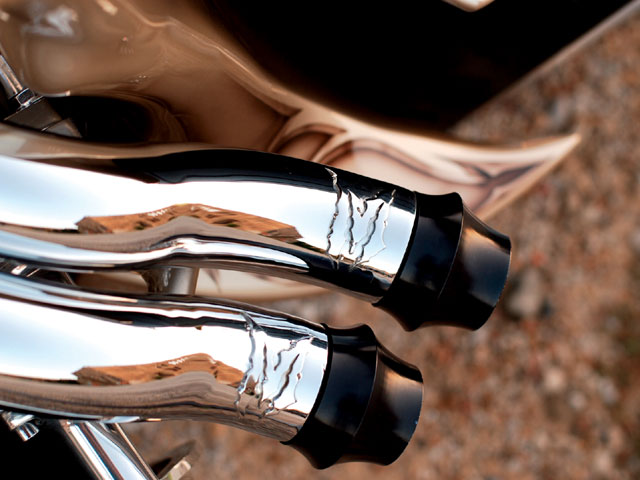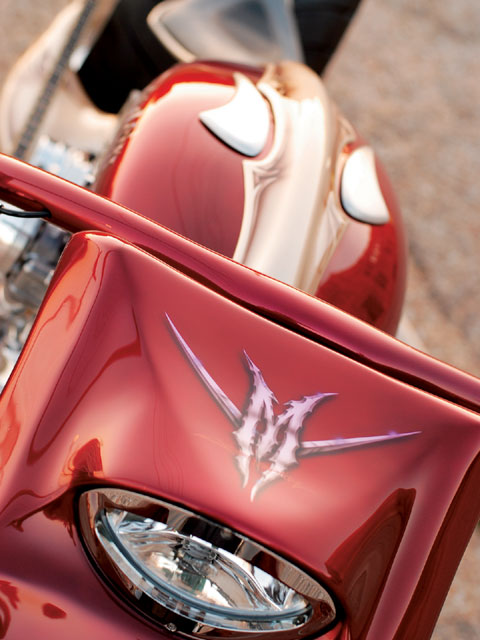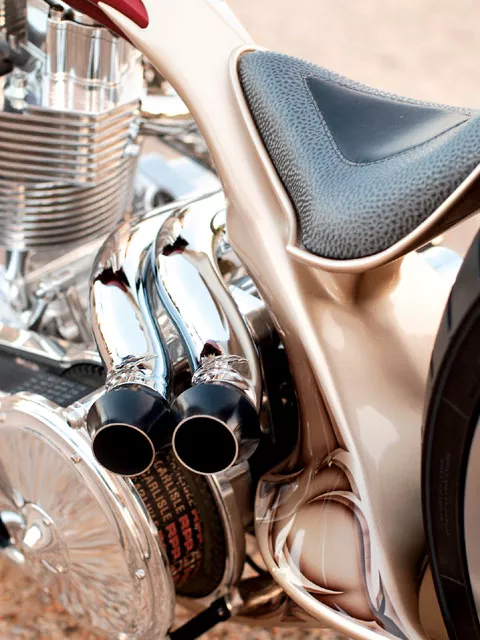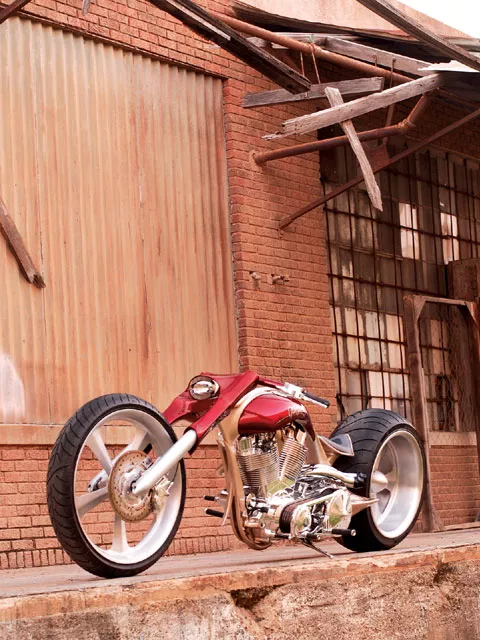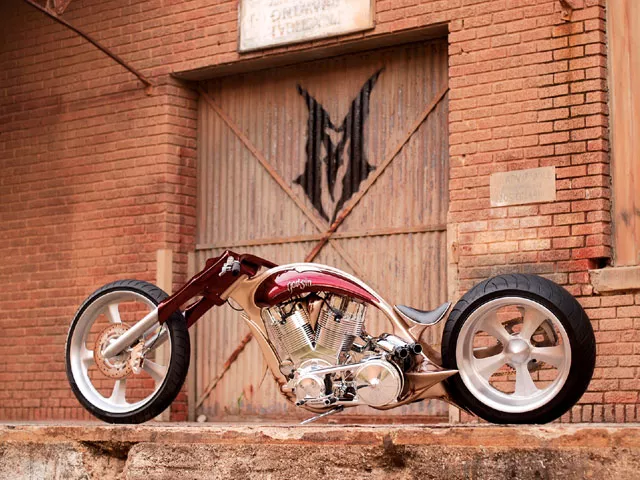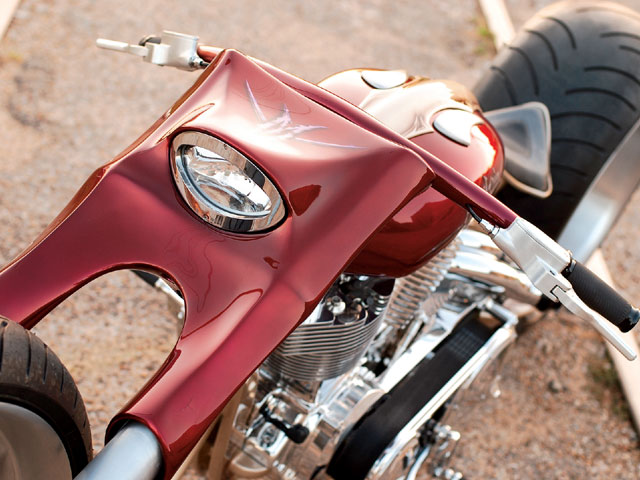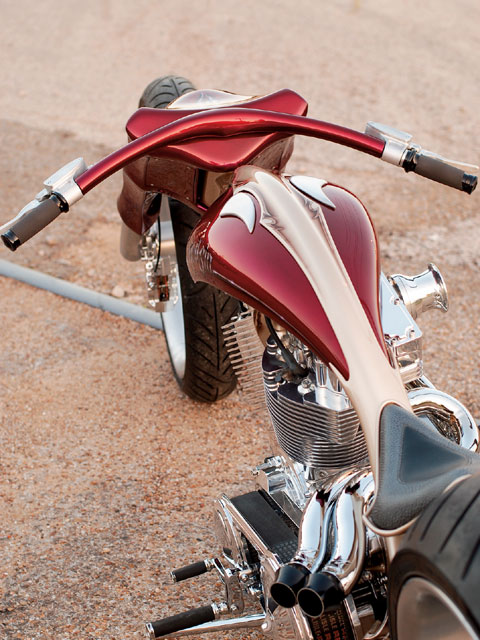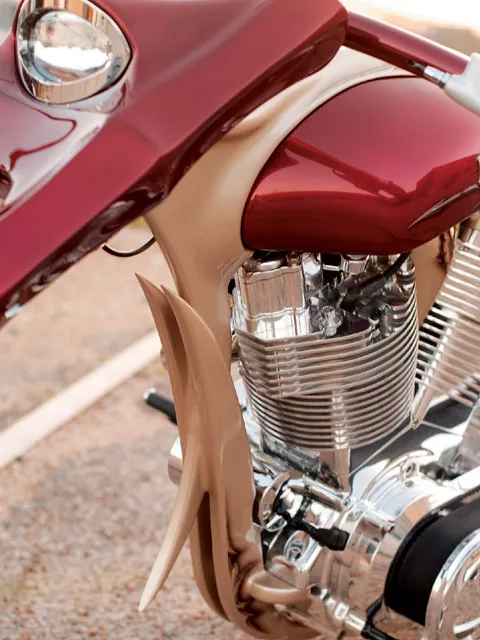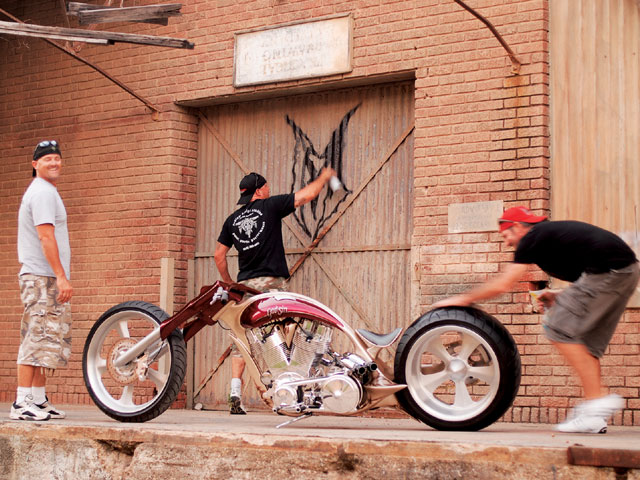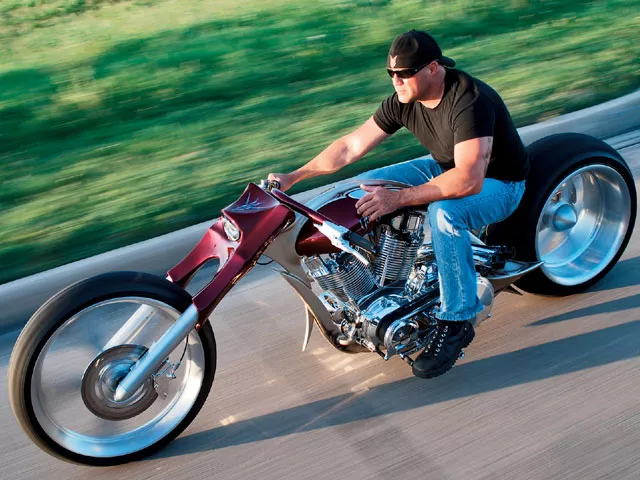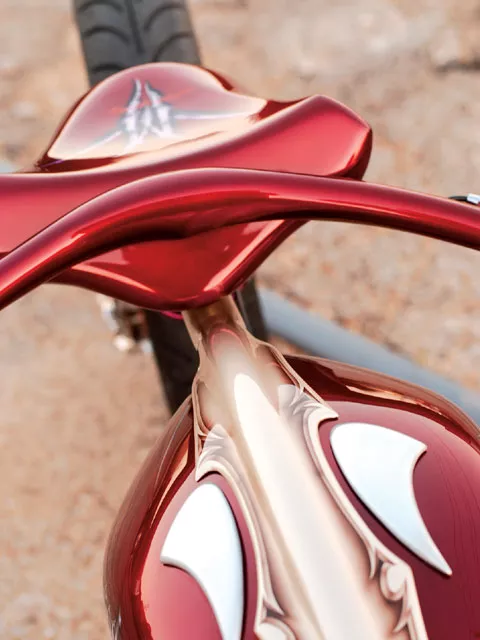 About this time last year (early spring-ish) there was a rumbling about an event that was supposed to come together with the biggest money shot in custom motorcycle history-$1 million. This was going to be the build-off of all build-offs, nothing but the top names in the game, pulling out all the stops for what could be a life-changing payout. Well, somewhere along the way things didn't pan out and the plug was pulled on the entire event-no more build-off, no more record-breaking payday.
We don't need to delve into all the rumors, politics, and B.S. as to why the event dissolved; that's not important. What is important is that many of the builders who were involved had already started or were almost finished building their million-dollar lottery ticket, with a lot of time, money, blood, and sweat invested. One such builder was Joe Martin.
Joe's no stranger to our publication; we've featured a couple of his bikes before, and all of them have been pretty awesome. But this bike here, which he's dubbed "God Sin," is the best we've seen from him…so far. The bike swoops and sweeps seamlessly from wheel to wheel, as if the entire machine was formed from one piece of metal. This was obviously not something that was just thrown together, and we wanted to know how it came to be, so we gave Joe a call.
"This bike started off as a bunch of ideas I've had in my head and had been wanting to do," Joe told us. "It was going to be a cool opportunity with this million-dollar contest to do something off the wall. I've kind of pigeon-holed myself into that swoopy, long, low-seat thing, but I also like the older, traditional stuff. So this was kind of a cross between a sci-fi/board tracker sort of thing. I had sketches of it lying around the shop, but my customers want that long, low-seat thing that I've been doing, so I hadn't really had the time to do something like this until that contest came along."
The first thing we asked about was the frontend-or more specifically, the cover around the headlight. "I made the tins around the headlight by shaping 1/4-inch solid steel rod and making a little buck. I formed it all around the upper legs and headlight and made a skeleton, then I grafted in all the little individual sheetmetal pieces. I like the look of the old FLs and exposed lower legs. It's like a futuristic sort of deal or something like that. I dig Mike Maldonado's stuff, and this is sort of a throwback to some of his style; he was sort of the inspiration in the back of my mind for this bike."
We are seeing more and more ground-up custom bikes and even modified H-Ds with 23-inch wheels, so we asked Joe his reasoning on using a 23 for this project. "I wanted the bike to have a big, dynamic appearance, to basically look like just wheels and a motor. I wanted to scale the wheels up a bit. I thought if I went with a 21 the bike would look real dinky. I like that little bike look too, but I wanted the high-tech look of the big diameter wheels and minimal bodywork. Then I put that Enginuity motor in there, and with its big, fat cylinders, the wheels didn't make the motor look small, and everything scaled out nicely," Joe stated.
We also asked about why he opted to go fender-less. "I did put a fender on it, but it just had this unbalanced feel to it, and I wasn't diggin' it. The open wheel thing is a radical look and was more consistent with the minimalist idea; it just looked so sanitary without fenders. That was the theme, minimal bodywork and intricate metal, but very little of it," said Joe.
When looking at the bike the one thing that really stood out is the frame and its unique design: single-sided, rigid, drop-loop, with a suspended seat and the gas tank formed into the backbone. "I started off by using the Enginuity motor as my buck. First I made a loop for the bottom of the cases and then made my motor mounts. Then I put that hoop that the motor sits in into my frame fixture and built around it. I didn't have any specs, I just started holding metal up and scaling it with my eyes, thinking, a little more here, a little more there. It was cool that way because I didn't really know what my stretch would be. Then when I got the front wheel I made a stand to hold the wheel up and eyeballed it to see how far in front of the frame I wanted it placed. I kind of just pulled it all out of my ass."
One thing we noticed was how compact everything was on this bike-there is very little wasted space. "It's so tight, with the hidden motor mounts I made in the backbone, I had to install the gas tanks and cross over lines and stuff before the motor went in, which was a pain in the ass. The gas tanks were especially hard to get in because of the way I designed them to sit in the frame. It looks like the backbone is the only thing holding it in place," said Joe.
Lastly, we asked how he came up with the name God Sin. "I started thinking, 'I got this chance to win a million bucks, man it would be a Godsend to win that money. But then I thought you could go the other way 'cause it's a sin, because I'm sort of gambling and putting all my ideas into this one bike to win the money. So that's how I came up with God Sin."
Joe told us with all the starting and stopping he did on this bike (because it was supposed to be filmed as part of the build-off) the project took him about six months. Had he worked straight through he thinks he would have finished it in six weeks. The frame alone, however, took up quite a bit of time, Joe estimates about 100 hours of trial and error, eyeballing stuff, tacking pieces on, and hacking pieces off.
In the end all was not lost, even though the build-off was cancelled. Joe had the bike displayed in his new Martin Bros. boutique shop he recently opened in downtown Dallas, and several people saw the bike and immediately put deposits down for Joe to build them bikes based off the God Sin design. As for this particular bike, Joe has a very good customer who collects amazing bikes such as this, and he jumped at the chance to own this incredible one-off.
Spec Sheet
| | |
| --- | --- |
| GENERAL | |
| SHOP NAME | Martin Bros Bikes |
| SHOP PHONE | (972) 709-2552 |
| SHOP WEBSITE | www.martinbrosbikes.com |
| YEAR/MAKE/MODEL | '07/Custom |
| FABRICATION | Joe Martin and Friends |
| ASSEMBLY | Joe and Friends |
| BUILD TIME | Six months |
| | |
| --- | --- |
| ENGINE | |
| YEAR/ MANUFACTURER | '07/Enginuity |
| TYPE/SIZE | Evo/120ci |
| BUILDER | Enginuity |
| CASES | Enginuity |
| CYLINDERS | Enginuity |
| HEADS | Enginuity |
| ROCKER BOXES | Enginuity |
| CARBURETOR | S&S; |
| AIR CLEANER | Velocity Stack |
| EXHAUST | Joe Martin |
| | |
| --- | --- |
| TRANSMISSION | |
| YEAR/MANUFACTURER/TYPE | '07/Baker/Torque Box |
| CASE | Baker Drivetrain |
| CLUTCH | PM |
| PRIMARY DRIVE | PM |
| | |
| --- | --- |
| FRAME | |
| YEAR/MANUFACTURER | Joe Martin |
| RAKE | 47 degrees |
| STRETCH | Forgot |
| | |
| --- | --- |
| SUSPENSION | |
| MANUFACTURER FRONT | Pro-One |
| LENGTH | 2 inches under |
| TRIPLE TREES | Pro-One |
| | |
| --- | --- |
| WHEELS, TIRES, AND BRAKES | |
| MANUFACTURER FRONT/TYPE | Xtreme Machine/Billet |
| SIZE-HEIGHT/WIDTH | 23 inches |
| TIRE/SIZE | Avon/23 |
| CALIPER | PM |
| ROTOR | Xtreme Machine |
| MANUFACTURER REAR/TYPE | Xtreme Machine/Billet |
| SIZE-HEIGHT/WIDTH | 20 inches/10.5 |
| TIRE/SIZE | Avon/20×280 |
| | |
| --- | --- |
| FINISH/PAINT | |
| COLOR | Candy Brandywine |
| PAINTER | Joe Martin |
| GRAPHICS | Joe Martin |
| PLATING/POLISHING | Advanced Plating |
| | |
| --- | --- |
| ACCESSORIES | |
| GAS TANK∩ | Joe Martin |
| OIL TANK | Joe Martin |
| HANDLEBARS | Joe Martin |
| HAND CONTROLS | PM |
| FOOT CONTROLS | PM |
| FOOTPEGS PM | |
| HEADLIGHT | Kodlin |
| TAILLIGHT | Kodlin |
| LICENSE MOUNT | Kodlin |
| SEAT | Joe Martin/Craig Ward |