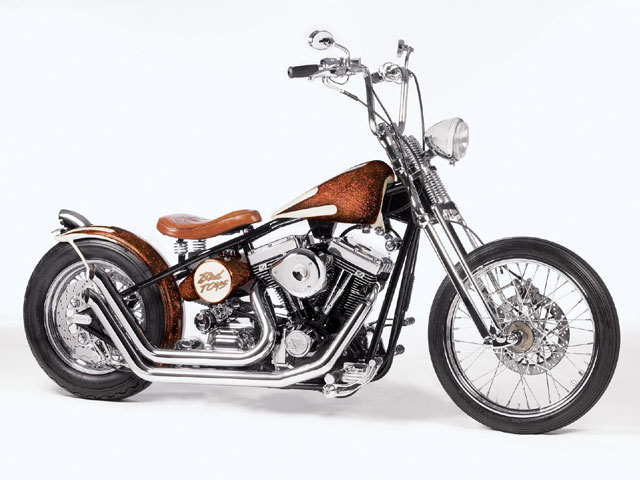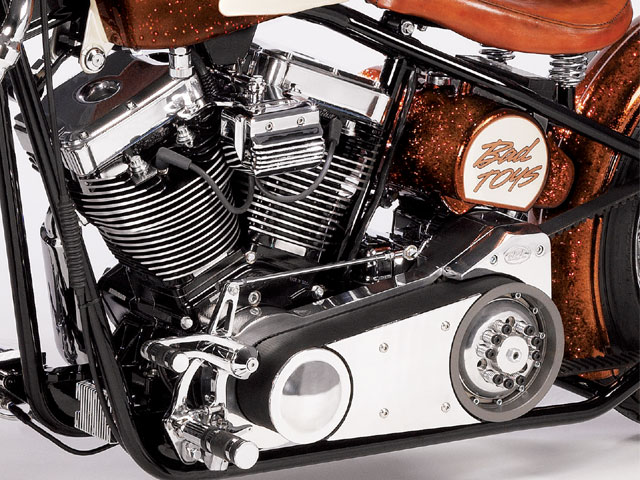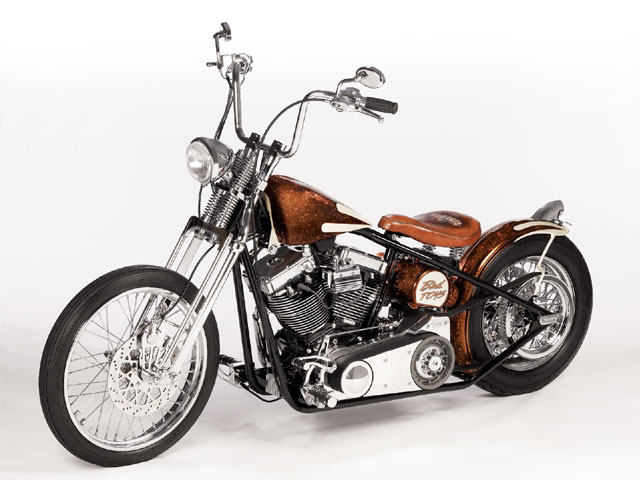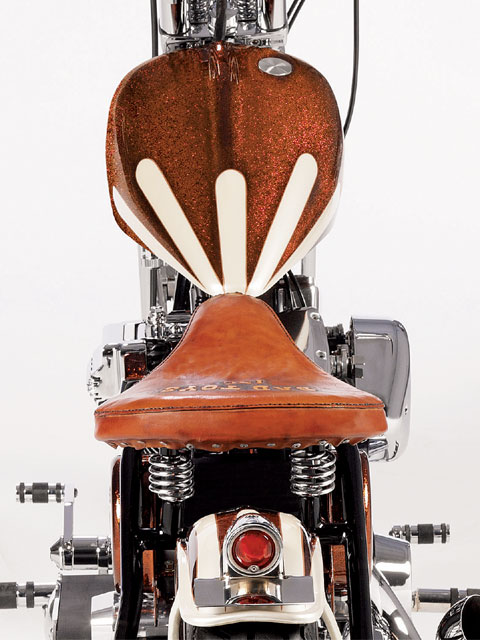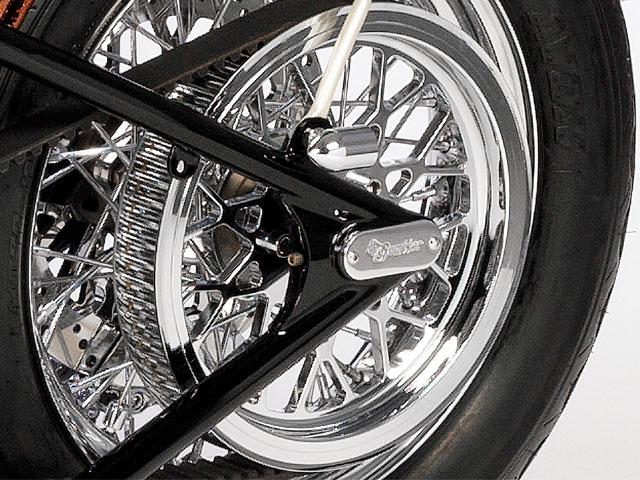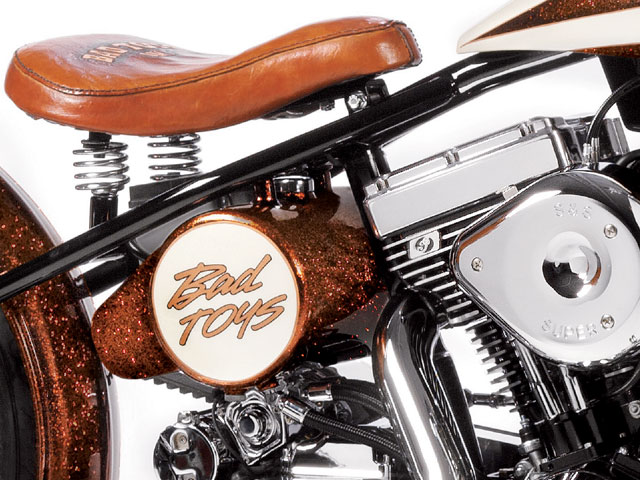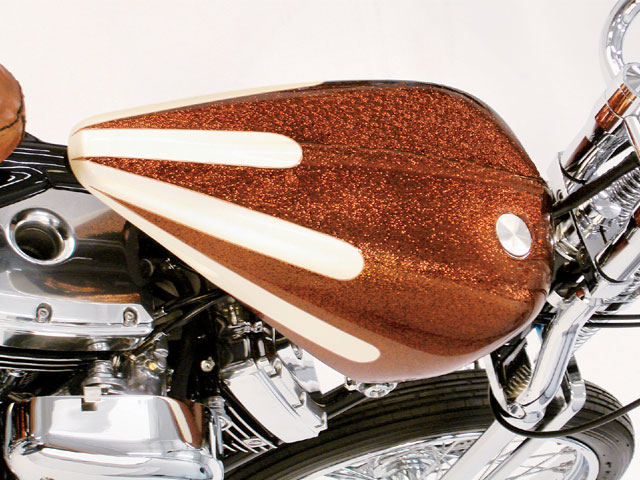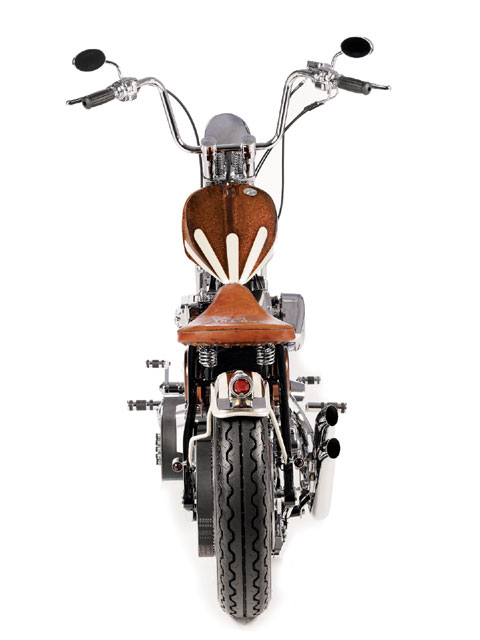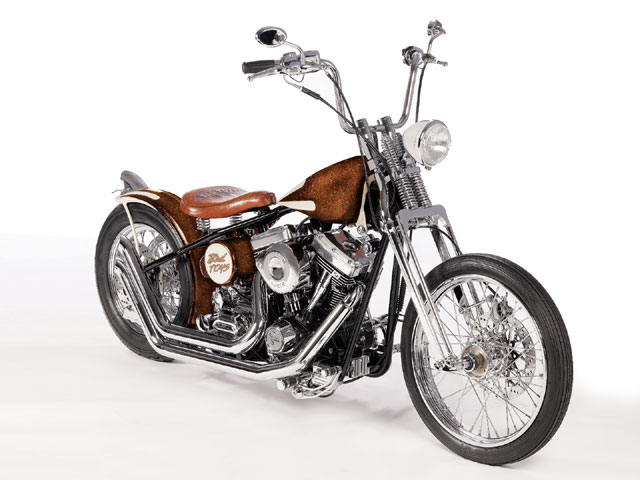 When Bad Toys set out to produce a new bobber, shop manager Joe Romo set out to build an affordable bike that didn't skimp on the features offered. No run-of-the-mill 80-incher here: Joe opted for a 92ci S&S; with an artistic round barrel shape. The engine set the stage for the rest of the features on the bike, and Joe wasted no effort in creating a truly unique one at that. The classic round jugs are one of the many intricate details that were well thought out when Joe decided he wanted a bobber. Everything on the bike, from the Hawg Halters rear brakes to the PM controls, confirms that the upgrade from the "low-end" stuff was money well spent.
The bike has the appearance of a traditional bobber, yet the Bad Toys crew added a healthy dose of functionality without affecting the stripped look. Several of the creature comforts, such as the tachometer and speedometer, are hidden in the digital readout mirrors. Another touch to keep the bars as clean as possible are the electrical components tucked out of sight by means of a handy compartment located just under the transmission. This modular unit also provides easy access to the electronic components, should service ever be required. Attention to detail is apparent wherever the eye travels across this tight little beauty. Bad Toys painter Tom Slick applied the Kandy Root Beer and Pearlescent Cream to complete this example of a modern techno-bobber.
"We wanted to build a bike the average guy could afford to buy and ride the hell out of," Joe said. If the interest level the bike has generated for the Kingspot, TN, shop is any indication, Bad Toys hit the nail on the head with this latest creation.
Enjoy the pics of this beauty and keep riding as often as you can. Hell, that's what this is all about anyways, right? Until next time, enjoy the ride.
Spec Sheet
| | |
| --- | --- |
| GENERAL | |
| OWNER | Bad Toys |
| SHOP | Bad Toys |
| PHONE | (423)230-0194 |
| WEBSITE | www.badtoys.net |
| YEAR/MAKE/MODEL | '07/Bad Toys/Bobber |
| FABRICATION | Tom Slick/ Joe Romo/ Bad Toys |
| ASSEMBLY | Joe Romo |
| BUILD TIME | 10 days |
| | |
| --- | --- |
| ENGINE | |
| YEAR/ TYPE/SIZE | '06/S&S;/92ci |
| BUILDER | S&S; |
| CASES | S&S; |
| FLYWHEELS | S&S; |
| RODS | S&S; |
| PISTONS | S&S; |
| CYLINDERS | S&S; |
| HEADS | S&S; |
| VALVES | S&S; |
| ROCKERS | S&S; |
| ROCKER BOXES | S&S; |
| PUSHRODS | S&S; |
| PUSHROD TUBES | S&S; |
| CAM(S) | S&S; |
| LIFTERS | S&S; |
| CARBURETOR | S&S; |
| AIR CLEANER | S&S; |
| IGNITION | Spyke |
| EXHAUST | Samson |
| | |
| --- | --- |
| TRANSMISSION | |
| YEAR/TYPE | '06/{{{Prowler}}} six-speed |
| CASE | Prowler |
| GEARS | Prowler |
| CLUTCH | BDL |
| PRIMARY DRIVE | BDL |
| | |
| --- | --- |
| FRAME | |
| YEAR/TYPE | '07/Gambler Nostalgia |
| RAKE | 30 degrees |
| STRETCH | 0 |
| | |
| --- | --- |
| SUSPENSION | |
| FRONT | DNA |
| LENGTH | Stock |
| REAR | Rigid |
| SWINGARM | None |
| SHOCKS | None |
| | |
| --- | --- |
| WHEELS, TIRES, AND BRAKES | |
| FRONT | |
| SIZE | 21-inch/40 spoke |
| TIRE/SIZE | 90×21/Avon Speedmaster |
| CALIPER(S) | PM two-piston on Gambler Mount |
| ROTOR(S) | X rotors |
| REAR | |
| BUILDER/SIZE | 130×16-inch/40 spoke |
| TIRE/SIZE | Avon/130×16 |
| CALIPER(S) | Hawg Halters 4 pistons |
| ROTOR(S) | X rotors |
| | |
| --- | --- |
| FINISH/PAINT | |
| COLOR(S) | Root Beer Candy/Pearl White |
| PAINTER | Tom Slick/Bad Toys |
| GRAPHICS | Tom Slick |
| MOLDING | Bad Toys |
| | |
| --- | --- |
| ACCESSORIES | |
| FRONT FENDER | None |
| REAR FENDER | Chica raised rib |
| FENDER STRUTS | Bad Toys |
| GAS TANK(S)∩(S) | Cole Foster |
| OIL TANK | 5-1/2 inches round |
| GAUGES | Maximum in Mirror, Speedo/Tach |
| HANDLEBARS | Flanders |
| RISERS | Accutronix |
| MIRRORS | Maximum Slimline |
| HAND CONTROLS | Drag Specialties |
| FOOT CONTROLS | Lifeline |
| FOOTPEGS | Lifeline |
| HEADLIGHT | 5-3/4 Springer Style |
| TAILLIGHT | '50s style bullet |
| TURN SIGNALS | '50s style bullet |
| SEAT | K-Model Tooled by Poet |