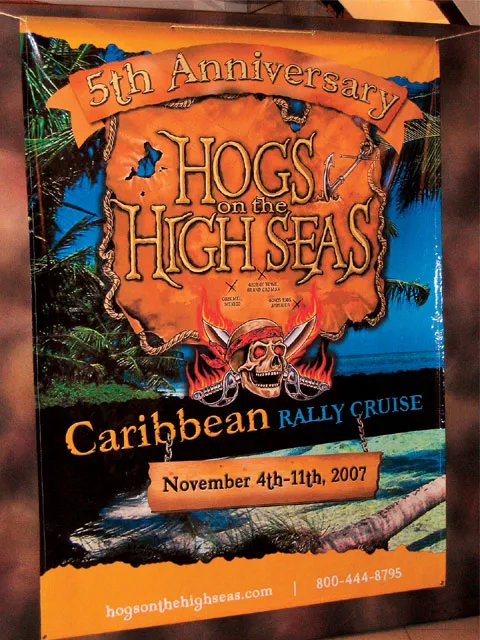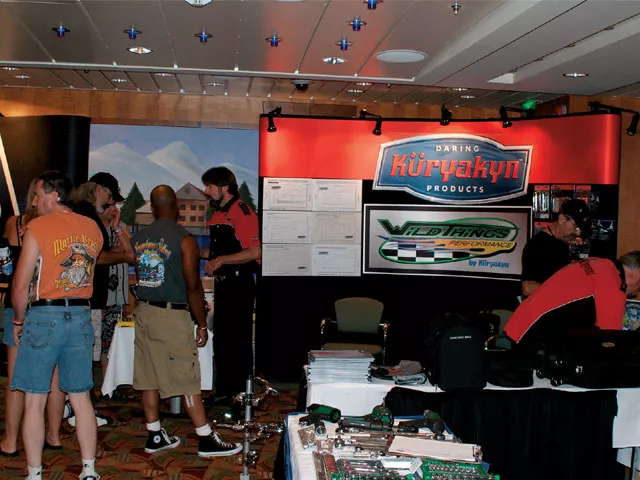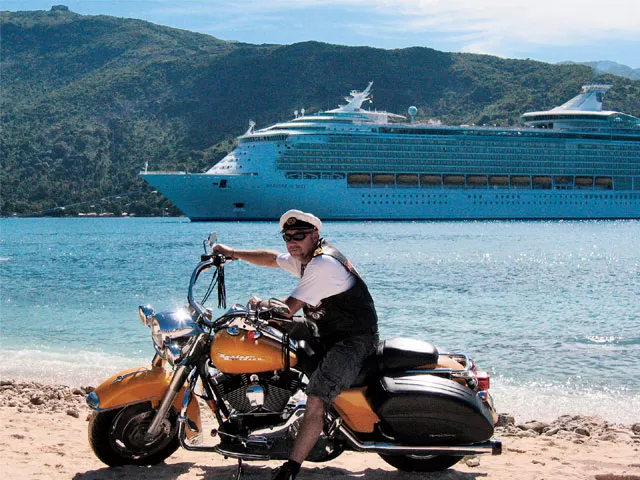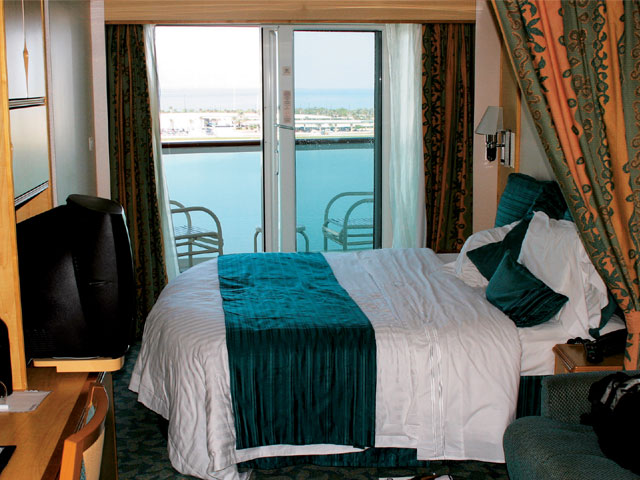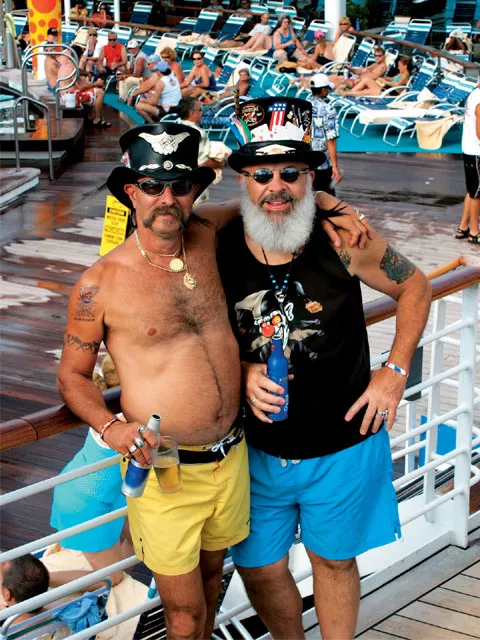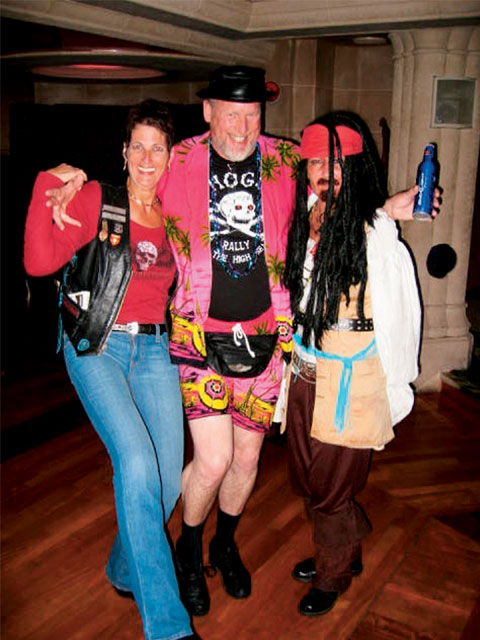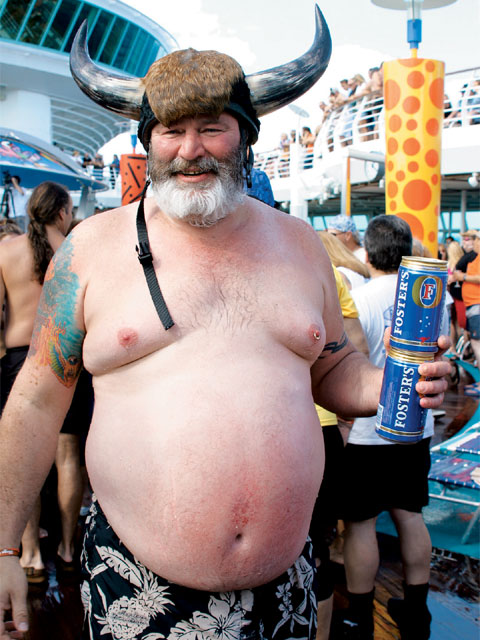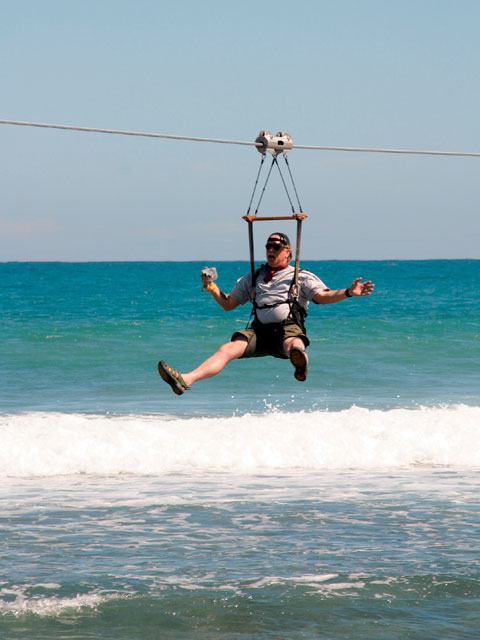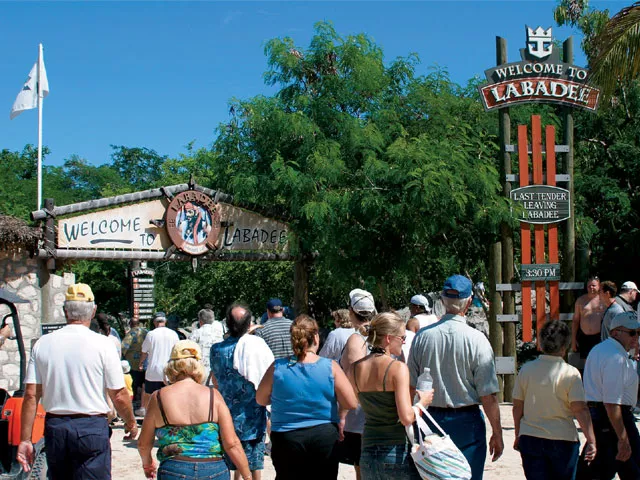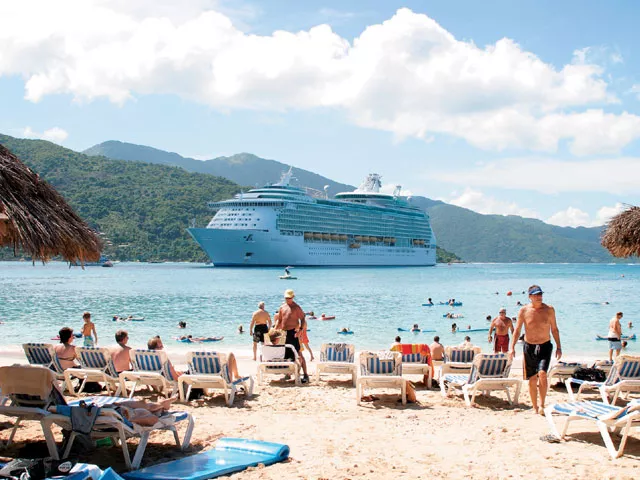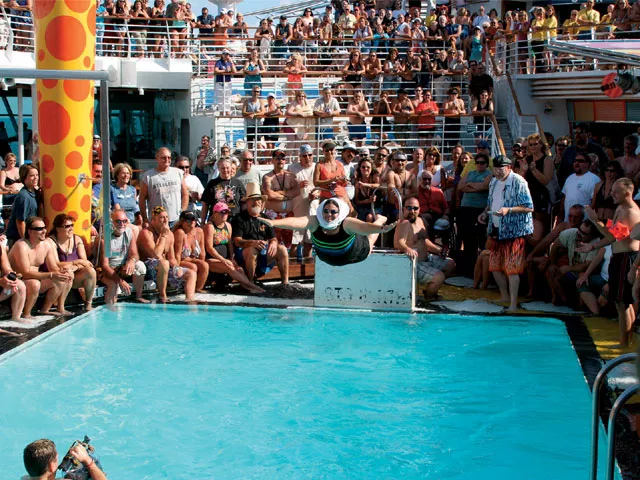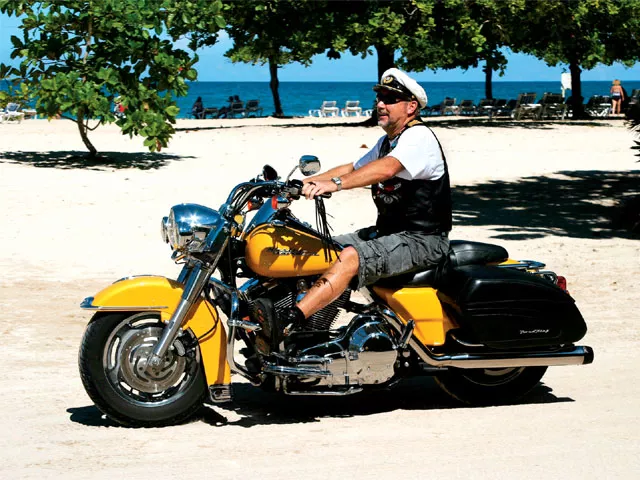 So you've done the typical biker rallies-the Daytonas, Myrtle, and maybe even Sturgis-and now you're looking for something different, something motorcycle related but out of the ordinary, a change of scenery. Such was the case for Dean and Debbie Anderson, founders of the Hogs on the High Seas Rally (HOHS). The Andersons had been to a bunch of rallies, and were burned out on the "typical" motorcycle rally. Then, while hiding from the rain at a rally, the thought came to Dean: "Why not have a rally on a cruise ship, traveling to lush, tropical locations?" And since the first Western Caribbean Rally back in 2003, the HOHS rally has become one of the top 10 motorcycle events in the U.S., ranking right up there with Daytona and Sturgis.
Sure, we know what you're thinking: "What the heck does a seven day cruise have to do with motorcycles, or a rally?" The short answer: parts and accessories vendors, leather, tattoos, poker walks, parties, giveaways of cash and prizes, and the one thing bikers like to do most (but receive the least recognition for)-raise money for a charity. Dean and Debbie wanted to make their rally stand apart from the rest, but they also wanted to create a rally where they could not only raise money for a good cause but also actually be able to invite the very people they were helping to partake in the rally fun.
They accomplished this by setting up a dialysis program in which they invite up to 14 dialysis patients aboard the cruise. HOHS pays for the patient's half of the cabin, medical staff and equipment-so the patients can have their treatments during the week-as well as round-trip airfare, and give the patients $400 spending money. The best part is for one week these patients get to enjoy life without the worry of paying for travel expenses or medical assistance and be a part of something many of them never thought would be possible-to take a cruise. Dean and Debbie set it up so rally attendees can help raise money for the dialysis fund while having fun themselves through raffles, games, contests, and auctions.
Another way in which the HOHS rally stands apart from other rallies is that every night there is a giveaway show where thousands of dollars in cash, cabins for future cruises, motorcycle parts, and even custom motorcycles are given away for free.
We snuck aboard Royal Caribbean's Mariner of the Seas to attend the '07 HOHS seven day Western Caribbean Cruise this past November, and from the moment we boarded the ship it was evident this was going to be something special and one hell of a week. Here's what we can recall (things are still a little hazy) of how the week went.
Saturday: 11/3:
Arrived in Orlando, FL, and took a taxi to the Radisson at the Port in Cape Canaveral. The party was already underway on the hotel's pool deck lined with bikes and bikers. Tried to take things slow and ease our way into party mode.
Sunday: 11/4
Boarded the Mariner of the Seas. Checked into our stateroom. Very nice room, excellent balcony and view (note to self-keep door locked after more than four Mai Tais). Wandered the 15 levels of the 1,020-foot, 3,000-plus guest capacity ship and tried to figure out a plan to hit every amenity offered: bars, night clubs, lounges, stores, pools, spas, health club, restaurants, theatres, rock climbing, casino, basketball court, but most importantly-sit in the Captain's seat and drive this sucker.
Next we prepped for dinner: Tonight's theme: leather night. Of the 1,500-plus HOHS members, practically all of them took leather night as if they were hitting the streets of Sturgis or Daytona, sporting leather vests, pants, do-rags, chains, boots, tight skirts and skimpy tops. The looks on the faces of the "regulars" (the non HOHS crew members) were priceless-they were definitely jealous in their formal attire of stuffed up penguin suits and poofy prom dresses. You could tell that they wanted to relax and cut loose like the rest of us. Dinner was excellent; order all you want of a four-course, five star meal. After dinner we wandered into the theatre for the first nightly giveaway show for HOHS members. During the show thousands of dollars in parts from 20-plus vendors were given away along with cash prizes and cabins for future cruises. MC Roy kept us all in stitches with his quick wit, funny stories, and questionable attire. Then it was back to the room to rest for the next day.
Monday: 11/5
Spent all day at sea, but there was plenty to do on the ship. The vendor booth area was open with top vendors such as Kryakyn, Fat Baggers Inc, Dragonfly Cycle Concepts, MC Advantages, and Legends Air Ride displaying parts and bikes and educating attendees about their products. The Belly Smacker contest was a big hit…err…splash (it was a toss-up as to who won between the biggest splash and the reddest belly).
Tuesday: 11/6
Our first stop was Labadee, Haiti. Labadee is a private island owned by the Royal Caribbean cruise line. It's a beautiful peninsula with more activities to do than time allows for. Race down a multi-story zip line as your feet dip and skip over the crest of the waves below, snorkel, pick up some Haitian souvenirs from the locals, or join in the HOHS T-shirt swap. It was on the island that we found out the captain of our ship, Johnny Faevelen, was a Harley guy as he cruised the island on his canary yellow Road King (we knew there was something cool about this guy).
Back on the ship we caught a glimpse of the ladies competing in the Treasured Chest contest-and not a single one was a sunken chest! Later that night the dinner theme was '50s/'60s/'70s-poodle skirts and tie-dye never looked so good together.
Wednesday 11/7
Second stop, Ochos Rios, Jamaica. After spending most of the day wandering the nearby shopping center and mixing it up with the locals (love dem Jah-may-kahn accents, mon) we wound up at the party hot spot, Jimmy Buffet's Margaritaville. We quickly learned that every stop had a HOHS party location where the HOHS crew would take over the bar for a few hours. We had heard great stories about this watering hole, but what we saw was way more than we ever expected, and more than what we can show in this magazine. Let's just say there seemed to be some sort of mystical force in the tunnel of the waterslide that caused many women (and unfortunately some men) to lose their swimsuits. Several hours later we found our way back to the ship, tired and full of Red Stripe and jerked chicken. The dinner theme for this night was Mardi Gras. After dinner we hit the tattoo contest; there was amazing ink on some of the contestants. But what was even more amazing was the number of people who had HOHS tattoos. Some even had multiple tats (one for each year they attended) and got paid 50 a pop per each one-definitely some die-hard fans.
Thursday: 11/8
Our third stop was Georgetown, Grand Cayman. The water here was an incredible hue of light blue that made the vibrant colors of the sea life look like something out of a Pixar movie. A little more upscale and pricey than the previous two stops, but that made sense (home to lots of offshore banks and Internet gambling). There were a couple party locations, the Hard Rock Caf and Jimmy Buffett's. We spent the day enjoying the amazing coastline of Seven Mile Beach. Once back on the ship there were tech seminars from the vendors and more prizes to be won at Biker Pirate Bingo. Tonight they drew the winner for the $31,000 Kustom Culture Cycles Dialysis Bike at the nightly giveaway show-congratulations to Bruce Wakefield. The night was capped off with the HOHS pool party with free drinks, an ice carving show, and the Topless Man contest-we opted out of this one to give someone else a chance to win.
Friday 11/9
Our last stop of the trip was Cozumel, Mexico-by far our favorite of all the stops. We're sort of partial to Mexico (probably because of our close proximity, and we love to use our excellent Spanglish skills). While most of our time was spent bartering for local goods (souvenir bottles of tequila), friends partook in on-shore excursions, such as snorkeling off a secluded island, tearing through the Mexican jungle on ATVs, and exploring ancient ruins. And while we had been warned, at the end of the day we meandered over to the major party stop, Carlos' n Charlie's-all we can say is bedlam! And it was awesome! Everyone was dancing, laughing, shooting tequila, shooting tequila, and shooting tequila.
Somehow we made it back to the ship (thanks to Dean and Debbie, keeping a close eye on as many people as they could handle). On the ship it was biker attire night again during dinner. At the giveaway show a $60,000 ground-up custom trike, a collaboration between Gear Gasm and Prime Suspect Choppers, was given away-congratulations, Brad Zepka!
Saturday 11/10
This was our last full day on the cruise, and we spent it out at sea making our way back to Port Canaveral, but that didn't mean the fun had to stop. We watched the Best Beard Contest, and then finished up our list of things to do on the ship (take over Captain Johnny's seat and drive this behemoth). After a long nap by the pool, we wandered in to the theatre to check out the HOHS auction where art pieces from Segal Fine Art, HOHS banners, and dialysis blankets were auctioned off-all proceeds were donated back to the dialysis fund. The night was wrapped up with yet another giveaway bike. This one was a $45,000 custom FBI HOHS bagger with parts donated from on-board vendors like Dragonfly and Kryakyn. Congratulations Thomas Dance.
Sunday 11/11
We were slow to wake up this morning, partially because we were completely exhausted, but mostly because we knew we had to leave the ship and go back to the real world. We packed up, wrote down names and e-mails of our new friends and family, and said our good-byes, and then it was off to the airport. Sitting in the airport in a daze we tried to recall ever attending a rally or motorcycle event where we never once had to worry about getting our bike stolen or getting popped for a DUI. We had never met so many people, done so many things, had so much fun, and experienced so many beautiful locations-all while helping raise money for a good cause. But the best part of the entire trip was getting to watch the people we were helping get to experience everything we did and have just as much fun, if not more, all while creating a bonding experience where everyone from first timers to five-time repeat attendees felt like one big family.
A few weeks after we finally regained our land legs, we received a newsletter from Dean and Debbie recapping the totals from the '07 HOHS Western Caribbean Rally:
Total HOHS passengers: 1,721
Value of free vendor prizes given away during the games and nightly shows:
$102,060.00
Cash Winnings given away for HOHS games and contests, 50/50, bingo, tattoo contest, etc.: $84,618.00
2 Free Grand Prize Bike Giveaways: $45,000 FBI Bagger, $60,000 Gear Gasm, Prime Suspects Choppers custom trike
Dialysis Raffle Bike: $31,000 Kustom Culture Cycles
Total in Cash and Prizes given away:
$309,678.00
Money Raised for the HOHS Dialysis Fund Inc.: $182,895.
When was the last time you saw a motorcycle rally with these kinds of numbers?
Dean and Debbie have organized a few other cruises to other locations such as Alaska and the Mexican Riviera. The problem is with so many return attendees and the constant word of mouth, the cabins fill up months in advance. So be sure to log onto www.hogsonthehighseas.com to get more information and book your spot for your chance to experience a trip of a lifetime.