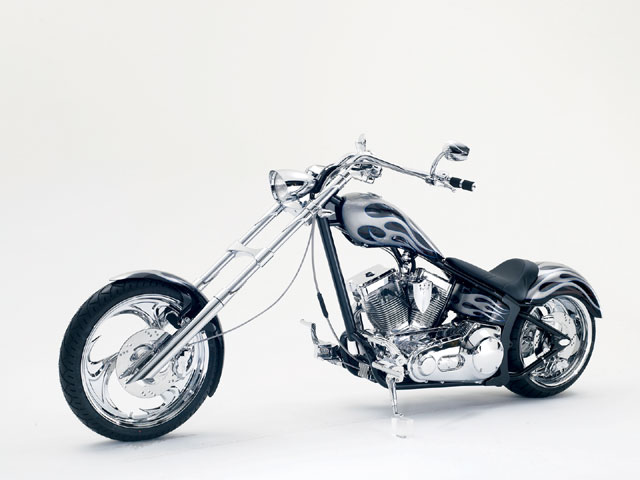 Lighter, pen, and razor company BIC USA Inc. awarded Ogden, UT, resident Casey Whitely an '07 Big Dog Motorcycles (BDM) K-9 Chopper with a custom seat and a $500 BDM gift certificate as the grand prize in the company's BIC Lighter Big Dog Motorcycles Sweepstakes.
Other Sweepstake prizes included two first prize winners who won a trip for two to Daytona, FL, for 2008 Bike Week and $500 spending money. Twenty second place winners received a $200 gift certificate to J&P; Cycles (www.jpcycles.com), while 50 people received a one-year subscription to HOT BIKE magazine.
For more info, log onto www.bicworld.com and www.bdm.com.
Orange County ChoppersComing To A Dealer Near YouOrange County Choppers (OCC) recently announced the launch of their own line of production bikes. The entire production bike line will be available at select dealer locations across the United States. OCC is actively engaged in the development and ongoing expansion of an exclusive dealer network, comprised of outlets that will provide world-class sales, service, and support to every OCC Motorcycles customer, both before and after purchase. Looking ahead to 2008, OCC seeks to harness the foreign market's soaring interest in custom motorcycles and create an international dealer and distribution network.
Dispelling the myth that production bikes lose their personality somewhere on the assembly line, OCC created the T-Rex Softail. With its large diameter frame and aggressive, 45-degree rake, the T-Rex Softail is a true chopper. A wide, 240 rear tire combines great looks with a sure-footed, comfortable ride and the low, custom seat easily accommodates most riders. The 100ci motor and right-side drive provides balance and smooth handling, while original OCC wheels and drag bars enhance the classic chopper look. All wiring on the T-Rex Softail is internal, so nothing interferes with the distinctive styling of this unique, high-performance cruiser.
A seamless marriage of traditional technique and modern technology, the Web bike is a true original. The bike's distinctive elements were created using a state-of-the-art, five-axis flow cut system to ensure the sharp, intricate edges that define this look. A sleek OCC razor frontend and fat 300-rear tire make the Web a chopper at heart, with the solid handling and neutral balance of a more traditional model. Like nothing else on the road, the Web's unmistakable design and exceptional performance make it an attractive option in the arena of production cycles.
The flagship of the line is the SplitBack with its giant 124ci motor. OCC designed a gas tank that wraps around the frame, lending a sexy, distinctive look to the bike. From there, custom razor forks, handlebars, chrome wheels, a 40-degree rake, and 240-rear tire bring solid styling to the table. A custom suspension seat provides comfort while cruising in style.
For riders who love the classics, the Greenie pairs old school style with new school construction, capturing the attitude of a classic bobber. Each bike is hand-built in the OCC shop using all-American parts, from the lighting to the cylinders to the hand-threaded wiring harness. Solid styling and neutral balancing provides a stable ride and easy maneuverability, while the custom padded leather seat with spring suspension ensures comfort. Features like custom paint, chrome, and original OCC wheels impart a traditional soul to this undeniably modern bike.
For more information about OCC's limited edition production bike line, or to find a dealer near you, call (866) 601-7319 or visit www.occmotocycles.com.