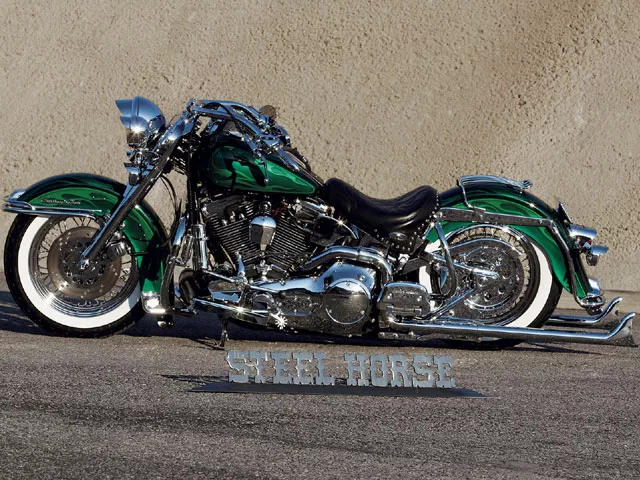 Here at Hot Bike, we get a lot of rides-Harleys, hogs, whatever you want to call them-submitted by our readers. Pick of the Pen is an opportunity to dedicate a few pages to our favorite reader-submitted bike each month.This month's bike is from owner Greg Barragan of Fresno, California. Here's the story of Greg's '96 Heritage Softail in his own words.
Spec Sheet
| | |
| --- | --- |
| Owner | Greg Barragan |
| Hometown | Fresno, CA |
| Year/Model | '96/Heritage Softail Special |
| Builder/Assembly | Greg Barragan |
| Engine | H-D 80ci |
| Pipes | Fishtails |
| Transmission | H-D five-speed |
| Gas Tank | H-D |
| Rear Fender | H-D |
| Front Suspension | Stock H-D |
| Wheels | Twisted Spokes |
| Tires | Dunlop |
I started this journey back in 2005, when I purchased my '96 Heritage Softail Special from the original owner. My intention was to change the spokes and rims, and from there everything took off.
My horse, Eddie, was one of the inspirations in creating my bike's Western theme. I have always believed that the Harley-Davidson is a "Steel Horse," so there are many features that represent the Western style, from the seat down to the spurs on my running boards that I fabricated one night in my garage. The steel horse mural and the rattlesnake skin pattern graphics really bring out the style and vibe of the West. I have entered the Steel Horse in several shows, one of which was the inaugural Annual Arlen Ness Bike Show in San Jose. The Steel Horse placed First in its category. Some of the custom/special features I added to the bike were diamond-cut heads and barrels, running board heel guard spurs, chrome rear fender luggage rack, front and rear fender mud guards, custom flame shift lever, and 7-inch stash tube. I would like to thank everyone that has contributed to and supported the Steel Horse throughout its journey.