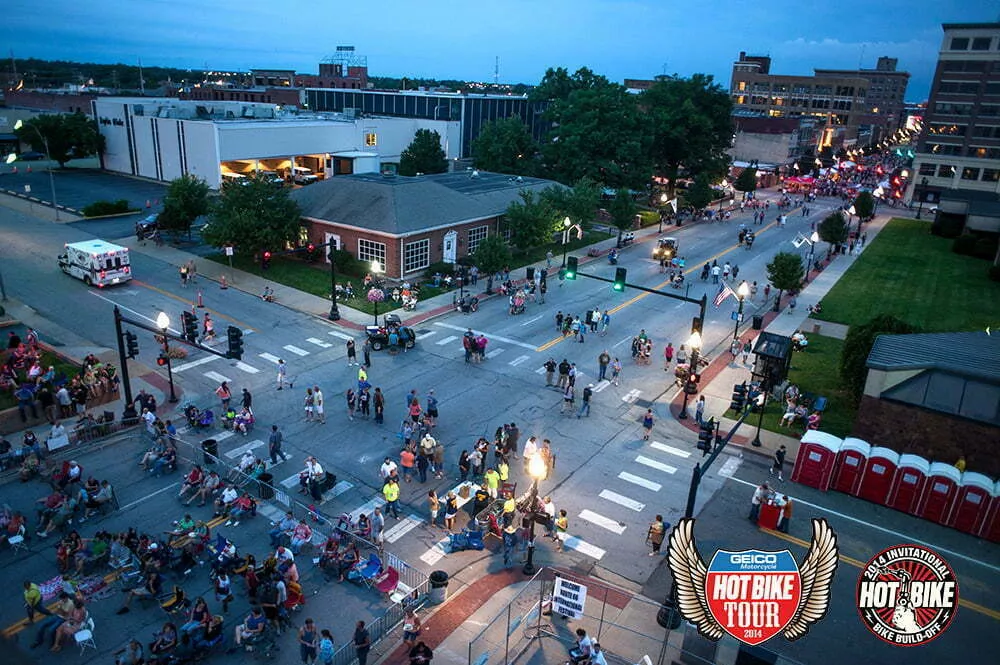 The GEICO Motorcycle Hot Bike Tour 2014 will be kicking off on Saturday, August 16, in Joplin, Missouri before hitting the road the next day on it's 5 day, 1,000 mile journey.Join us for a great afternoon of bike shows, music, food, vendors and more as part of a good old fashion kickoff party!
Joplin is located in the southwest corner of Missouri and is the metropolitan hub for a 3-state region. The population is 50,150, but the surrounding communities bring it to over 230,000. Three major highways connect Joplin to the World. I-44 reaches east to west; I-49 north to south and Historic Route 66 brings the Great Lakes and the Pacific Ocean to Joplin's doorstep.
Joplin is biker friendly and unique riding experiences await you. The rolling hills of the 'Ozark Uplift' offer great, gentle rides throughout the regional countryside and hop on Route 66 for adventure on 'The Mother Road'. Quaint shops, visitor centers, attractions, local eateries and friendly Midwesterners await you on your riding journey.
Off the bike, the Candy House Chocolate Factory is a must stop. From exquisite locally-made chocolates and tasty treats your sweet tooth will have met its match. If your time allows, you could get in the act and dip your own treat; from an Oreo to your own signature candy bar. Your purchase may be that satisfying end to terrific ride or a great gift to take back home. There is even a collection of Route 66 Taste & Treats to remember your cruise.
Downtown Joplin is the place to be from lunch to dinner on into the nightlife. Local restaurants offering 8 different cuisines choices all within walking distance from a variety of retailers – women's fashion, hand-made guitars and local art. You can even repair your cell phone, shop a small-box hardware store, or upgrade your bike's audio system. Joplin's nightlife comes alive at JB's Piano Bar and Blackthorn Pizza & Pub, or for the more conversational gathering with friends there is Club 609 and Caldone's.
To fill your cultured side, enjoy nine murals along Main Street speak to Joplin's past and strengths. Within the Joplin City Hall is the last signed and only autobiographical mural by Missouri-born, World renowned artist Thomas Hart Benton. Route 66 Mural Park in the 600 block of Main Street consists of two large murals depicting Joplin's Route 66 heritage.
The Joplin Convention & Visitors Bureau is available to assist with your planning before and during your Joplin Experience at Visit Joplin MO
Go to Hot Bike Tour to sign up for the ride and get more info on The GEICO Motorcycle Hot Bike Tour 2014.
Hope to see you there!!
Go to Hot Bike Events to check out other host city spotlights and builder profiles for The Hot Bike Invitational Bike Build-off that runs in conjunction
with The GEICO Motorcycle Hot Bike Tour 2014.