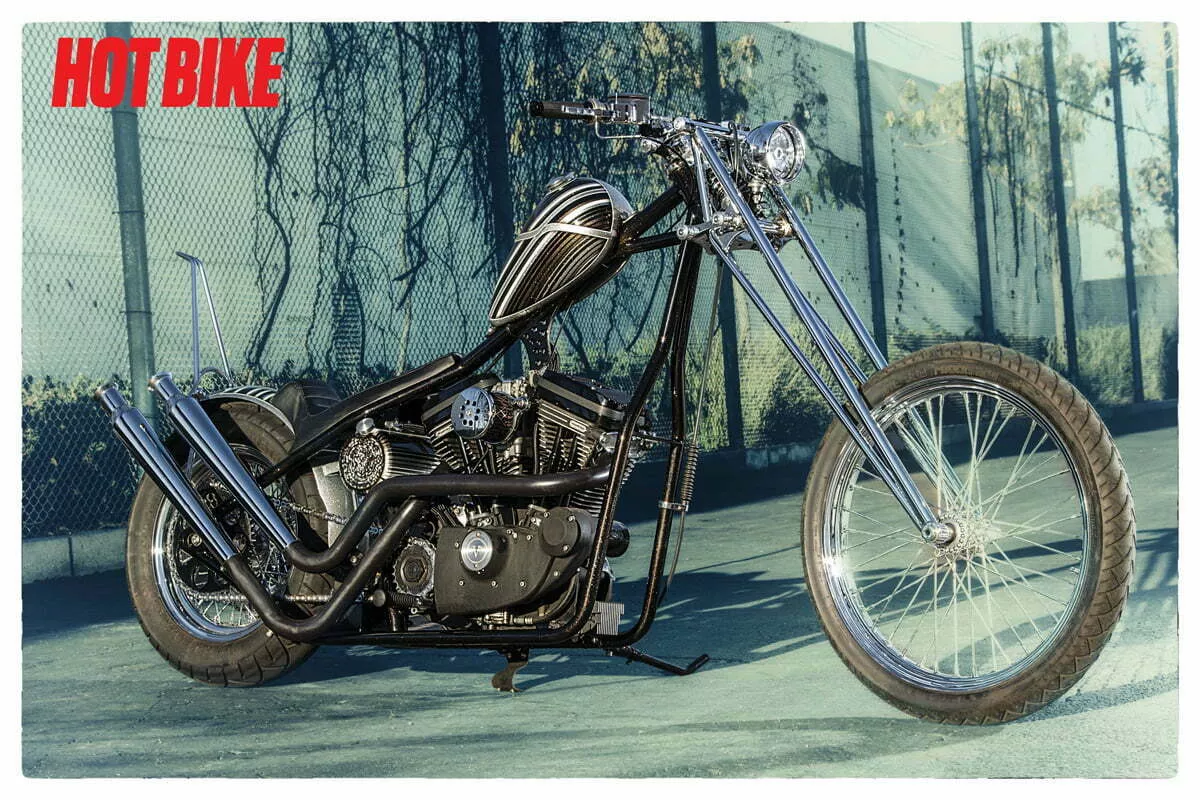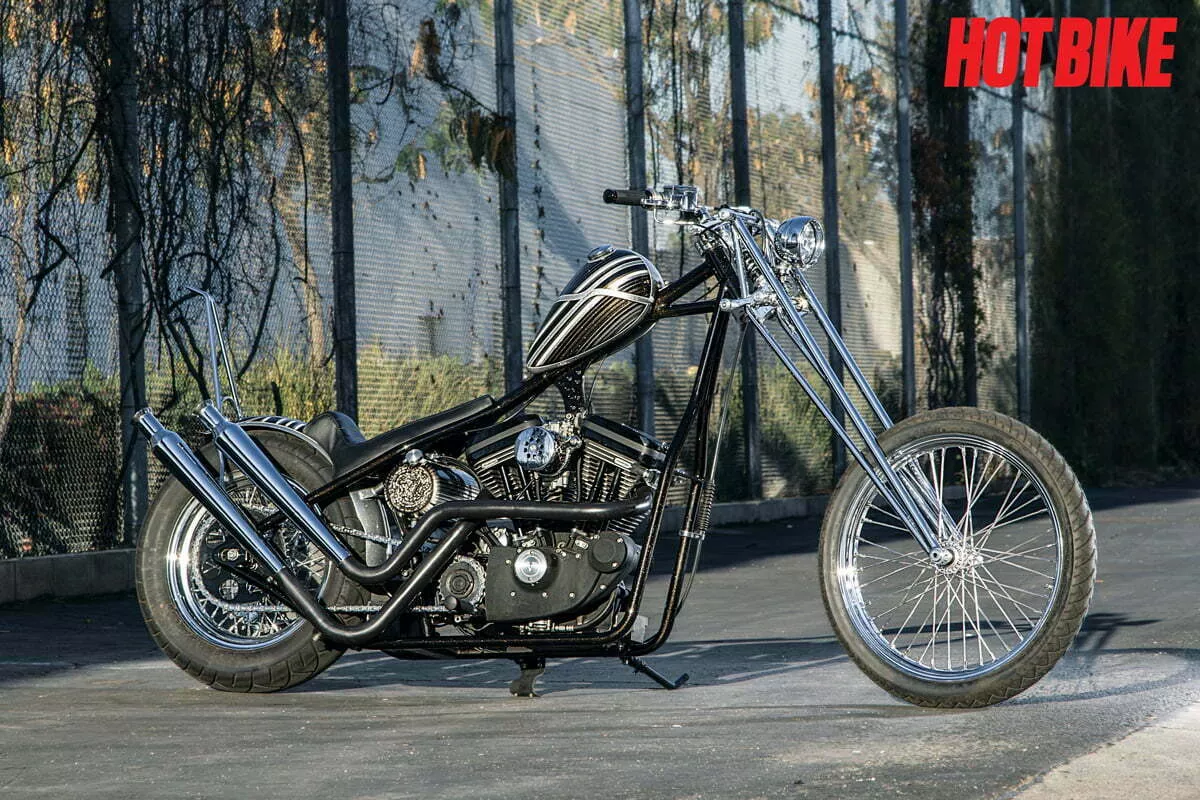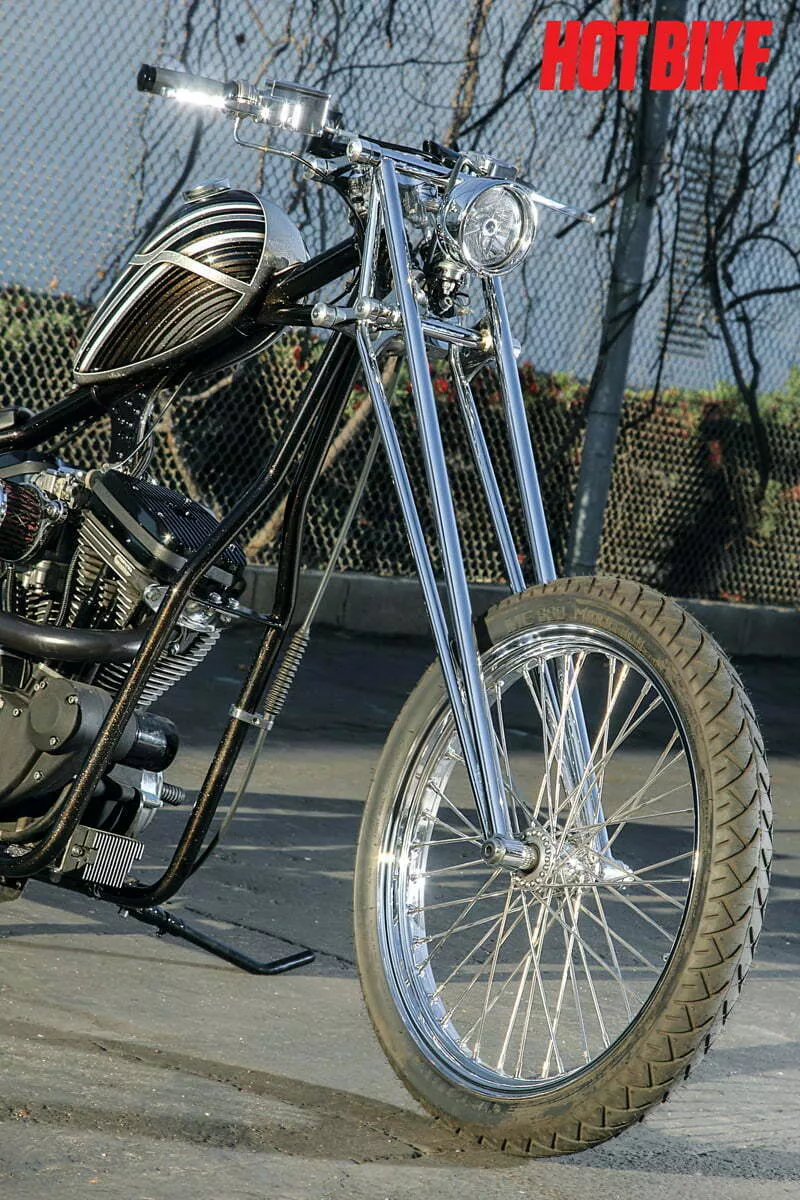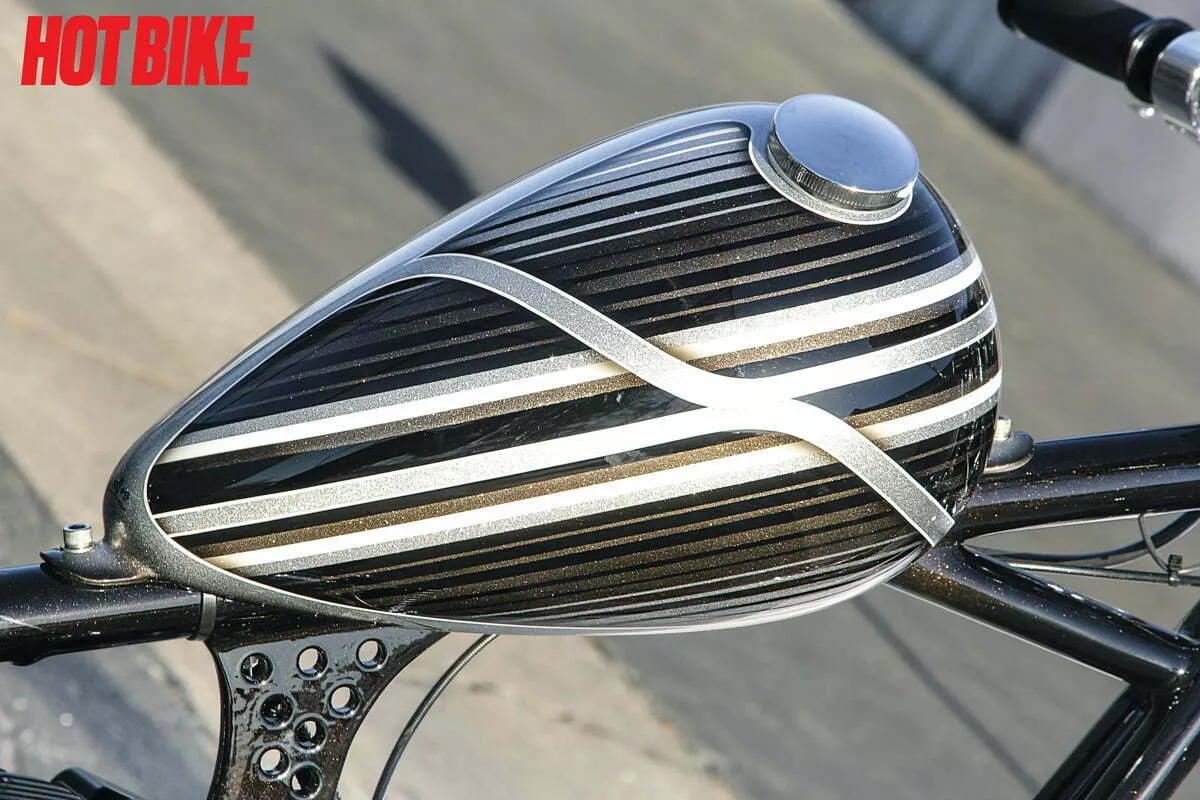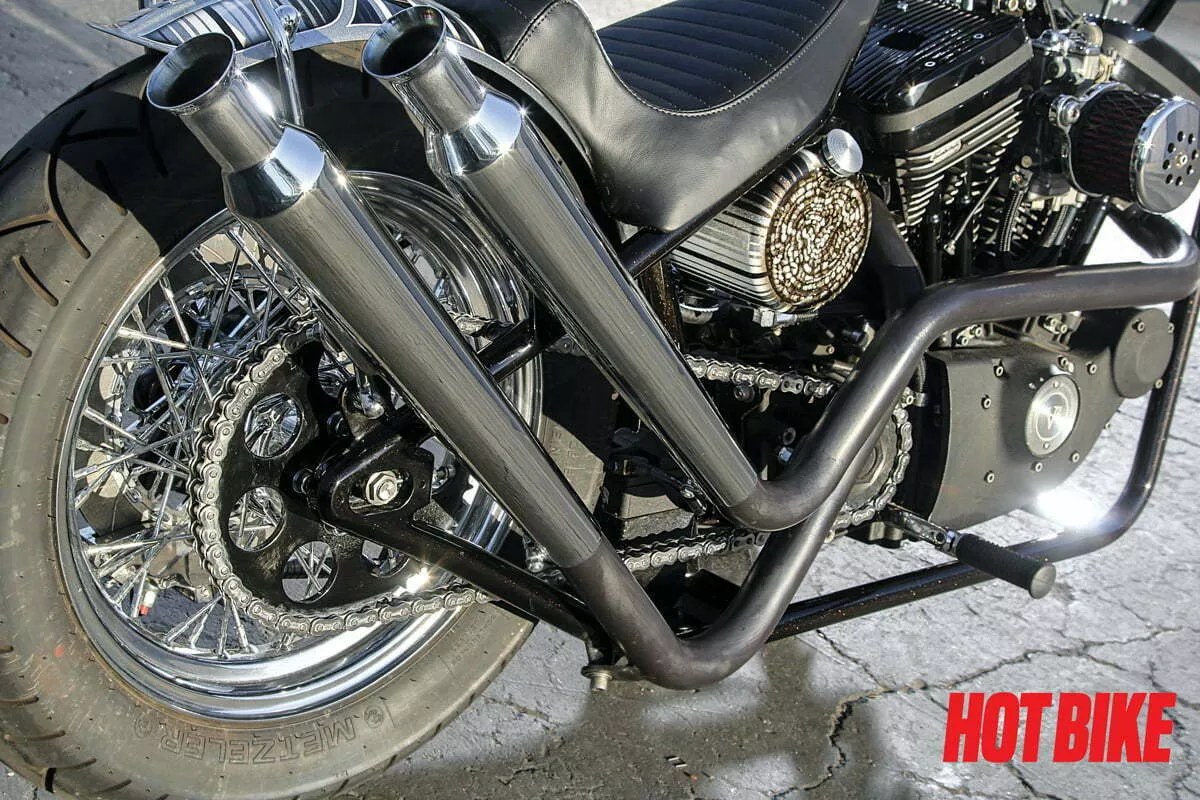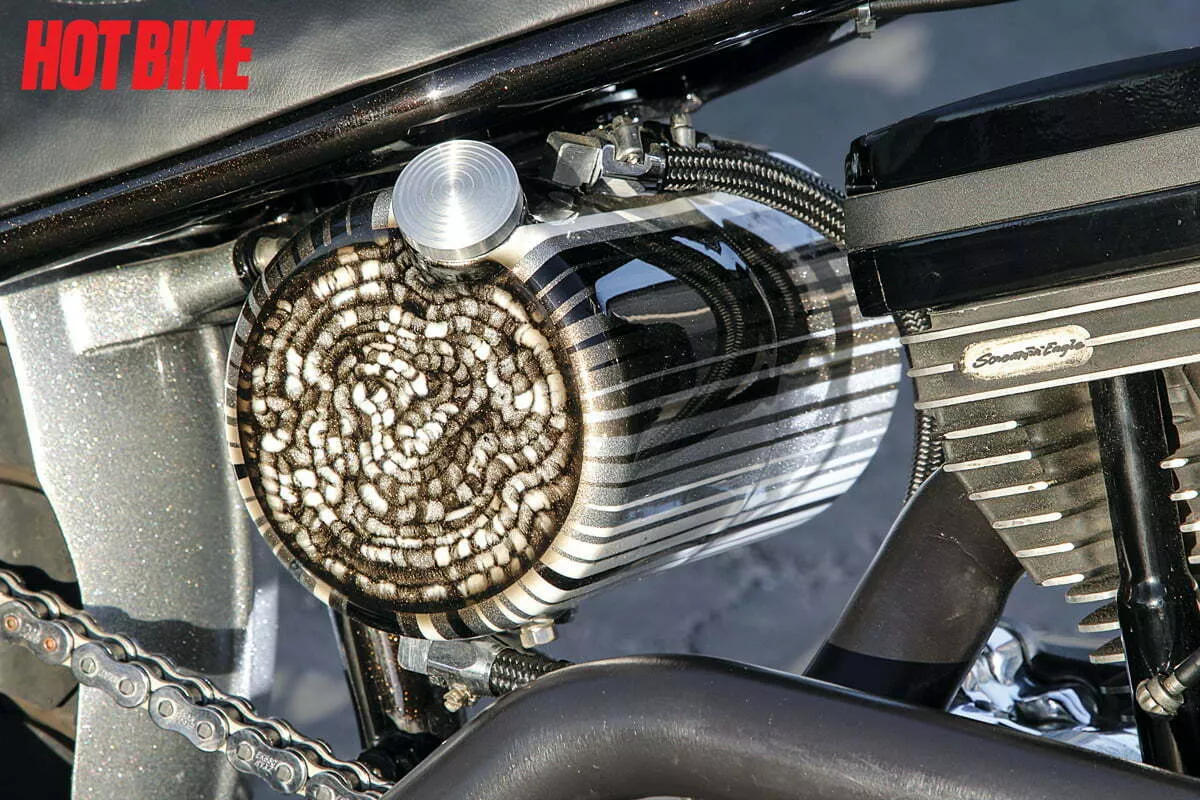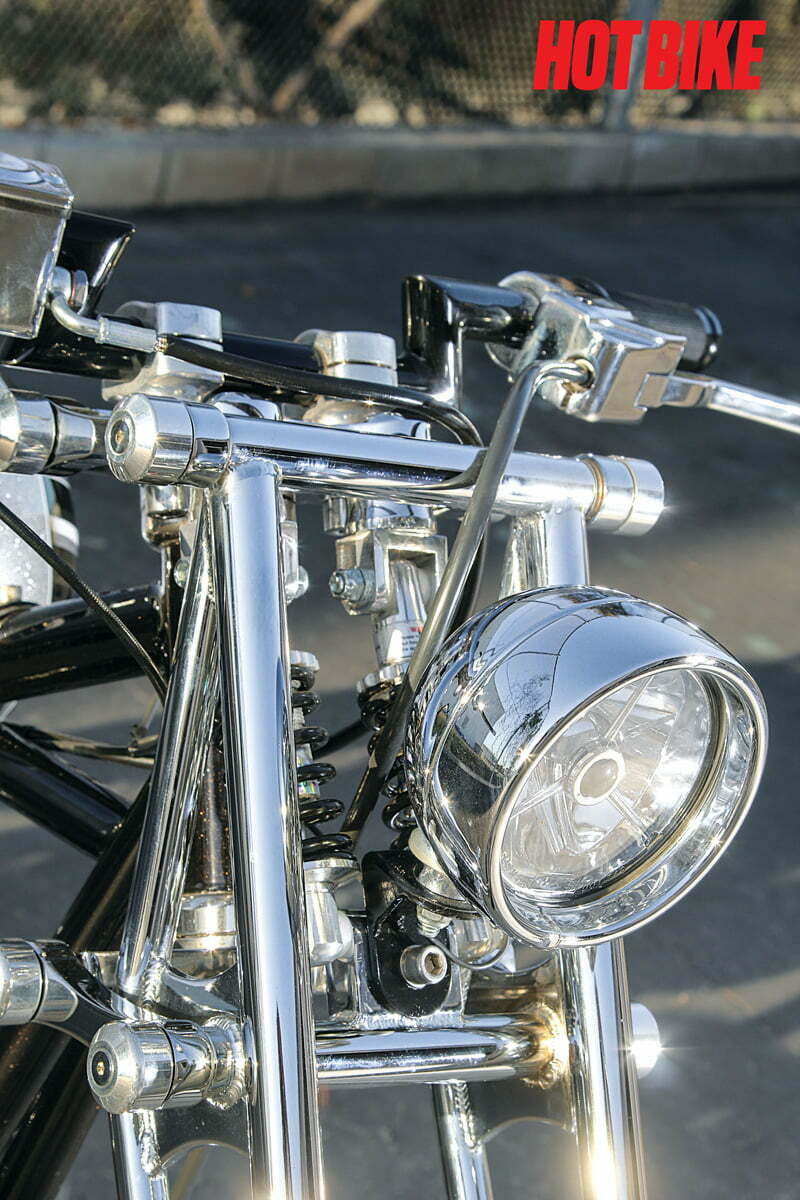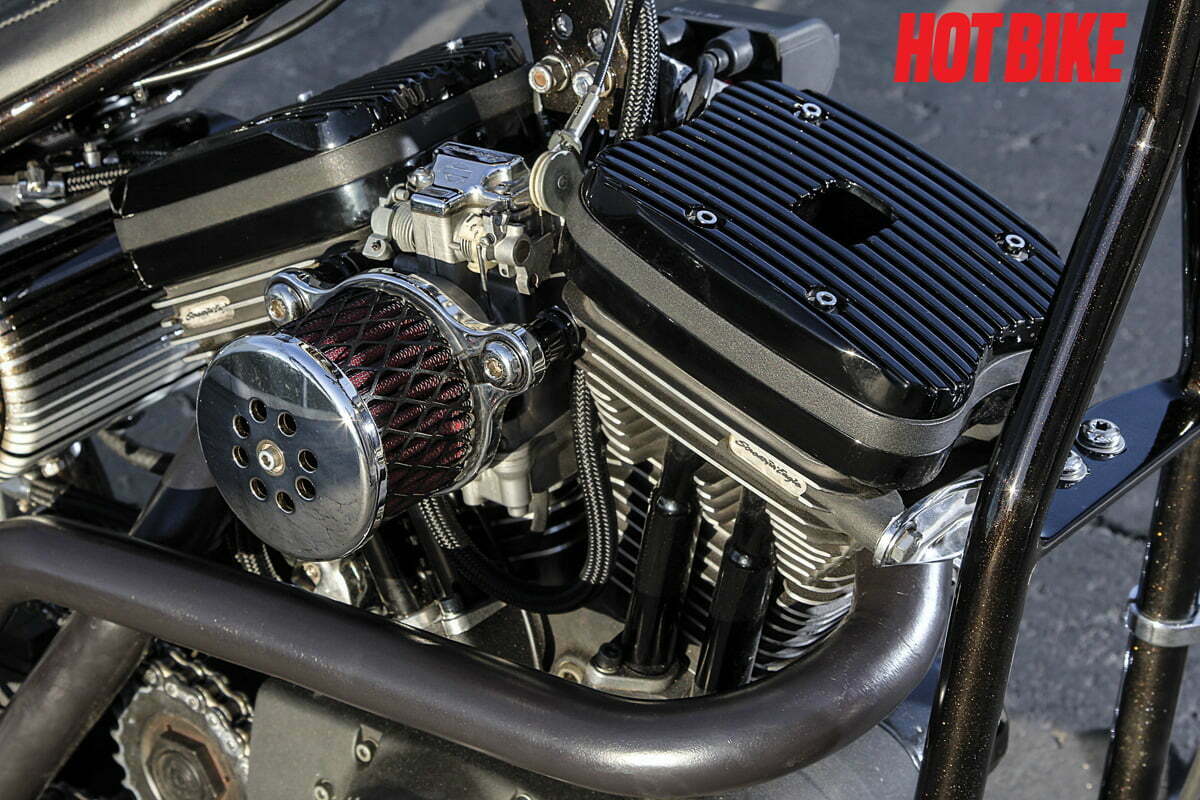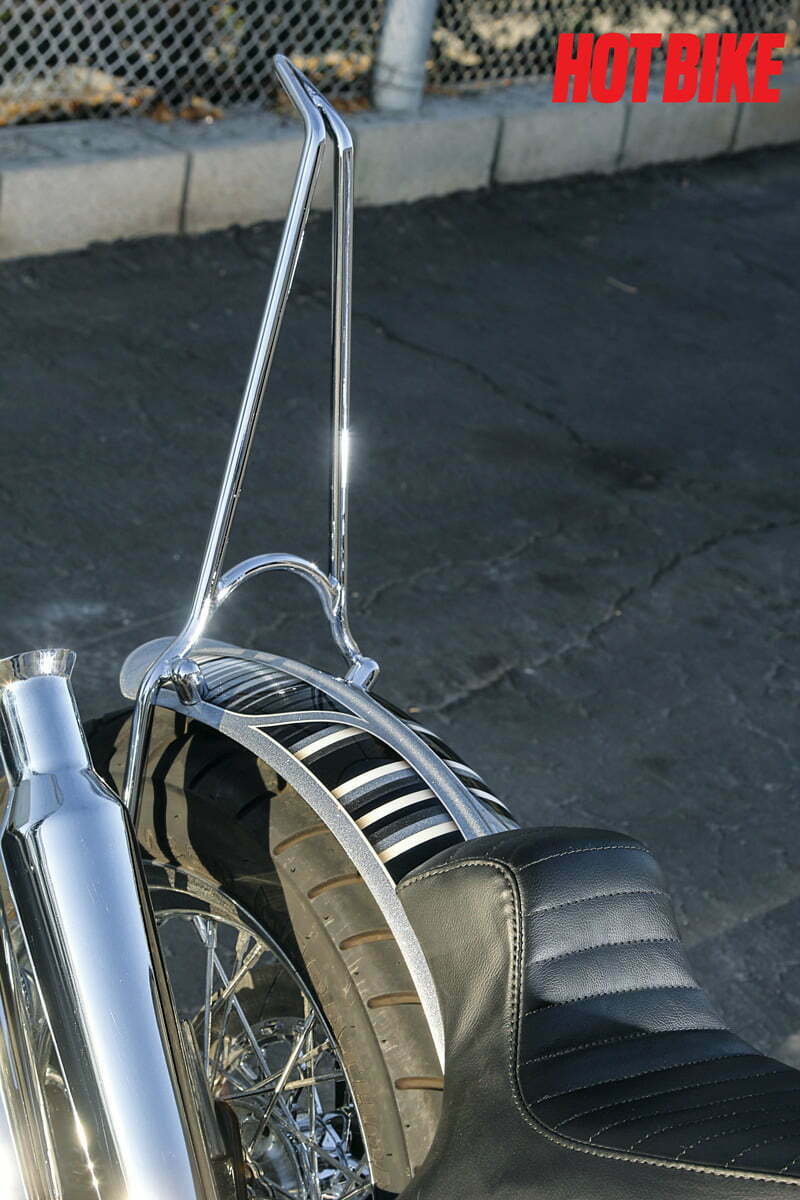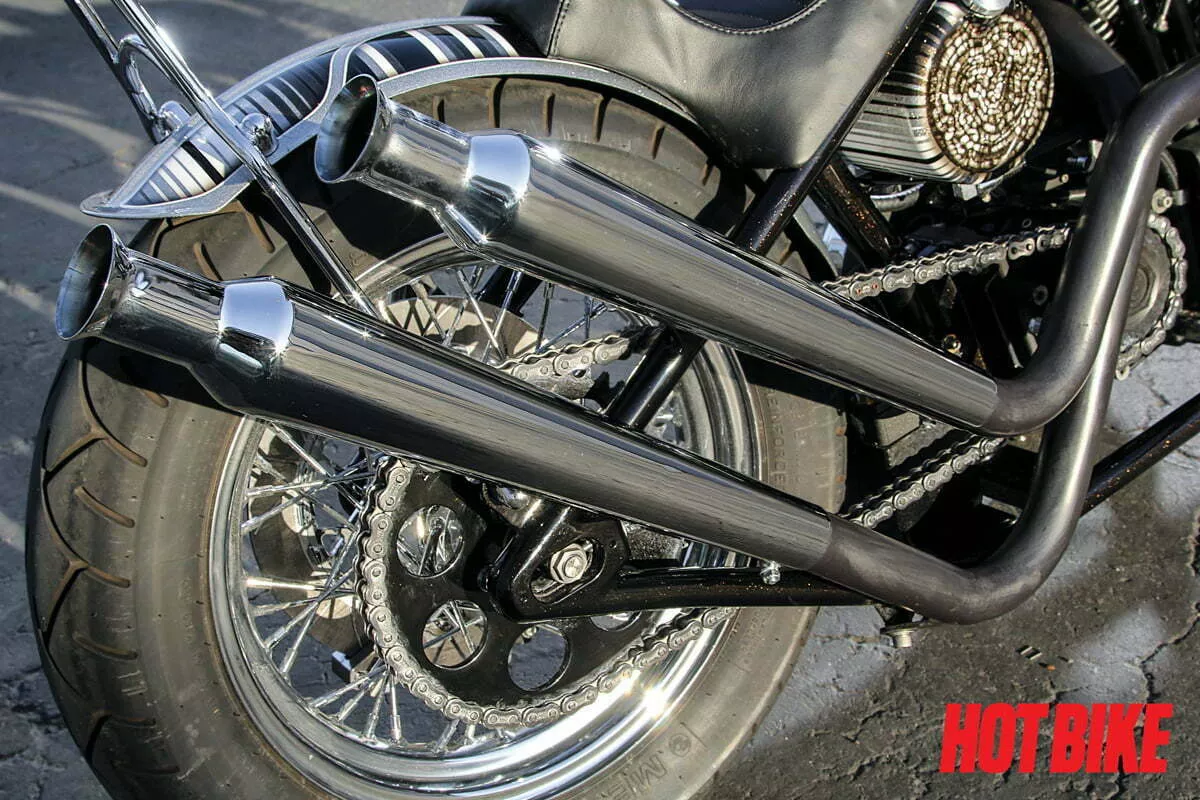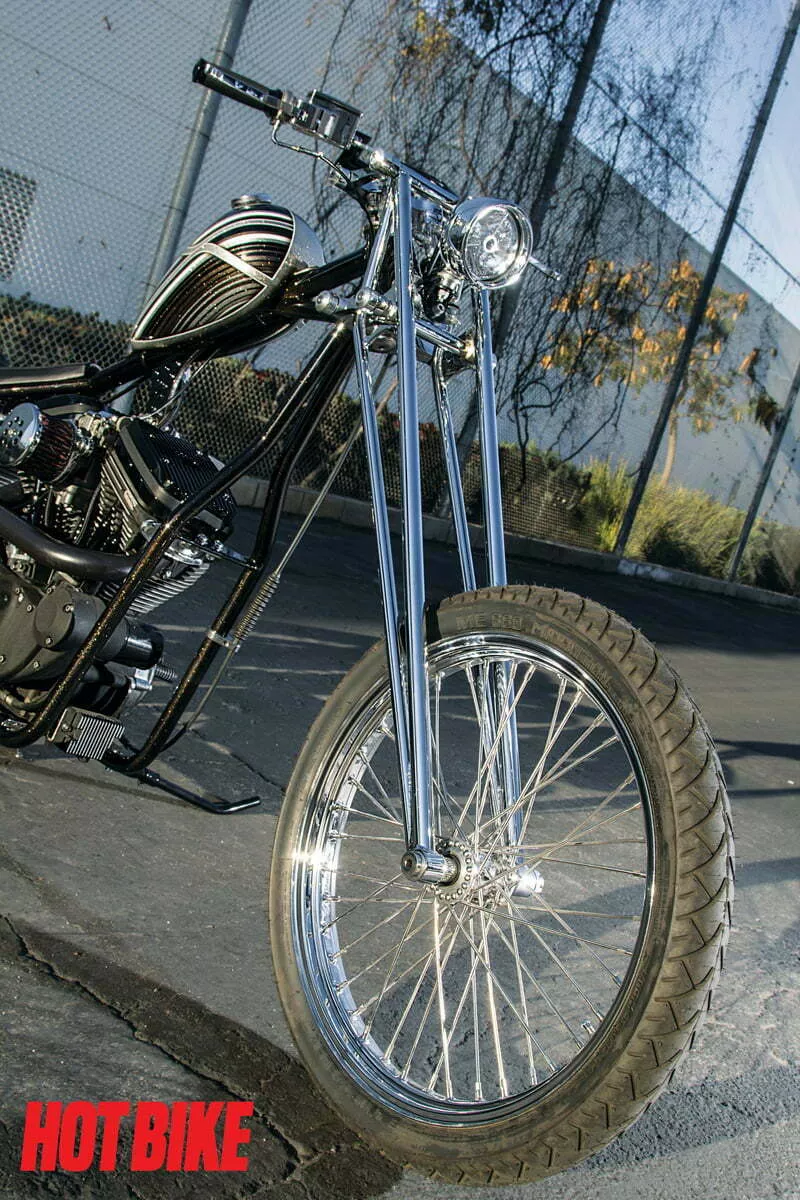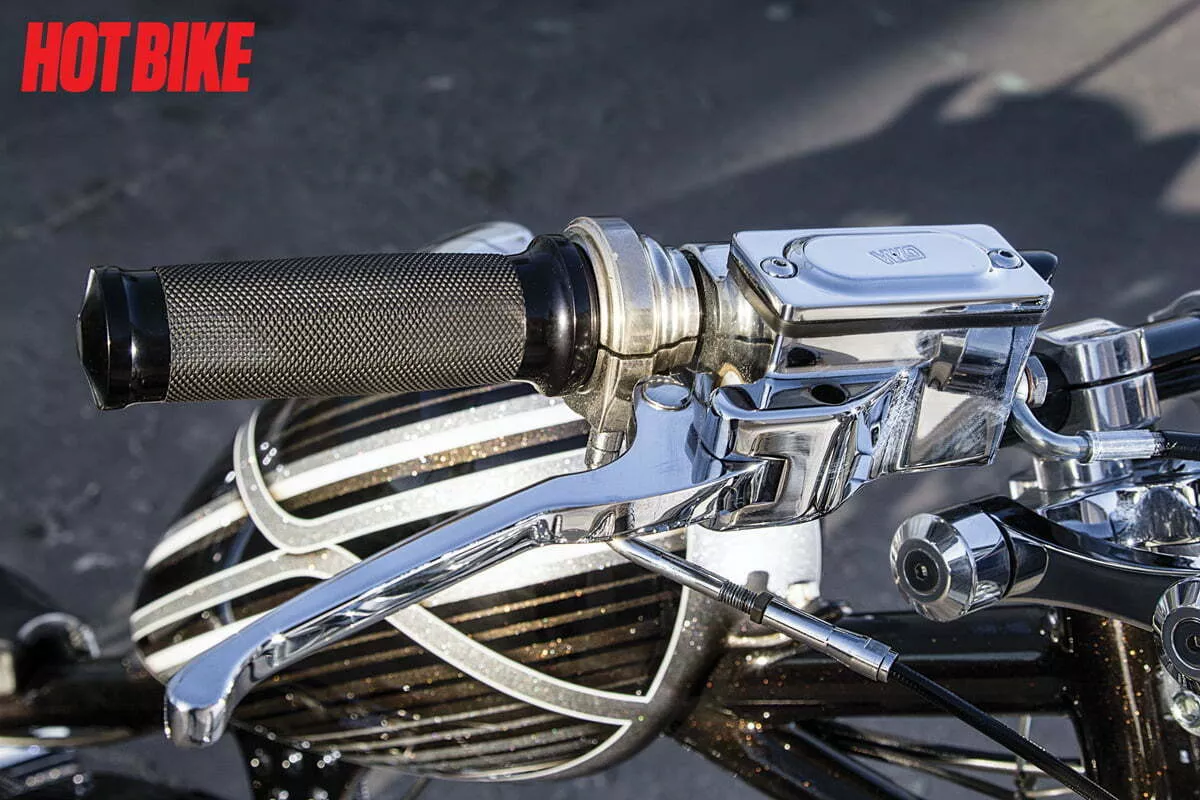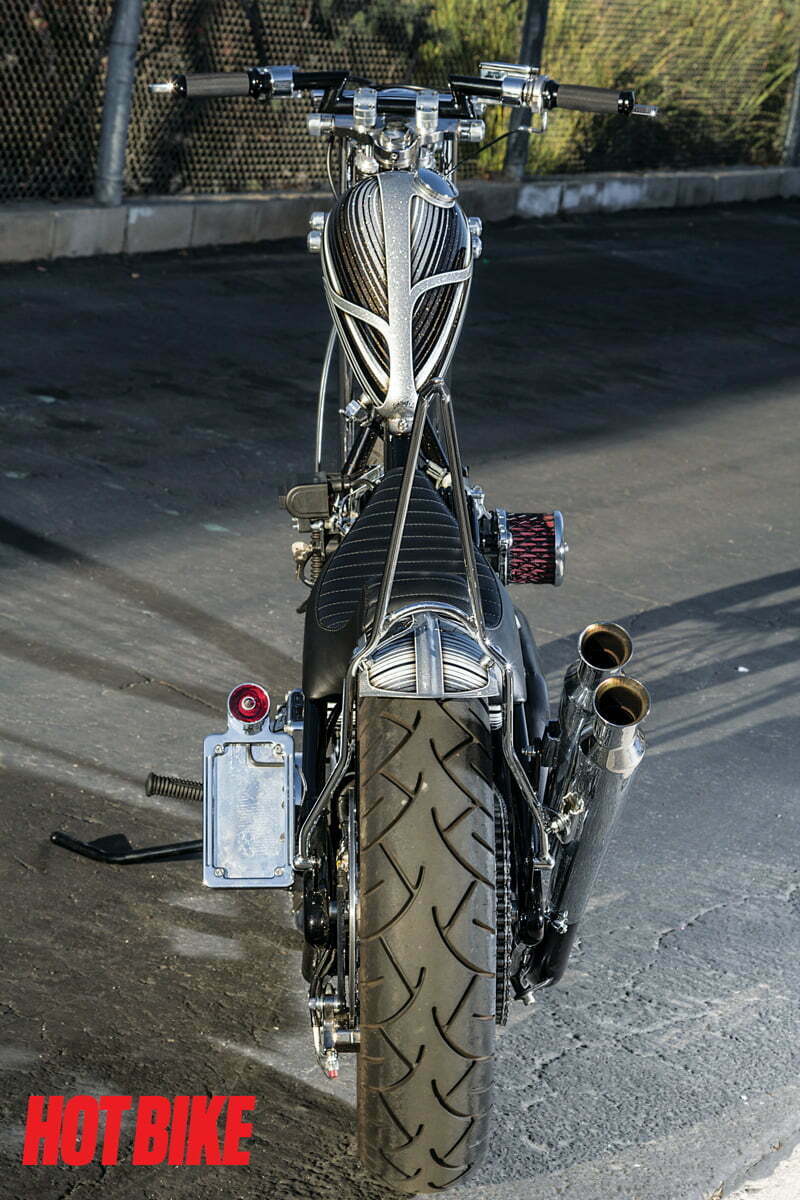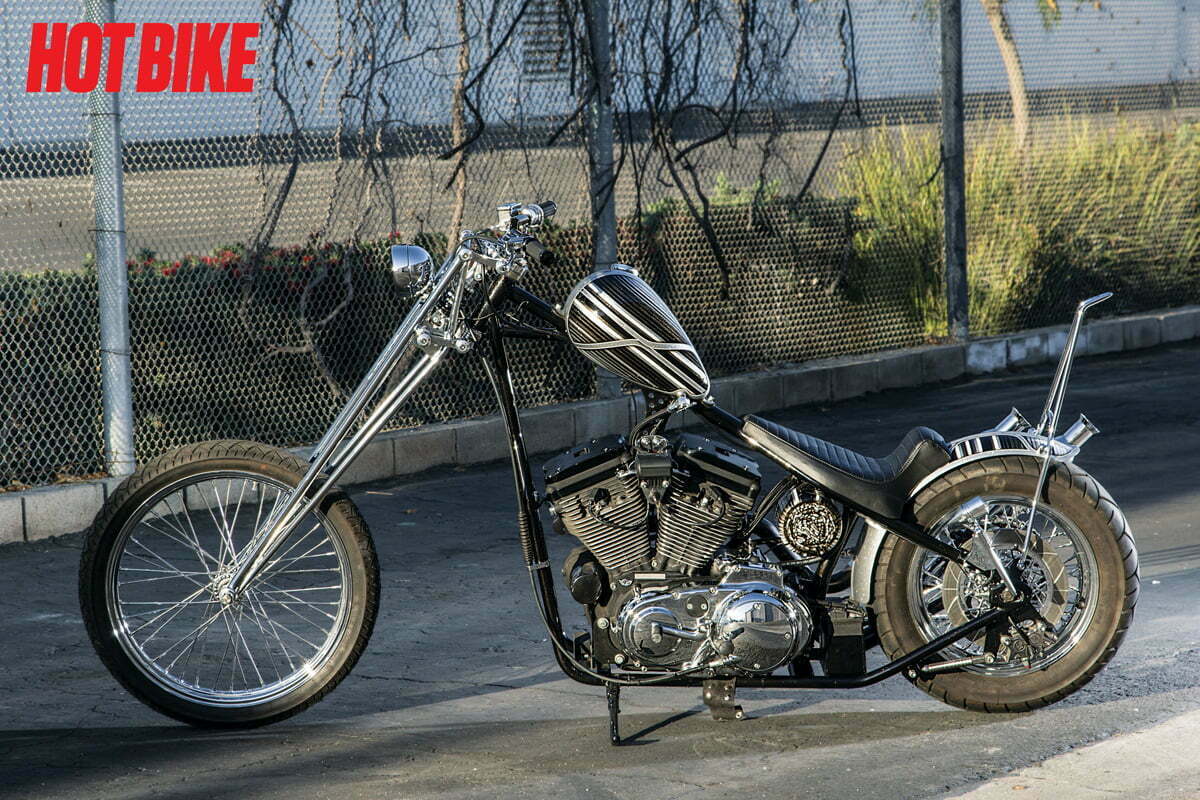 HB: This bike was originally built as dirt tracker, correct? How did it become a chopper?
T-Rod: The bike originally was a speed trials bike. It was built for El Mirage, but it had a different frame. It had completely different sheet metal and scheme. It was more like a flat-track bike. The previous guys built it and raced El Mirage and actually held a record for a minute in the 1,200 pushrod motor class. Then it went through a transformation when it got put into this ridged frame, but it never really got finished. It was rattle-canned and held together with hose clamps with parts falling off it.
HB: How did you start working on it?
T-Rod: I got ahold of the bike from a friend of mine named Monkey who owned it for a long time. Monkey moved out of state and left it in a storage unit. When I got ahold of it, it needed a front end and wiring. I rode it around for a while and went to the Born Free shows. Dave Bermeo always had an eye for this bike. He wanted it for a long time, but Dave and I weren't talking for a long time.
HB: Why is that?
T-Rod: We had an incident over a bar fight. Dave was on one side and I was on another, and the sides collided. It turned into a gnarly bar fight, and we both ended up with a case over it. After that we started talking and Dave said, "You know what, I really like that bike you have." The bike opened up a whole new line of communication between us, and we became friends again. The reason we began talking again is because of the bike. We're in this for motorcycling and nothing else. We love bikes, we love to ride, and we love to build them. We brought it back to basics where it was all about the bike and everything else just evolved around it.
HB: How was the beef squashed?
T-Rod: It was the love for motorcycles that kind of brought us back together again. Dave loves motorcycles, and I love building them. I named the bike "Chop Suey." He told me, "I'd like to own it." I told him, "I really like that 65 GMC you got," so we traded the bike for the truck.
HB: How did it become a chopper?
T-Rod: One day he came to me and said he wanted a complete frame-up build on this. He said, "I want you take it all apart. This is the style that I want, but I want you to put your touches on it." So we tore it completely apart, sandblasted the frame, cut off a bunch of frame tabs, and took the motor apart. The motor had been run hard during the speed trials. We gave it fresh rings and pistons and went through the heads and valves. It's a 1200 built Sportster with Bill Chambers Racing heads and everything. We also changed the rear fender with a ribbed fender on the back and added a custom sissy bar. We also made custom pipes with the old-school bell tips on them. We took one of the Mustang tanks and mounted it and switched the Narrow Glide front end to a girder front end that Dave got. We sent the sheet metal to Wayne Wreck at 8 Ball Rods and Choppers and god knows how many hours with the rolled-up Mexican blanket on the oil tank.
When you have a bike on the lift, it looks a certain way. If it looks good when it's on the lift, you know it's going to look killer when it's on the ground.
HB: How long did it take to make it all come together?
T-Rod: I probably have about close to 100 hours in the bike between the fabrication, disassembly, and motor work. It's more of a labor of love.
| Specifications | |
| --- | --- |
| General | |
| Bike Owner | Dave Bermeo |
| Shop Name | T-Rod's Speed Shop |
| Shop Phone | (714) 496-1474 |
| Year/Make/Model | 2002/H-D/Sportster |
| Fabrication | T-Rod's Speed Shop |
| Build Time | 4 months |
| Engine | |
| Year/Manufacturer | 2002/H-D |
| Type/Size | Sportster/1200 |
| Builder | T-Rod's Speed Shop |
| Cases | H-D |
| Cylinders | H-D |
| Heads | Bill Chambers Racing |
| Rocker Boxes | H-D |
| Cams | Andrews |
| Throttle Body | 42mm Mikuni |
| Air Cleaner | Joker Machine |
| Exhaust | H-D |
| Transmission | |
| Year/Manufacturer | 2002/H-D |
| Gears | H-D |
| Clutch | Barnett |
| Primary Drive | H-D |
| Frame | |
| Year/Type | 2002/Ridgid |
| Rake | 34° |
| Stretch | 10 in. up, 8 in. out |
| Suspension | |
| Front End | Spitfire Girder |
| Length | 12 over |
| Wheels, Tires, and Brakes | |
| Front | |
| Builder/Size | 60-spoke/21-in. |
| Tire/Size | Metzeler 880/21-in. |
| Rear | |
| Builder/Size | 60-spoke/16-in. |
| Tire/Size | Metzeler 880 16-in./150 |
| Caliper | Performance Machine |
| Rotor | Lyndall |
| Pulley | Chain drive |
| Finish/Paint | |
| Manufacturer | 8 Ball Choppers |
| Colors | Custom Silver/Black Metal Flake |
| Paint/Graphics | 8 Ball Choppers| |
| Plating/Polishing | 8 Ball Choppers |
| Powdercoating | Specialized Coating |
| Accessories | |
| Rear Fender | T-Rod's Speed Shop |
| Gas Tank | T-Rod's Speed Shop |
| Handlebars | T-Rod's Speed Shop |
| Grips | PM |
| Hand Controls | GMA |
| Foot Controls | H-D |
| Headlight | H-D |
| Taillight | T-Rod's Speed Shop |
| License Mount | T-Rod's Speed Shop |
| Seat Danny | Grey |
| | |