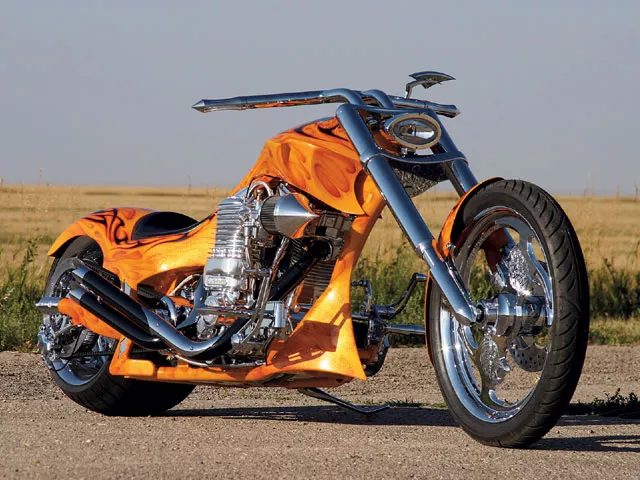 Mention the town of Montgomery in Orange County, NY, and chances are most people will conjure up visions of those cable-ready, if not completely well-adjusted, celebrity theme bike builders.
The Learning Channel's artsy cut-shots of city limit signs have done their job, forever linking the old industrial river town with scripted buffoonery, rolling billboards for everything from disposable razors to bladder-crippling fountain drinks, and even our tax-funded space program.
So it seems kind of appropriate that nestled in the center of Montgomery you'll find the village of Walden, home to Dave Torres and his shop East Side Custom Choppers (ESCC). Working alongside his two brothers and buoyed by what he touts as a stellar supporting cast of employees, David has made a name for himself building scores of classy, clean, show-stopping bikes. Along the way he's quietly amassed quite an empire, encompassing a recently opened all-new shop, complete with in-house paint, polishing, powdercoat, custom machining, general service and fabrication facilities, as well as a bustling bar and grill operation that sits just across the street.
"Soup to nuts, everything in-house," Dave said. "It's all in the same building and we have total quality control. We can control lead times and everything runs so much smoother when things are just moving from one department to another instead of leaving the building. A tank is finished in fabrication and it goes straight to paint."
Leading up to the grand opening of his new facility, Dave got the idea to build the ultimate show piece. It would be a rolling demonstration of his crew's abilities, free of customer input or budgetary constraints. With that, the radical drop seat pro-street custom seen here was conceived and the ESCC crew set to work on their Magnum Opus.
David was taught that a truly custom bike starts with a custom frame, so the first stop was the in-house frame jig. A 5-out, 44-degree Softail-style frame was welded up and sent on to be fitted with tins. Dave and the crew spent countless hours forming the bike's sheet metal to appear nearly seamless front to back by grafting the internally strutted rear fender together with the oil bag and under seat panels.
Motivation for such a unique machine couldn't come from just any old off-the-shelf crate engine, so Dave decided to showcase his shop's engine building prowess as well. An unassembled Ultima 113-inch engine was ordered up to provide the foundation for the supercharged crowd-pleaser Dave had planned.
"Everybody's looking for those numbers," Dave said. "They want the horsepower, and the cubic inches, so I've done a lot of 131s over the years. Then these guys take them to the rallies and they get stuck in traffic and the things are overheating. We've melted many pistons at rallies because of all the compression and displacement."
He planned on getting around this horsepower versus reliability conundrum with the addition of a Magnacharger Supercharger. A set of Magnacharger pistons were dropped in, pulling the bike's compression down to a mild 8.5:1. This paltry amount of squeeze keeps things running decidedly cooler, while the 10 lbs of boost the engine receives from the supercharger leaves even the biggest of the crate engine crowd eating Dave's dust when he rolls it on.
The ESCC/Hi-Tech open primary drive transmits power to a 4-inch "Sintrifical" auto clutch for outside bearing support and on through the Trik Shift right side drive transmission. This set-up allows the rider greater ease of use by eliminating the need for constant clutch pulling or scrambling for neutral in stop-and-go traffic, requiring only a bit of run up to engage.
"I can open it up and the thing engages and it will rip the belt right off the bike if I want it to," Dave said. "This thing will hold up to this motor, so putting them on pretty much any stock Harley-Davidson you're just never going to see any kind of problem."
The rolling stock also got a lot of extra attention as Dave collaborated with his friend Brian Flemming on a unique set of two spoke billet wheels. The two-spoke, 12-inch wide rear rim is the only one of its kind as far as Dave knows, and both wheels feature ESCC's signature boar's head logo.
The boar head motif carries over to the standout paint work done in this case by Mike Terwiliger.
With the painted parts ready for final assembly, it was time to start latching all of the bike's unique one-off parts and accessories together, and get their creation on the road.
"We made pretty much everything for that bike," Dave said. "From the handlebars to the ceramic-coated exhaust, this is our show piece. There are plenty of good aftermarket parts out there these days, but if you want something that's a true one-off, it's got to be made."
Spec Sheet
| | |
| --- | --- |
| SPEC SHEET | |
| GENERAL | |
| OWNER | David Torres |
| SHOP | East Side Custom Choppers (ESCC) |
| PHONE | (845) 742-4976 |
| WEBSITE | www.eastsidecustomchoppers.com |
| YEAR/MAKE/MODEL | '07/ESCC/Drop Seat Savage |
| FABRICATION | ESCC |
| ASSEMBLY | ESCC |
| BUILD TIME | Six months |
| | |
| --- | --- |
| ENGINE | |
| YEAR/TYPE/SIZE | 2007/Ultima/113ci |
| BUILDER | Johnathan Godfry |
| CASES | Ultima |
| FLYWHEELS | Ultima |
| RODS | Ultima |
| PISTONS | Magnacharger |
| CYLINDERS | Ultima |
| HEADS | Ultima |
| VALVES | Ultima |
| ROCKERS | Ultima |
| ROCKER BOXES | Ultima |
| PUSHRODS | Ultima |
| PUSHROD TUBES | Ultima |
| CAM | JIMS |
| LIFTERS | Ultima |
| CARBURETOR | S&S; Super G |
| AIR CLEANER | ESCC |
| IGNITION | Ultima |
| EXHAUST | ESCC |
| SUPERCHARGER | Magnacharger |
| | |
| --- | --- |
| TRANSMISSION | |
| YEAR/TYPE | 2007/Trik Shift six-speed |
| CASE | Ultima |
| GEARS | Ultima |
| CLUTCH | 4-inch "Sintrifical" |
| PRIMARY DRIVE | ESCC/Hi-Tech |
| | |
| --- | --- |
| FRAME | |
| YEAR/TYPE | '07/ESCC |
| RAKE | 44-degrees |
| STRETCH | 5-out |
| | |
| --- | --- |
| SUSPENSION | |
| FRONT | ESCC/American Suspension |
| TRIPLE-TREES | American Suspension |
| REAR | |
| SWINGARM | ESCC |
| SHOCKS | Air |
| | |
| --- | --- |
| WHEELS, TIRES, AND BRAKES | |
| FRONT | |
| BUILDER/SIZE | ESCC/21×2.15 two-spoke |
| TIRE/SIZE | Avon {{{90}}}/90/21 |
| CALIPER(S) | {{{Phantom}}} |
| ROTOR | ESCC two-spoke |
| REAR | |
| BUILDER/SIZE | ESCC 17×12 two-spoke |
| TIRE/SIZE | Avon 330 |
| BRAKE | RC Components/ESCC |
| | |
| --- | --- |
| FINISH/PAINT | |
| COLOR(S) | Performance Yellow |
| PAINTER | Visual Impact |
| GRAPHICS | Mike Terwiliger |
| MOLDING | ESCC |
| CHROME PLATING | Meclec/Bar Plating/ESCC/Action Powdercoating |
| | |
| --- | --- |
| ACCESSORIES | |
| FRONT FENDER | ESCC |
| REAR FENDER | ESCC Phat |
| GAS TANK | ESCC Stinger |
| OIL TANK | ESCC |
| HANDLEBARS | ESCC |
| HAND CONTROLS | ESCC Internal |
| FOOT CONTROLS | McCaas |
| SEAT | ESCC/Keith's Seats |