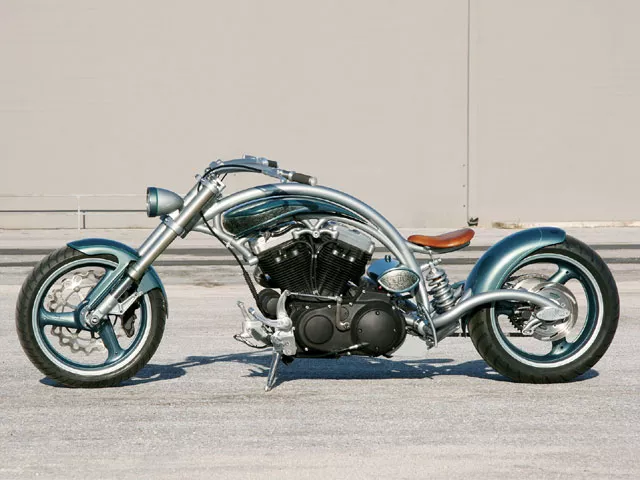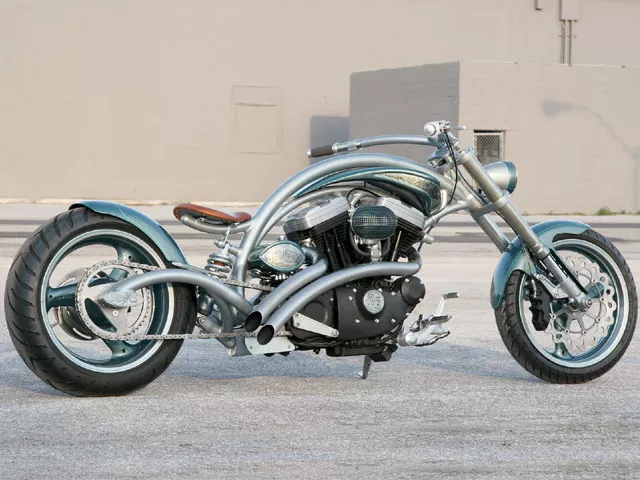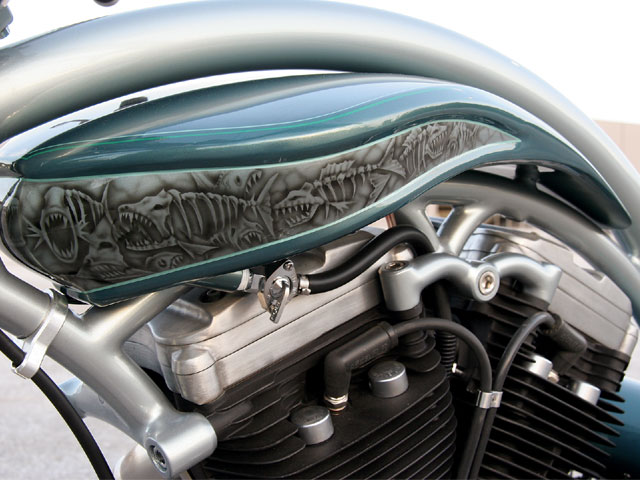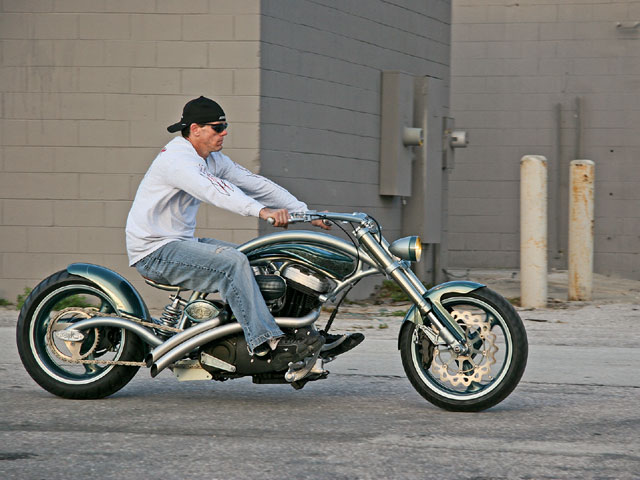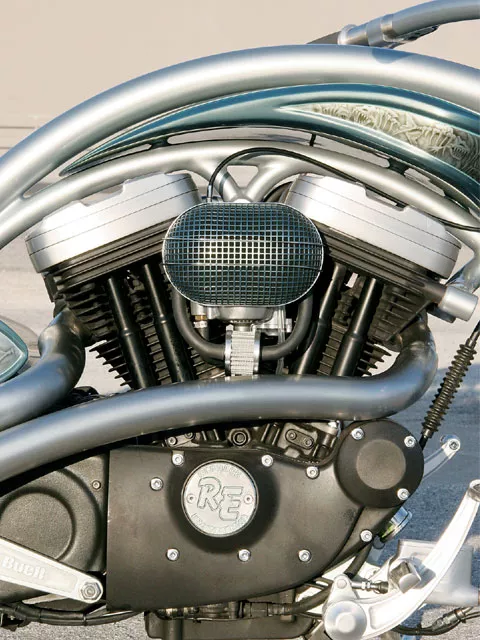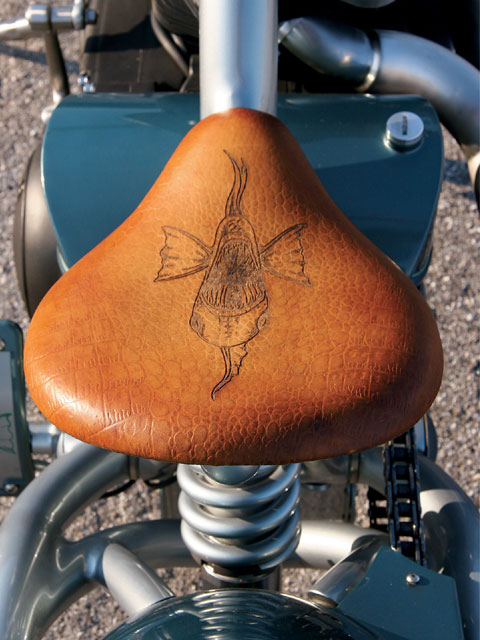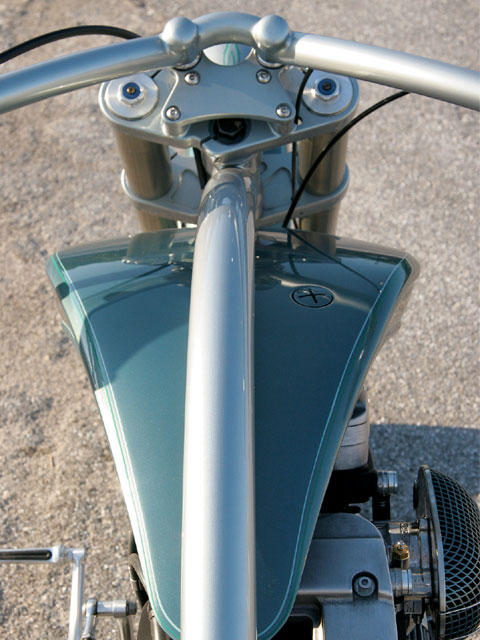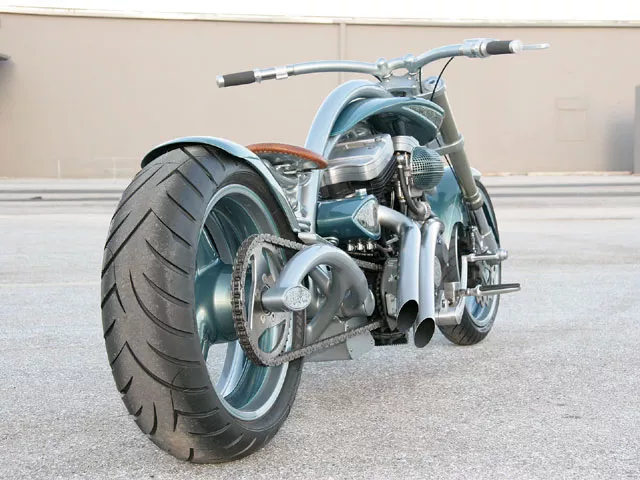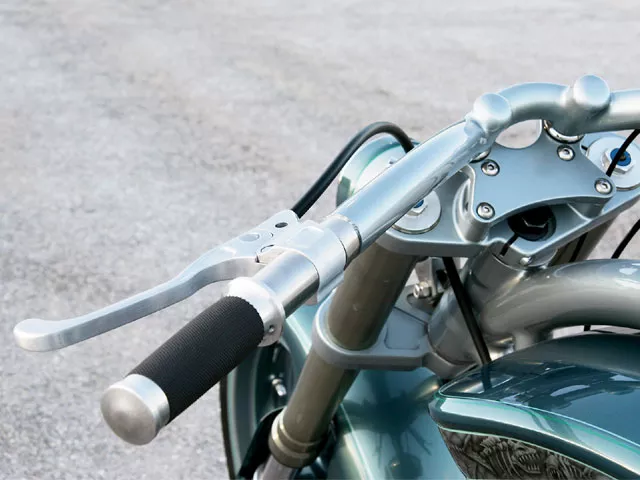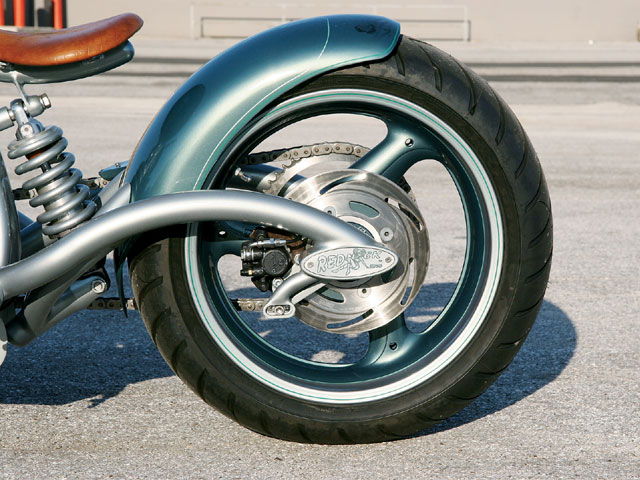 If there's one thing Vince Doll of Redneck Engineering thinks is a huge aspect of good design, it's simplicity. To think like a visionary, forgetting oneself and coming at a design with fresh, renewed ideas is a trait that has put Redneck Engineering on the custom bike map. Look at anything Vince and the crew at Redneck have done over the years: Simplicity and function dictate form. That is true artistic style.
Vince didn't even own a motorcycle until 10 years ago, when he was 40 years old. He picked up a '93 Fat Boy, but it seemed like every time he pulled up at a stoplight, another bike that looked just like his pulled up next to him. Vince wasn't the type of guy to blend into the crowd, so he took this bike over to his buddy's drag shop and asked him to help cut and rake out the frame. Pretty soon he had a pretty cool customized bike…and a new hobby.
Vince had always been into hot rods and cars, so he wasn't a newbie when it came to working with tools. His philosophy was that good old-fashioned technical stuff is what makes the wheels go 'round, and keeping it simple makes everything come together. It wasn't long before his friends and acquaintances began asking him to customize their bikes, but Vince wasn't ready at the time. After all, it was just a hobby. During the day Vince worked as a contractor, but eventually he caved in and started customizing bikes in the evenings after work. At times he would have six to eight projects in his garage at once. Six years ago he built his first frame, and Redneck Engineering was born. Vince quit his day job, and has been creating oneof- a-kind, two-wheeled masterpieces with V-shaped engines ever since.
The story of this bike begins with Vince's wife Carla going with him to all the events and getting tired of people talking about her husband's bikes all the time. She decided she wanted a bike, so Vince set out to build her something to call her own.
Last year Michael Lichter asked Vince to build a bike for his annual Sturgis art exhibit, School's Out: Old School, New School, All(s)Kool, highlighting some of the industry's top builders and their takes on old and new school bikes. Vince decided to build a Vincent, and while he was working on it he had a Sportster motor lying on the ground next to the Vincent. Vince kept looking at the motors, and soon realized the two looked similar. The Vincent motor is suspended (the frame doesn't go underneath the motor). Vince went to his computer and designed a chassis for a Sportster-style motor based on the same design principle and using the Vincent mounting points. He came up with a wild mono-shock frame with a coil-over shock mounted vertically between the swingarm and seat.
Vince was excited and showed the frame to his buddy Jason Hart, who said the one thing he always noticed about Vince's work was its simplicity. "You think like a kid. So simple, just art in motion-great flow," Jason told him.
Vince then found a Buell and cannibalized it, using pretty much everything he could except the frame and exhaust. The mirrors, the oil bag, and other accessories were made in-house. As far as handling goes, the bike is very balanced and rides really well, with the Buell powerplant supplying enough torque to keep anyone satisfied.
Carla collects fish art, and has decorated their home with glass and bronze statues of fish and anything else she gets her hands on. So when it came time for paint, Vince decided on a fish theme using Volkswagen Green as a base to go with the theme in their house. Inlaid into the paint are skeletons of fish, and the rear fender has Carla's first tattoo painted into it. The seat has a piranha on it-an inside joke from Vince to Carla. The two have been married for 30 years, since they were 19 and 20 years old. "It's like saying if you chew my ass, I'll chew yours," Vince said.
So now Carla has her own bike to take to shows, and one that she is pretty proud of. The bike has such a cool look that it gets a ton of attention. The thing with cool is that it doesn't have to cost a ton of money. Cool is just cool. Some people spend $50,000 on a bike that's not cool at all. Guess it's just a matter of opinion.
| | |
| --- | --- |
| SPEC SHEET | |
| GENERAL | |
| BIKE OWNER | Carla Doll |
| SHOP NAME | Redneck Engineering |
| SHOP PHONE | (864) 843-3001 |
| SHOP WEBSITE | |
| YEAR/MAKE/MODEL | '02/Mutant Buell |
| FABRICATION | Redneck Engineering |
| ASSEMBLY | Redneck Engineering |
| BUILD TIME | {{{90}}} days |
| | |
| --- | --- |
| ENGINE | |
| YEAR/ MANUFACTURER | '02/Buell |
| TYPE/SIZE | 1200cc |
| BUILDER | Buell |
| CASES | Buell |
| CYLINDERS | Buell |
| HEADS | Buell |
| ROCKER BOXES | Buell |
| CARBURETOR/EFI | S&S; |
| AIR CLEANER | Redneck Engineering |
| EXHAUST | Redneck Engineering |
| | |
| --- | --- |
| TRANSMISSION | |
| YEAR/MANUFACTURER/TYPE | '02/Stock Buell |
| CASE | Buell |
| CLUTCH | Buell |
| PRIMARY DRIVE | Buell |
| | |
| --- | --- |
| **FRAME | |
| YEAR/MANUFACTURER | '02/Mutant Mono Shock |
| RAKE | 42 degrees |
| STRETCH | 3 inches |
| | |
| --- | --- |
| SUSPENSION | |
| MANUFACTURER FRONT | Buell |
| LENGTH | N/A |
| TRIPLE TREES | Buell/Redneck Engineering |
| SWINGARM | Redneck Engineering |
| SHOCKS | Progressive/Redneck Engineering |
| | |
| --- | --- |
| WHEELS, TIRES, AND BRAKES | |
| MANUFACTURER FRONT | Buell |
| TIRE/SIZE | Buell |
| CALIPER | Buell |
| ROTOR | Buell |
| MANUFACTURER REAR | Buell |
| BUILDER/SIZE | Buell |
| TIRE/SIZE | Buell |
| CALIPER | Buell |
| ROTOR | Buell |
| | |
| --- | --- |
| FINISH/PAINT | |
| COLOR | Tile Green or {{{Volkswagen}}} Green |
| PAINTER | CCP/Keith/Charlie |
| GRAPHICS | Redneck Engineering |
| PLATING/POLISHING | Redneck Engineering |
| | |
| --- | --- |
| ACCESSORIES | |
| FRONT FENDER | Redneck Engineering |
| REAR FENDER | Redneck Engineering |
| FENDER STRUTS | Redneck Engineering |
| GAS TANK & CAP | Redneck Engineering |
| OIL TANK | Redneck Engineering |
| HANDLEBARS | Redneck Engineering |
| RISERS | Redneck Engineering |
| MIRRORS | Redneck Engineering |
| HAND CONTROLS | PM |
| FOOT CONTROLS | PM |
| FOOTPEGS | PM |
| TAILLIGHT | Redneck Engineering |
| LICENSE MOUNT | Redneck Engineering |
| SEAT | Redneck Engineering/Outlaw Customs |