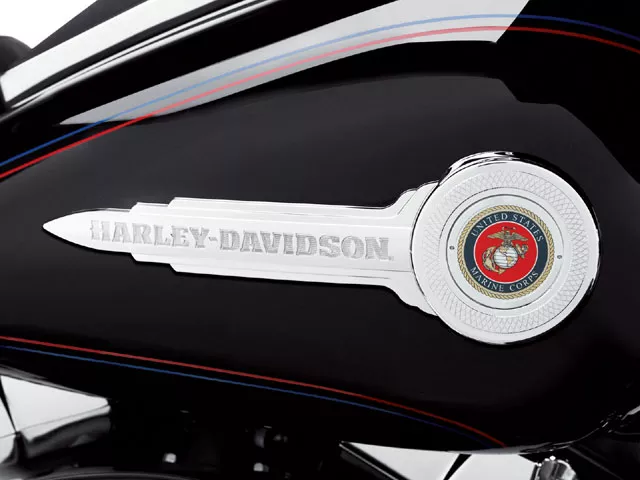 Harley-Davidson Honors Military ServiceHarley-Davidson will provide those who have served their country the chance to customize their motorcycle with details honoring their military service with the '07 Patriot Special Edition program. These specially decorated models will be sold only to active U.S. military service men and women, veterans, and immediate family members of both those categories.
"Harley-Davidson is proud of the unique bond and heritage we have with the military going as far back as 1916," said Jim McCaslin, president and CEO of the Harley-Davidson Motor Company. "The Patriot Special Edition is simply a way to help honor those who have served. These are special motorcycles for very special members of the Harley-Davidson family."
The Patriot Special Edition program will be available on 12 different '07 Harley-Davidson models, all of which can be customized to one of the following participating military branches: U.S. Air Force, U.S. Army, U.S. Coast Guard, U.S. Marine Corps, and U.S. Navy.
These Vivid Black motorcycles will be accented with red and blue pinstriping and the U.S. flag on the fender. The Patriot Special Edition motorcycles will feature a branch-specific fuel-tank badge.
Check out harley-davidson.com's Patriot Special Edition page for additional information.
R-Max USA Chosen by Saxon MotorcycleR-Max USA by Roadmax Transmissions are now being installed in every custom motorcycle built by the team at Saxon Motorcycle Company, including Saxon's signature motorcycle, the Black Crown, designed by Gard Hollinger of LA County Choprods.
Bolted to the Black Crown motorcycle is a six-speed-overdrive R-Max USA transmission. Internals consist of SAE-8620-H precision-cut full-width gears with an increased dog area for durability. Gears are back-cut and diamond media-blasted for smooth and quiet operation. For superior strength, shift forks are made from heat-treated ALBC3 alloy.
For more information, log on to www.roadmax.net, or call 1-866-R-MAXUSA.
Dirty Joe's Chrome ShopEntrepreneur Joseph Mauro has purchased one of the industry's longest-running chrome and powdercoating shops, located at 11702 Plano Road in Dallas. The shop was originally founded in 1971 as an East Dallas chrome-plating and powdercoating business. Mauro has renamed the company "Dirty Joe's Chrome Shop" and has expanded the business with more than $100,000 in technology and other improvements.
"In the 25 years this shop has been serving motorcycle and hot rod customizers, never has there been an owner on-site managing the company day to day," said Mauro. "I decided to buy the shop because, being a longtime chrome enthusiast myself, I knew the company had a strong following. I also believed there was enormous potential for an owner with a hands-on leadership style to grow this business on a much larger scale.
"If it's metal, we can chrome it," Mauro went on. "My goal with Dirty Joe's is to build a name in the industry for ultra quality and reliability. We can handle the simplest to the most complicated chroming project. It's amazing to see what jobs come through this shop."
In the last few months, Mauro says Dirty Joe's has tackled everything from chroming a stovetop and barbecue utensils to jet packs and high-end airplane components.
For all your chrome-plating, powdercoating, and show-polishing needs, log on to www.dirtyjoeschrome.com, or call (214) 343-8871.
Winners of the Play Harder Biker Job from HardbikesHardbikes is pleased to announce the two lucky winners for the "Play Harder Biker" position, Debbie Eckard and Lance Rowe. Both will experience riding a custom-fit Hardbikes motorcycle at special events in 2006. Imagine the joy of cruising on a brand-new custom bike and getting paid at the rate of $2,000 a week. With more than 2,000 contest entries, Hardbikes ended up with 11 finalists.
"The decision was tough, but in the end the two winners stood out," said Bob Kay, Hardbikes' VP of sales and marketing. "Both Debbie and Lance clearly understood the value of the patent-pending 'Build to Order' custom-fit process." Debbie, a bartender at the State Line Bar in Brookfield, OH, rides a lowered '81 FL to fit her petite 5-foot, 2-inch frame. She joined Hardbikes during this past Sturgis, assisting Hardbikes in marketing bikes to the growing female marketplace.
Lance is self-employed, selling motorcycle jewelry and doing occasional bodyguard duty. At 6-foot-5 and weighing in at 250 pounds, Lance has been frustrated finding a motorcycle that would fit him. He currently rides an '06 Street Glide, which has seen more than 70,000 miles in its life so far.
"Everyone talks about the quality and durability of their bikes, but actually proving it to the riding public can be another matter altogether," said Bob Kay. Hardbikes employs a multi-phase quality program that begins with a Bob Kay motorcycle design. Kay's design is turned over to engineering to proof out every aspect of the build, from chassis design to component compatibility. The next phase requires 10,000 road miles under all types of real-world conditions. As issues come up in the evaluation program, they are resolved and integrated back into the production cycle.
Hardbikes is committed to building a manufacturing process and selling system that supports the unique culture and individuality of the American V-Twin rider. Once a customer designs the bike of his or her dreams, Hardbikes builds the bike to fit. Its patent-pending Hardrider system ensures customers get a bike built to their exact specifications. All Hardbikes dealers will have a Hardbikes Design Center on their showroom floor featuring a computer-aided design station, a chopper fitment fixture, and a Pro-Street fitment fixture. The firm's tagline is "Work hard, play harder."
For more information or a dealer near you, contact www.hardbikes.net.
AMA Completes Review of EPA RulesThe American Motorcyclist Association (AMA) has announced that it's completed its review of an Environmental Protection Agency "Letter of Guidance" on the subject of motorcycle-emissions regulations.
The AMA's review of the recent Letter of Guidance confirmed that by using an EPA-certified engine, an individual would, in fact, be permitted to build a kit motorcycle without invoking the "one per lifetime" rule, subject to restrictions on exhaust systems, carburetors, fuel injection, and certain other components.
For more information, read the EPA Letter of Guidance posted on the agency's website at http://www.epa.gov/oms/cert/dearmfr/cisd0615.pdf.
Wild West Motor Company Equipped With Patrick Racing EnginesWild West Motor Company announced that it has forged a new relationship with Patrick Racing. The company's motorcycles are now available with Patrick Racing's 120-, 125-, and 128ci engines. Wild West CEO Paul Seiter explains, "For over a decade we've been engineering and crafting some of the most exotic motorcycles in the world. In the tradition of offering only the best in motorcycles, we've stepped up our powertrain to include the finest of V-Twin engines."
Patrick Racing's high-performance engines offer several unique features and advantages. The billet-aluminum cylinders and cylinder heads are 48-percent stronger than the typical cast aluminum found in most V-Twin engines. Patrick Racing heads feature ports that are fully CNC-machined, producing greater airflow and a substantial increase in overall horsepower.
Dynamically computer-balanced flywheels, forged JE pistons, roller rocker arms, and a state-of-the-art electronic ignition all add to the engine's power and smoothness. The Mikuni 45mm carburetor used on the engine is famous for its responsiveness and tuneability. The oil pump, tappet blocks, rocker boxes, and pushrod covers are all made of billet aluminum, adding strength and style.
Wild West, located in San Diego, CA, was established in 1995. The company manufactures two premium V-Twin motorcycles, the Vigilante Gunfire and Dragoon. Wild West designs, tools, and manufactures its own frames, swingarms, fuel tanks, and many other components used in the company's motorcycles. The motorcycles are found in Kelly and N.A.D.A. blue books, and are financeable, insurable, and sold through a nationwide dealer network of 25 premium dealers.
Customers can find dealers, request brochures, and learn additional information about Wild West's motorcycles at www.wildwestmc.com.