I've always been drawn to the clean, tasteful lines that Denver's Choppers produced many years ago. I'm obsessed with the more radical stuff that Freddy Hernandez created there, with their super-long forks—oftentimes rigid forks! I couldn't imagine how anyone could ride something like that, much less ride one across country as I intended to do.
The information I found for rigid forks either said they rode like crap or they were the best thing ever. In either case, it seemed as though they were relegated to short trips. Short trips be damned. The simple beauty of the design had consumed my thoughts, and I set out about designing some forks.
I started with a series of sketches of the overall bike after studying several Denver and Freddy bikes. In the end I decided to build a frame with a bit of "upstretch" and as little "out" as possible, adding a healthy dose of rake to the whole getup. I took on the daunting task of getting all of the geometry correct so that the end product would be as rider friendly as possible, given the cross-country challenge at hand.
A '73 FX frame was the starting point for my new chassis. All I was really interested in was the neck casting and engine cradle, as I planned to build the rest of the frame from scratch to my dimensions. I started chopping, adding 5 inches to the downtubes, and pulling the neck back to 45 degrees just as Denver and Freddy had done so long ago. It was at this time the name "The Jart" came to me, as it resembled a dart (long and skinny) and it was dangerous as it gets, much like the namesake "yard dart" game.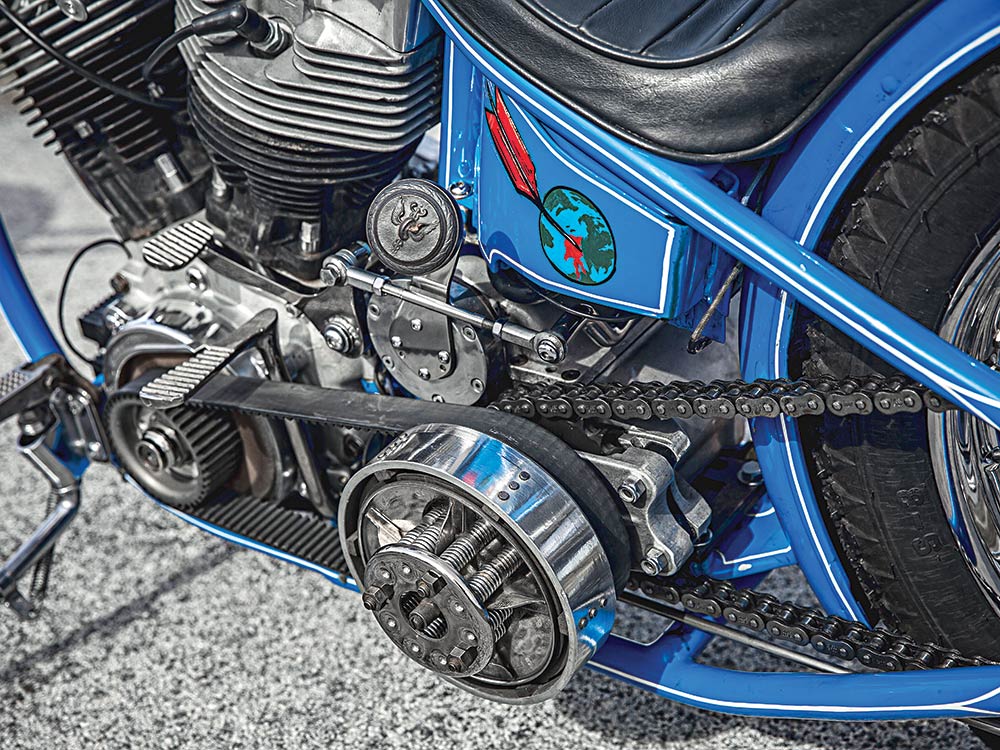 The first trip down the road was pretty eventful, as this was the first foot-clutch bike I had. That, coupled with the long forks and general nervousness of the first ride, found me swerving trying to tame it. I managed to get it turned around at the corner and made it back to the shop wondering if I had just built something that I couldn't ride! I let my nerves calm a few minutes, recalling the words of my good friend: "The devil hates a coward!" After several trips around the country block, I was feeling much more at ease and the bike was running great.
The road to Born-Free wasn't easy. When we made our way into Colorado, disaster struck. Just north of Denver I felt a change in the handling and knew something wasn't right, so I signaled to the other guys that we needed to hit the next exit and check things over. The bike had gained a few extra degrees of rake thanks to a crack at neck level. Obviously, the bike was unsafe to ride. Several people recommended Dave Barker of Speed Metal Cycles in Denver, who also had a rigid fork bike.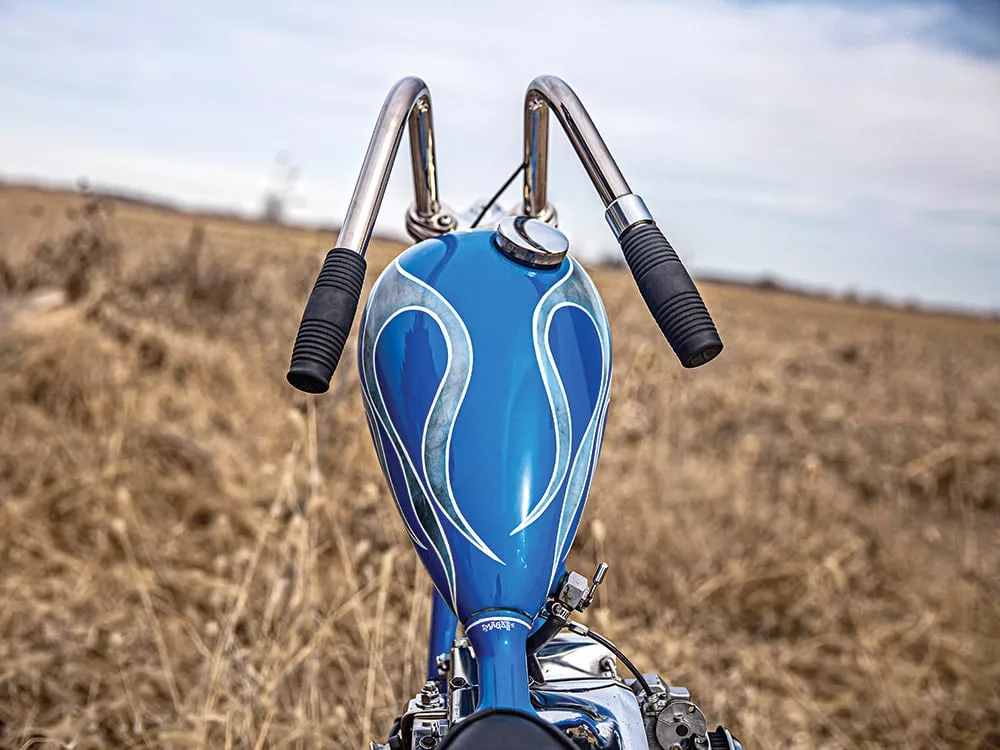 I eventually found out that tire balance was the main culprit. Luckily, once we got to Speed Metal, Dave mentioned that one of his customers, Pete, had a long springer that he might sell. As it turns out, the springer was still on a bike, his very first chopper that he had built in the '70s. Pete didn't really want to get rid of it and finally offered to let me "just borrow it until I got home." I reminded him that home wasn't for another couple weeks, but he didn't mind. So the swap was made.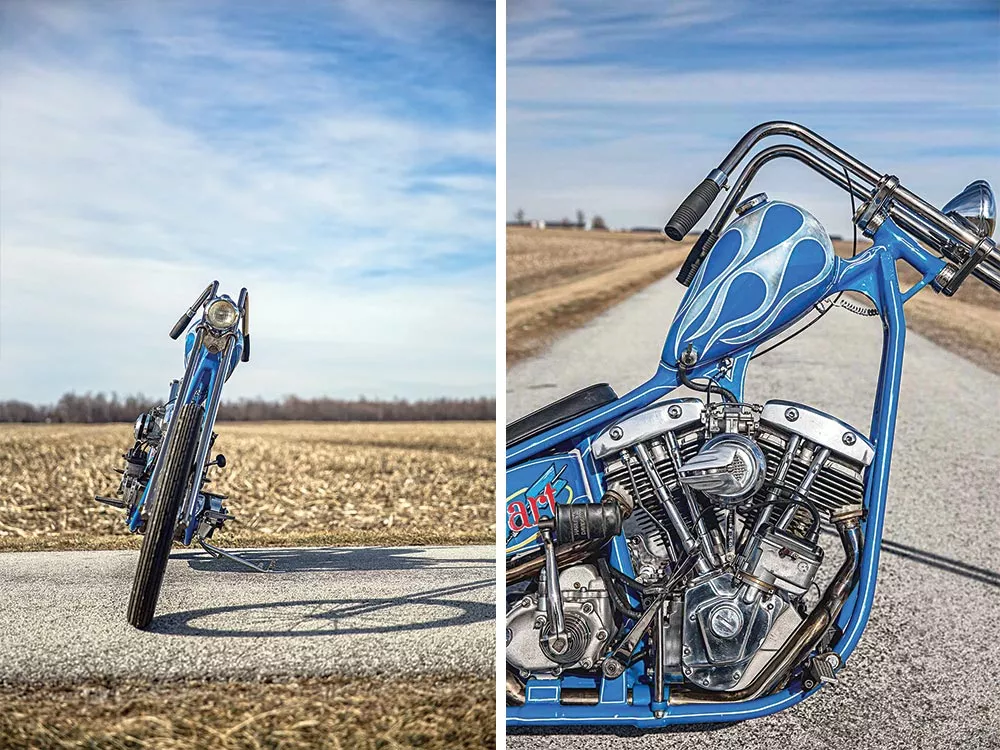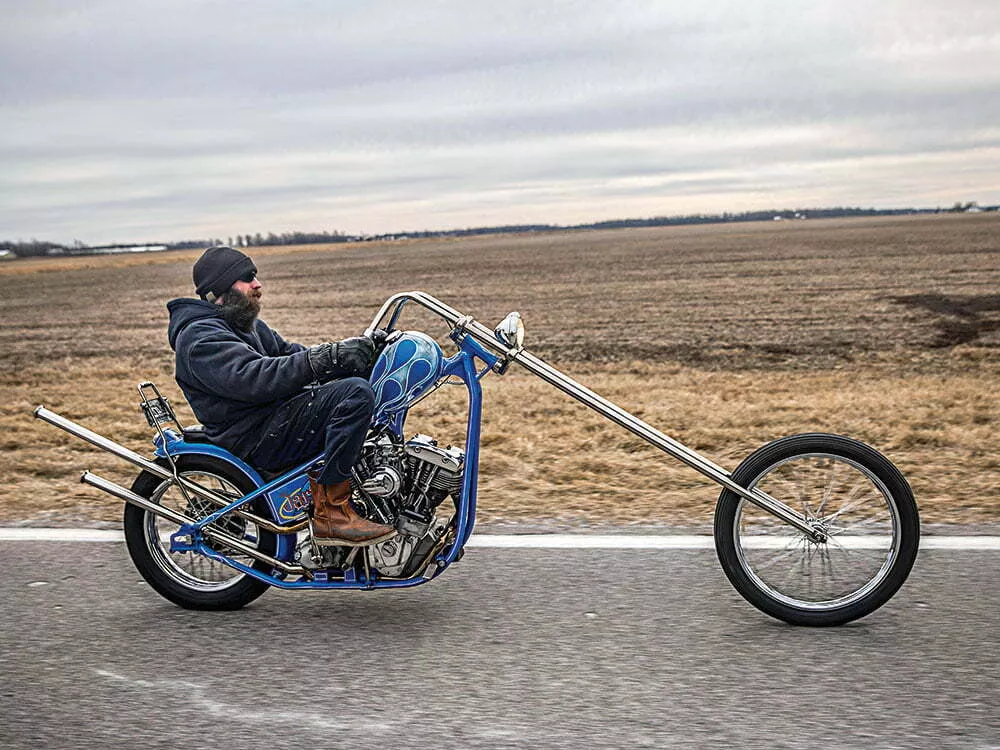 Specifications
General
| | |
| --- | --- |
| Owner | Joel Hauenstein |
| Shop | Image One Art |
| Shop Phone | (419) 308-8397 |
| Year/Make/Model | 1973/Harley-Davidson/Chopper |
| Fabrication | Joel Hauenstein/Image One Art |
| Build Time | 9 months |
Engine
| | |
| --- | --- |
| Year/Type/Size | 1976/Shovelhead/88ci |
| Builder | B&B Racing |
| Cases | H-D |
| Cylinders | S&S |
| Heads | H-D |
| Rocker Boxes | H-D, polished |
| Cams | Andrews B |
| Throttle Body | Mikuni HSR 42mm |
| Exhaust | Image One Art stainless |
| Air Cleaner | Image One Art |
Transmission
| | |
| --- | --- |
| Year/Manufacturer/Type | 1973/Ratchet Top/4-speed |
| Gears | H-D |
| Clutch | Nickle-plated 3-finger |
| Primary Drive | Primo 8mm belt |
Frame
| | |
| --- | --- |
| Year/Type | 1973/Rigid |
| Rake/Stretch | 46°, 5 in. up |
Suspension
| | |
| --- | --- |
| Front End | Image One Art 27 in. over rigid fork |
Wheels, Tires, and Brakes
| | |
| --- | --- |
| Front | |
| Builder/Size | Stainless spokes, spool hub 21 in. |
| Tire/Size | Avon Speedmaster 3 x 21 in. |
| Rear | |
| Builder/Size | Stainless spokes, star hub 18 in. |
| Tire/Size | Firestone ANS 4 x 18 in. |
| Caliper | Mechanical drum brake |
Finish/Paint
| | |
| --- | --- |
| Colors | Image One Art Safety Blue |
| Paint/Graphics | Image One Art Torch Smoke Flames with Blue Pearl |
| Plating/Polishing | Custom Nickle Plating |
| Powdercoating | Colonial Surface Solutions |
Accessories
| | |
| --- | --- |
| Rear Fender | Sectioned early Sportster front fender |
| Gas Tank | Axed tank, re-tunneled, petcock relocated |
| Handlebars | Image One Art rabbit ears |
| Grips | Lowbrow Cole Foster |
| Hand Controls | Internal throttle |
| Foot Controls | Image One Art custom mids |
| Headlight | Lowbrow Unity knockoff |
| Taillight | H-D |
| Turn Signals | My arms |
| License Mount | Image One Art sissy bar |
| Seat | Haifley Bros. cobra |