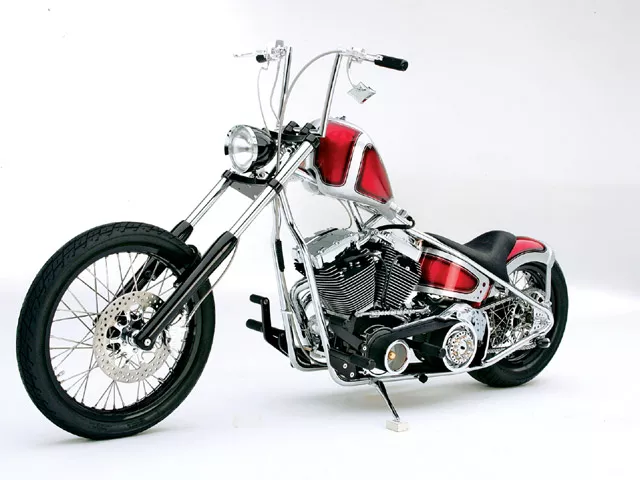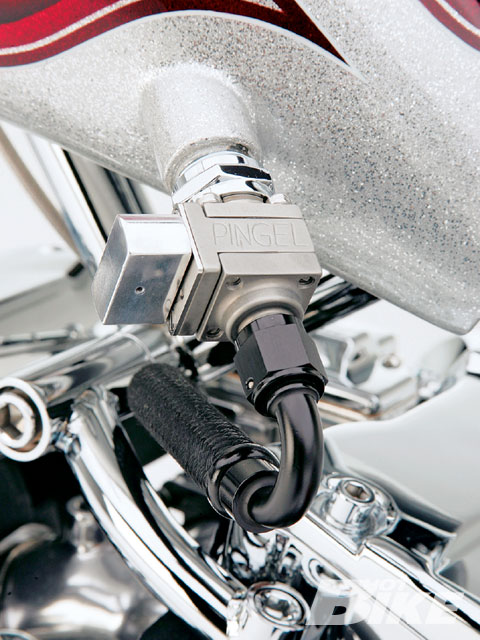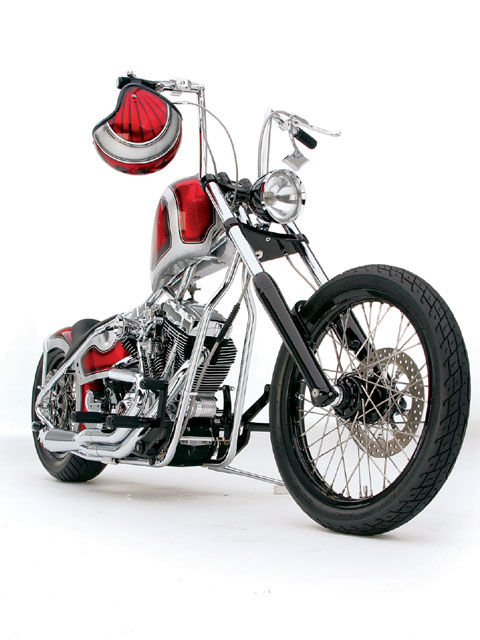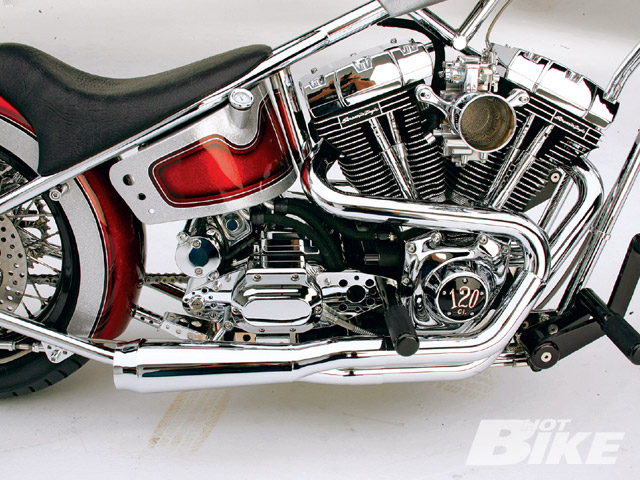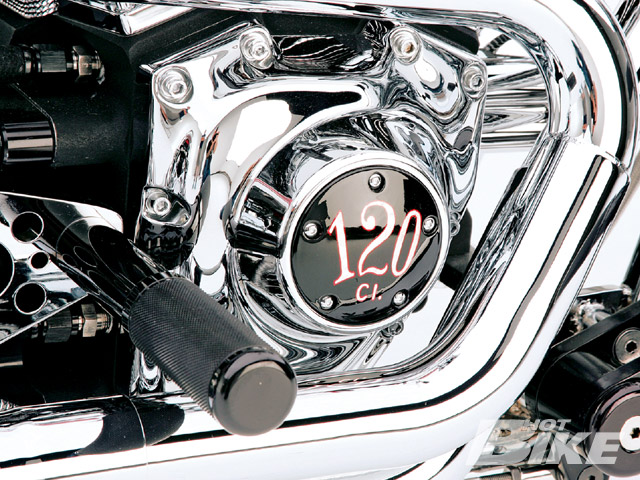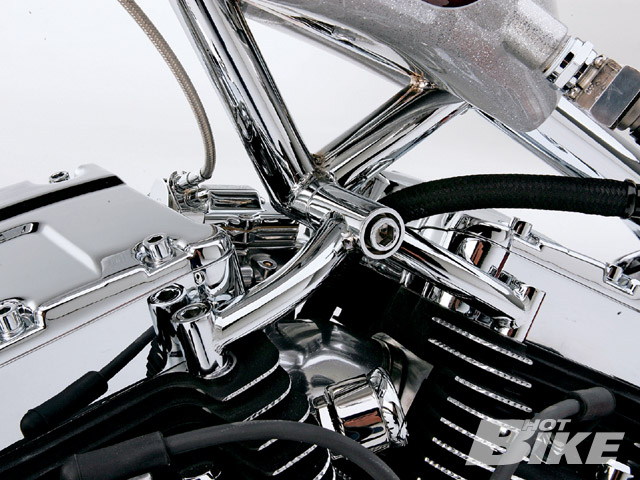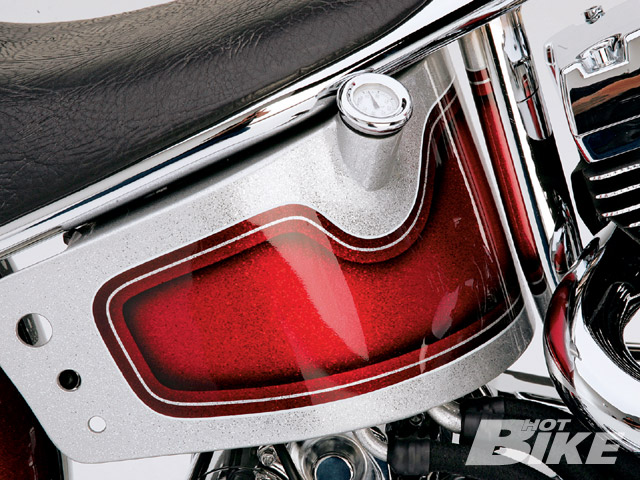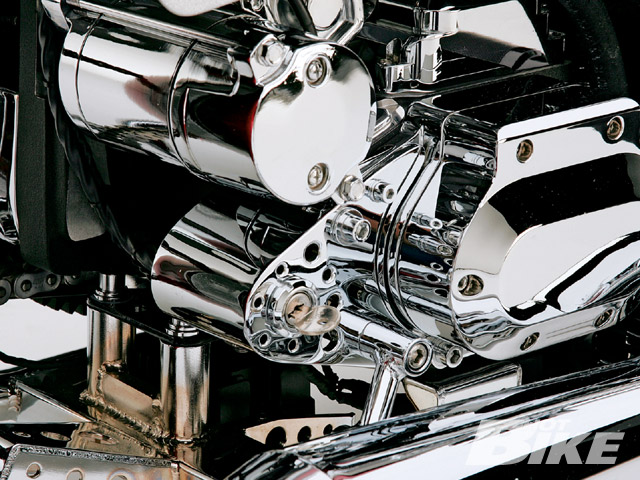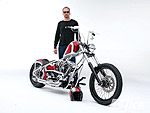 When it comes to getting things done right you've got to know the right people. Just because your chiropractor works on your back doesn't mean you would give him a call to perform spinal surgery. The same line of thinking goes with custom bikes. There's a lot of great mechanics out there with serious talent, but that doesn't make them bike builders. That's why when Leonard Sims approached his brother-in-law, Jeremiah Fejeran to build a bike for him. Jeremiah knew just who to call to get the job done right, Steve Poole of Poole's Pro Built.
Jeremiah and Steve go way back in SoCal's V-twin circle. Their paths have crossed many times over the years resulting in a long-time friendship. Jeremiah is a top-notch, certified H-D mechanic with his own shop, Super 72 (S72), in Orange, California. Steve founded Poole's Pro Built, a custom motorcycle shop in Brea, California, in 1999, and is known for building high-end, clean-looking customs that work, and work well. No billet barges sacrificing function for form, that's just not Steve's style. Steve's background is building racecars and he has been involved for nearly 20 years with monster trucks, Indy cars, dragsters, and Can Am series cars.
Leonard only had a few requirements for the bike; it had to embody an old-school hot-rod feel, be a rigid, and put down lots of horsepower. Other than that it would be up to Steve and Jeremiah to work out the details.
A 40-degree Freddy Hernandez wishbone frame, and some black hoops and hubs would be the building blocks Steve would have to work with. The 4 up and 2 out frame would play host to 3-degree Perse trees, 4-inch over tubes and Harley lowers. Out back Steve would use the 16 x 5-inch rim to anchor a 180 Avon to keep the bike nimble.
While Steve was getting the roller together, Jeremiah ordered up a black 120ci JIMS Twin-Cam motor and JIM's five-speed tranny, then got busy lacing the wheels with some flat-sided chrome spokes. As soon as the motor arrived, Jeremiah pulled the top end apart and sent the cylinders and heads to Diamond Heads for the diamond-cut process to help accentuate the black and chrome theme. When the heads and cylinders came back, the motor was re-assembled and set between the framerails. A 48mm Mikuni carb was bolted to the right side then topped off with a Thunder Cycle Designs Velocity stack.
This bike contains so many fine details – the kind of things Poole's Pro Built is known for. The left side of the engine is clean as can be with the custom motor mount blending right into the frame. Further enhancing this look are plug wires that disappear between the cylinders on their way to the rear-mounted coil. Down below Steve went with a chromed BDL open belt primary (and clutch) outfitted with a set of mid pegs to give Leonard more ergonomic choices. For the exhaust, Steve fabricated one of his Poole's Pro Pipe II exhaust systems. The flowing 2-into-1 header pipe culminates at a collector designed for use with various baffles (performance or low noise). Then in an effort to minimize the wiring Jeremiah would have to do, Steve went with one of his Poole's Pro Built ignition switches attached to the tranny's trap door. The switch is designed to handle high amperage and requires no starter relay. Its proximity to the battery and ignition go a long way in keeping things sanitary.
Steve conveyed a hot-rod theme with a variety of visual cues. These included the use of lots of chrome and black finishes, lightening holes on the fender support, neck brace, oil tank, rear axle area, and in many of the hand-fabricated pieces. A high-mounted gas tank, and a traditional panel paint job add to the overall old school look.
Since Leonard is a big man, Steve wanted to be sure the controls were situated so he could easily handle the bike. Steve had Leonard come down and sit on the roller while measuring him for a set of custom Poole's Pro Built Z bars. Up top are PM hand controls, while down below Exile forwards give Leonard a place to hang his boots. Other notable parts on the bike include a Bitchin' Seat Company saddle, Headwinds headlight, S72 risers, and Laser Star turn signals.
With the fabrication complete Jeremiah stripped the bike and sent the frame and other parts out for plating and sent the gas tank, oil tank and rear fender to Buck Wild Designs for a silver flake base with candy red panels. Once he had everything back it was time for final assembly and a test ride. The bike felt great, had plenty of power, and good handling for a long rigid. Last we heard Leonard is still discovering more of the little details Steve built into the bike.
| | |
| --- | --- |
| SPEC SHEET | |
| OWNER | Leonard Sims |
| SHOP | Poole's Pro Built Custom Cycle |
| PHONE | (714)-672-0808 |
| WEBSITE | www.poolesprobuilt.com |
| YEAR/MAKE/MODEL | 2007/s72/Whiplash |
| FABRICATION | Poole's Pro Built |
| ASSEMBLY | Poole's Pro Built |
| BUILD TIME | 6 months |
| | |
| --- | --- |
| ENGINE | |
| YEAR/TYPE/SIZE | 2005/Twin-Cam/120 ci |
| BUILDER | Jims/s72 |
| CASES | Jims |
| FLYWHEELS | Jims |
| RODS | Jims |
| PISTONS | Jims |
| CYLINDERS | Jims |
| HEADS | Jims / Screamin' {{{Eagle}}} |
| VALVES | Jims |
| ROCKERS | Jims |
| ROCKER BOXES | Jims |
| PUSHRODS | Jims |
| PUSHROD TUBES | Jims |
| CAMS | Jims |
| LIFTERS | Jims |
| CARBURETOR | Mikuni 48mm |
| VELOCITY STACK | Thunder Cycle Designs |
| EXHAUST | Poole's Pro Built |
| | |
| --- | --- |
| TRANSMISSION | |
| YEAR/TYPE | 2005/Jims/H-D |
| CASE | Jims |
| GEARS | Jims /H-D |
| CLUTCH | BDL |
| PRIMARY DRIVE | BDL |
| | |
| --- | --- |
| FRAME | |
| YEAR/TYPE | 2005/Freddy Hernandez Rigid |
| RAKE | 40-Degrees |
| STRETCH | 4 up, 2 out |
| | |
| --- | --- |
| SUSPENSION | |
| FRONT | Custom Cycle Engineering / H-D |
| TRIPLE-TREES | Perse |
| | |
| --- | --- |
| WHEELS, TIRES, AND BRAKES | |
| FRONT | |
| BUILDER/SIZE | Poole's Pro Built 72/21 x 2.15 |
| TIRE/SIZE | Avon/{{{90}}} x 90 x 21 |
| CALIPER | Performance Machine |
| ROTOR | Performance Machine |
| REAR | |
| BUILDER/SIZE | Poole's Pro Built 72/16 x 5 |
| TIRE/SIZE | Avon/180 x 60 x 16 |
| CALIPER | Performance Machine |
| ROTOR | Performance Machine |
| | |
| --- | --- |
| FINISH/PAINT | |
| COLOR | Silver Flake, Candy Red |
| PAINTER | Buck Wild |
| GRAPHICS | Buck Wild |
| MOLDING | Buck Wild |
| PLATING | Beo-Mag Plating |
| POLISHING | JD Polishing |
| POWDER COATING | Embee Coating |
| | |
| --- | --- |
| ACCESSORIES | |
| FRONT FENDER | N/A |
| REAR FENDER | GP Designs/ Poole's Pro Built |
| FENDER STRUTS | Poole's Pro Built |
| GAS TANK/CAP | Independent Gas Tank Company |
| OIL TANK | H-D / Poole's Pro Built |
| GAUGES | H-D / Poole's Pro Built |
| HANDLEBARS | Poole's Pro Built |
| RISERS | Poole's Pro Built |
| MIRRORS | CCI |
| HAND CONTROLS | Performance Machine |
| FOOT CONTROLS | Exile |
| FOOT PEGS | Exile |
| HEADLIGHT | Headwinds |
| TAILLIGHT | CCI |
| TURN SIGNALS | {{{Laser}}} Star |
| LICENSE MOUNT | CCI |
| SEAT | Bitchin' Seat Company |