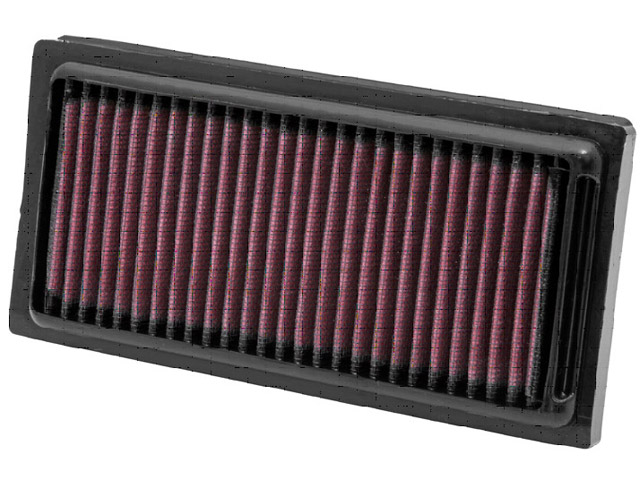 January 2011, K&N; Engineering, Inc., releases yet another OE Replacement High-Flow Air Filter for the 2008-2011 HARLEY-DAVIDSON XR1200 Model Sportbikes. HARLEY-DAVIDSON's Twin Cylinder 1200cc puts out ground pounding power, delivering performance and demanding heaps of fresh air!
KEY FEATURES:
Designed to lower air-flow restriction & increase performance
Provides long service intervals and excellent filtration
Pliable, durable Urethane application specific sealing bead
Includes K&N; Sealing Grease which aids installation & removal
No Fuel-Management Modifications necessary
Washable, Reusable, Pre-Oiled & Ready for installation
Made in the USA for over 40 years
K&N;'s famous Million-Mile Limited Warranty®
PRODUCT DETAILS:
K&N;'s "new" HD-1208 High-Flow Air Filter made for the XR1200 provides low restriction, resulting in increased throttle-response, horsepower and torque. The K&N; pleated media provides a large filtration area offering high-flow, long service intervals and excellent filtration. This filter is designed to slide directly into the OE Air Filter Assembly without any fitting or cutting required. A 1oz. tube of K&N; High-Temp waterproof Sealing grease aids in the installation & removal of this tightly fit panel filter. The injection molded Urethane frame offers a pliable sealing bead ensuring an air tight fit and extra long life. K&N; High-Flow filters have been made in the USA for over 40 years.
No Fuel-management modifications necessary to obtain increased performance
Washable & reusable, pre-oiled and ready for installation
KEY PRODUCT LINKS:
• Product Info • Product Image • Product Installation • Filter Install