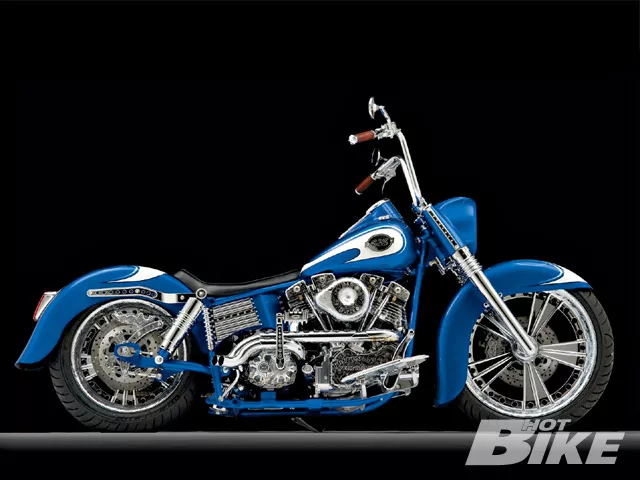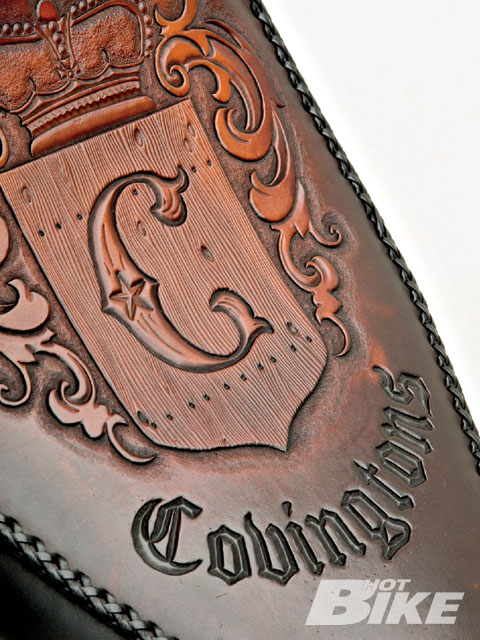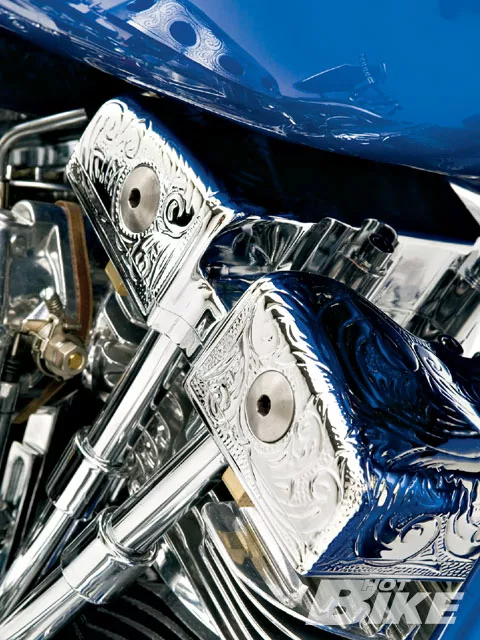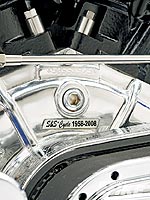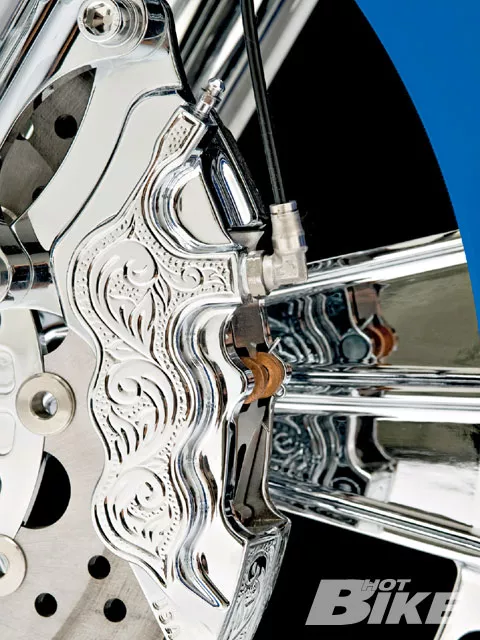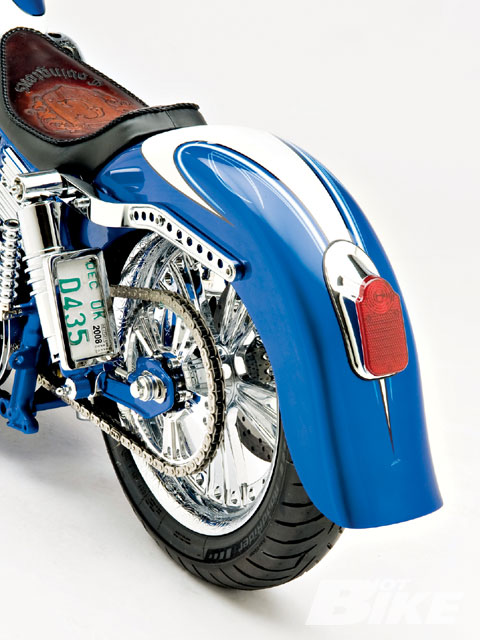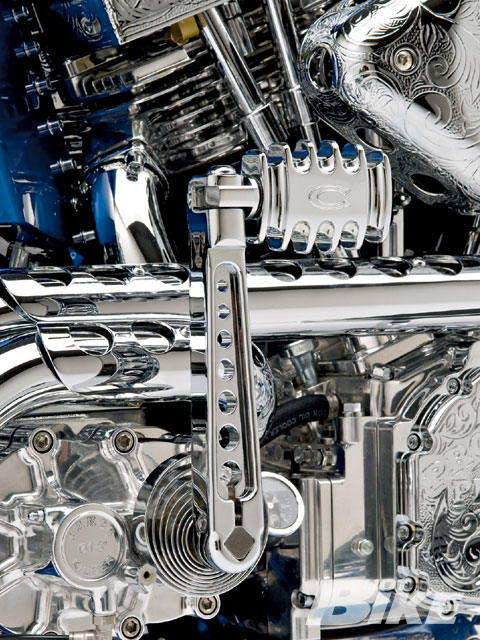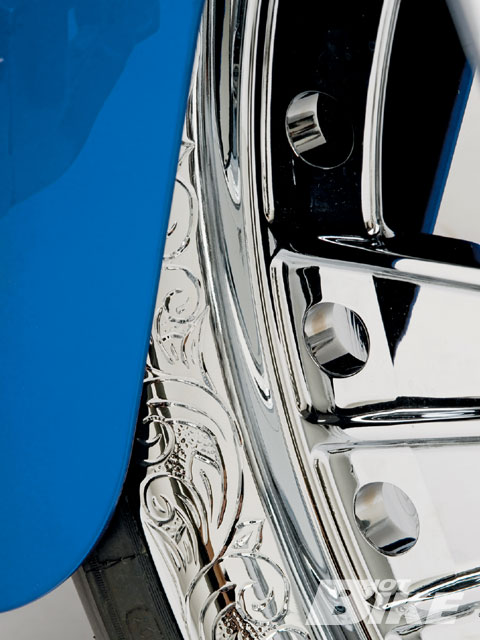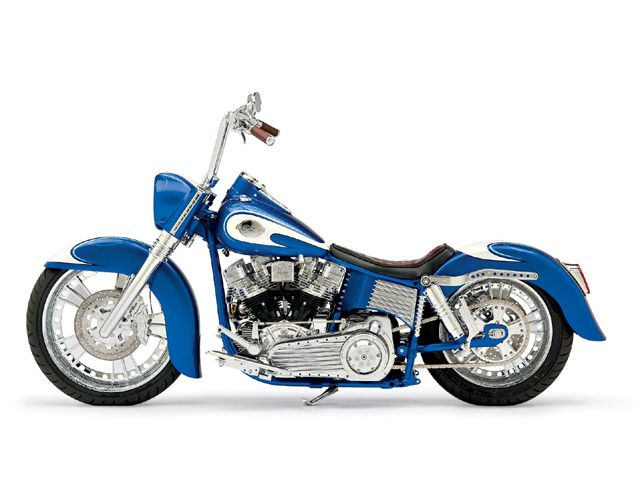 Over the years, we've featured quite a few bikes built by Covingtons Customs (CC) in Woodward, Oklahoma. No matter what style of bike it has been-chopper, pro-street or even one of the company's production bobbers-one thing has remained constant: every bike has displayed an incredible level of class and sophistication. The cobalt blue and white shovelhead before you is a shining example of the shop's exemplary bike building skills.
As we all know trends come and go, but one thing that never disappears is classic style. Therefore, when CC was selected to participate in S&S; Cycle's historic 50th Anniversary Bike Build-Off utilizing one of S&S;' 93ci SH-Series engines, the CC team knew exactly what they wanted to build.
"Being that we were using a Shovelhead-style engine, we wanted to build a bike that was reminiscent of that era," said Dave Covington, one of the team's designers and builders. "We wanted to build something along that classic style that has never really gone away. We thought it would be cool to build something that looked like it originally started out as a Harley rather than building some wild and crazy custom. We wanted something people could relate to and would be cool for a long time."
The Covington crew started the build by setting a '58-64 reproduction FLH-style frame from V-Twin MFG up on a lift and quickly installed their own 3-degree raked trees onto the neck. Next, the CC crew slipped in a set of Perse Performance 2-inch under FLH-style fork legs with a single-sided caliper mount on the left side to help show off thier Hole Shot wheel they intended on using. Suspension for the rear of the bike was handled by a pair of Progressive shocks. As we mentioned, rolling stock was accomplished with a set of CC Hole Shot wheels, a 21×3.5 front and a 17x 3.5 rear, both of which were stuffed into Avon tires, a 120/70-21 and a 140/70-17, respectively.
When the S&S; SH-Series engine arrived at the shop, the CC crew decided they weren't going to be happy just stuffing it between the framerails, so they made a few modifications. "We machined the center of the rocker boxes so it looked like they were split," Dave said. " We welded the original oil holes shut and drilled and tapped new oil lines so they would run underneath the rocker boxes so you can't see them. We tried not to change it up too much, that way it still looked like an S&S; engine. For the rest of the drivetrain we used a Baker Frankentranny, it's got a little bit of everything; a 4-speed kicker cover with a 5-speed case, and 6-speed gear set, hydraulic clutch, and the starter ear so we could also run an electric starter. The engine is the generator case style so we made some custom pieces to get the primary to work with the generator case and electric starter," Dave told us. "We had to make some modifications to the frame to make everything work. We cut the rear section of the frame and stretched it 1 1/2 inches so we could use the electric starter and Softail style transmission case."
For the sheetmetal, CC followed along the lines of classic styling cues, but added its own custom touches for a more finished and elegant look. For example, CC used a pair of skirted fenders, a Klock Werks front and V-Twin rear. The front fender was split down the center and narrowed to fit snuggly over the 21-inch wheel. Keeping with a sleek look, they took a Fat Bob style tank and slimmed the profile. "We used a replica tank for the frame. We just split it and welded it together instead of having two separate tanks," Dave said. "I narrowed it about 3 inches in the back and 2 inches in the front, then made a whole new tunnel and bottom section for it. I wanted it to look like an old style bike, so we narrowed it up, and then took a replica dash and customized it, and molded it into the tank."
Aside from building gorgeous bikes, CC also has a long list of parts that it's developed and this bike showcases many existing parts as well as new parts. The company offers fork bells for FLH models, but CC put a little spin on its original fin design, which became a theme througout the bike. CC added a custom-finned dash piece, finned shock covers in the rear, fined passenger footpegs, as well as a finned cover for the primary. Another theme that became prominent was hand engraving all over the engine and wheels, which was all done by Hernan D'Aloia of Hernan's Custom Engraving. "I have worked on quite a few projects for Covingtons Customs," Hernan told us. "But when they called and told me about this project and what it was for, I was excited and honored. It was a great opportunity."
The entire build took the CC team about three months and from the response they got from admirers and the judges at the S&S; 50th show, they accomplished their goal of building a ridable bike in a style that will always be fashionable. CC walked away with the third place award in the SH-Series class. Then a little over a month later they entered the bike in the AMD World Championships of Custom Bike Building and rolled away with a Partner's Pick award from J&P; Cycles. It's easy do good in a class with a bike that has class.
| | |
| --- | --- |
| SPEC SHEET | |
| BIKE OWNER | Covingtons Customs ({{{CC}}}) |
| SHOP NAME | Covingtons Customs (CC) |
| SHOP PHONE | (580) 256-2939 |
| SHOP WEBSITE | www.covingtonscyclecity.com |
| YEAR/MAKE/MODEL | '08/CC/Custom Shovel |
| FABRICATION | CC |
| ASSEMBLY | CC |
| BUILD TIME | Three Months |
| | |
| --- | --- |
| ENGINE | |
| YEAR/MANUFACTURER | '08/S&S; |
| TYPE/SIZE | 93 ci/Shovel |
| BUILDER | S&S; |
| CASES | S&S; |
| CYLINDERS | S&S; |
| HEADS | S&S; |
| ROCKER BOXES | S&S;/CC |
| CARBURETOR | S&S; |
| AIR CLEANER | S&S; |
| EXHAUST | CC |
| | |
| --- | --- |
| TRANSMISSION | |
| YEAR/MANUFACTURER/TYPE | '08/Baker Drivetrain/Frankentranny |
| CASE | Baker Drivetrain |
| CLUTCH | Bandit |
| PRIMARY DRIVE | CC/Karata |
| | |
| --- | --- |
| FRAME | |
| MANUFACTURER | V-Twin MFG |
| RAKE | Stock |
| STRETCH | 1-1/2 inches |
| | |
| --- | --- |
| SUSPENSION | |
| MANUFACTURER FRONT | Perse Performance/CC |
| LENGTH | 2 inches under |
| TRIPLE TREES | CC |
| MANUFACTURER REAR | Progressive |
| | Suspension |
| SWINGARM | V-Twin MFG |
| | |
| --- | --- |
| WHEELS, TIRES, AND BRAKES | |
| MANUFACTURER FRONT/TYPE | CC/Hole Shot |
| SIZE-HEIGHT/WIDTH | 21×3.5 |
| TIRE/SIZE | Avon/120/70-21 |
| CALIPER | PM |
| ROTOR | CC |
| MANUFACTURER REAR/TYPE | CC/Hole Shot |
| SIZE-HEIGHT/WIDTH | 17×3.5 |
| TIRE/SIZE | Avon/140/70-17 |
| CALIPER | PM |
| ROTOR | CC |
| | |
| --- | --- |
| FINISH/PAINT | |
| COLOR | Kandy {{{Cobalt}}}/White, Lace and Pearl |
| PAINTER | Brian Loker |
| GRAPHICS | Brian Loker |
| PLATING/POLISHING | Chrome Masters |
| | |
| --- | --- |
| ACCESSORIES | |
| FRONT FENDER | Klock Werks/CC |
| REAR FENDER | V-Twin MFG/CC |
| FENDER STRUTS | CC |
| GAS TANK∩ | V-Twin MFG/CC |
| OIL TANK | CC |
| DASH | CC |
| GAUGES | Auto Meter |
| HANDLEBARS | Flanders/CC |
| RISERS | CC |
| MIRRORS | Joker Machine |
| HAND CONTROLS | PM |
| FOOT CONTROLS | Thunder Heart/PM/CC |
| FOOTPEGS | CC |
| HEADLIGHT | CC |
| TAILLIGHT | Tombstone |
| LICENSE MOUNT | HiTech |
| SEAT | Duane Ballard |