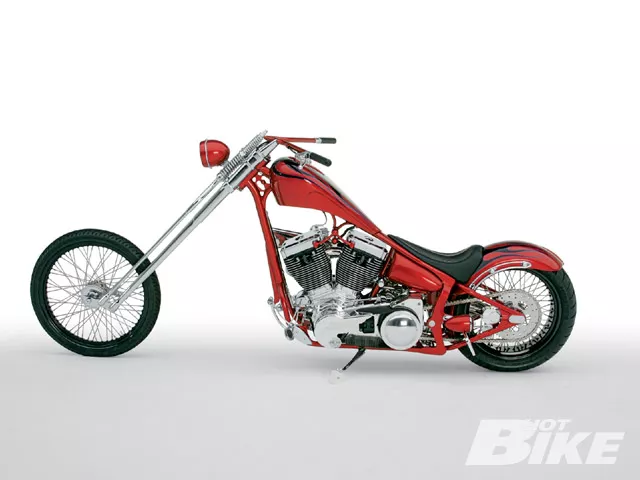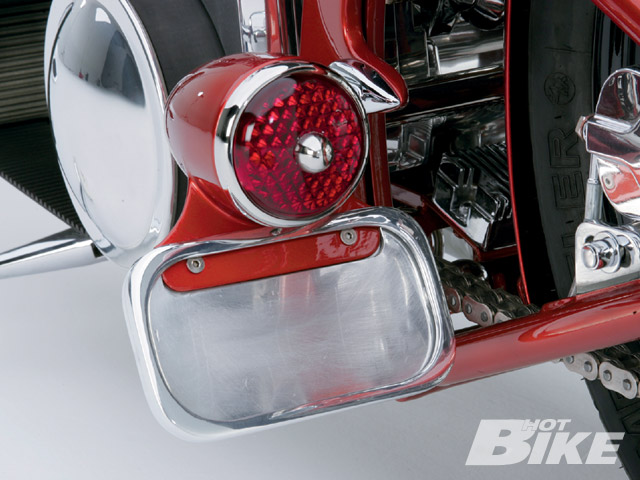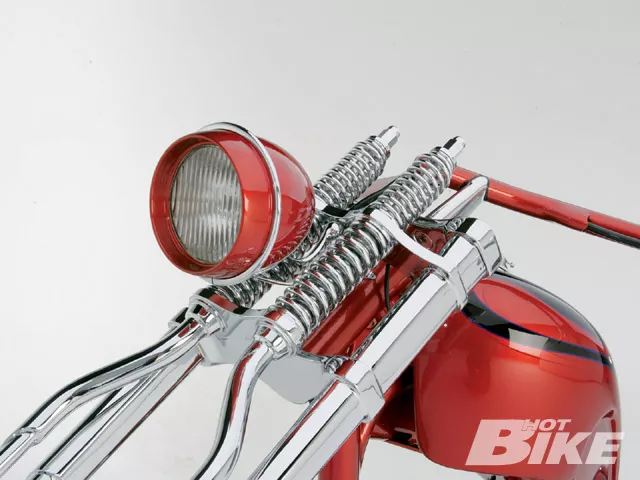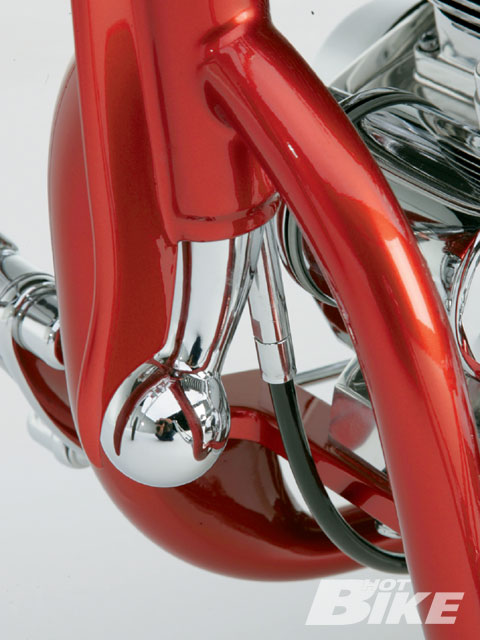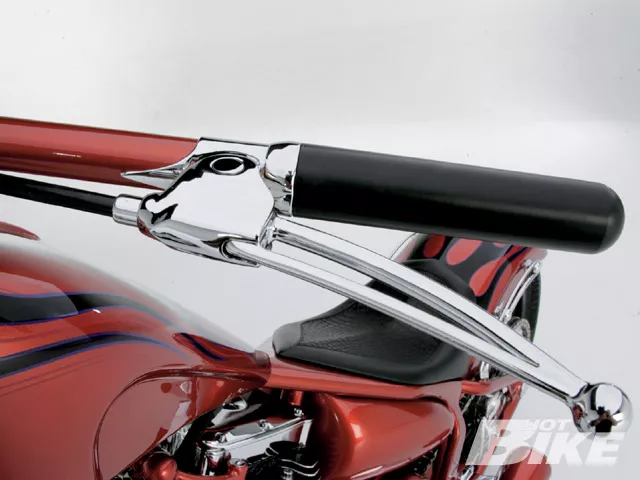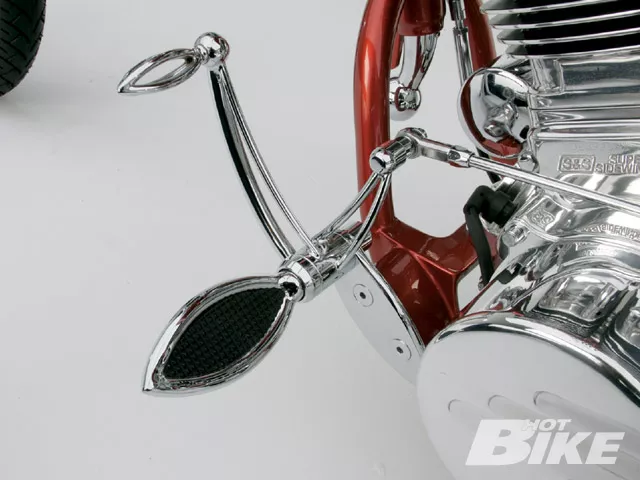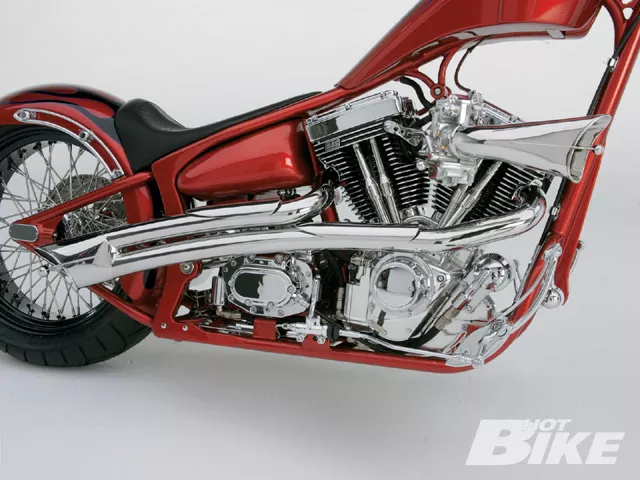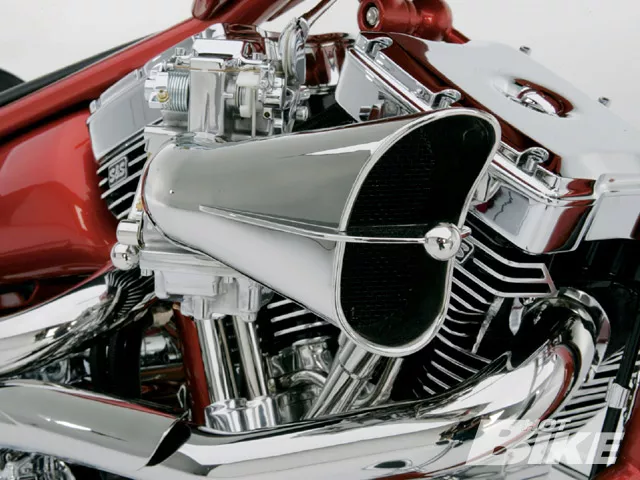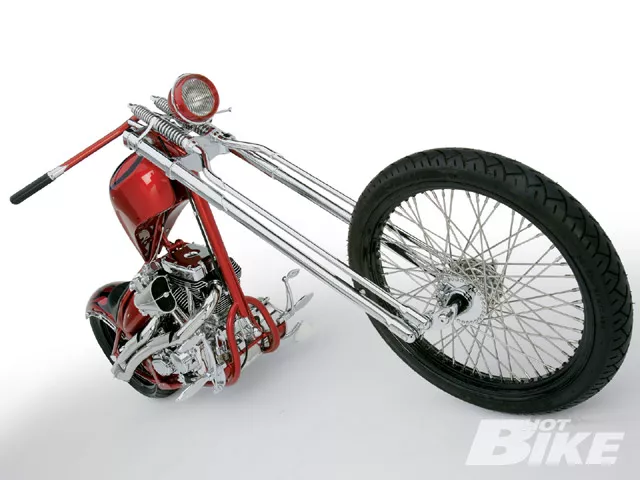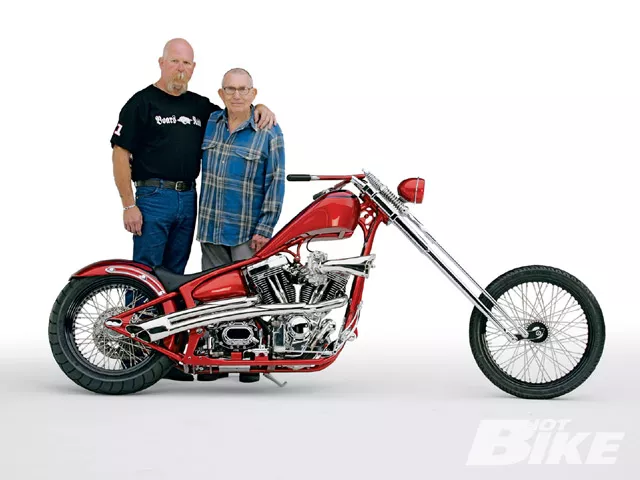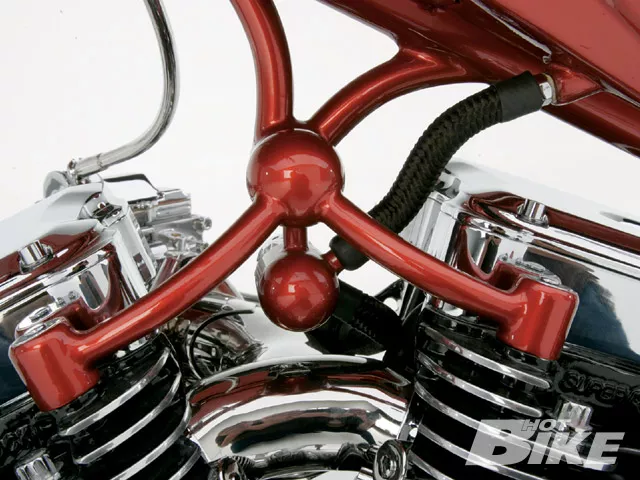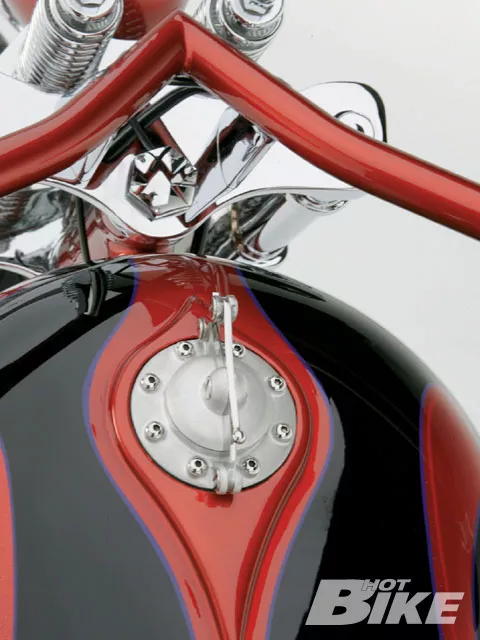 These days it's becoming increasingly harder to find true ground-up customs. We're not talking about the guy that got his hands on a kit, assembled it in his garage, and calls it a custom. We're speaking of the guy that took the time to fabricate as many parts as possible to create a bike that is as much from his heart and soul as it is his blood and sweat.
When we met Rod Sexton, owner of Rod's Custom Fab in Orange, California, he informed us that he built a true custom from the ground up. When Rod started the build it was only going to take about nine months, but it took over two years. "That was the cost (in time not money) to do it right," Rod said. "I really didn't want to buy anything that I could build-that is just not my style. So it took a bit longer than I had planned, but it's everything I wanted the bike to be in the end.
Like so many other bike builders in the industry, Rod has been around motorcycles and cars all his life. And like other builders, the older he got the more love he had for motors and speed. When Rod was 9 years old, his dad bought him a mini bike and about the time Rod was getting good at riding it, the motor needed to be replaced from all the miles he put on it. Rod's dad told him if he wanted to ride it again, he would have to fix it. Rod's dad picked up an old 7hp McCulloch chainsaw motor from a yard sale and the two of them swapped out the old motor for what at the time was a hop-up of horsepower.
When Rod turned 13 years old, his parents bought him a '69 Yamaha 125 and he started racing it at the local track. A few years later Rod started riding professionally at Ascot Park. Rod went through the novice ranks to expert level, racing at the San Jose Mile, Stockton Mile, Long Beach indoor arena, and the Sacramento Mile all before getting out of racing in 1982 and buying a '31 Model-A Ford. This is where Rod started to master his craft and hand-make his own parts. Finally in 1992, Rod's Custom Fab started and he specialized in high-end stainless headers and exhaust systems for motorcycles, street rods, and racecars.
After being out of the race circuit for about 20 years, some friends invited Rod to the Gene Romero flat track races in Perris, California, to watch the bikes kick up some dirt. Rod ran into the old race crowd he used to run with and being around the bikes again inspired him to build a bike of his own.
Rod wanted to build a bike that not only incorporated parts of his hot rod, motorcycle, and race car history but would be around for a while and anyone could look back at it and see all the hard work that went into building a true custom. A friend of Rod's had a frame sitting in his garage and was glad to donate it. As soon as Rod had it in his shop, he cut the frame apart from the neck and backbone to the downtubes. When all was said and done, Rod had the frame just the way he wanted it with 2 inches added to the backbone and from two downtubes to a 4-inch stretched single downtube.
For the frontend, Rod decided to use a set of '37 Ford strut bars for the main tubes and solid Chromolly rod for the spring legs. He also custom made the rockers, tube caps, and axle mounts. Once this one-off Springer was on the frame, Rod got a set of spoke wheels from Sam at Ride Wright Wheels. Then Rod got started shaping the gas tank and fitting it to the frame along the rear fender. For Rod that was the easy part, but the oil bag was a bit different. Rod had a set of '37 Dodge headlight buckets sitting on his bench and he held them up to the frame where the oil tank would mount and decided to use them for the oil bag.
The metal balls on the fender braces and foot controls are Model-A Ford steering arm balls. The upper motor mount is made from a front wishbone ball from a '40 Ford. The taillight is from a '37 Ford, and the headlight is an old Kay Bee car light. Rod was looking to build as many custom parts as he could, so the air scoop and exhaust system was made to look and flow together. Even the rubber on the foot controls was from Model-A running board rubber. The piece on the lower downtube is special to Rod. It was off an old horse collar for pulling wagons. His dad had found it in an old barn when Rod was very young so it holds sentimental value to him.
The list of custom parts on this bike goes on. The only thing Rod did not build from the ground up was the power train. That was handled by an S&S; 124ci Evo coupled with an S&S; six-speed transmission and a BDL beltdrive. But Rod could not leave the beltdrive stock, so he customized a backing plate and the pulley covers. You can pretty much get the idea that a lot of work and time went into this build.
With the bike finally together, the only thing left was to tear it down and send it out for paint and chrome. Phil Whetstone, a friend of Rod's, covered the raw metal in a cinnamon pearl and copper pearl for a truly different color. Shilling Metal Polishing handled all the chrome work. Then the bike was put back together, wired up, and was now ready to ride.
Rod was happy and proud of his bike. He hopes that it will be around for a long time. Rod wants to pass the bike onto the next in line maybe his kid, and keep it in the family.
| | |
| --- | --- |
| SPEC SHEET | |
| BIKE OWNER | Rod Sexton |
| SHOP NAME | Rod's Custom Fab |
| SHOP PHONE | (714) 538-2754 |
| YEAR/MAKE/MODEL | '05/RCF Chopper |
| FABRICATION | RCF |
| ASSEMBLY | Rod Sexton |
| BUILD TIME | Too long |
| | |
| --- | --- |
| ENGINE | |
| YEAR/MANUFACTURER | '05/S&S; |
| TYPE/SIZE | Evo/124ci |
| BUILDER | Phil's Speed Shop |
| CASES | S&S; |
| CYLINDERS | S&S; |
| HEADS | S&S; |
| ROCKER BOXES | S&S; |
| CARBURETOR/EFI | 45mm Mikuni |
| AIR CLEANER | RCF |
| EXHAUST | RCF |
| | |
| --- | --- |
| TRANSMISSION | |
| YEAR/MANUFACTURER/TYPE | '05/S&S; |
| | 6-speed |
| CASE | S&S; |
| CLUTCH | BDL |
| PRIMARY DRIVE | BDL |
| | |
| --- | --- |
| FRAME | |
| YEAR/MANUFACTURER | '02/Extreme RCF |
| RAKE | 42 degrees |
| STRETCH | 2 back and 4 up |
| | |
| --- | --- |
| SUSPENSION | |
| MANUFACTURER FRONT | RCF Springer |
| LENGTH | 14-inch over |
| TRIPLE TREES | RCF |
| MANUFACTURER REAR | Progressive |
| SWINGARM | Extreme |
| | |
| --- | --- |
| WHEELS, TIRES, AND BRAKES | |
| MANUFACTURER FRONT/TYPE | Ride Wright |
| | spoke |
| SIZE-WIDTH/HEIGHT | 21×2.5 |
| TIRE/SIZE | Metzeler/21x90x90 |
| CALIPER | none |
| ROTOR | none |
| MANUFACTUER REAR/TYPE | Ride Wright |
| | spoke |
| SIZE-WIDTH/HEIGHT | 18×5.5 |
| TIRE/SIZE | Metzeler/200×18 |
| CALIPER | Exile |
| ROTOR | Exile |
| | |
| --- | --- |
| FINISH/PAINT | |
| COLOR | Cinnamon Pearl Copper Pearl |
| PAINTER | Phil Whetstone |
| PLATING/POLISHING | Shilling Metal Polishing |
| POWDERCOAT | none |
| | |
| --- | --- |
| ACCESSORIES | |
| FRONT FENDER | RCF |
| REAR FENDER | RCF |
| FENDER STRUTS | RCF |
| GAS TANK∩ | Crime Scene Choppers |
| OIL TANK | RCF |
| HANDLEBARS | RCF |
| RISERS | RCF |
| MIRRORS | no need |
| HAND CONTROLS | RCF |
| FOOT CONTROLS | RCF |
| FOOTPEGS | RCF |
| HEADLIGHT | RCF |
| TAILLIGHT | RCF |
| TURN SIGNALS | RCF |
| LICENSE MOUNT | RCF |
| SEAT | Bitchin' Seat Co |