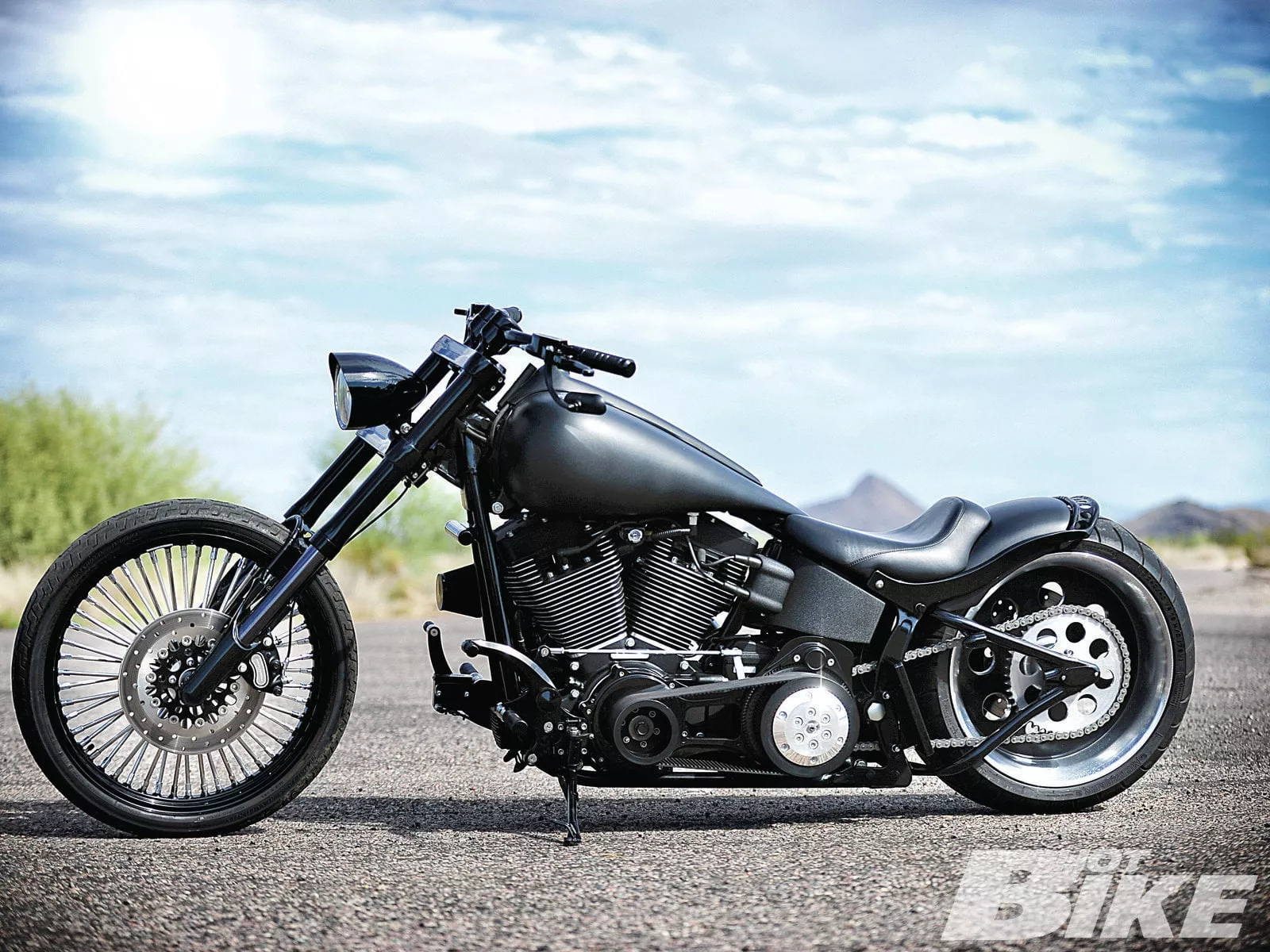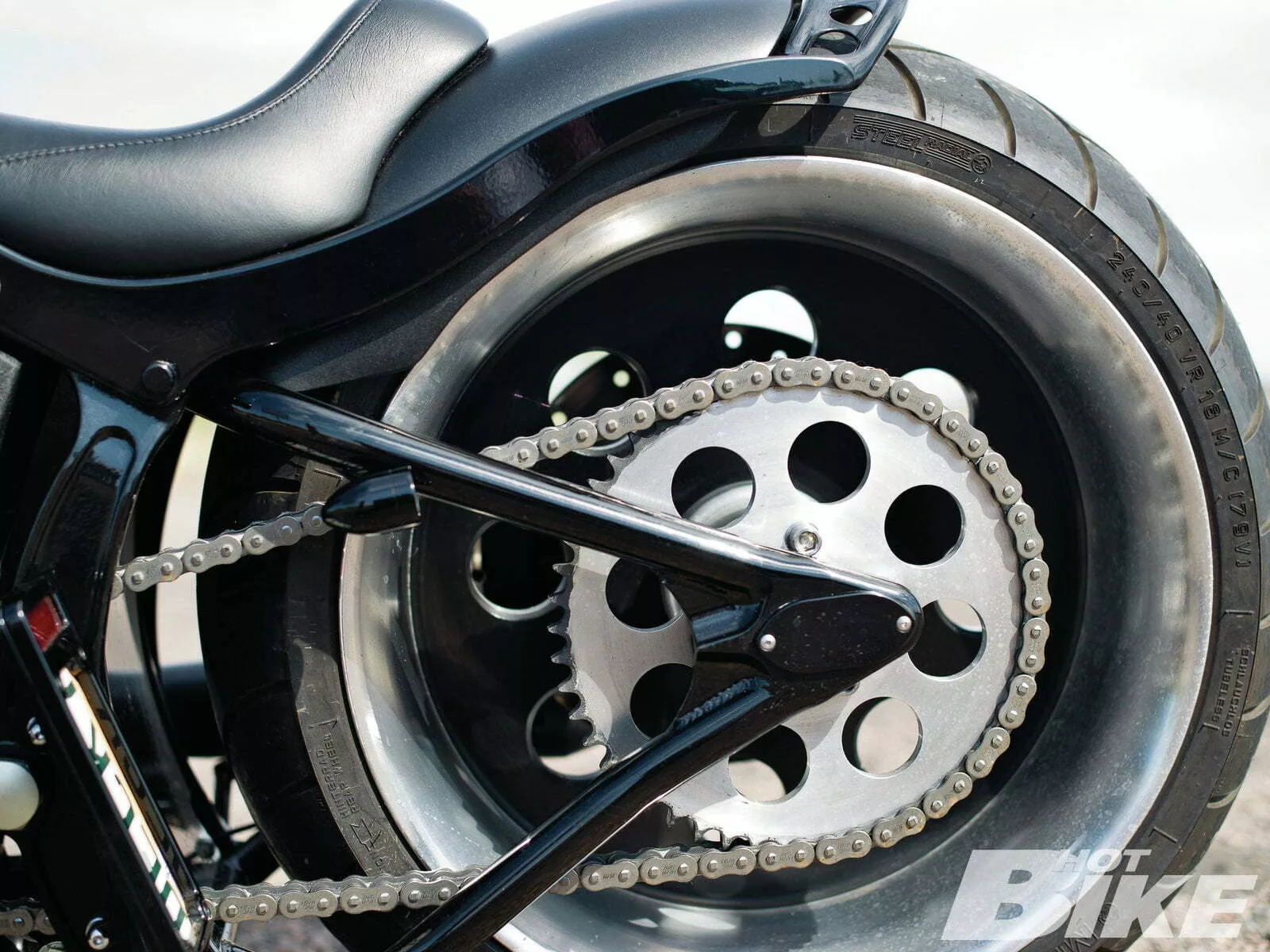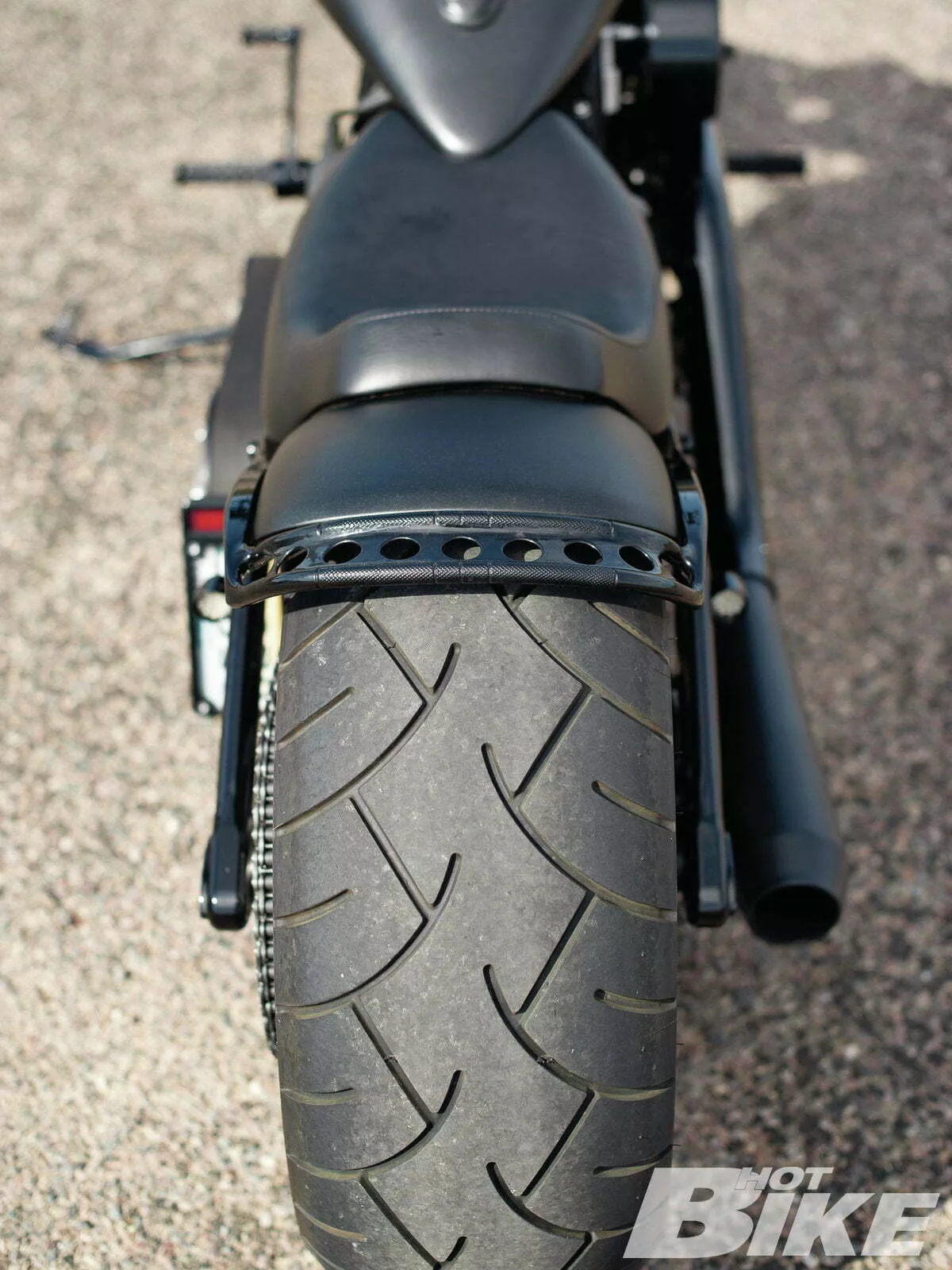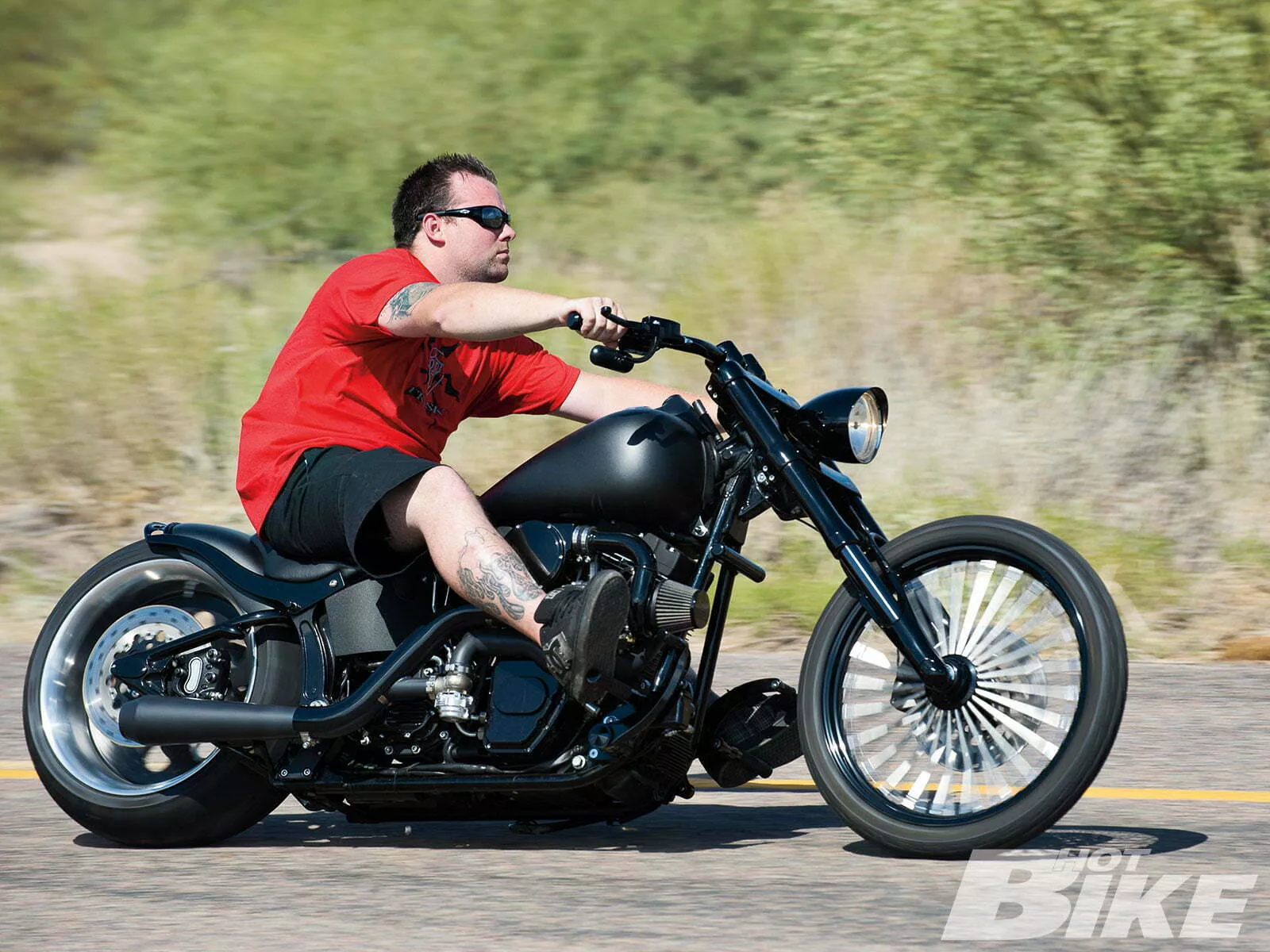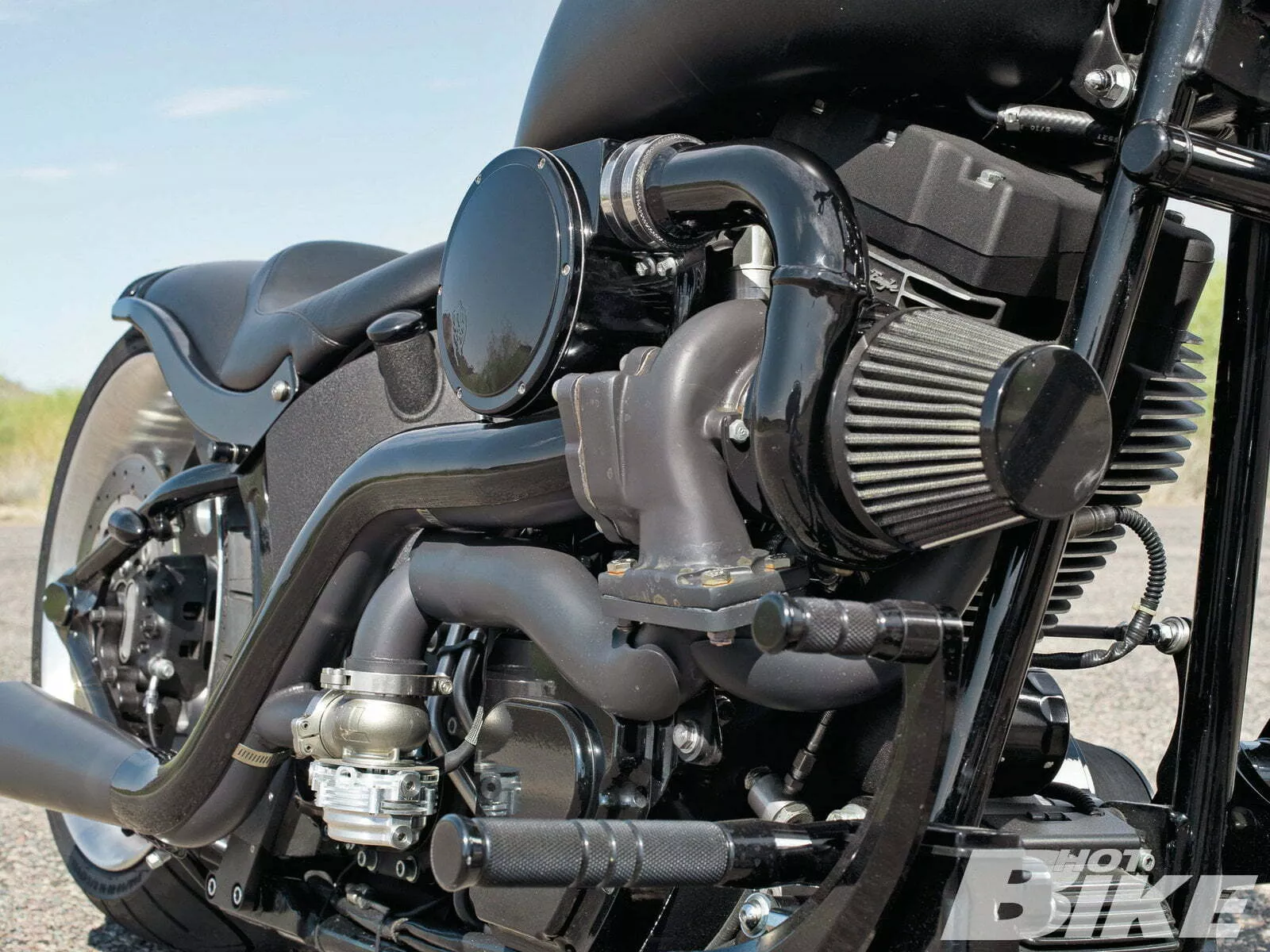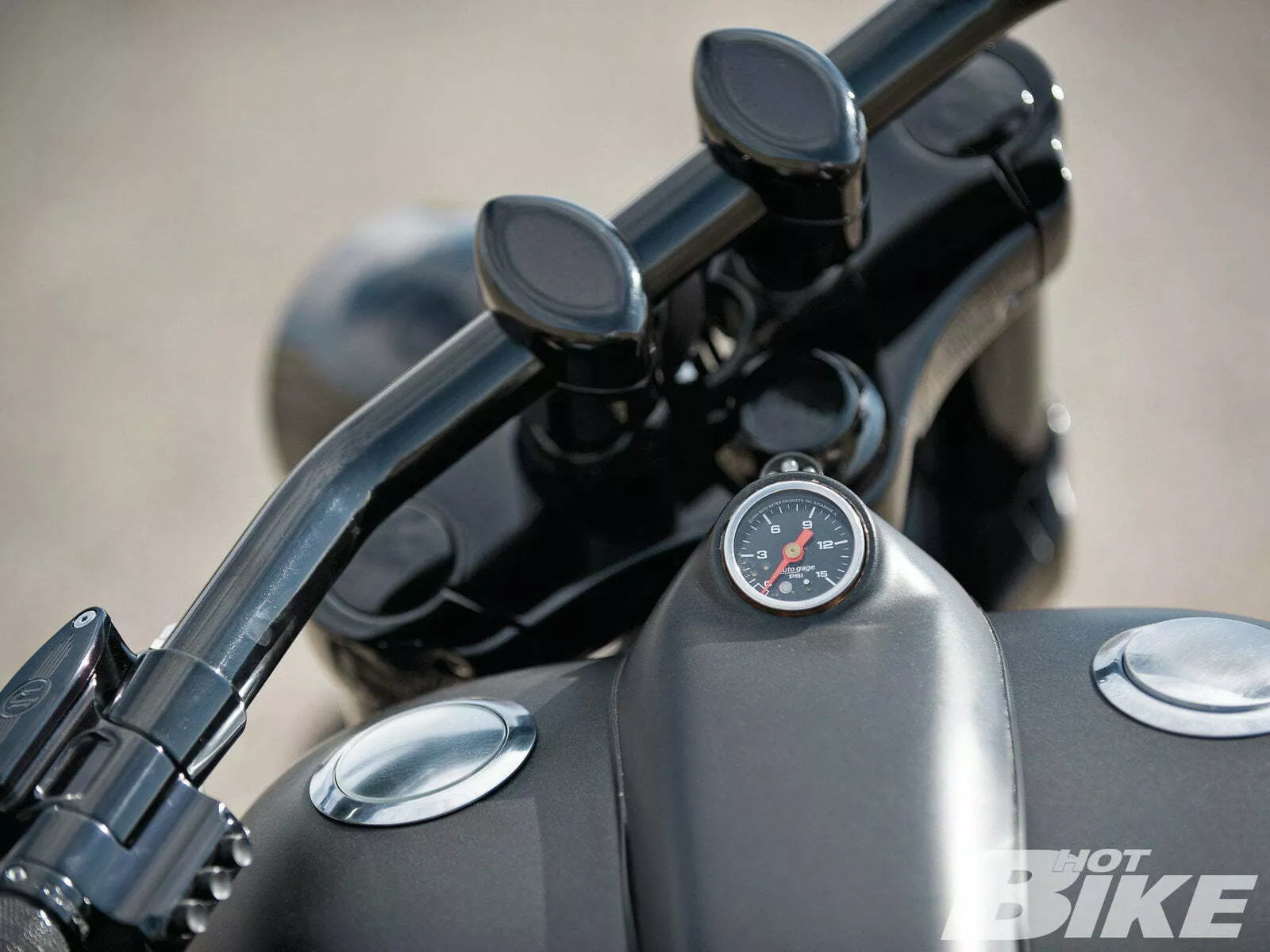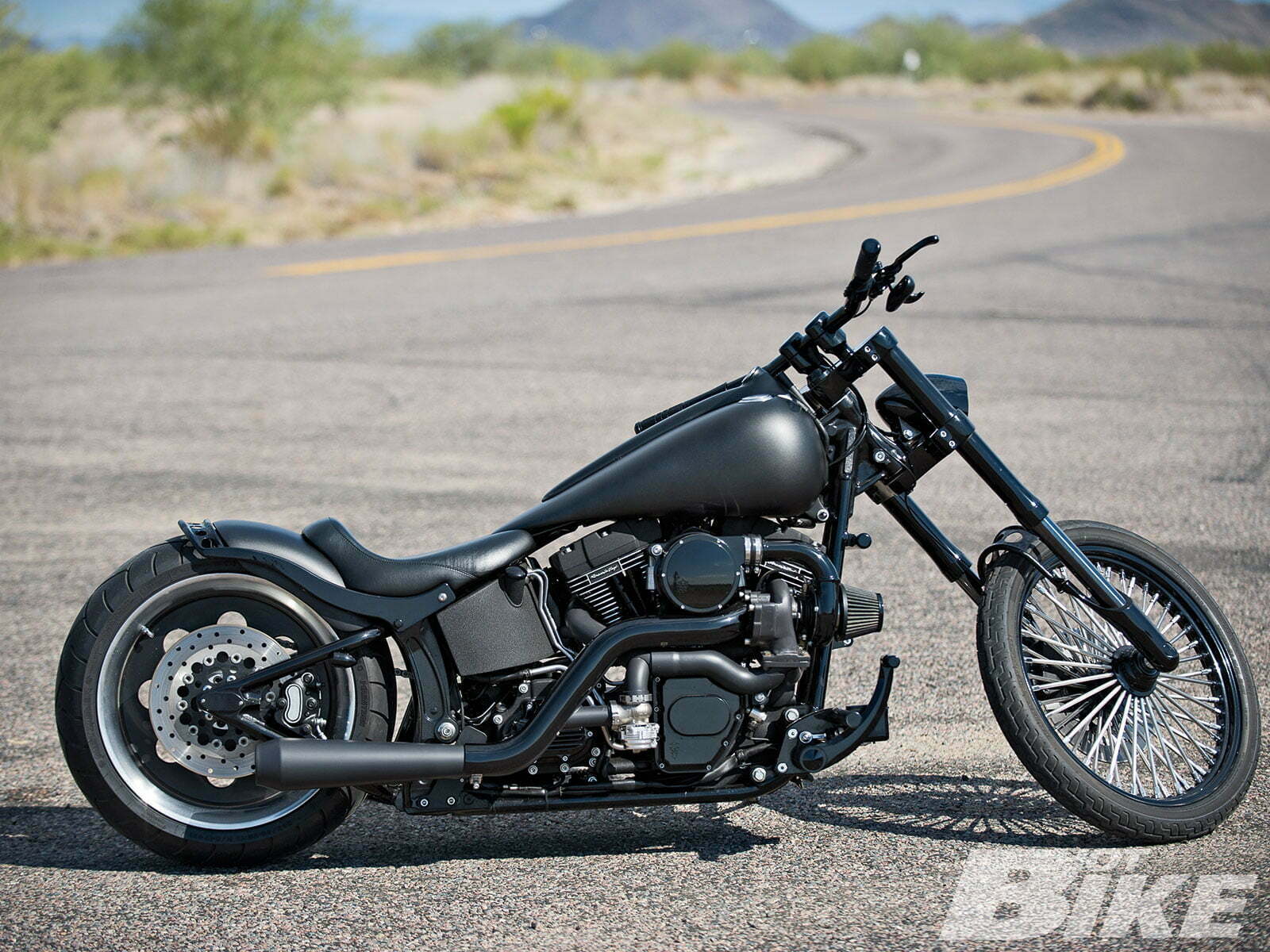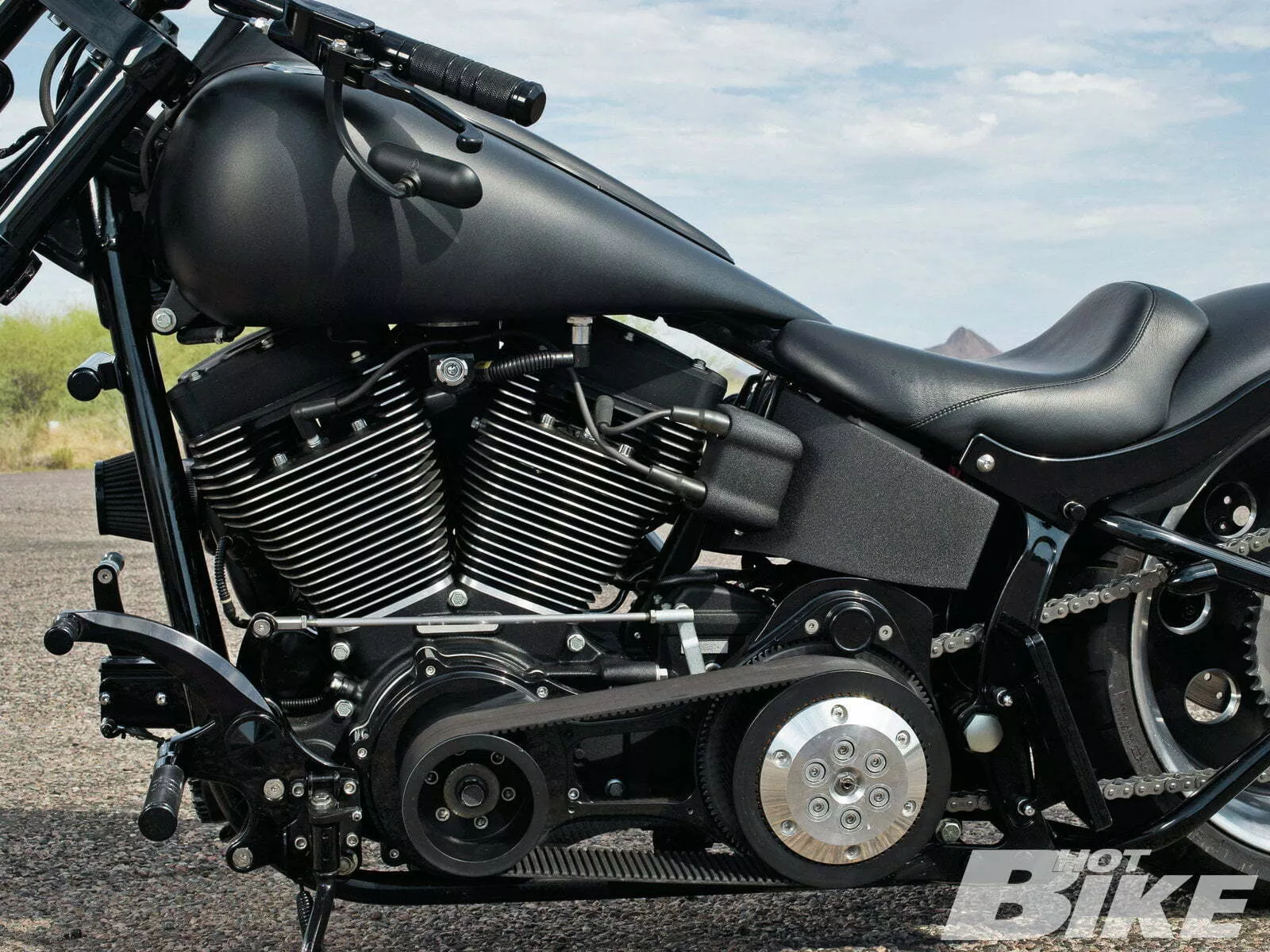 Modified
In the world of customization, there's stock tough, and there's aftermarket tough. Harley's Night Train is a great example. The Motor Company launched it a few years ago as its take on the blacked-out angry badness pioneered by shops like Exile Cycles. Unlike Russell Mitchell though, Harley has to make its machines look like, well, stock Harleys. That's totally cool but at the same time being true to a humongous corporate image and its history tends to put an upper limit on creativity when it comes to being mean and angry. That's where guys like Nick Trask take over. You're seeing his idea of bad attitude right now.
In another life this ball of rage was a stock 2008 Night Train owned by Nick's long-time customer and friend Dan Smith. Both guys agreed the bike just wasn't extreme enough for their tastes as-is-Harley had a great platform, the house just wasn't up to Trask Performance's code. But what do you expect from a guy who made his name building one of the best compact turbo units on the American market?
After much discussion Nick and Dan decided the best strategy was to tear down the Train, lengthen the profile, and reincarnate it from there.
The easiest way to do that would be raked trees and longer forks. Both of those little numbers were definitely part of the greater equation that is now Dan's bike, in and of themselves they were still too stock-looking for what he and Nick envisioned. Raking the neck to 44 degrees total and stretching out the frame gave the Night Train the necessary separation from its stock aesthetic that they wanted. It also set the tone for the level of customizing for the rest of the Softail. This was going to be one seriously involved undertaking.
Look at the wheels and you'll see what I mean. The Fat Daddy 21-inch spoke job up front may not have had much tweaking from Trask Performance but the rear wheel is a custom piece made in-house just for Dan's machine. Nick's shop even went the extra mile of bracketing the slip of a fender with a U-shaped strut that edges it quite nicely. The strut is a great match to the fork brace Trask Performance added up front, too. They completed the new rolling chassis with a low-slung stretched gas tank that melds into the seat on the primary side. As you can see, this all came together for a new side view that's both sleek and sexy and on steroids.
Once Dan's Night Train had the look, it needed muscle to walk the walk. Put three different motor builders in a room and you may get three different answers on the best way to get more power, but if one of them is Nick Trask, the answer is always the same: turbo, turbo, and turbo. Unlike the flaccid penis that passed for motorcycle turbo kits years ago, Trask's version is far more compact and less obtrusive while still bringing plenty of grunt to the table. He rebuilt Dan's Twin Cam 103-incher to best take advantage of said turbo kit. The cylinders were bored out, the cases tweaked for a Timken conversion, and the heads ported to Trask's specs for running the turbo unit.
In its stock life, the Night Train wasn't lean, mean, or powerful enough for Dan's liking. It also wasn't black enough. Sinthium Custom Paint took care of that for him. They laid down a mix of matte black and subdued gloss black on most of his new ride. That said, he'd lose a lot of the details if everything was blacked out. Sprinkling just a little bit of shine throughout gave the Train just the right touch of balance.
Yes, balance seems like a contradiction when you're talking about taking a project to an extreme like Nick Trask did here. Pushing the edge means not going over the top. Great bike builders know exactly how to find the sweet spot between the two. For as much as the big manufacturers bring new ideas to their particular tables, decades of tradition and history can hurt as much as help in that area. That's why there'll always be an aftermarket full of ambitious people to push the envelope for them.
Specifications
General
Owner: Dan Smith
Shop: Trask Performance
Shop Phone: (623) 879-8488
Website: traskperformance.com
Year/Make/Model: 2008 Harley-Davidson Night Train
Fabrication: Trask Performance
Build Time: Six months
Engine
Year/Type/Size: '08 Twin Cam 103 ci
Builder: Trask Performance
Cases: H-D/Trask Performance
Cylinders: H-D/Trask Performance
Heads: H-D/Trask Performance
Rocker Boxes: H-D/Trask Performance
Cams: Screamin' Eagle
Throttle Body: H-D
Exhaust: Trask Performance
Air Cleaner: Trask Performance Turbo System
Transmission
Year/Type: '08 H-D six-speed
Gears: H-D
Clutch: Bandit
Primary Drive: BDL 3-inch open belt
Frame
Year/Type: '08 H-D Softail
Rake/Stretch: 44 degrees/1 inch out
Suspension
Frontend: Trask Performance
Swingarm: Performance Machine
Shocks: H-D
Wheels, Tires, and Brakes
Front
Builder/Size: Ride Wright Fat Daddy 21-inch
Tire/Size: 90/90/21
Calipers: H-D
Rotors: H-D
Rear
Builder/Size: Trask Performance
Tire/Size: 240×18-inch
Caliper: H-D
Rotor: H-D
Pulley: H-D with chain final drive
Finish/Paint
Manufacturer: Sinthium Custom Paint
Colors: Flat black with gold
Paint/Graphics: None
Plating/Polishing: None
Powdercoating: Affordable Gloss
Accessories
Front Fender: None
Rear Fender: Performance Machine/Trask Performance
Gas Tank: Trask Performance
Dash: Trask Performance
Gauges: Boost Gauge
Handlebars: Trask Performance
Grips: Performance Machine
Hand Controls: Performance Machine
Foot Controls: Accutronix
Floorboards: N/A
Headlight: 5/3/4 bullet
Taillight: Performance Machine
Turn Signals: None
License Mount: Performance Machine
Seat: Guy The Man