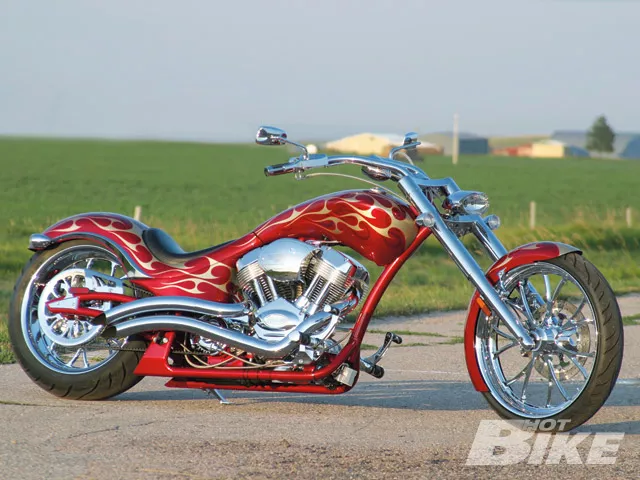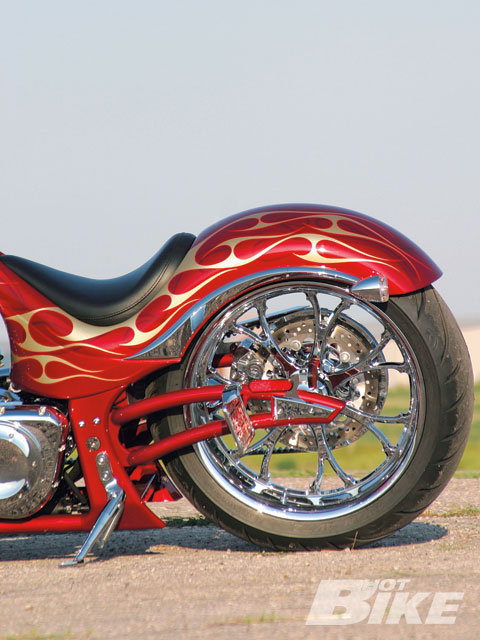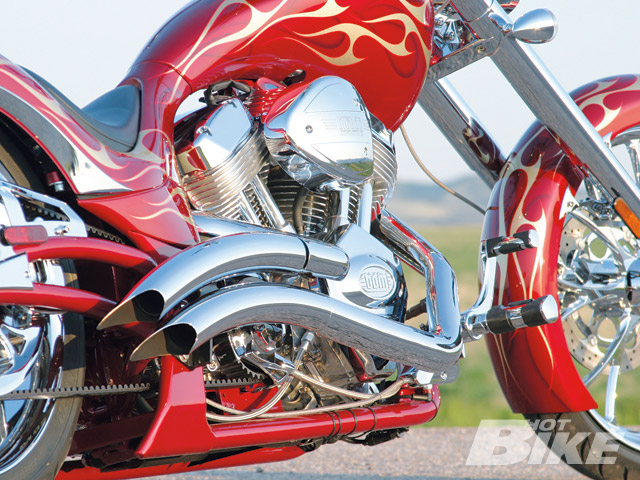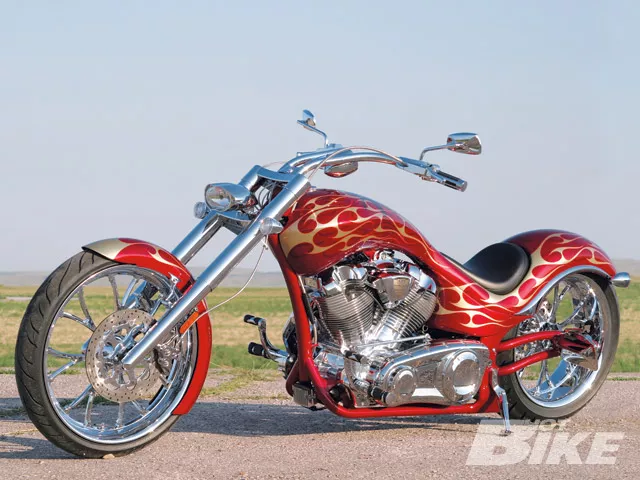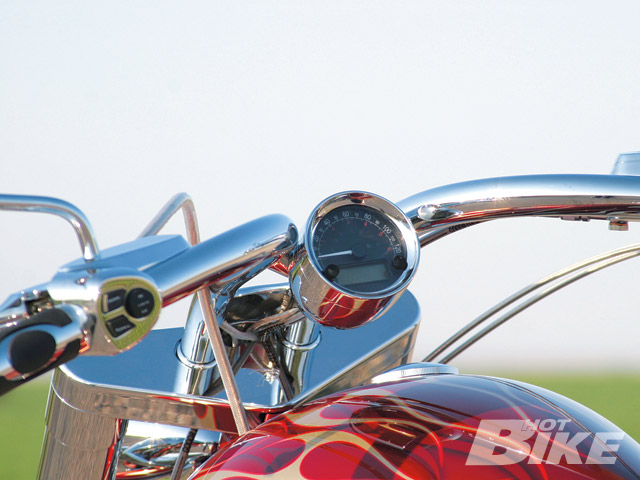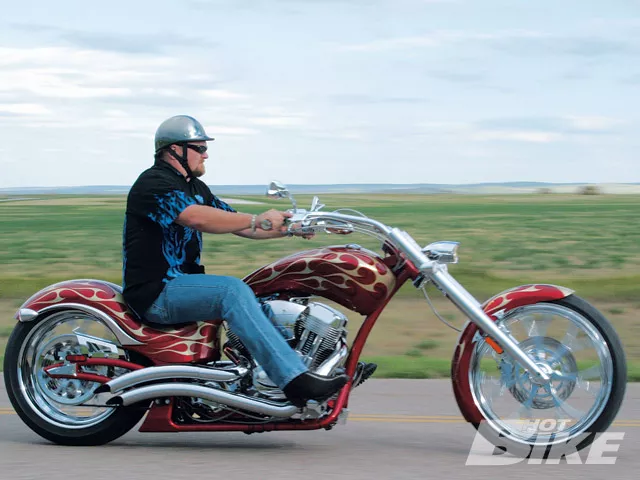 In the beginning of every year, the editors of HOT BIKE get together to decide who will attend what rally. Since I'd never been to the mack-daddy of all things motorcycles, I was given the opportunity to go to Sturgis. I was stoked for the task of covering the biggest event of the year and it was truly an honor. Plus, everyone else on staff had already been so they took pity on me. But let me just tell you, it wasn't all fun and games. There was plenty of work to be done.
First of all, I've photographed plenty of bikes since I started working for HOT BIKE two years ago, but I'd never shot a cover bike. The brass felt that it was my time. The interesting thing about this trip was that it was starting to follow a theme, a theme of firsts. My first time to Sturgis, my first cover shoot, and the fact that Big Dog's brand new Wolf was given to us as an exclusive, the first time it would appear in a motorcycle publication. The pressure weighed heavily on my shoulders, "Don't F this up!" I kept telling myself, "This is too big!" But I soon reflected back to a quote from one of my favorite movies, Swingers, "You're all growns up!" So I sucked it up and got to work.
When John Nasi, Director of Dealer Development for Big Dog Motorcycles, pulled up on the 2009 Wolf, I started to get nervous; nervous that I wouldn't get the right shot, or I wouldn't shoot the right angles, or that I wouldn't highlight the right parts in my photos, but nervousness was immediately overshadowed by awe when taking in what was one of the most beautiful bikes I'd ever seen. And being in Sturgis, there were plenty of beautiful bikes.
The Wolf is the newest canine in the Big Dog lineup. The sleek, 9 1/2 feet long ProStreet is a high-performance, high style package featuring the largest S&S; X-Wedge mill of 121ci. As a proprietary engine for Big Dog, you won't find the motor on any other production motorcycle. The Wolf's rear wheel spins via the six-speed tranny, BDM Balance Drive primary, and carbon fiber constructed final drive, which receives its power from the 56-degree 12ci powerplant. The X-Wedge features a three-cam design and a one-piece crank with side-by-side plain bearing rods that drive full skirt pistons in five bolt cylinders and heads. Fuel is delivered via injectors built right into the heads and both closed-loop fuel control and knock control ignition technologies are part of the package, according to S&S; Cycle. The 4 1/4-inch bore/stroke combination delivers a 9.9:1 compression ratio, producing a motor with a tremendous amount of linear torque, according to John.
Getting back to the rear wheel, the chromed billet 20X7-incher (all Big Dog wheels are designed in house) is wrapped in a new Avon 220mm skin, which is exclusive to Big Dog and specifically for the Wolf. It's also the narrowest rubber you'll find on any of the Big Dog models, due to the fact that the Wolf is available with a convertible saddlebag option. The slimmer 220 tire and bag setup won't bulk up the back like a 300 tire/saddlebag combo. Just like all of the other dogs in the lineup, you can install a two-up seat for the passenger on the back and a passenger bar (sissy bar) because of the dockable fender struts. The standard chrome package shimmers throughout, and let me just say, everything is chromed on this baby, from the rear turn signals and rear wheel to the Vance & Hines Big Radius exhaust (a 2-into-1 exhaust system comes standard but the Big Radius can be purchased through any Big Dog dealer) to the handlebar, risers, controls, and then back down to the front wheel. If chrome is a factor when purchasing a new bike, the Wolf definitely delivers.
Big Dog's single downtube frame is a brand new design and all of the frame pieces are produced by a CNC machine, and then robotically welded together by Big Dog Motorcycles. The backbone is stretched 7 inches over, and the seamless integrated sheetmetal fabwork showcases the consistency in the lines of the bike from front to rear. Everything just looks complete. The Tribal Waves Level Five paint scheme of our cover bike included a candy red base coat, black cherry ghost tribal flame work, which was then finished in zenith gold overlay and red pinstripes. This combination is gorgeous and pops beautifully in the sunlight.
With 45 degrees of rake-40 degrees in the neck, 5 degrees in the trees-the long Perse Performance 41mm telescopic forks coupled with the 23X3.75-inch chromed billet wheel produce a 5.86-inch trail. As the Wolf stands, the 3 7/8-inch ground clearance hugs the asphalt in a sleek low profile manner. The four-piston stoppers from Performance Machine coupled with Brembo rotors (13.5 inches in the front) bring the Wolf to a screeching halt.
In classifying the Wolf, some might say it's a "production custom," or "custom production," but the fact remains that Big Dog continues to push the limits in design, exceeding consumers' expectations. The Wolf exemplifies detail and encompasses the direction of Big Dog's future as one of the coolest, hottest motorcycle manufacturer's in the American V-twin market. HB
SPEC SHEET
SHOP NAME
Big Dog Motorcycles (BDM)
SHOP PHONE
(316) 267-9121
SHOP WEBSITE
www.bigdogmotorcycles.com
YEAR/MAKE/MODEL
'09/BDM/Wolf
FABRICATION
BDM
ASSEMBLY
BDM
ENGINE
YEAR/MANUFACTURER
'09/S&S;
TYPE/SIZE
X-Wedge/121ci (1976cc)
BUILDER
S&S; Cycle
CASES
S&S; Cycle
CYLINDERS
S&S; Cycle
HEADS
S&S; Cycle
ROCKER BOXES
S&S; Cycle
EFI
S&S; Cycle Closed Loop EFI
AIR CLEANER
BDM
EXHAUST
BDM Vance & Hines Big Radius
FINISH
S&S; Cycle Polish
TRANSMISSION
YEAR/MANUFACTURER/TYPE
'09/BDM/Right Hand Drive
CASE
BDM/Baker
CLUTCH
Baker
PRIMARY DRIVE
BDM/Balance Drive
FRAME
YEAR/MANUFACTURER
2009/BDM
RAKE
45 degrees (Frame: 40 degrees, Trees: 5 degrees)
STRETCH
7 inches Over Stock B.B./0 inches Over Stock D.T.
SUSPENSION
MANUFACTURER FRONT
Perse Performance 41mm Telescopic (SLS) LENGTH 3 inches over stock
TRIPLE TREES
Perse Performance/5 degrees
MANUFACTURER REAR
BDM Hidden Shock
SWINGARM
BDM
WHEELS, TIRES, AND BRAKES
MANUFACTURER FRONT
BDM
SIZE-WIDTH/HEIGHT
23X3.75
TIRE/SIZE
Avon 130/60R-23
CALIPER
PM 4-Piston Differential Bore/ Chrome
ROTOR
Brembo QTM
MANUFACTURER REAR
BDM
SIZE-WIDTH/HEIGHT
20X7
TIRE/SIZE
Avon 220/50R-20
CALIPER
PM 4-Piston Drive-Side/ Chrome
ROTOR
Brembo QTM
FINISH/PAINT
COLOR
BDM
PAINTER
BDM
GRAPHICS
Tribal Waves (Level 5)/ BDM
PLATING/POLISHING
BDM
POWDERCOAT
BDM
ACCESSORIES
FRONT FENDER
BDM
REAR FENDER
BDM
FENDER STRUTS
BDM/Chrome
GAS TANK∩
BDM/4.7 to 5.1 Gallons
OIL TANK
BDM/3.3 Quart Capacity
DASH
BDM/Chrome
GAUGES
BDM
HANDLEBARS
BDM/Chrome
RISERS
BDM/Chrome
MIRRORS
BDM/Chrome
HAND CONTROLS
BDM/Chrome
FOOT CONTROLS
BDM/Chrome
FOOTPEGS
BDM/Chrome
HEADLIGHT
BDM/Chrome
TAILLIGHT
BDM
TURN SIGNALS
BDM
LICENSE MOUNT
BDM
SEAT
BDM