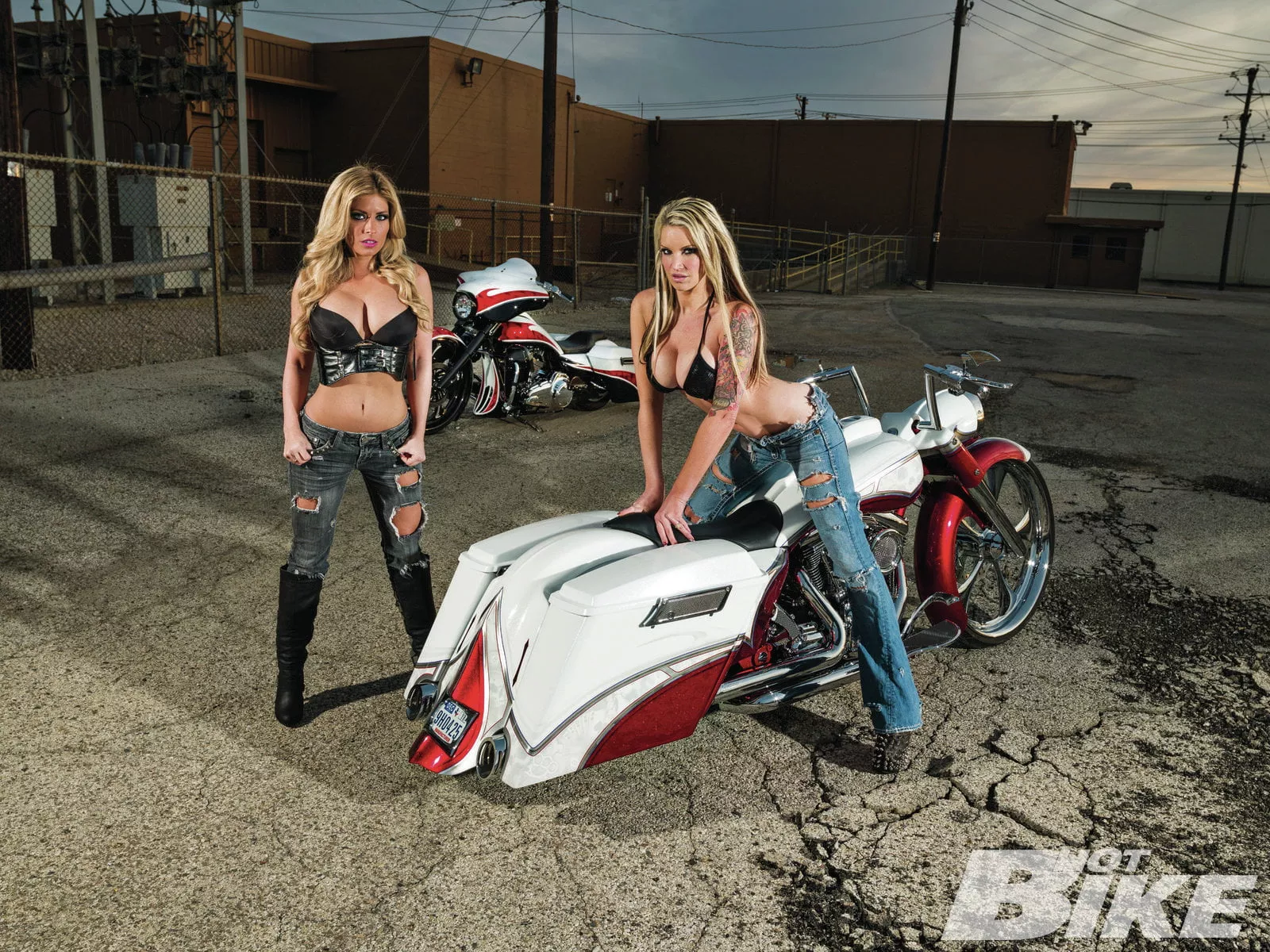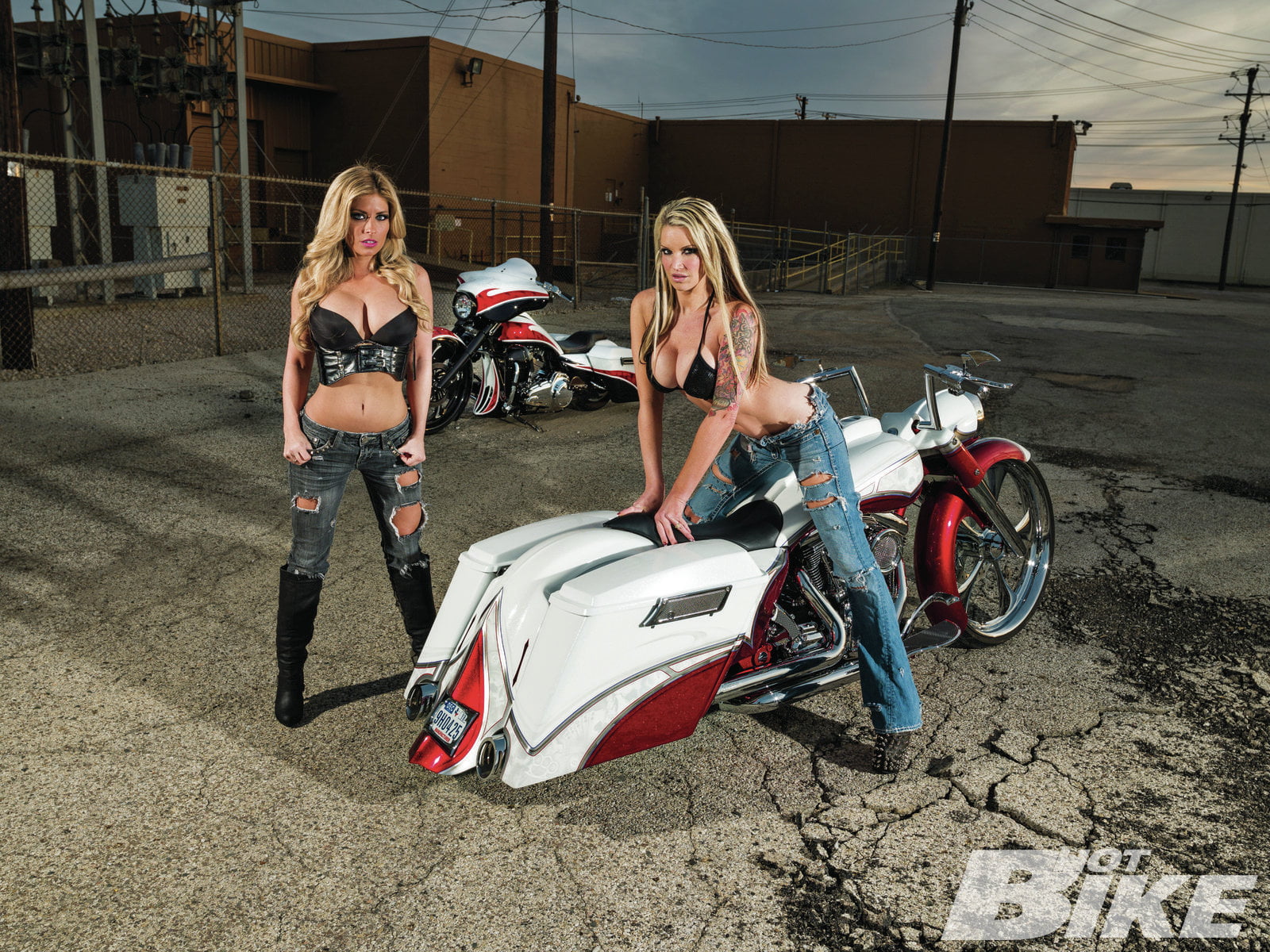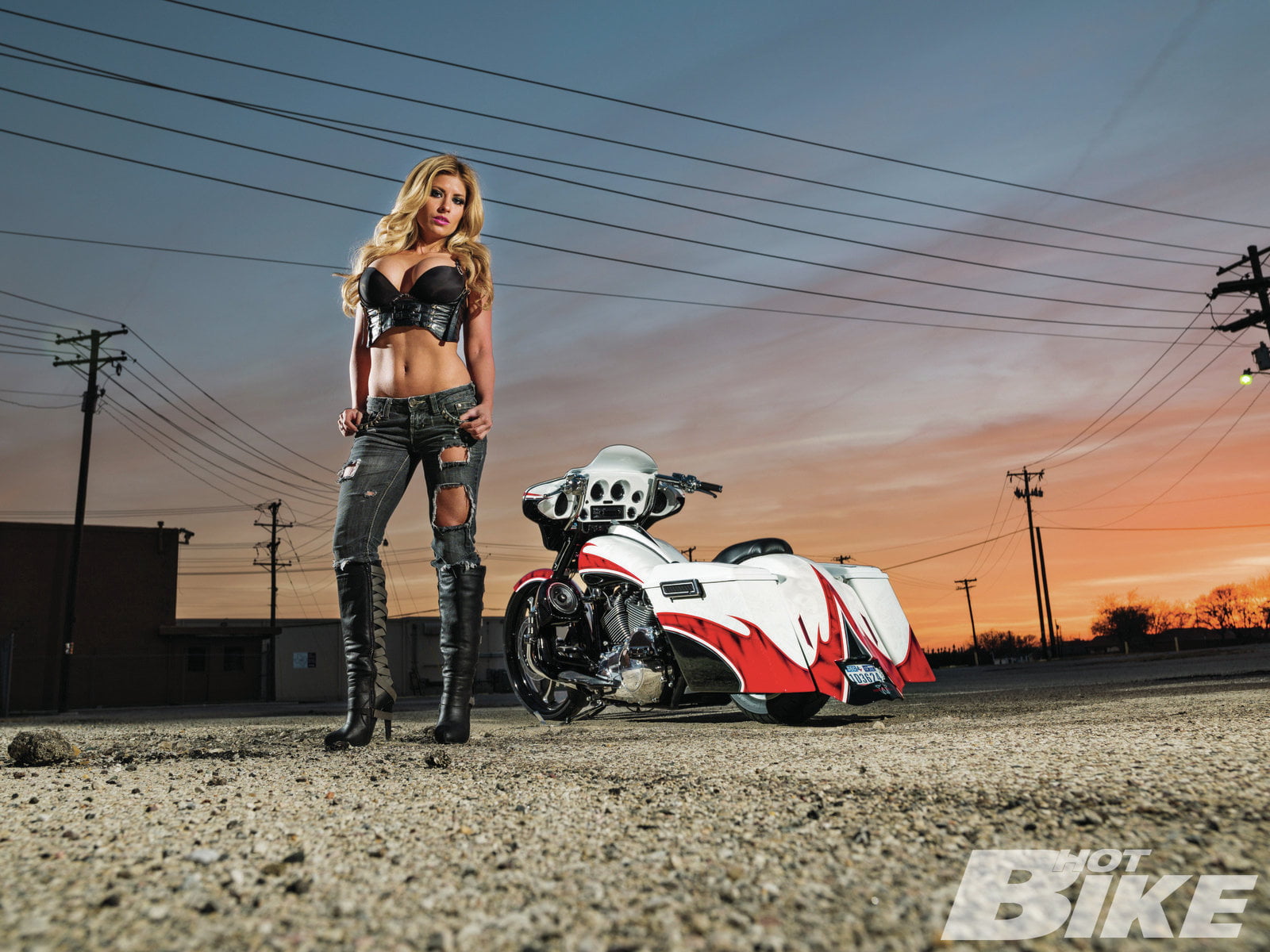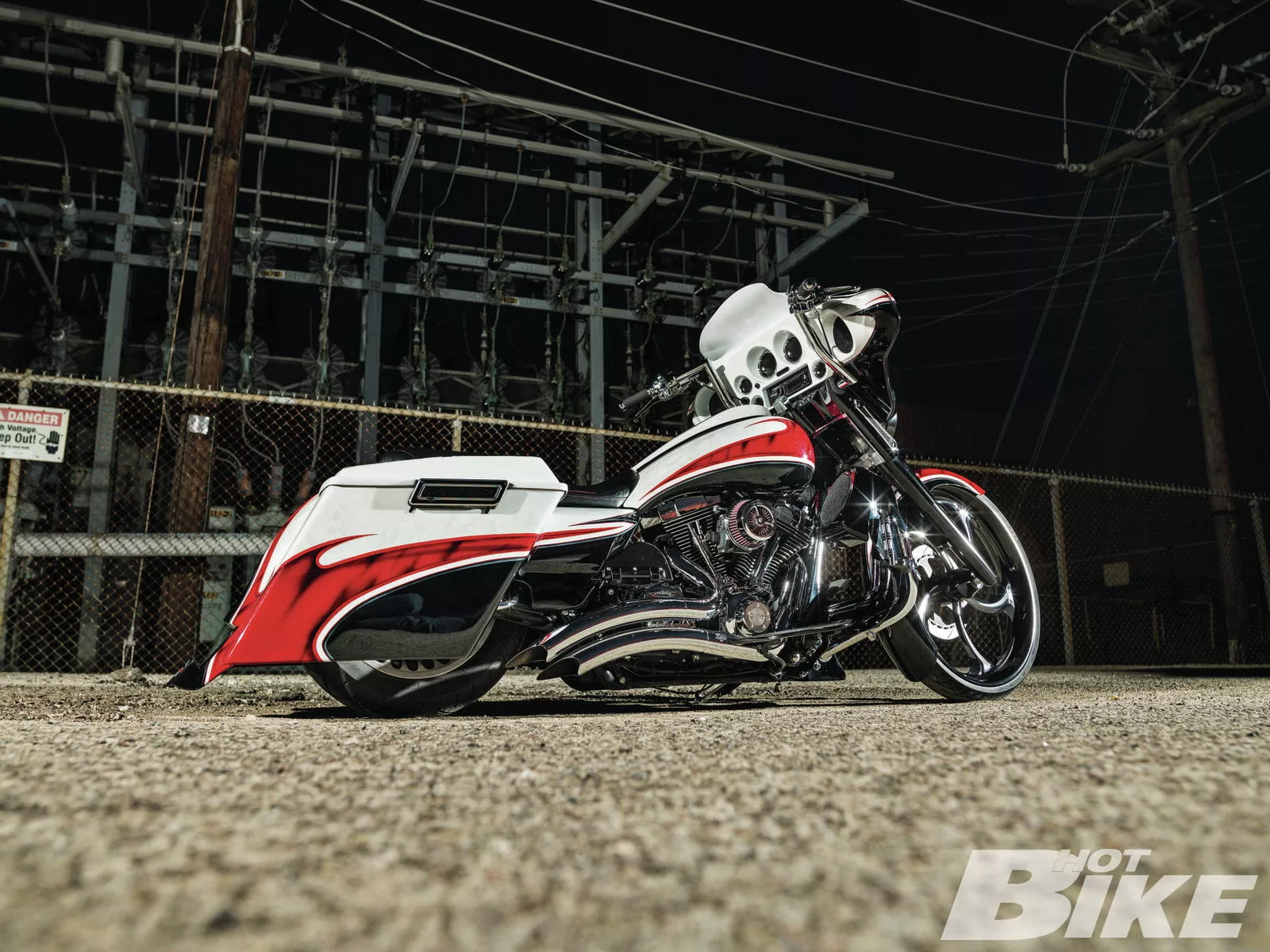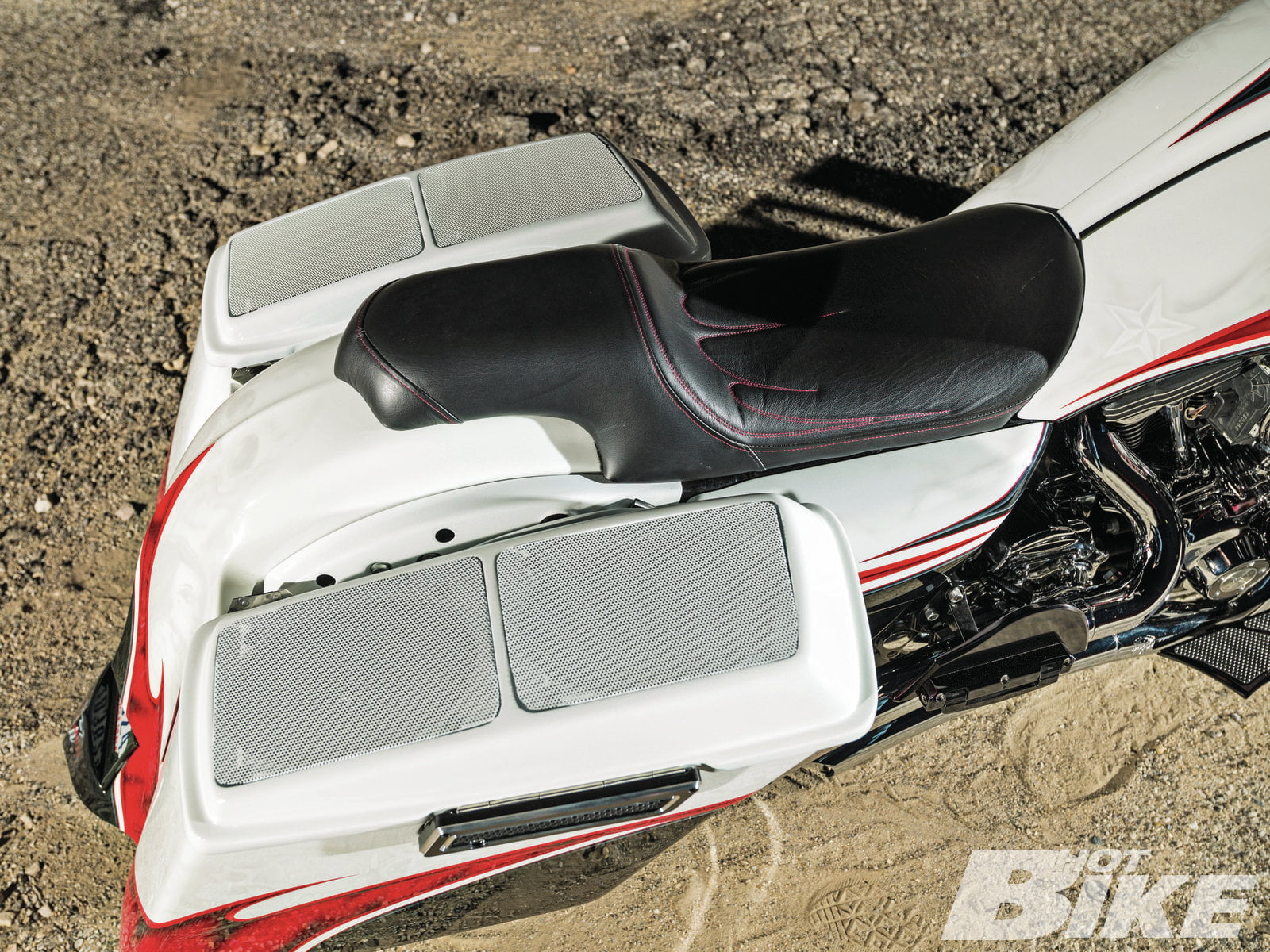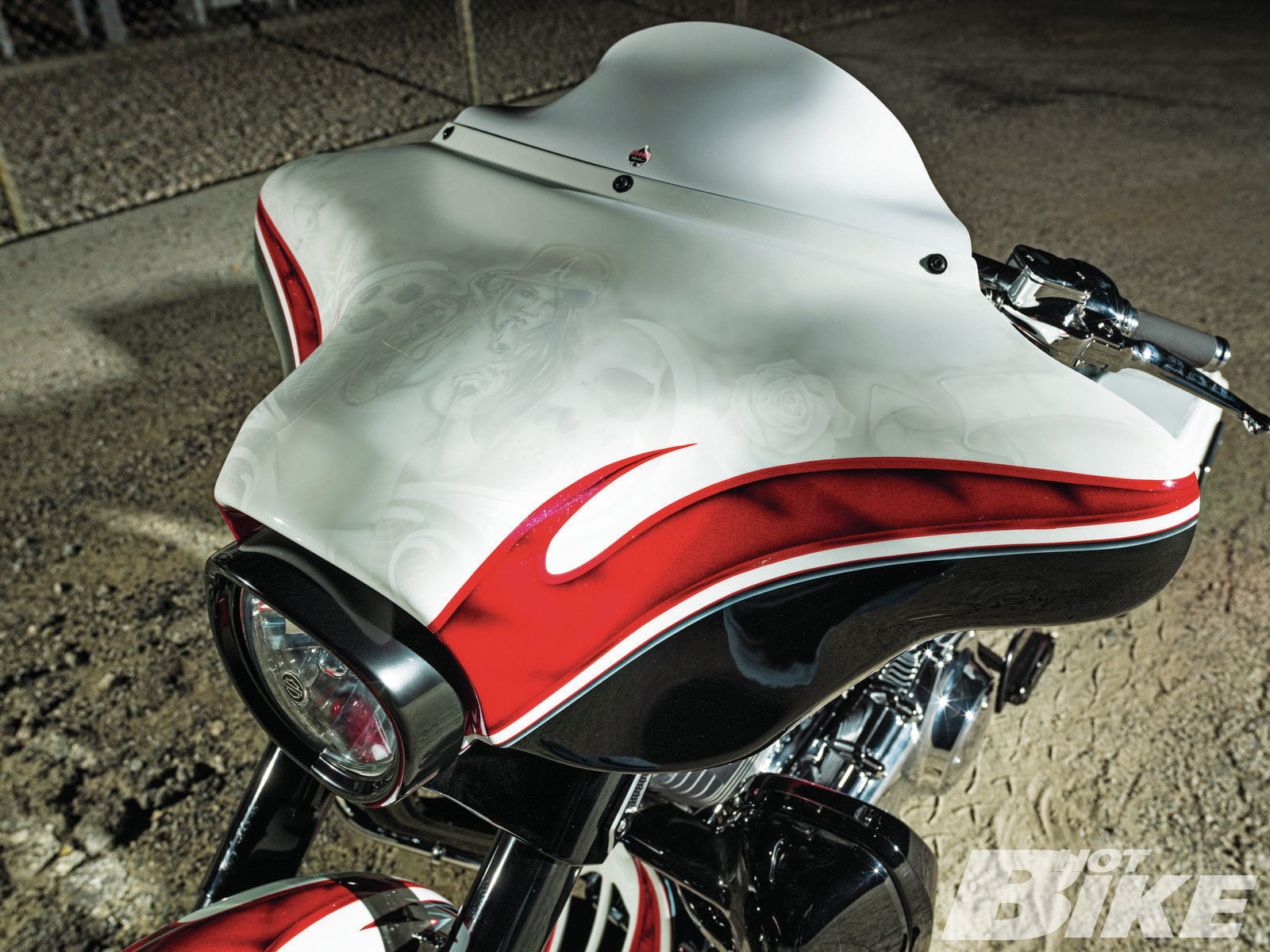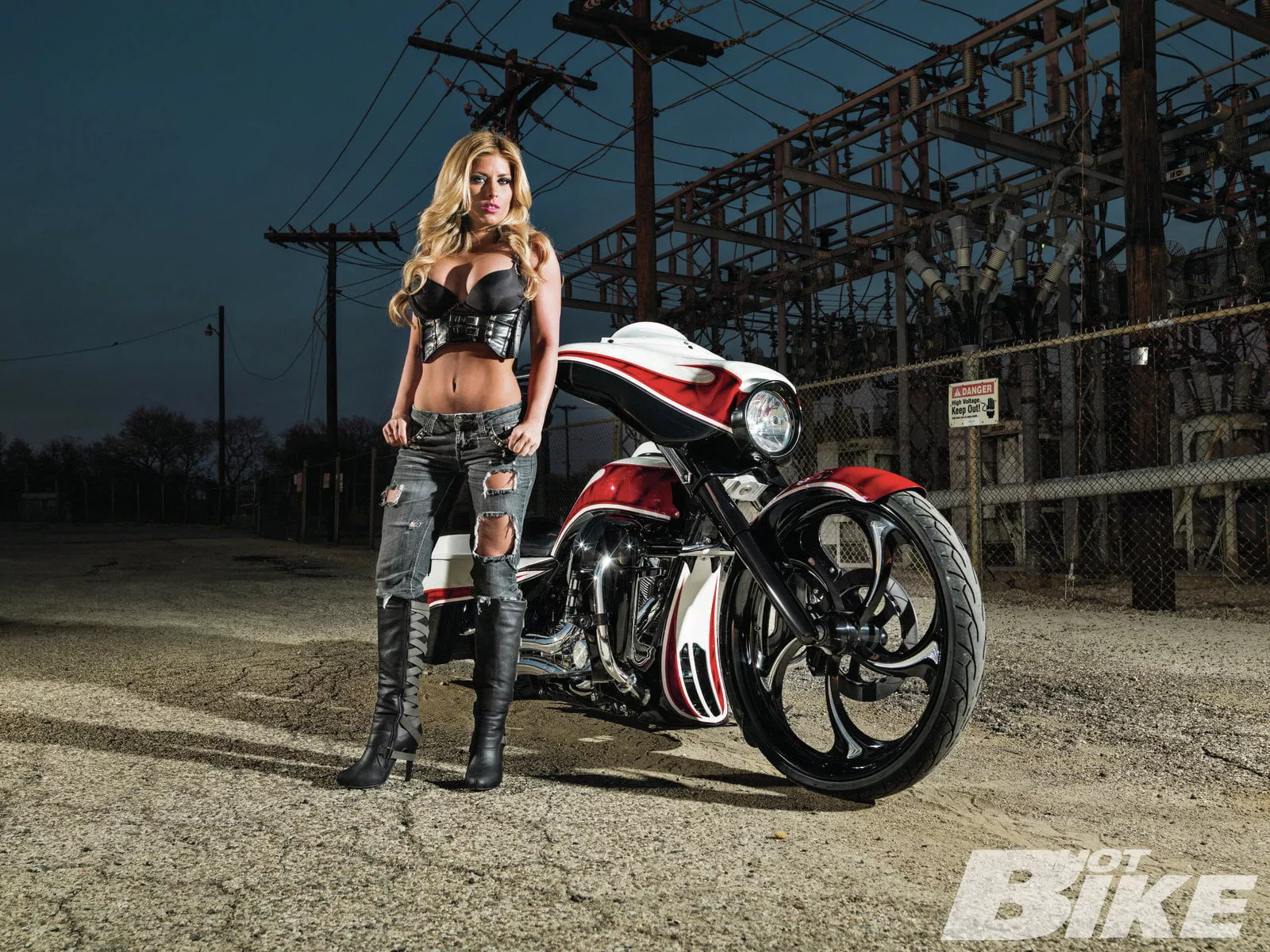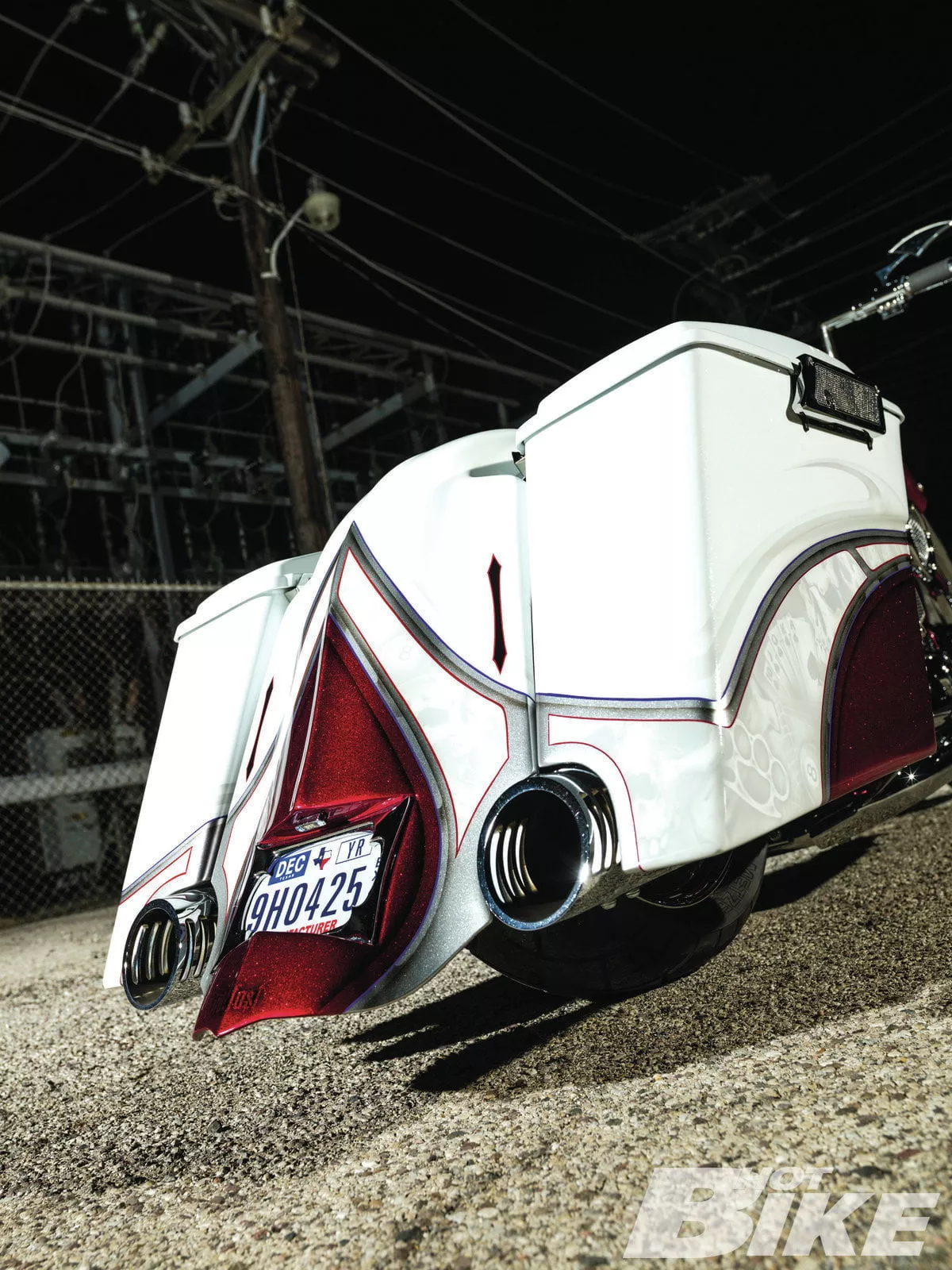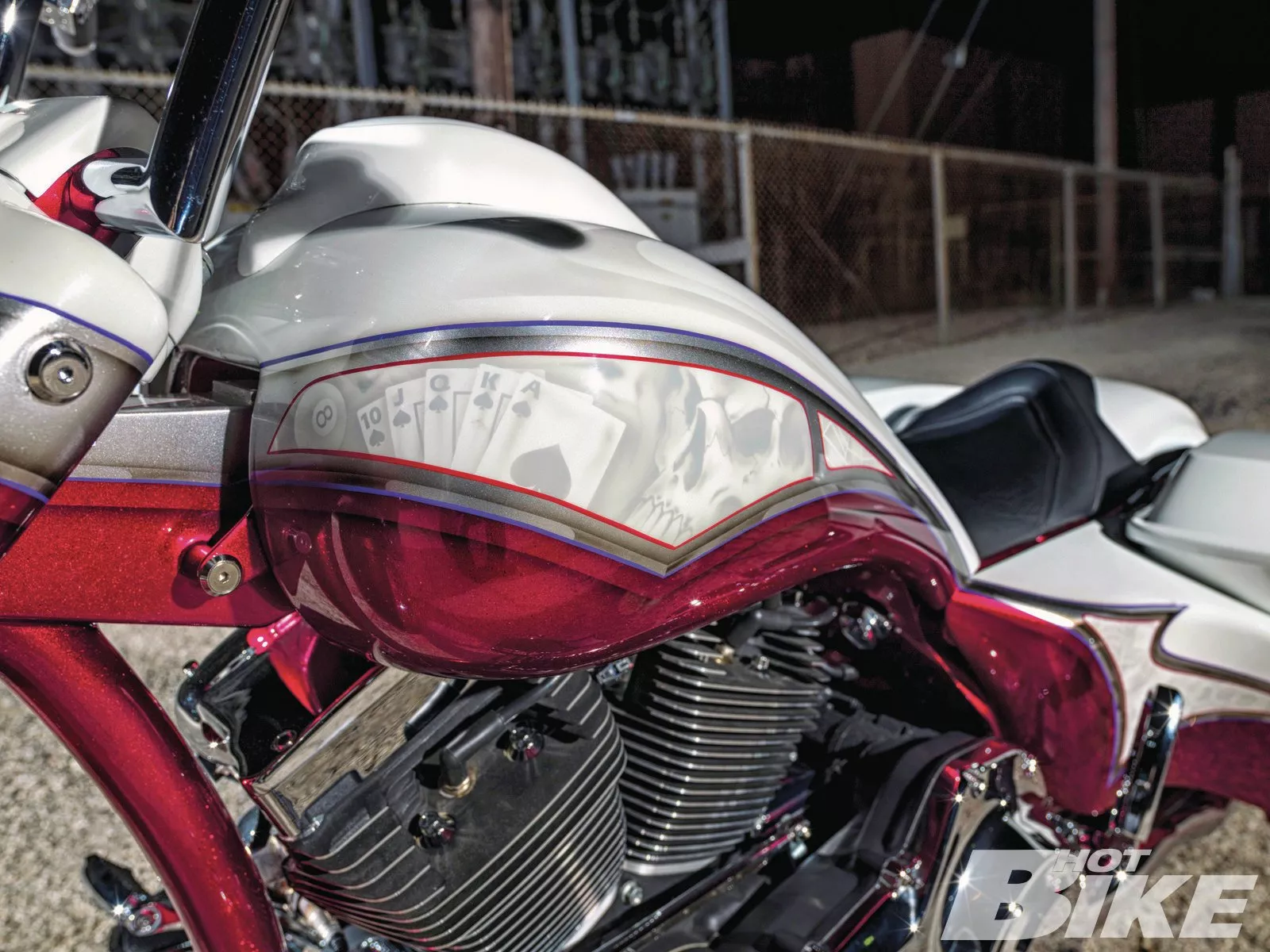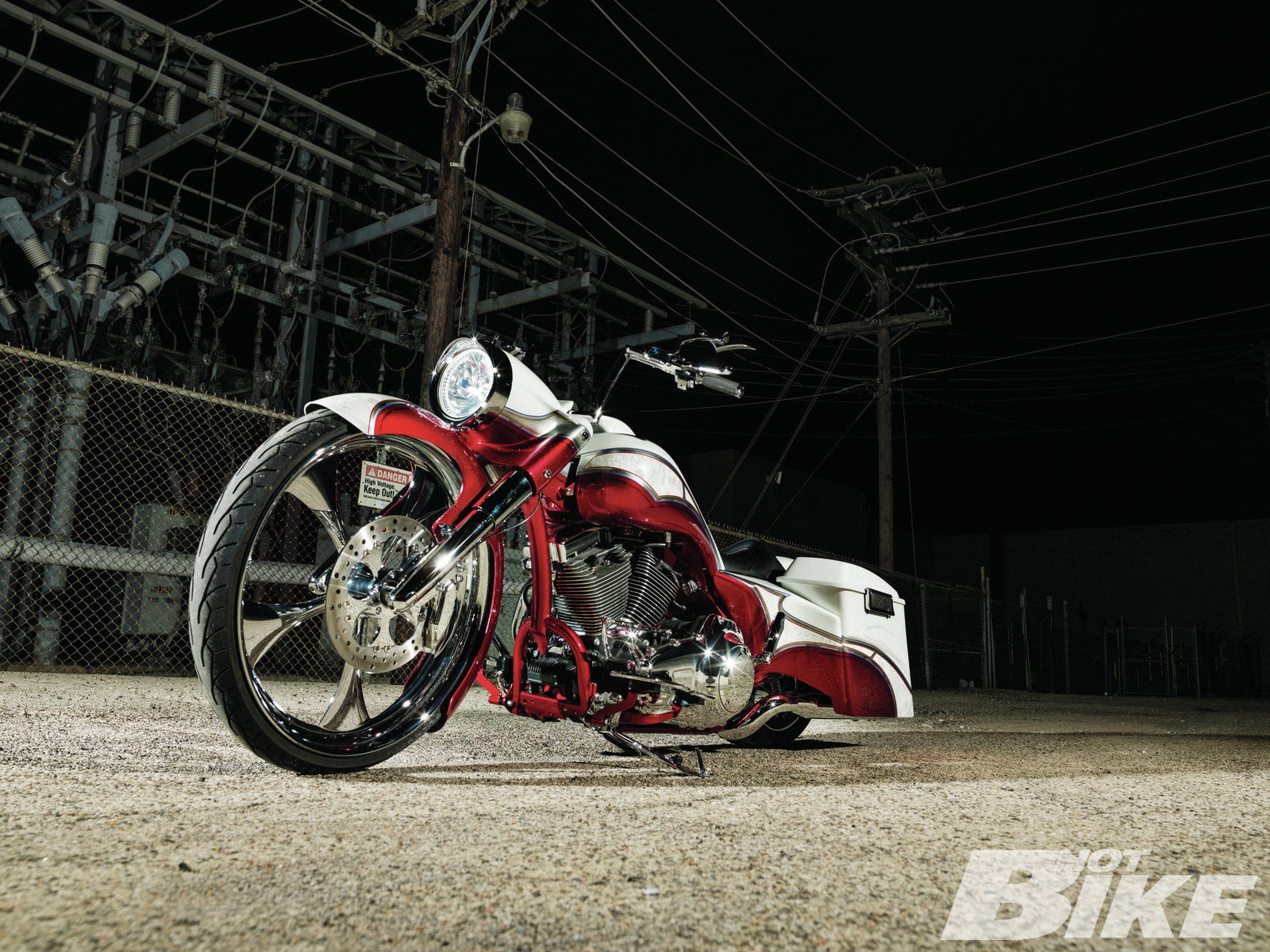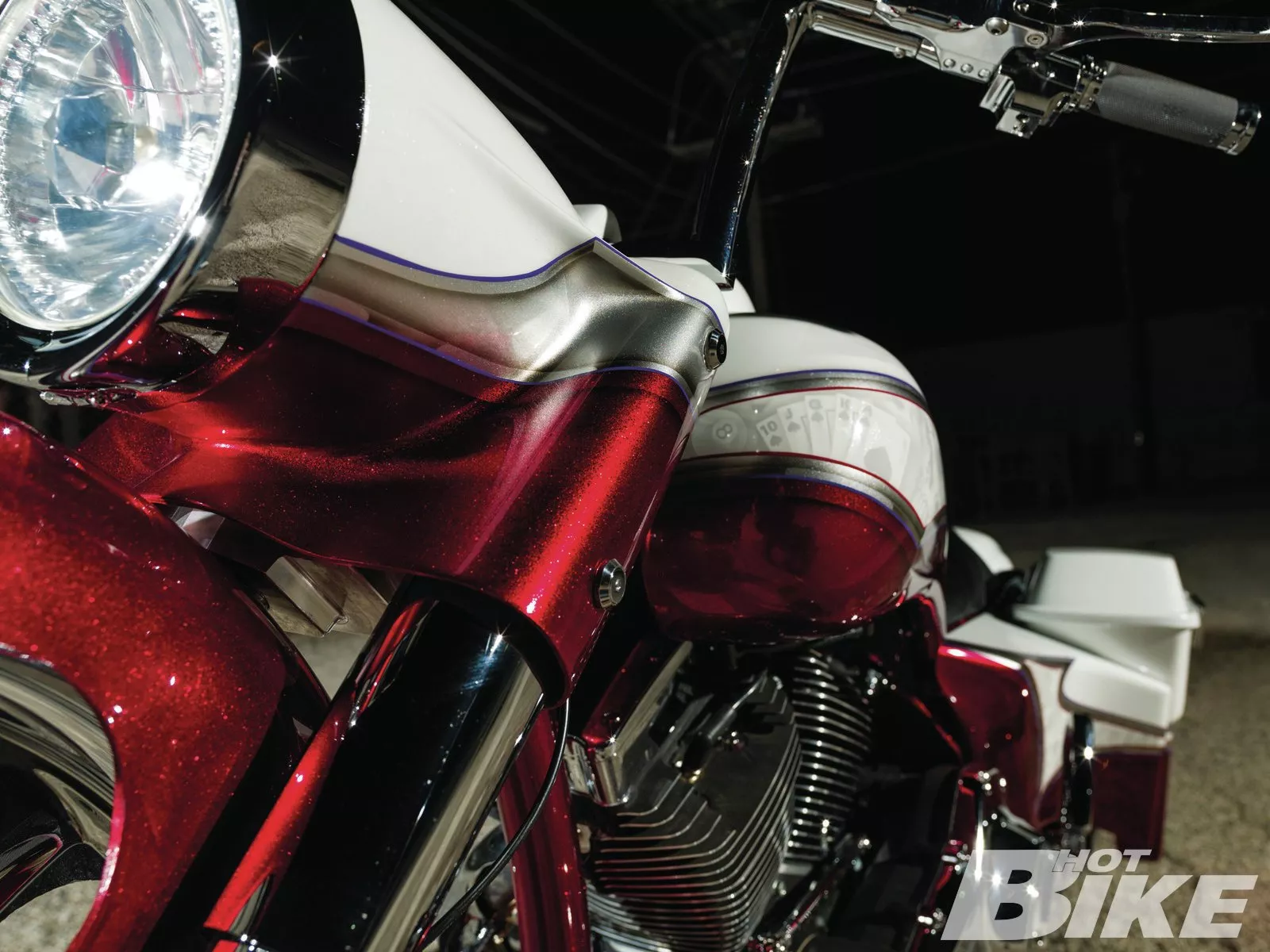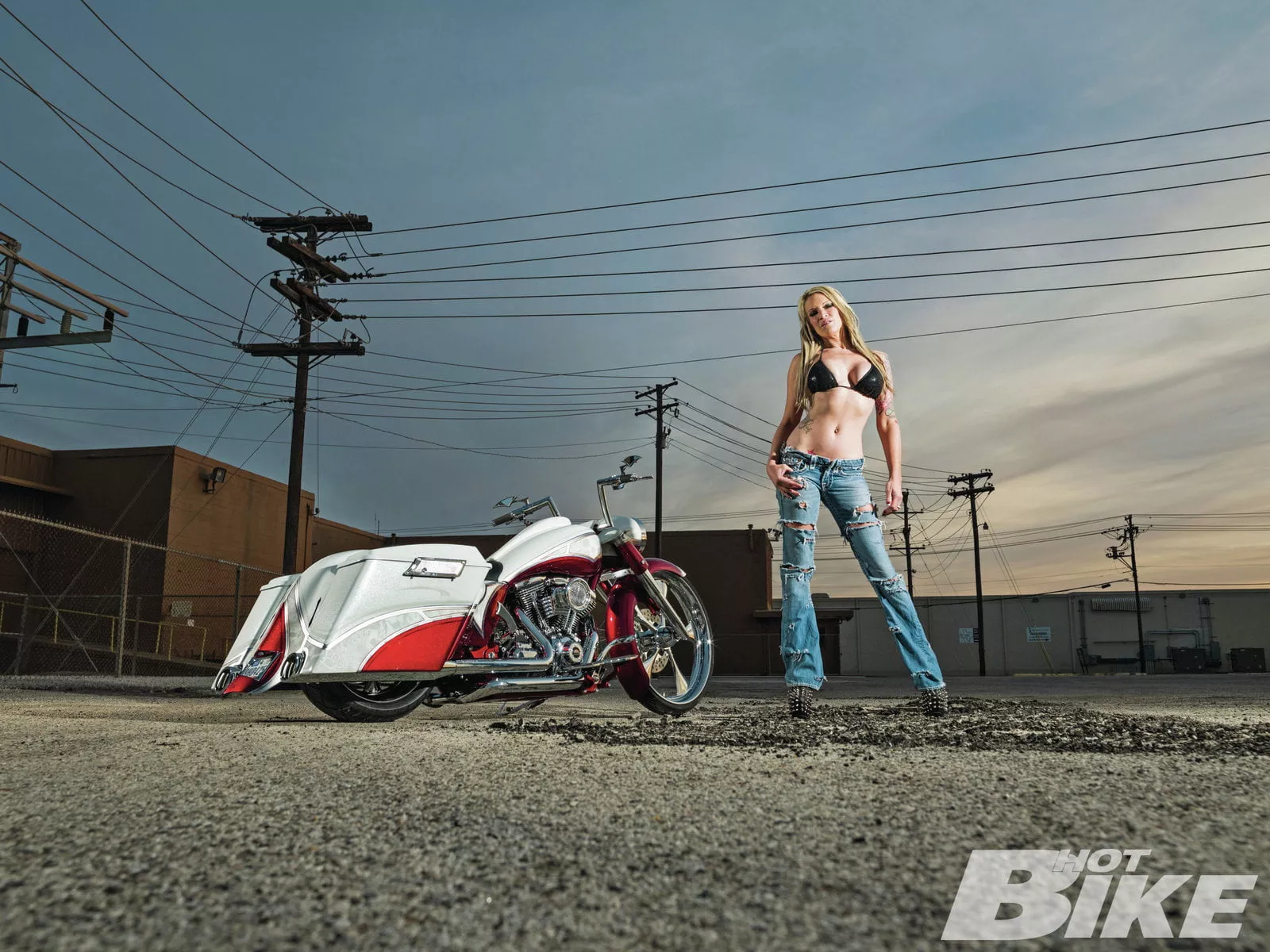 There's only one thing better than a hot chick on a hot bike and that's two hot chicks on two hot bikes! Misfit Baggers from Dallas is known for producing some of the baddest bikes and parts to come out of the Lone Star State. While this Street Glide conversion and Road King may look similar in stature, it just kind of turned out that way. The Street Glide started life as an Ultra Classic and was morphed into the hard rockin' ride you see before you. Owner Chris Ribeiro from Arch Audio explains, "I kind of built the bike on my mood and my style on how I've been feeling. I wanted it to be real clean and elegant looking. I'm really into the black, white, and red right now as far as colors go. Guys either do all black or they do all chrome. I mixed it up half black and chrome. I do a lot of chrome on the motors even when it's an all-black bike. I also don't like the pipes coming out the back of the bike. I've always built my bikes with big flushed back ends. I kind of built the bike around that theme."
Since Ribeiro works for one of the leading motorcycle audio companies, he knew his bike had to be heard before it was seen. With the knowledge that only comes with experience, he decided to show people rather than explain the proper way to "tune up" a motorcycle. "We manufacture amplifiers for Harley-Davidsons. This bike is used a lot for demos. We wanted to keep the aesthetics of the bike, not ghetto it out and make it look clean and still have good audio. We wanted to have a system you could definitely hear over your pipes coming down the road. Make it loud, clean, and clear without a whole bunch of gaudy crap on it and still make it clean even at a loud volume. The audio scene for motorcycles is really taking a whole other level of volume. Unfortunately, we got a lot of these guys out there that are just throwing all kinds of car audio stuff into their bikes and the stuff doesn't sound good. We built this bike to be one of the cleanest sounding bikes out there. The thing's got about 1,600 watts of audio in it and eight speakers on it."
While Ribeiro's bike was made for hearing, Eder's bike was made for staring. Chris Eder is the owner of Misfits Cycles and his Road King was set out to showcase its products and talents. "The Road King we built was to showcase our new '09-and-up touring, single downtube frame for a 26-inch or 30-inch wheel. It also has everything on there we make, such as the gas tank, side covers, bags, rear fender, dash, nacelle, front fender, and more. We built the bike to showcase all our Road King parts. You can either buy a complete bike or all the parts are made to fit '13-and-earlier Road Kings."
When asked why the bikes came out looking so similar, there wasn't really a big story behind it or preconceived plan. It just sort of ended up that way. "One being a Road King and one being a Street Glide, it's all about bells and whistles. We had the Road King done first and Chris liked it so we painted it similar to be its sister. The Road King is a pretty bare bones touring bike, so no stereo stuff. The scheme is similar, but they are different reds and whites, and the airbrushing is different design. The metallic red and white just pop. People love those colors. I really didn't want a lot of airbrush to stand out, that's why I did a ghosted airbrush model. You really got to stare at it. We built this one more like a pro street model."
Both bikes, while similar, portray a slightly different look and feel. If we had to choose between each bike and girl combo, our answer would simply be, "Yes please."
In the race to "go big," shortcuts are sometimes taken with an emphasis placed on form over function. As a result how many big wheel baggers truly ever see the open road for any decent amount of miles? Brian Schwartz might not be a name you've heard before. He isn't a reality TV star, isn't married to a Hollywood A-lister, and doesn't have a semi waiting to tow his bikes to shows. He's just an average Joe with above-average skills, and above all things, has a love of the open road.
"I'm currently a network administrator for an engineering firm. I like to dabble in bikes and cars in my spare time. I also love taking long motorcycle trips," explained Brian. "This was my first Harley. I bought the bike new in the fall of 2010 from the dealer after totaling my old Yamaha Roadstar hitting a moose in Wyoming." For a first timer of sorts, it took a few tries to get this 2011 Street/Road Glide just the way he wanted. "What started the original build was seeing all the big-wheel bikes in the magazines. At first I thought they looked dumb as hell, but they eventually grew on me. The bike started in winter of 2010 as a stock Street Glide that was raked for the 26-inch wheel with stretched bags/fender/tank in a Grabber Blue paintjob. In late winter 2011 I decided I wanted to convert it to a Road Glide, so I switched the front over and also decided to switch bags/fender/exhaust/floorboards/bars and color."
So with a hammer and chisel (well perhaps more modern tools) Brian got to work making his dream ride. Aside from the glowing green paint, when asked what sets his bike apart from the crowd, he states, "That would have to be the Ballistic 636 RG front fairing with Wooten Race Werks internal fairing support. Its proven road worthy with more than 7k miles of comfortable road trips." But when questioned a little further, it turns out he had one additional motive fueling his ever-exceeding build budget. "I secretly think some of the push was to prove to all the people who think all big-wheel bikes are trailer queens that they can be taken on long trips. I believe I've proven over the past two years that they can be toured with." With over 26k miles on the 26-inch front wheel, it's safe to say he's proved his point.
Specifications
General Shop | Misfit Baggers
Shop Phone | (877) 647-3489
Website | misfitbaggers.com
Year/Make/Model | 2012/Harley-Davidson/ Converted Road Glide
Fabrication | Chris Eder/ Chris Ribeiro
Build Time | Two months
Engine
Year/Type/Size | 2010/Twin Cam/96-inch
Air Cleaner | Alloy Art
EFI Controller | Power Commander
Exhaust | Vance & Hines
Transmission
** Year/Type | 2010/Six-speed
Gears | Six
Frame | Stock
Year/Type | 2010 Touring
Rake/Stretch | 35 degrees/2 inches out 2 inches up
**Suspension
** Frontend | American Suspension Lower Legs
Length | Stock
Triple Trees | HHI
Rear Shocks | Misfit Air Ride
**Wheels, Tires, and Brakes
** Front | Colorado Custom S5
Builder/Size | 26-inch
Tire/Size | 120/50/26
Calipers | HHI
Rotors | Colorado Custom S5
Rear | Colorado Custom S5
Builder/Size | 18×5.5 inch
Tire/Size | 200/50/18
Caliper | HHI
Rotor | Colorado Custom S5
Pulley | Colorado Custom S5
**Finish/Paint
Manufacturer | PPG
Colors | Metallic red/ Ice pearl white
Paint/Graphics | Jace Hudson
**Accessories
** Front Fender | Misfit 26-inch
Rear Fender | Misfit Streamline
Gas Tank | Misfit
Dash | Misfit
Gauges | Dakota Digital
Handlebars | Misfit
Grips | Performance Machine
Mirrors | RWD
Hand Controls | Drag Chrome
Foot Controls | Supreme Legends
Floorboards | Supreme Legends
Headlight | Stock
Taillight | Misfit Flush Mount
Turn Signals | Misfit Flush Mount
License Mount |Misfit
Seat | Misfit
Stereo | Sony
Amplifier | Arc Audio (2) 300.2
Speakers | Arc Audio (4) 6.5-inch motos (4) Arc 692 6×9
---
Specifications
General Shop | Misfit Baggers
Shop Phone (877) 647-3489
Website misfitbaggers.com
Year/Make/Model | 2012/Harley-Davidson/Road King
Fabrication | Chris Eder
Build Time | Two months
Engine
Year/Type/Size | 2012/Twin Cam/120R
Rocker Boxes | CCI
Throttle Body | Horsepower Inc.
Air Cleaner | Küryakyn
EFI | Controller Power Commander
Exhaust Freedom Performance True Duals
Transmission Screamin' Eagle
Year/Type | 2012/Six-speed
Gears Six
Clutch | Screamin' Eagle
Frame | Misfit Single downtube '09-later replacement
Year/Type | '12/Single downtube
Rake/Stretch | 35 degrees/2 inches out
Suspension
** Frontend | Misfit Air Ride
Length | Stock
Triple Trees | HHI
Rear Shocks | Misfit Air Ride
**Wheels, Tires, and Brakes
Front | Renegade
Builder/Size | 26-inch
Tire/Size | 120/50/26
Calipers | HHI
Rotors | Renegade
Rear | Renegade
Builder/Size | 18×5.5-inch
Tire/Size | 200/50/18
Caliper | HHI
Rotor | Renegade
Pulley | Renegade
**Finish/Paint
** Manufacturer | PPG
Colors | Metallic ruby red/Ice pearl white
Paint/Graphics | Jace Hudson
**Accessories
** Front Fender | Misfit 26-inch
Rear Fender | Misfit Streamline
Gas Tank | Misfit
Dash | Misfit
Handlebars | Misfit
Grips | PM
Hand Controls | Supreme Legends
Foot Controls | Supreme Legends
Floorboards | Supreme Legends
Headlight | LED
Taillight | Misfit Flush Mount
Turn Signals | Misfit Flush Mount
License Mount | Misfit