"Ambitious goals." Harley-Davidson's announcement that it planned to "launch 100 new motorcycles" and "build two million new Harley riders in the US" over the next 10 years was indeed ambitious. To bring new riders into the fold, a strong stable of introductory motorcycles is mandatory. And while this "two million new riders" proclamation was made just last year, The Motor Company had already bolstered its entry-level offerings with the release of its Street 500 and Street 750 motorcycles four years ago. Last year it expanded the line with a more performance-based 750cc model called the Street Rod. Most recently Harley-Davidson announced it will be launching a production electric motorcycle within the next 18 months, which certainly seems like a strategy to expand the brand to new audiences. With all that in mind, let's take a look at how Harley-Davidson's introductory motorcycles stack up in 2018.
The most rider-friendly Harley-Davidson is the 2018 Street 500. Power delivery from its liquid-cooled 500cc Revolution X engine is smooth and manageable. Since it dishes out its peak of 29.5 pound-feet of torque at 3,500 rpm, it's very forgiving for those still getting acclimated to throttle control. The 500cc Revolution X is both efficient and economical; Harley claims it gets an estimated 64 mpg. The Street 500 has a narrow frame and narrow seat, and its combination of a 25.7-inch (laden) seat height with a low center of gravity makes it easy for new riders to get both feet firmly on the ground at a stop. Its skinny 17-inch front wheel sits at a 32-degree rake angle, which makes for light steering. The two-piston floating front and rear calipers aren't going to throw anybody over the bars if a newbie grabs an excited handful, but the binders are adequate for a motorcycle that's not overly fast and has a curb weight of only 514 pounds.
Antilock brakes are an option, but they cost an extra $750. Instrumentation is fairly Spartan, with a few basic functions displayed in a 3.5-inch gauge mounted on the handlebars, so riders will hopefully place most of their attention on the road before them. A black 2-into-1 exhaust, cast aluminum wheels, and small café-style bikini fairing add curb appeal to a motorcycle that rings in just under seven grand. Testament to its rider-friendly attributes is the fact that it's the model Harley-Davidson uses to teach people how to ride in its Riding Academy "New Rider Course."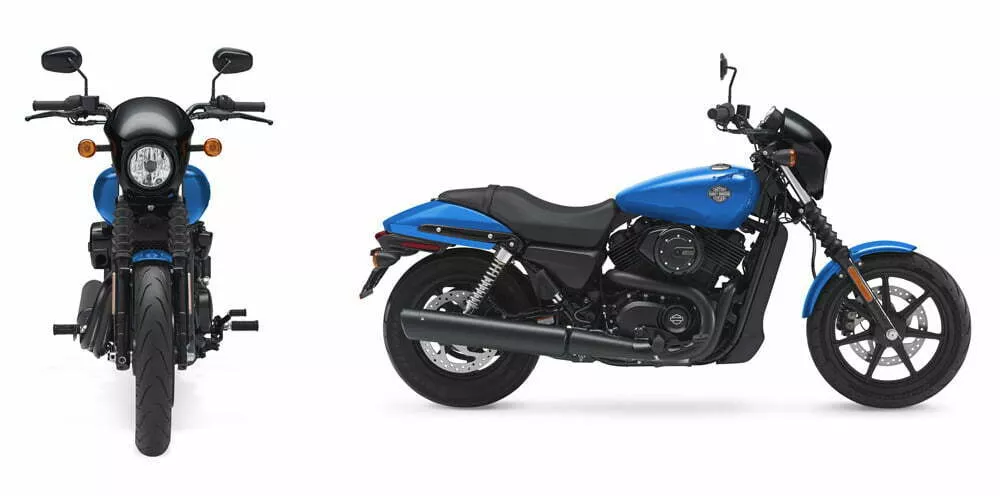 The 2018 Street 750 performs much like the 500 because they share the same frame, compact 59.8-inch wheelbase, front ends kicked out at the same 32 degrees, coil-over shocks on both rear ends, and each one also sports a 25.7-inch seat height. Both tip the scales at 514 pounds with all the necessarily fluids. But the liquid-cooled Revolution X in the Street 750 is definitely a step up. It has a bigger bore (3.35 inches versus 2.72 inches), a higher compression ratio (11:01 versus 10.5:1), and a slightly larger fuel injector. Riders benefit from an extra hit when they twist the throttle; the 750cc engine pumping out its 44.5 pound-feet torque peak a bit higher in the rev range at 4,000 rpm. It's a solid engine, as evidenced by the fact that Harley-Davidson used it as the basis for its pro flat-track bike, the XG750R. For Harley to replace the winningest flat-track engine of all time, the XR750, with the XG, it surely had to see something special in it. Further proof of its potency is the fact that Andy DiBrino won the Hooligan racing championship last year competing on a Street 750 customized by See See Motorcycles.
The platform has also demonstrated tons of potential for customization. Harley-Davidson held a competition among its European dealerships called "Battle of the Kings," wherein each customized a Street 750 to see who would be crowned king. The dealerships took it in every direction imaginable, from tracker to bobber to scrambler to café racer. Considering you can buy a base 2018 Street 750 for $7,599, it's a good starting point for a motorcycle you can quickly tailor to your own personal tastes.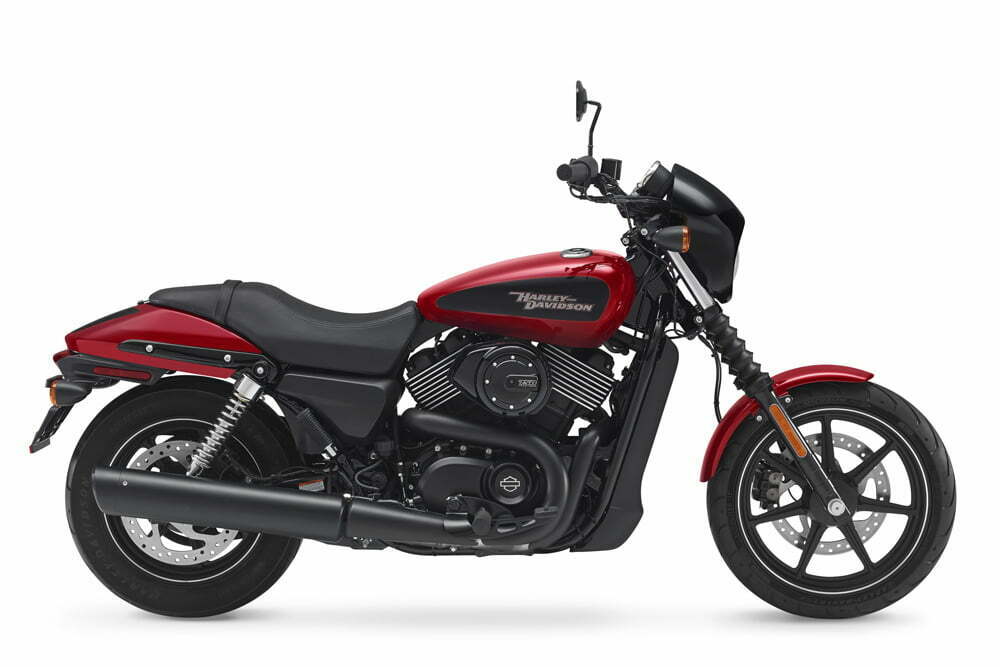 If you're not looking to put your own personal spin on a Street 750, you can opt for a 2018 Street Rod. While the Street Rod also displaces 750cc, it's a much more performance-oriented model than the other two. In the engine department it sports revised cams, heads, intake ports, and a 42mm dual-throat throttle body. Throw in a higher 12:1 compression ratio and you've got a claimed 8 percent boost in torque (47.9 pound-feet) and 18 percent more horsepower to play with.
Suspension on the Street 500 and 750 isn't exactly top-shelf, and the arrangement on the Street Rod is vastly improved, with a 43mm inverted fork and piggyback shocks on the rear. The foot pegs have been pulled back and up and available lean angle benefits as a result, with the Street Rod capable of 37.3 degrees of lean to the right and 40.2 degrees to the left compared to 28.5 degrees either way on the other two Street models. Rounding out the revised ergonomics is a higher seat (29.8 inches tall with a rider in the saddle), which itself is a sportier two-piece, two-up unit reminiscent of the saddle on the Sportster Roadster.
---
---
Turn-in on the Street Rod is a tad quicker thanks to the fork being set at a tighter 27-degree rake angle, and its braking power has been bolstered thanks to the addition of dual disc brakes up front. Similar to the Street 750, Harley-Davidson used the Street Rod as the foundation for its new drag bike; revisions to the Harley-Davidson Pro Stock drag motorcycle are primarily cosmetic, in the form of new bodywork. And yes, Harley-Davidson Screamin' Eagle/Vance & Hines rider Ed Krawiec did win the NHRA title last year on the new Street Rod-based dragbike.

MSRP
| | |
| --- | --- |
| 2018 Street 500 | $6899 / $7194 color / $7349 two-tone |
| 2018 Street 750 | $7599 / $7894 color / $8049 two-tone |
| 2018 Street Rod | $8699 / $8994 color |