Earlier today I put up a Father's Day gift list on the Street Chopper site and it seemed like a good idea to do the same thing here. That list was mostly about thinking outside the box (and inside the garage). Rather than repeat it on this website, I took the Hot Bike list out on the road with some inexpensive products that come in pretty handy on a ride.
By inexpensive, I mean cheap enough for a kid's budget. This isn't the annual V-twin Buyer's Guide, after all. If you want to give your crumb snatcher's a list of more expensive gifts for Father's Day, you can browse that right here. Regardless, we hope your spawn treat you as well on Father's Day as you treat them the other 364 days of the year.
Hot sauce goes a long way toward making anything easier to eat. At the very least, your tongue is too busy dealing with the burn to notice anything else. CaJohn's Fiery Foods makes some really good ones. This particular sauce mixes Ed Currie's Smokin Ed's Carolina Reaper (the hottest pepper on Earth) with spices, lemon juice & tomato paste.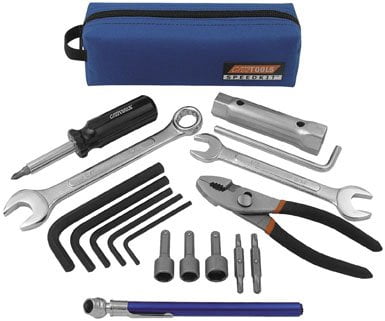 The Cruz Tools Compact Tool Kit includes more content than most OEM replacement kits and its shaving kit style pouch makes it easily storable too. This kit contains 12″ x 9/16 and 9/16 x 58 open end wrenches, 10mm, 38 and 716 nut drivers, 2-in-1 spark plug wrench, mini 4-in-1, T20 x T25 Torx bit and T27 x T30 Torx bit screwdrivers, hex keys, 10-50 psi tire gauge, and 5.5″ slip-point pliers.
This assortment of patches and plugs provides you with the tools and materials needed to repair and re-inflate your tire on the spot. Dismounting tools are necessary to repair or replace your tube. But the enclosed Rasp and Split-Eye Tool allows you to plug your tubeless tire on the wheel. No bending or twisting is necessary. You simply push the plug straight into the puncture and pull the tool straight out. A twist of the Rasp tool inserted in the needle eye releases the plug. A valve cap/core remover and replacement core is included to insure that the re-inflation process goes well. Even a towel with waterless hand cleaner is included in this vinyl zippered pouch.
Extremely compact and easy to take anywhere, this inflator allows you to use your MICRO-START XP-1 or XP-10 to inflate your motorcycle or car tires no matter where you are. Additionally, it will inflate items such small rafts, footballs, basketballs and more… Just plug the inflator into your MICRO-START for portable use, or use the included 9ft cable and cigarette port connector on your car or vehicle. The MICRO-START Tire Inflator is very compact at 4.25″ (108 mm) x 3.5″ (90mm) x 1.5″ (38mm) and weighs only a pound. It has an on-board LED light too for use at night. The kit includes two detachable cables for powering the Inflator.
The original EnergyFlux hand warmer has finally received a facelift in the new and improved EnergyFlux Ellipse. Keeping the easy-to-grip shape and size while upgrading the battery capacity, they've squeezed in extra juice (5200mAh) to keep your hands warm and toasty for longer. They've also increased the power output to 5W so the unit can better keep its warmth when coming in contact with the cold.