The new DT-X helmet from Arai is something a little different yet still familiar from the esteemed helmet manufacturer.
Different due to it being the most affordable Arai helmet offered in the lineup. Familiar because it has the usual craftsmanship and fit Arai is known for.
The DT-X (Down Town) is touted as a helmet for the everyday street rider. With that claim, I set out to wear it every day for a month straight. Yes, I am fortunate that the perks of this job enable me to ride literally every day.
First on the agenda was a 2,000-mile trek from Sturgis, South Dakota, to Southern California with temperatures ranging from 40 to 110 degrees while encountering hail and dust storms through mountains and deserts. Next up was three weeks of my daily 120-mile roundtrip commute into the Hot Bike offices through the urban jungle. Thrown in for extra spice and variety were a hooligan flat-track race and some fire-road ripping.
Here are five things I liked about the DT-X after my month-long encounter: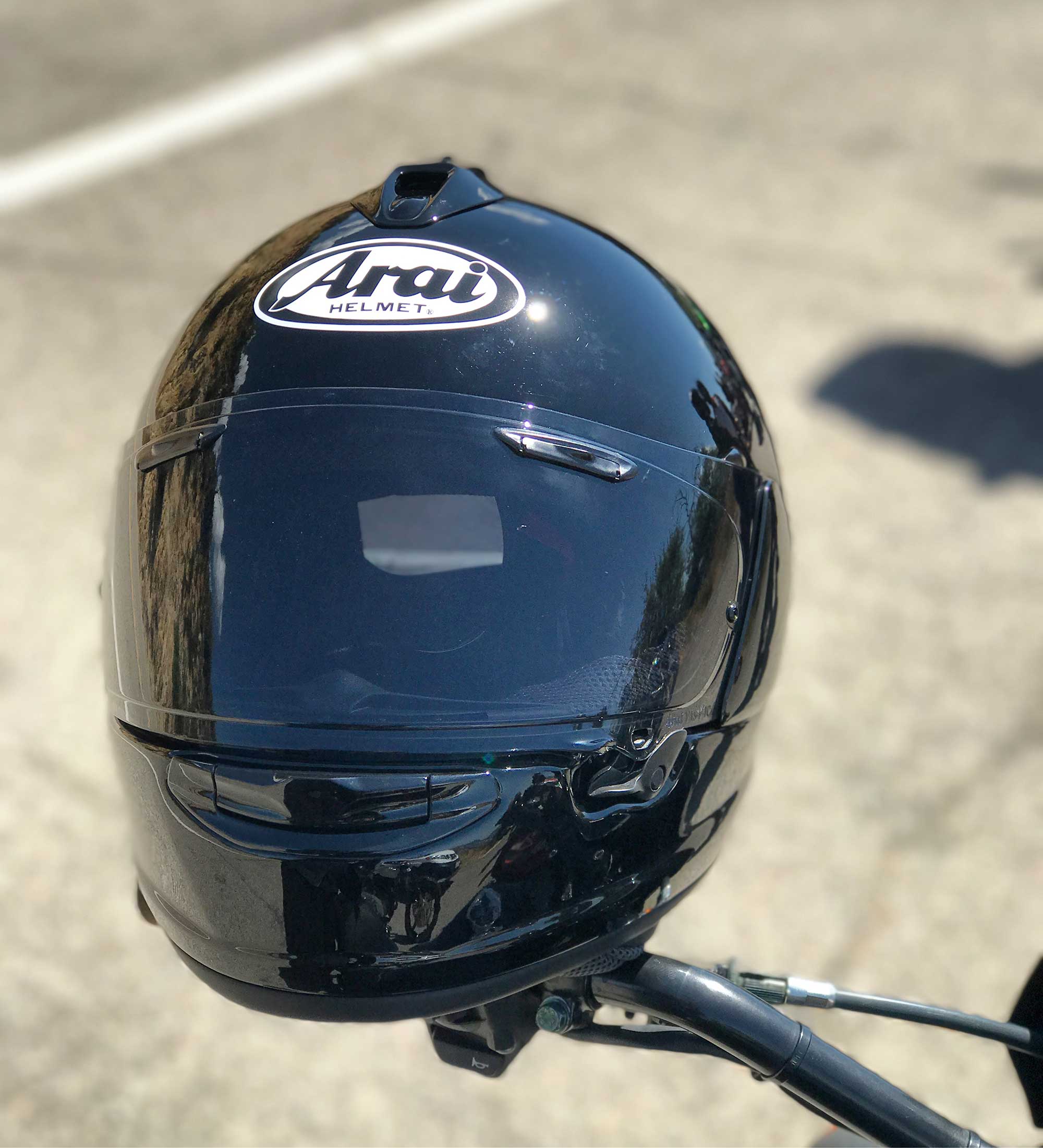 1. It's an Arai
For more than 67 years, Arai has set out to make the safest motorcycle helmets on the planet. Arai helmets are not made by machines or knocked out on a fast-paced assembly line. Each and every helmet, including the DT-X, is made by hand. Each step of production is meticulously checked and re-checked. Some of these helmets end up at a shop, and some of them wind up being worn by a MotoGP racer (Arai-sponsored racers wear off-the-shelf models). Every helmet is treated with the utmost care by Arai.
Long before I was lucky enough to get helmets for product evaluations, I was an ardent Arai customer. Arai helmets were the only ones I deemed worthy of my hard-earned cash and protecting my head. I'm not sure I am allowed to say that here, but I just did. Arai has always been my personal choice for helmets due to their unparalleled construction, fit, and protection.
The DT-X carries on these revered qualities.
2. Venting
The DT-X utilizes 10 well-functioning vents. The upper front vent is a new design creating what Arai calls a "dual flow effect incorporating an intake and exhaust port." The newly styled rear duct flow spoiler also features this dual flow system. All the techno mumbo-jumbo aside, it just plain works.
On a chilly 40-degree morning, I blocked all theses off in order to stay warm. No air sneaked through at all. As I racked up the miles and the temps rose higher, I cracked open these vents until all were open as the thermometer hit 110 degrees. Although my body was in dire need of some ventilation, my head received a nice, steady breeze of airflow that made the ride a lot more bearable.
During a Hooligan flat-track race these vents worked wonders, as I am usually sweating and breathing pretty hard after a lap or two, which creates the perfect atmosphere for the face shield to fog up. This was not a problem whatsoever with the DT-X.
I was a bit surprised that these vents worked as well as they did. I felt they were some of the best functioning in the entire Arai lineup.
3. Vision
Peripheral vision to be exact. The eyeport of the DT-X offers a very generous field of vision. I really appreciated this when lane changing, as I don't rely on just my bike's rearview mirrors. I physically twist my head a bit to check my path. Its large eyeport was a blessing when I raced in the previously mentioned hooligan flat-track event. For these events, all street-going garb on the bike must be taken off (mirrors) or taped up (lights). Looking in the mirror to see behind me was not an option.
While dicing for position I was able to focus ahead and still be aware if anyone was creeping up alongside of me and trying to stick a wheel in on me. I twisted my head to the side a few times and was greeted with a view that was almost like having eyes in the back of my head. I felt this was a great feature that added a bit of safety and peace of mind while on the road and the dirt track.
4. Comfort
The DT-X features an "Intermediate Oval" fit shape. It is the middle-of-the-road fit shape of the three offered in Arai helmets. Round Oval and Long Oval are the other two. I have a pretty average-shaped head, and the Intermediate Oval fits and feels the best for me with no hot spots or anything uncomfortable. The Corsair-X and Vector 2 have this shape and have been my go-to helmets for the past couple years due in part to their comfort.
Both the cheek pads and headliner on the DT-X are offered in a handful of different thicknesses for true customization. While the antimicrobial material Arai uses for the interior system is odor reducing and dirt resisting, my favorite thing about it is how cozy it feels on my head and face. While the helmet provides a snug and secure fit, the interior is quite plush. This makes for a very enjoyable wearing experience that almost makes you forget you are even wearing a helmet.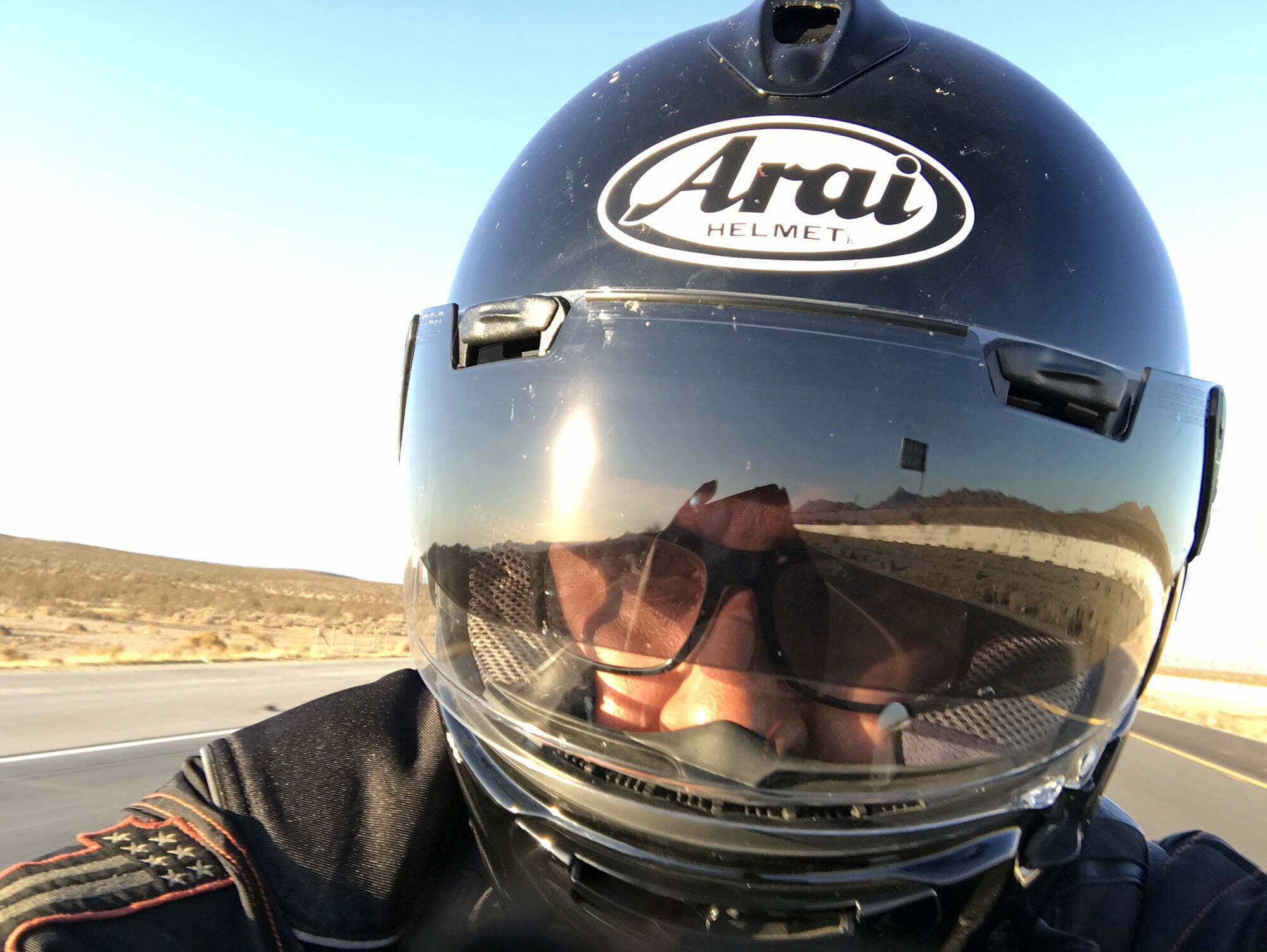 5. VAS Pro Shade System Shield
I had my doubts about the functionality of the VAS (Variable Axis System) when it was first introduced a few years back. It doesn't look like any other shade system out there. It doesn't work like any other system either and that is its attraction. The VAS system is a clear shield with a flip-up-flip-down visor attached.
Unlike other retractable systems that are integrated within the helmet's shell, the VAS is completely outside of the helmet. This keeps from compromising the integrity and construction of the shell, which maximizes performance and safety.
The three-position VAS is quite simple to use. Keep it flipped down to block the sunlight. Flip it all the way up to act like the brim of a hat. Position it in the middle for a bit of both. I found an added benefit of having it flipped up all the way was in a rainstorm, as it deflected droplets from landing directly in my line of sight.
The VAS can be quickly detached in a matter of seconds should you want to revert back to a normal shield. I have a feeling you will want to keep it on though once using it for a little while.
The VAS is an optional upgrade and is not included with the DT-X. I highly recommend getting it though, especially if you ride in all sorts of weather conditions.
The Arai DT-X is one of the best helmets on the market right now, regardless of what type of bike you ride, what kind of riding you do, and how deep your pockets are. Yes, even though the price point is mid-range, I consider it among the best—period—due to its features, performance, and protection. I definitely found my new everyday helmet.
MSRP: $589.95 (solid colors); $729.95 (graphics)
More info at: araiamericas.com