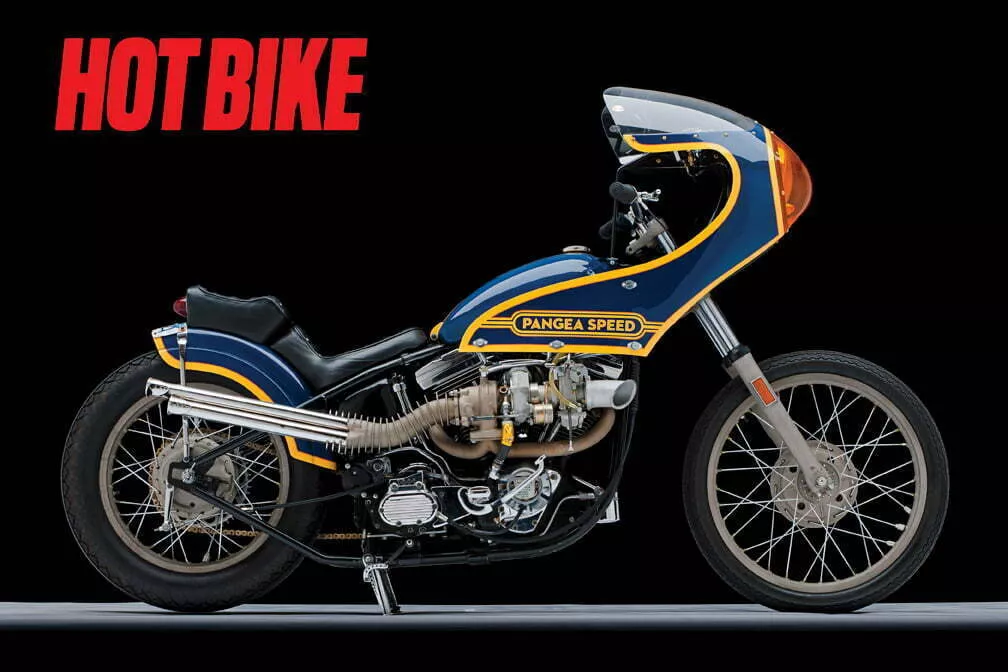 If you're ever in Japan, do not confuse bosozoku and bukkake. The first is an outlaw biker subculture with outrageous rides; the second is pretty gross and involves towels. Lots and lots of towels.
Now that we've got that distinction out of the way, we can talk about Andy Carter's Golden Dawn, here. Built in the bosozoku style, it's seriously over the top, just like its cousins across the Pacific.
<div class="st-block quote text-
Notice: Undefined index: st_text_align in C:laragonwwwhotbike-importblocksquote.php on line 1
">
Literally translated from Japanese, bosozoku means, "reckless tribe."
First seen in Japan in the 1950s, early bosozoku riders were akin to British rockers. Usually, bosozoku are young people under the age of 20. The movement/culture grew over the years, and by the 1980s and 1990s, bosozoku were getting together for massed pack rides, some with as many as 100 riders, sometimes street racing or weaving in and out of traffic or fighting just for fun. Membership peaked at over 42,000 in the early '80s but has fallen to a fraction of that in recent years. It seems the good people of Japan had enough of their antics; laws passed in the past 10 years or so gave the po-po greater latitude in dealing with them.
Style-wise, bosozoku mates café racer and chopper with an occasional dose of weird thrown in for color. Huge café racer fairings over apehangers are pretty common, as are loud mufflers and gang stickers. Flames and kamikaze Rising Sun paint jobs dot the bosozoku landscape. Even car tuners have gotten into the act with winged body kits reminiscent of the Group 5 special production cars of the 1970s.
Those cars were what drew Andy's attention, in fact. He'd seen some of them in a book, and their insane, over-the-top looks pulled him in. He'd never seen a Harley done up bosozoku style. All he needed was an excuse to make one happen.
That came when Born Free approached him to build a bike for their show. "Mainly, I wanted to do something that would weird people out," Andy says. Golden Dawn is a scratch-built bosozoku chop conjured from a parts collection Andy intended for a basic, reliable machine. That plan veered off on an entirely new course, however. "When Grant and Mike asked me to do Born Free again, that chopper was what I wanted. But I figured if I'm going to do the show, I should probably do something wild, over the top. Mainly, I wanted to do something that would weird people out."
Hence the bosozoku fairing and a turbocharger. Andy might have had an Evo motor and shovel frame waiting for a project, but for the most of the rest of Golden Dawn, if it wasn't built from scratch, it was heavily modded. Case in point: the long-ass fairing that's a hallmark of bosozoku bike making. "I got a RD350 fairing, cut it all up, and reworked it a bunch," Andy says. "I was worried about that fairing melting on the turbo, so its right side is chrome-plated aluminum. That fairing pops off quick, but building the mounts was a lot of work because it's such a big, floppy piece of fiberglass. For some reason, it just kicked my ass. I guess I'm a perfectionist as far as everything being on in line, though."
The windbreaker's crazy is only matched by that of the turbo system. Installing the BMW system was actually pretty easy for Andy. Then again, he's used to working with car turbos in his former day job: auto racing. Like the fairing, the turbo setup is all from scratch. He took an S&S intake manifold, made a mating flange to it, and welded the flange to the turbo compressor housing. There's also no inner cooler piping on this turbo. "Frankly, all the ones I'd seen looked like complete disasters," he says. "I wanted one that wasn't too convoluted. I wanted it to be super clean. A lot of people don't realize it's turbo charged; it's all hidden." He built an exhaust manifold from a pretty small 1-1/2-inch-diameter tube. Out of it comes a 2-1/4-inch tube that splits into two other tubes. Andy made various different flanges over the tube to act as a heat shield for your leg; there is an air gap between the pipe's flanges and the pipe. He's invested more than 50 hours of sweat equity in the pipes alone.
In spite of all his car experience with turbochargers, Golden Dawn taught Andy Carter some valuable lessons about putting one on a bike: "I should've done more research on draw-through stuff," he admits. "I assumed I'd need to run the smallest turbo I could get. When I got down to small ones, though, it limited my options to what I could run. It's basically a Saab 9-3. I went in thinking it'd be cheap but it wasn't; used ones were hard to find. I should've used a little larger one to open up opportunities for other aftermarket parts."
Hey, when you're making something so outrageous and its style name means "reckless tribe" in Japanese, you're bound to hit a few hiccups along the way, right? If Golden Dawn had been a total walk in the park to build, would it be truly bosozoku?