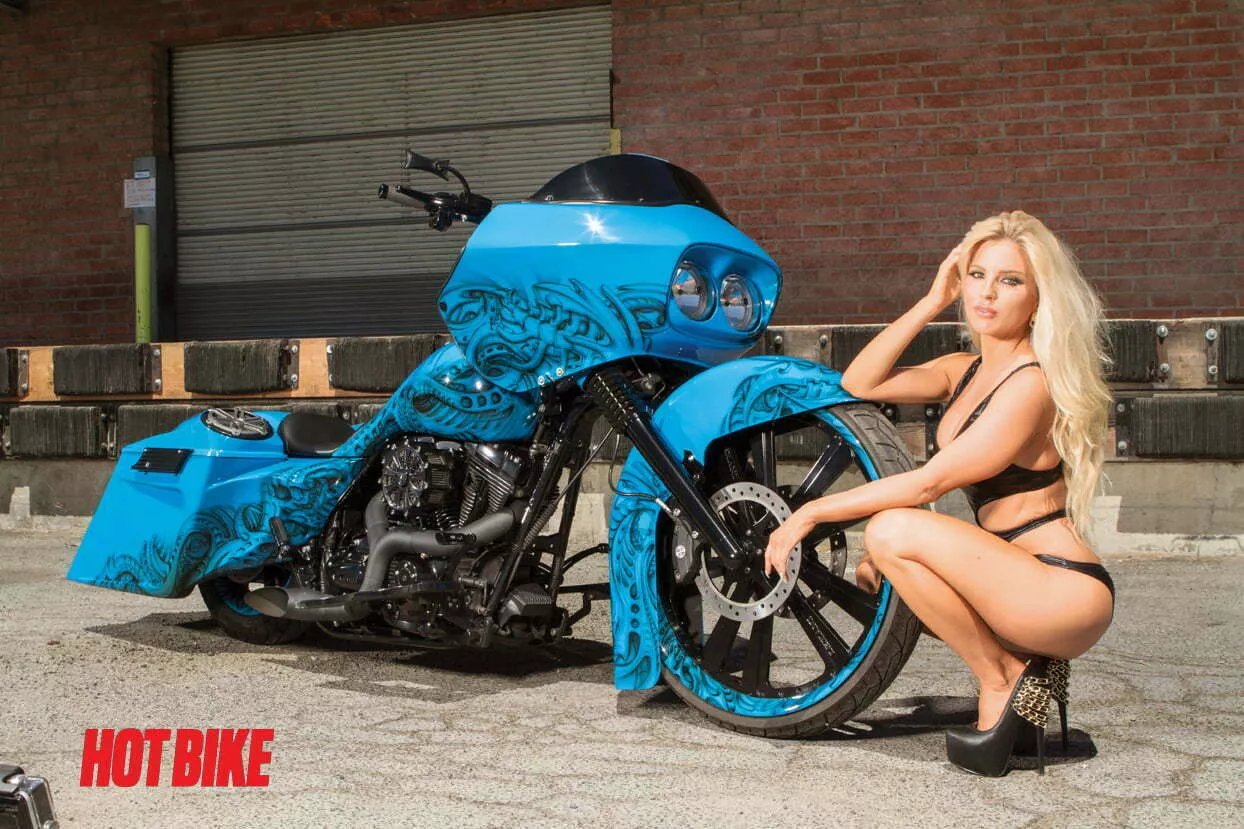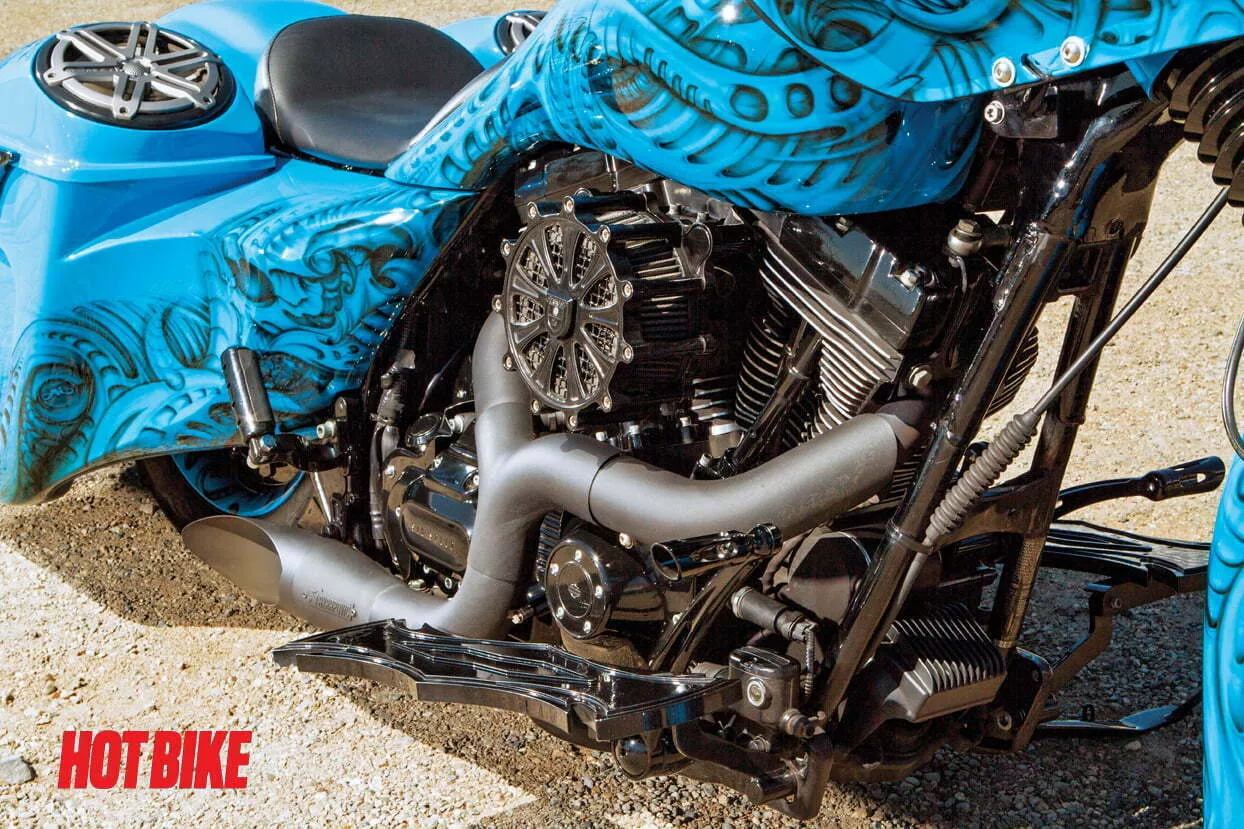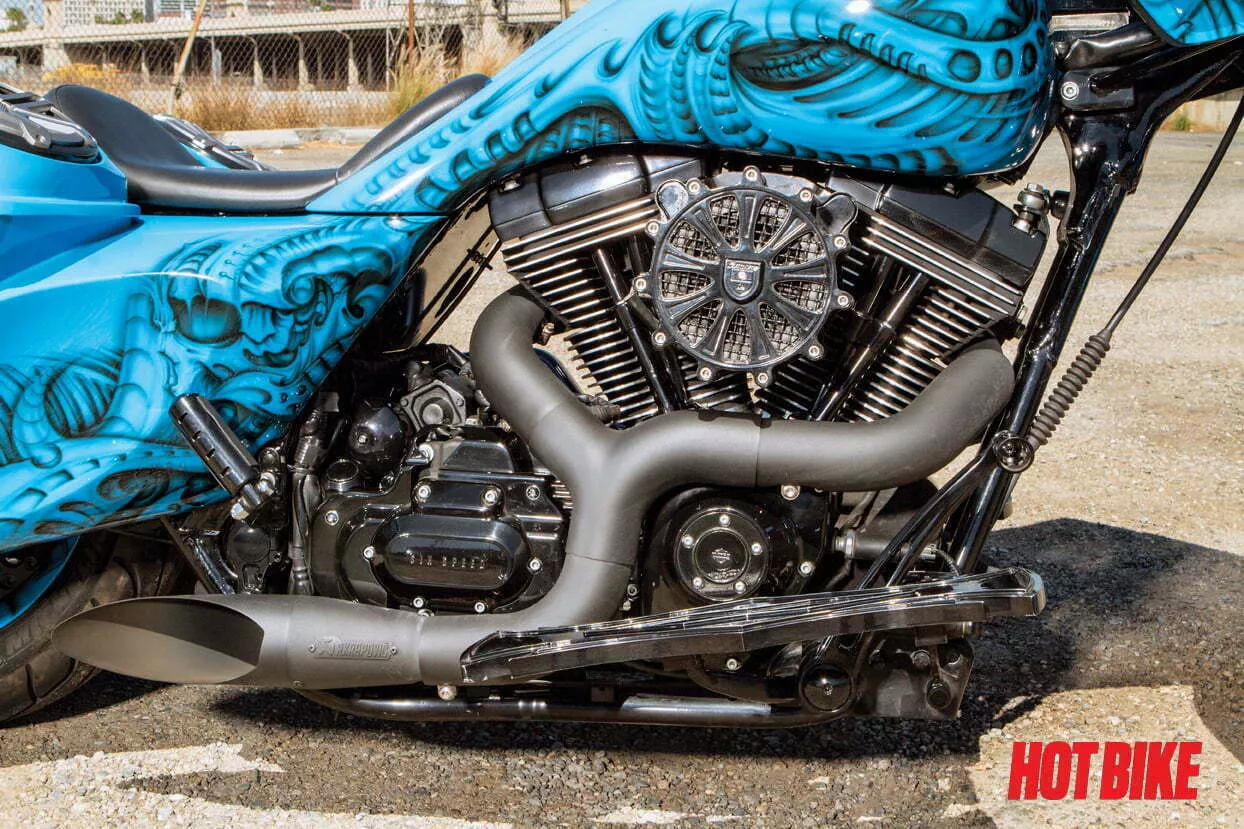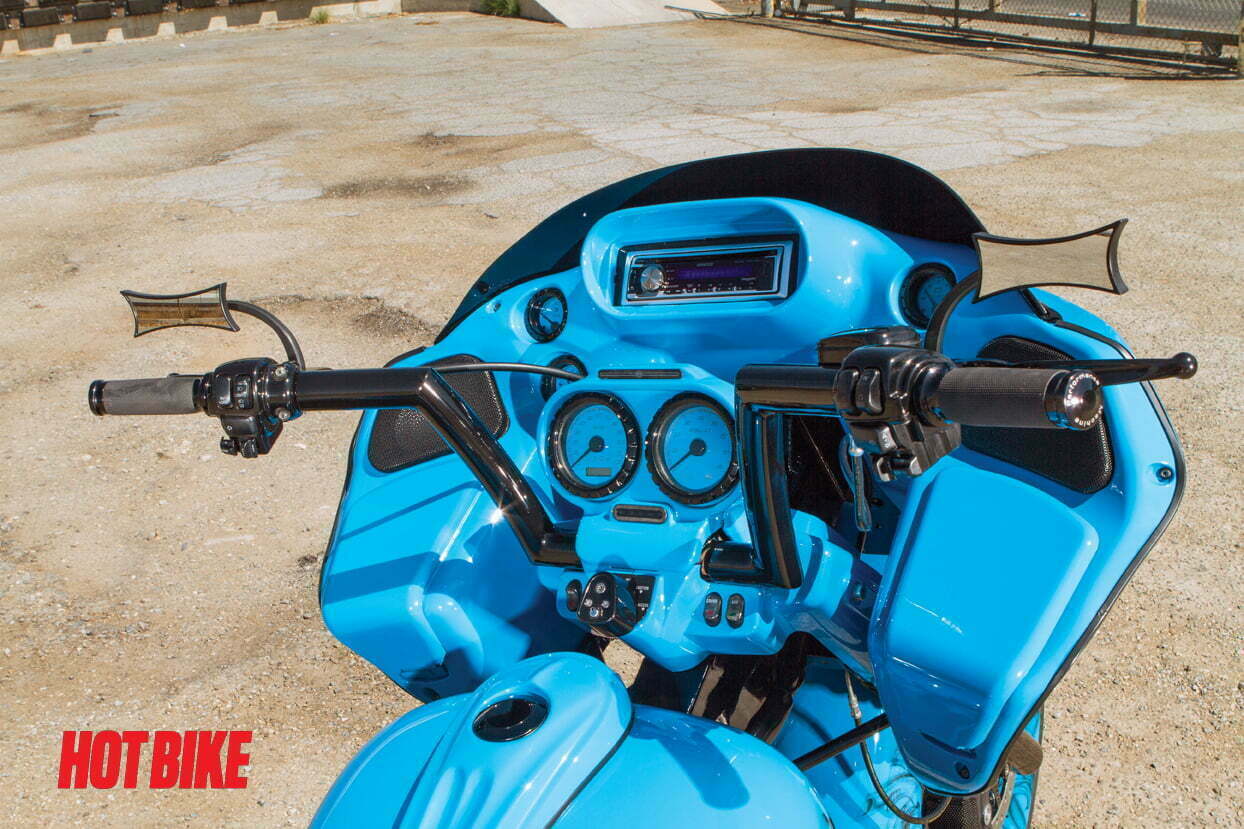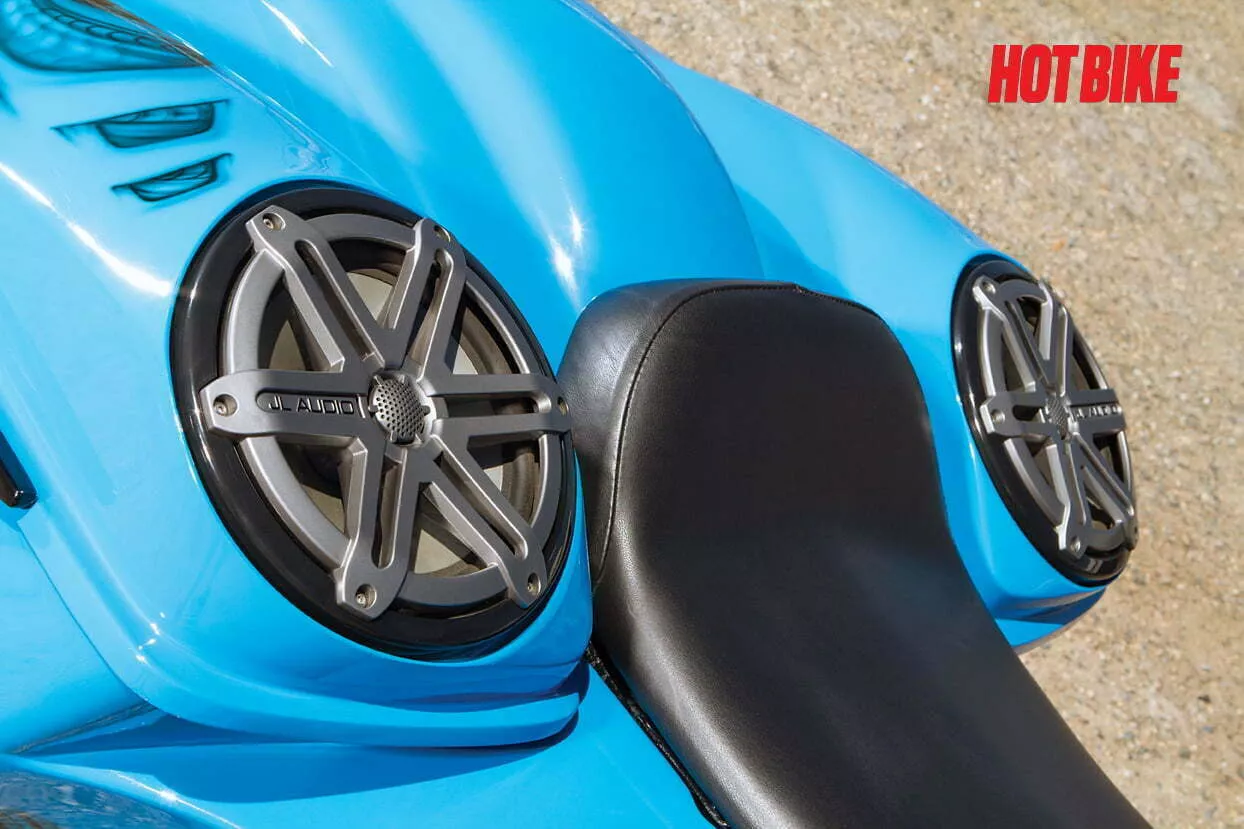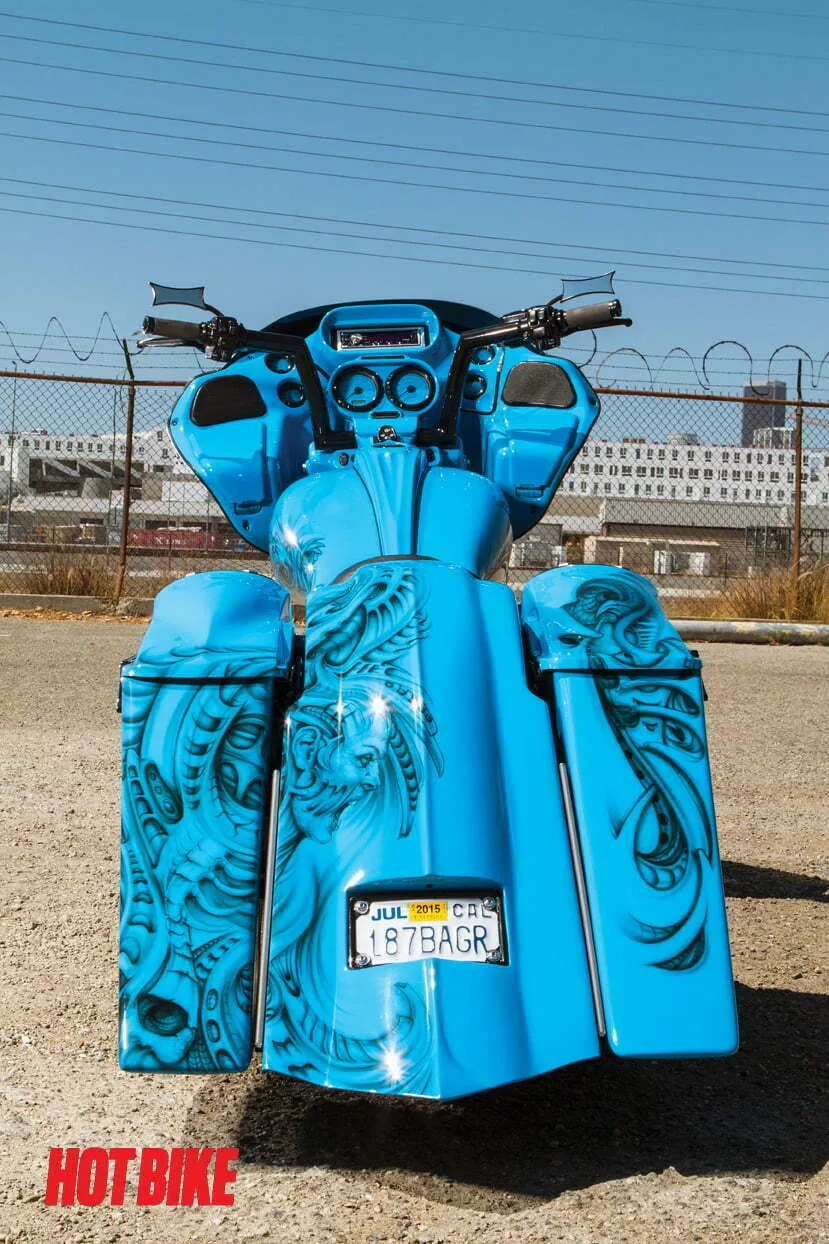 When I purchased this 2008 Road Glide in 2012 from my buddy Todd, it was your typical grandpa's stock black touring bike with a few minor parts added to it. With the help of my friend Frank at harleygauges.com and lexanimc.com in Riverside, California, I was pointed in the right direction with some parts that he manufactures. Starting with the floorboards, air cleaner, gauges with red LEDs, bezels, a 21-inch rim, and matching rotors, I was off to a good start. Dave Dupor bars were tossed in our trade deal since I'm a general contractor doing some work at his house. This is the best kind of deal when it comes to Harleys. Next, every single chrome piece on the bike was removed and powdercoated black by my friend Mike at Full Throttle Powder Coating in Corona, California. This transformation lasted one summer.
In 2013, as our long summer and perfect weather was nearing an end before we hit what we call winter in SoCal, I knew I had to do the second makeover quick since winter is only about two months long. I immediately contacted my friend Frank again and set up a trade for some more work on my bagger. We started by cutting the frame and installing the HHI neck and trees. The bike was then taken to my friend Marcos at IE Baggers in San Bernardino where he put the front end on and made a couple brackets for me and set up rear air ride. Marcos is also responsible for giving this bike its name when he couldn't remember that I was airbrushing Bio-Mechanical on it, so he named it the Bio-McChicken. I decided to go with the entire VooDoo Bikeworks gas tank back parts; this included tank stretch, dash, side fillers, bags, rear fender, and speaker lids.
I saw a Ford Mustang that was painted Grabber Blue and realized that's the color for me, considering the guys I ride with have pretty much every other color bikes. I knew it would be different and go with my black motor and airbrush scheme.
I wanted this bike to be relatively simple with a big-wheel bagger taste but nothing over the top because this bike gets ridden about 1,000 miles a month. This bike gets looks and compliments everywhere I ride it. With the flip of a switch it raises up to a little under 2 inches lower than a stock Harley on the corner of the bags. It's sure to make turns without slowing down and worrying about scraping the bags. But as soon as it's a straight section of highway or it's parked, rest assured this bike is aired down all the way.
I have a lot of respect for some of these builders out there now that I experienced firsthand the headache it takes to complete something like this. All the long nights in the garage, driving all over, stress headaches, sleepless nights, and phone calls all day for weeks on end makes it all worth it to see my pride and joy featured in such a great magazine.