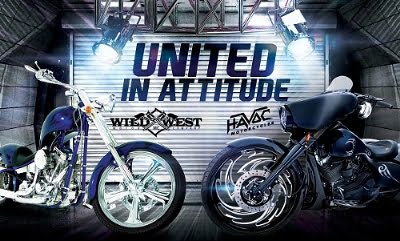 Havoc Motorcycles and the Wild West Motor Company announced today that they have reached agreement for a co-marketing and joint distribution partnership that will extend the reach of both brands across North America with global potential.
"The vision of both companies is the same," said Jim Winn, CEO of Wild West Motor Company. "We both build extremely powerful exotic motorcycles by hand with the highest quality components, with no compromise in style, beauty, or attention to detail. It's about working together to bring our passion for building them to riders whose passion is riding them," said Winn.
"The models are complementary," said Dr Jarrod Wiener, President of Havoc Motorcycles. Wild West manufactures the "Gunfire" an exotic pro-street based on a drag bike frame, and the "Dragoon" chopper-style motorcycle. Havoc's models are custom baggers. "By working together we can offer dealerships a variety of styles under the same assurance of quality," said Wiener. Havoc's models include three stretched baggers: "Wildcat", "Slayer", and the flagship "Iron Flight: Mike Tyson Special Edition" built under license from the iconic boxer and entertainer.
Under the agreement, the Wild West models will be added to the Havoc catalog, and the Havoc models will be added to the Wild West line-up for co-marketing and shared distribution. "We're bringing independent motorcycle dealers an expanded range, a simple ordering process, and streamlined logistics, under a single commitment to excellence," said Winn.
ABOUT HAVOC MOTORCYCLES
Havoc Motorcycles, of Prince Edward Island, Canada, is a new motorcycle company that recently unveiled a line of custom baggers. It is passionately committed to offering a line of heavyweight motorcycles that offer power, performance, and style. It's creed is individuality and toughness of spirit. It's ethos is to enable riders to express their and individuality astride a motorcycle that symbolizes their inner strength.
ABOUT WILD WEST MOTOR COMPANY
The Wild West Motorcycle Company of Buckner, Kentucky, has been building exotic hand-built motorcycles since the late 1980s. With a loyal brand following and sterling reputation for quality, Wild West continues to build the "Gunfire", a high-end pro-street bike, and the "Dragoon" a high-end Chopper. Its models have been listed without interruption in the NADA (National Automobile Dealers Association) "Red Book" since 1998. It has had a proven record of building some of the most beautiful bikes on the road, as it is one of the few custom motorcycle companies still building. The Wild West brand still holds some of the highest values in the market today.