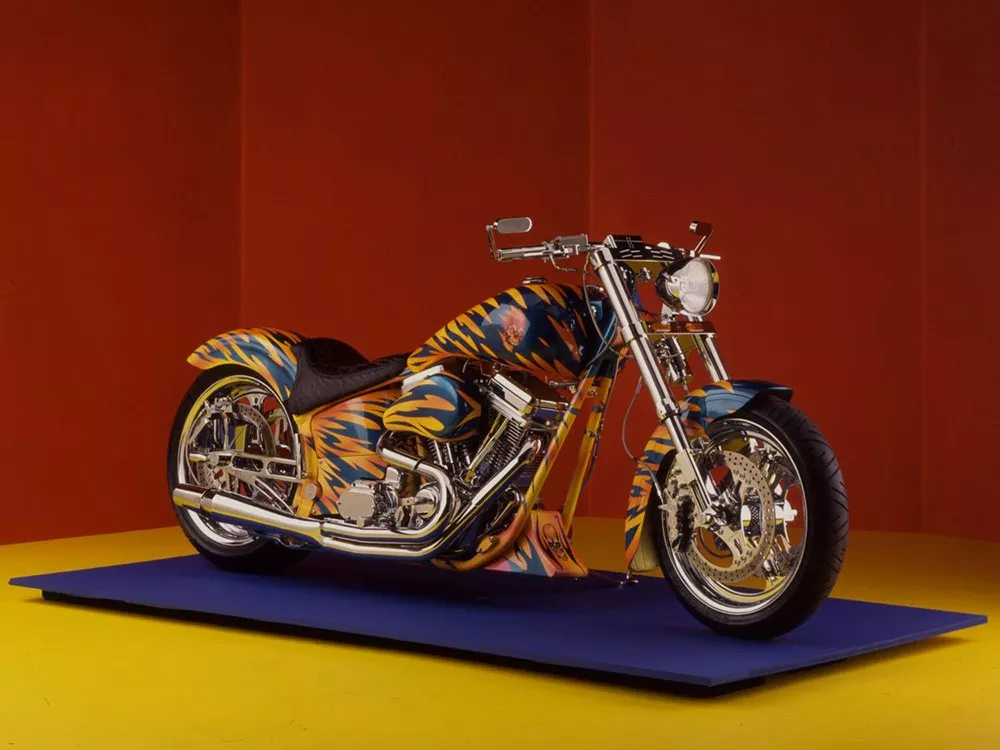 This article was originally featured in the August-September 1998 issue of Cycle World's Big Twin magazine.
Ron Simms, owner of Bay Area Customs in Hayward, California, makes no bones about his customs: You either like them or you don't; it's all the same to him. These two new bikes from Simms show what can come of him following his personal vision.
For example, the long, low chopper of this duo looks like a bar-hopper deluxe, which it probably is, except that the gas tank holds a whopping six gallons of fuel! The tank is a new style from Simms, and its enormous capacity would seem to qualify it as a touring bike capable of running nearly 300 miles between fill-ups.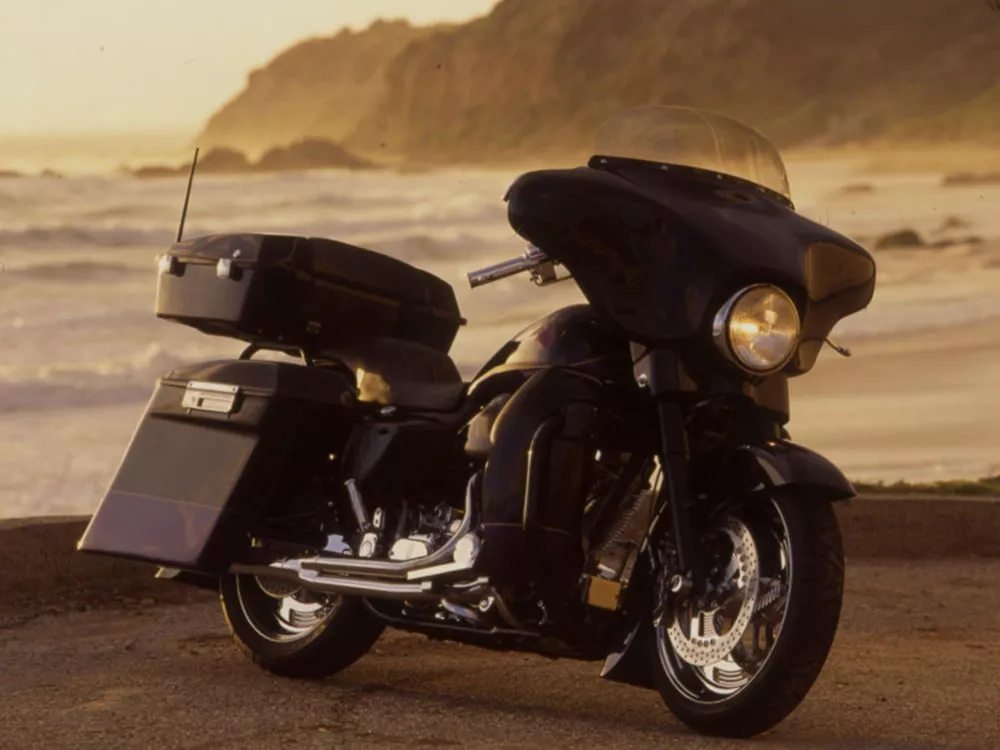 But if this is a touring bike, it's one kick-ass, monster-motored one, what with its heavily breathed-on, 113-inch S&S engine, complemented by race-bred Performance Machine brakes. But the short, sporty fenders, laid-back riding position and lack of over-the-road amenities are evidence that this actually is a performance custom and not some new kind of high-speed touring rig.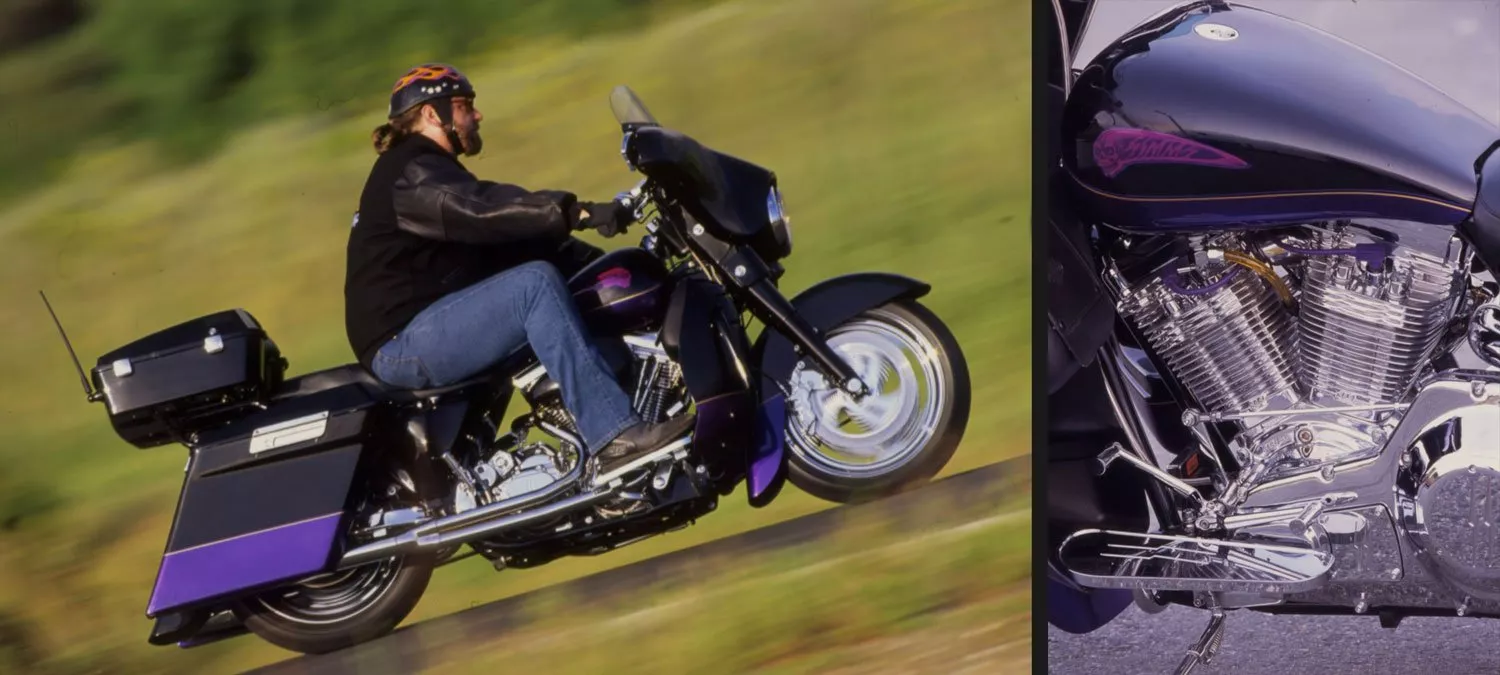 There is no doubt, however as to the mission of Simms' luxurious Black Bagger: To tour—and to do it in style. Like music on your trek? Just click on the Alpine six-disc CD changer. Need to lug along a lot of gear? Stuff it in the bags or the genuine Harley-Davidson low-rise Tour-Pak. Absolutely, positively have to be there overnight? No sweat: The Black Bagger's highly polished and chromed 103-inch motor will thunder you there as quickly as you dare ride.
"We simply incorporated what we were doing with our long-fendered radical customs into this machine," says Simms of the Bagger. "It's one of the first dressers we've ever done. We stretched the front and rear fenders, as well as the saddlebags we make. We also cut off the entire top of the gas tank, stretched it, then smoothed it over. We did a lot of other things, too, like installing LED lights flush in the fairing and the saddlebags so that nothing protrudes above the surface."
Do we like these customs? We certainly do. And like Simms, we don't make any bones about it, either.
Specifications:
BIKE 
Simms Chopper
Owner
Dominick Colasunno
Bedford, NY
BASE MACHINE
| | |
| --- | --- |
| Year | 1988 |
| Model | Simms Fat Tire |
| Designer/Fabricator | Ron Simms' Bay Area Custom Cycles 25224 Mission Blvd. Hayward, CA 94544 510- 537-3338 |
| Paint and Chrome | |
| Molding | Horst |
| Paint | Horst |
| Graphics | Horst |
| Chroming | Valley Plating |
| Engine | |
| Year | 1998 |
| Make | S&S Evo |
| Builder | Simms |
| Displacement | 113 cu. in. |
| Cases | S&S |
| Lower end | S&S |
| Rods | S&S |
| Pistons | S&S |
| Heads | STD |
| Cam | Leineweber |
| Valves | Black Diamond |
| Lifters | S&S |
| Ignition | Dyna |
| Coils/wires | CCI |
| Carb | S&S |
| Air cleaner | Simms |
| Pipes | Thunder Header |
| Transmission | |
| Year | 1998 |
| Type | JAG |
| Clutch | Barnett |
| Primary drive | H-D |
| Frame | |
| Year | 1998 |
| Make | Simms Paughco |
| Type | Softail |
| Modifications | 4-in. stretch |
| Front Fork | |
| Year | 1998 |
| Make | Ceriani |
| Type | Inverted |
| Rear Suspension | |
| Type | Softail |
| Make | H-D |
| Swingarm | Simms |
| Front Wheel/Tire | |
| Wheel | PM |
| Tire make | Metzeler |
| Tire size | 120/70-18 |
| Rim width | 3" |
| Brake | PM 6-piston |
| Rear Wheel/Tire | |
| Wheel | PM |
| Tire make | Metzeler |
| Tire size | 180/60-16 |
| Rim width | 5.5" |
| Brake | PM 6-piston |
| Accessories | |
| Handlebar | Flanders |
| Risers | Simms |
| Grips | Simms |
| Mirrors | Simms |
| Gas tank | Simms 6-gallon |
| Oil tank | Simms |
| Front fender | Simms |
| Rear fender | Simms |
| Headlight | Headwinds |
| Taillight | Simms |
| Turnsignals | Twin Sports |
| Speedo | Simms |
| Seat | Corbin |
| Foot controls | Simms |
BIKE NAME
Black Bagger
Owner
Ron Simms' Bay Area Custom Cycles
25224 Mission Blvd.
Hayward, CA 94544
510-537-3338
BASE MACHINE
| | |
| --- | --- |
| Year | 1998 |
| Make | H-D |
| Model | FLH |
| Designer/Fabricator | Ron Simms |
| Paint and Chrome | |
| Molding | Horst |
| Paint | Horst |
| Graphics | Horst |
| Chroming | Valley Plating |
| Engine | |
| Year | 1998 |
| Make | S&S Evo |
| Builder | Simms |
| Displacement | 103 cu. in. |
| Cases | S&S |
| Lower end | S&S |
| Rods | S&S |
| Pistons | S&S |
| Heads | S&S |
| Cam | S&S |
| Valves | S&S |
| Lifters | S&S |
| Ignition | Dyna |
| Coils/wires | CCI |
| Carb | S&S |
| Air cleaner | Simms |
| Pipes | Custom-made |
| Thunder | Header |
| Transmission | |
| Year | 1998 |
| Make | JAG |
| Type | 5-speed |
| Primary drive | H-D |
| Clutch | Barnett |
| Frame | |
| Year | 1998 |
| Make | H-D |
| Type | FLH |
| Front Fork | |
| Year | 1998 |
| Make | H-D |
| Type | FLH |
| Modifications | Powder-coated black |
| Rear Suspension | |
| Year | 1998 |
| Make | H-D |
| Type | FLH |
| Swingarm | H-D |
| Front Wheel/Tire | |
| Wheel | PM |
| Tire make | Metzeler |
| Tire size | 120/70-18 |
| Rim width | 3" |
| Brake | PM |
| Rear Wheel/Tire | |
| Wheel | PM |
| Tire make | Metzeler |
| Tire size | 140/70-18 |
| Rim width | 4.25" |
| Brake | PM |
| Accessories | |
| Handlebar | Flanders |
| Risers | H-D |
| Grips | Simms |
| Mirrors | Simms |
| Gas tank | Simms |
| Oil tank | Simms |
| Front fender | Simms |
| Rear fender | Simms |
| Headlight | H-D |
| Taillight | Simms |
| Speedo | H-D |
| Tach | H-D |
| Instruments | H-D |
| Seat | Corbin |
| Foot controls | H-D |
| Rider pegs | Simms |