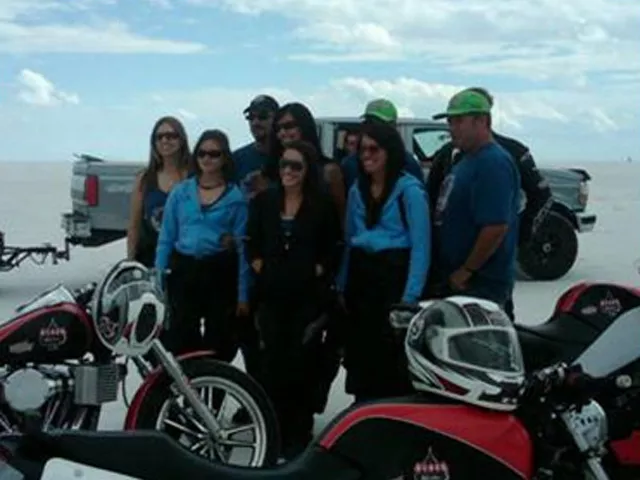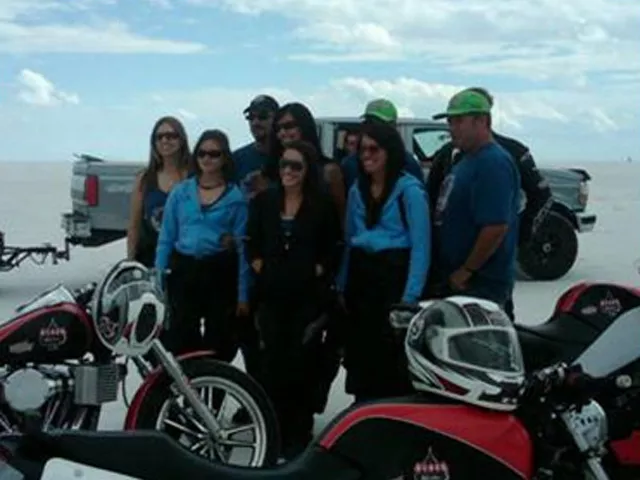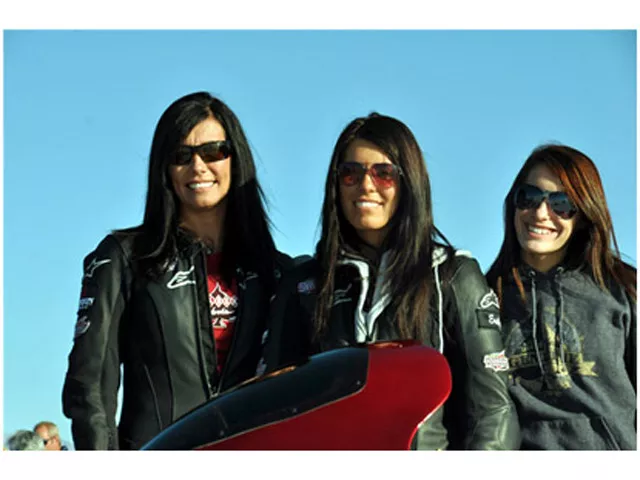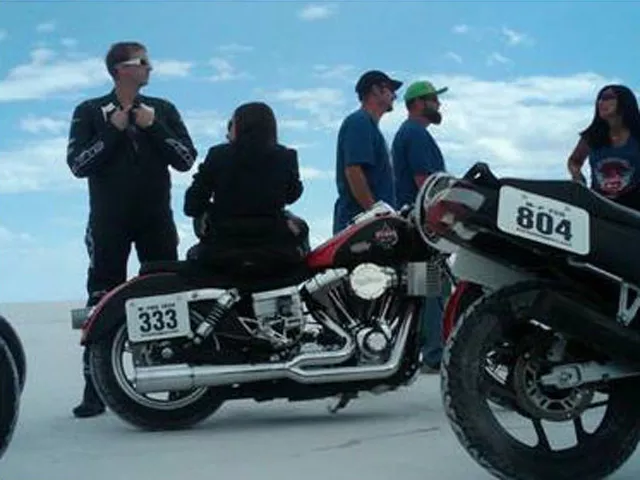 Team Klock Werks took six bikes and came home with five new unofficial AMA records for the 2010 Speed Trials by BUB event at the legendary Bonneville Salt Flats. These records are unofficial at this time – but Team Klock Werks' motors have been measured so we are waiting for final verification.
Since land speed records are an average of two passes a rider must first make a down run that has to qualify, or be higher than the current record in the class, and then run a return pass in the opposite direction. The average speed of the two passes determines a new record or not.
Bikes are put into a class based on the frame, size of motor and type of fuel. Riders are not separated by gender or age, and records signify the highest average for that class of bike ever recorded.
_Here is a run-down of the accomplishments of Team Klock Werks: _
Erika Cobb, daughter of Brian and Laura klock (19 years old)
Racing with Team Klock Werks since 2007.
Bike: 2003 Buell XB9, #14 "Boo Yah"
Class: 1000 P-PP
Record: 135.135 mph
Personal best on the Buell 138.495 mph
Karlee Cobb, daughter of Brian and Laura Klock (16 years old)
Riding for Team klock Werks since 2008
Bike: 2006 HD Dyna "Dyna-MITE"
Class: 1650 M-PBG
Record: 151.754 mph
Personal best: 155.709 mph!
Chris Degen, Klock Werks Service Manager
Bike: 2007 HD Dyna "Dyna-Mo"
Class: 1650 P-PP
Record: 127.571 mph
Personal best: 131.494 mph
First time rider
Michelle Mielke, wife of Klock Werks Project Manager, Joe Mielke
Michelle has raced with Team Klock Werks since 2008
Bike: 2002 Yamaha Warrior XV1700 "Warrior"
Class: MPS-P 2000
Record: 143.725 mph
Personal best: 145 mph
Tiadra Simmermon, daughter of Joe and Michelle Mielke (13 years old) First time rider!
Bike: 2004 Kawasaki EX250 Ninja "Lil Ninja"
Class: M-P 250
Personal best: 94.760 mph!
Laura Klock (the mom of the group) took her personal bike she rides on the street out to the salt. While not a purpose built race bike, the team achieved the status of being the first to attempt passes on a victory vision
Bike: 2008 Victory Vision touring bike "Any Road"
Highest speed: 130 mph
This is Laura's 5th year on the salt, where she is best known for piloting the team's "World's Fastest Bagger" three years running.
Overall personal best on WFB: 161 mph
Laura was excited to watch her daughters achieve such amazing personal goals this year!
Erika Cobb – Karlee Cobb allowed her sister to ride her HD Dyna in order to try to achieve a personal goal of 150 mph at this meet. Erika was able to achieve that, therefore each sister received their 150 mph medallion, and each got a record in different classes on the same bike! An incredible history making feat! Their mom, Laura Klock, received her 150 mph goal in 2008. The Mother-Daughter-Daughter trio were able to take photos each with the 150 medallion at this event! Photos coming soon!
Bike: 2006 HD Dyna
Class: 1650 M-PBF
Record: 143.543 mph
Personal best: 150.239 mph
The Dyna-MITE bike the sisters (Erika and Karlee) shared was built in just 5 days following another team cancelling Karlee's ride and not bringing their bike to the salt. Therefore, a used bike was purchased and equipped for racing. Karlee first rode this bike on the salt and achieved a 150 MPH record in just her first 4 passes!
First time pilot Chris Degen commented, "People would have a new found respect if they could all be given the chance to ride on the salt. Its different than other speed experiences in racing in that you have to hold the bike at sustained high speeds for such a length of time. My bike was maxed out for a two mile stretch. You have to average the record speed for a whole mile on a surface much like a hard packed gravel road." He added, "Its amazing that those young ladies like Karlee and Erika can hang on to a bike without a fairing at speeds consistently over 150 miles an hour at a time. Its a workout – I really respect that."
The Klock Werks Team thanks their sponsors including major sponsor Interstate Batteries. The Team was complimented continually on representing the future of land speed racing with introducing their family and young people, all while celebrating the rich history of the sport. The Team reports that many greats were present on the salt this year including Warner Riley, John Yeats, and Denis Manning (who hosts the event). These three greats also celebrated 40 years since they set a land speed record with a Streamliner for Harley Davidson motorcycles at 265 mph in 1970. You could run into any one of these greats while waiting in line for your pass at the legendary track this year.
"I am very proud of the team. Many people will try for years with no records and everything has to come together to be successful. For our young team to garner the respect of salt racing legends is a great accomplishment and they are too be commended," commented Brian Klock, Klock Werks President and Race Team Leader. "Even Denis Manning in his closing comments praised the Klock Werks team for the dynasty and impression they are creating for future riders. In the same breath, the MTI students and their instructor Darin Maltsberger represented our community with pride also. We heard many compliments on all our work ethics and attitudes. What more could Mitchell ask for – congrats!"
Laura, Erika and Karlee received the honor of being named the FIRST mother-daughter-daughter trio in history of land speed racing to hold records at the same time in 2008. The Team has been blessed with much success in land speed racing over the last five years with many records. God gave us fast angels, so stay tuned in to our websites, www.kustombaggers.com, www.worldsfastestbagger.com, www.lauraklock.com, our facebook pages and Klock Werks YouTube channel for final results, lots of photos and some exciting video!
Klock Werks Race Team: where passion and fuel mix!