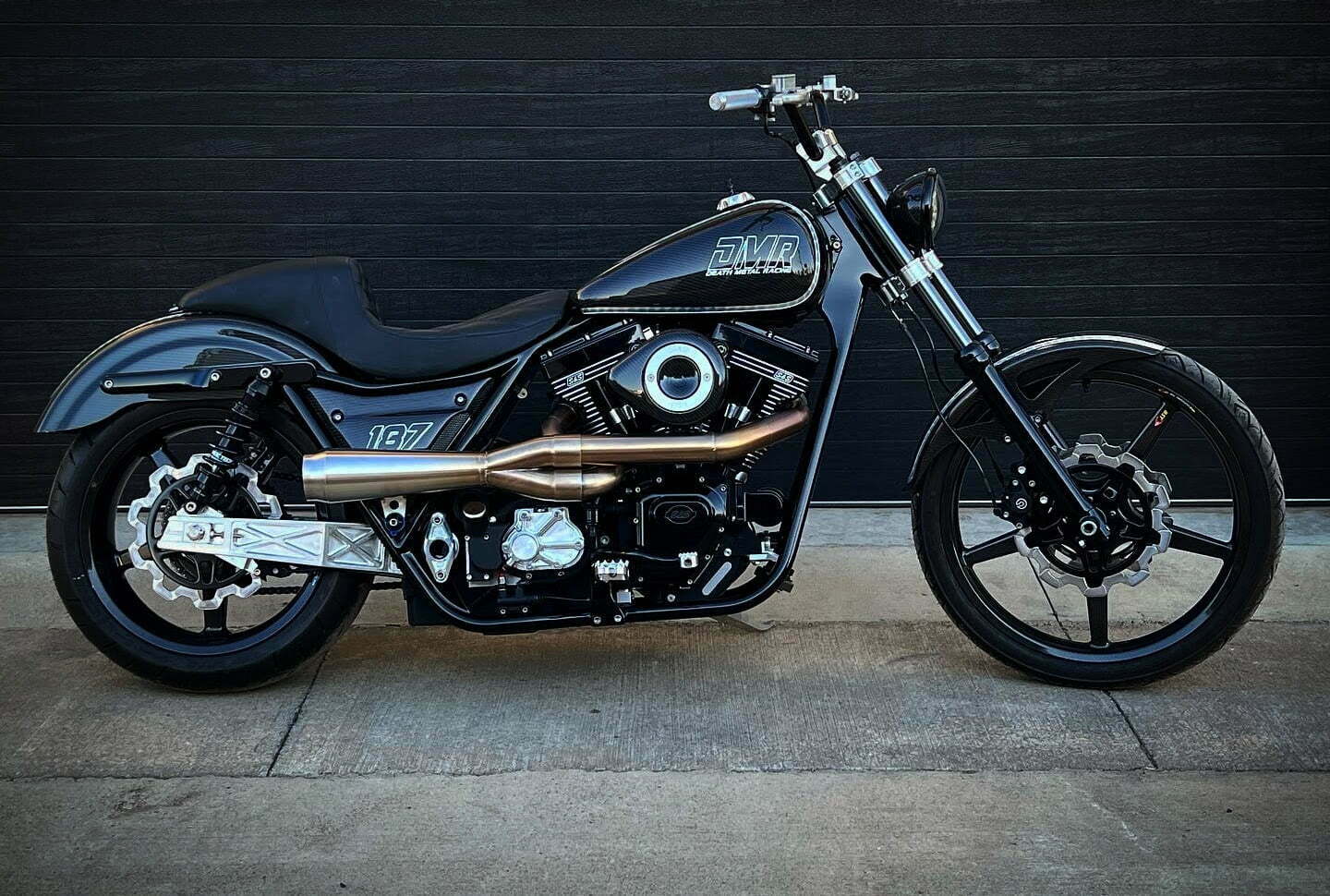 Less is more. That old paradoxical chestnut is a contradiction in the literal sense; however, it's the most appropriate way to describe Boosted Brad Barnes' most recent personal project, a custom Harley-Davidson FXR made for the street, strip or show.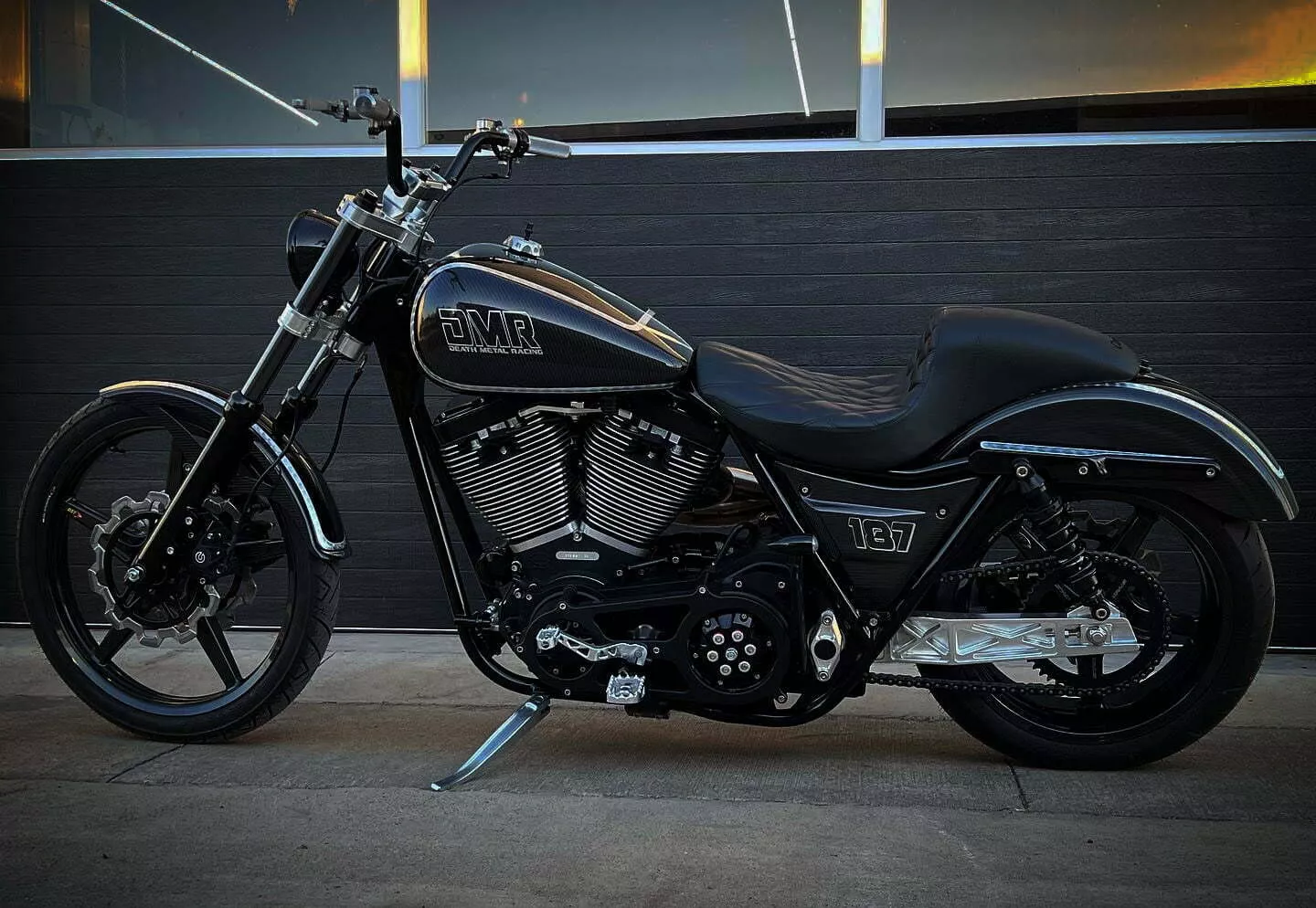 Dive deeper and notice why Brad's 187 Murdercycle fits the "less is more" bill. Boosted Brad's approach to building this sleek and svelte FXR was simple. He ditched all the unnecessary claptrap and used multiple carbon fiber components throughout. The goal was to create a minimalist motorcycle with only the essentials for big power. Of course it had to be equipped with proper braking.
Starting with an old Rolling Thunder FXR frame, he shimmied in the rear Pops Garage Fab billet aluminum swingarm, which was made to fit a 180mm-200mm rear tire. The next crucial component was stuffing the 143ci S&S torque powerhouse in between the frame tubes. Next was selecting the perfect components to bring it home. 
Brad's "Boosted" nickname comes from his drag racing roots. He drag raced cars in his younger days, pitting turbocharged street weapons against anyone willing to test their mettle. Fast forward to today, Brad wanted to build something he could drag race yet again. "I sold my other bike, so I just wanted to do another FXR, something real low with lots of power and super light," Brad says.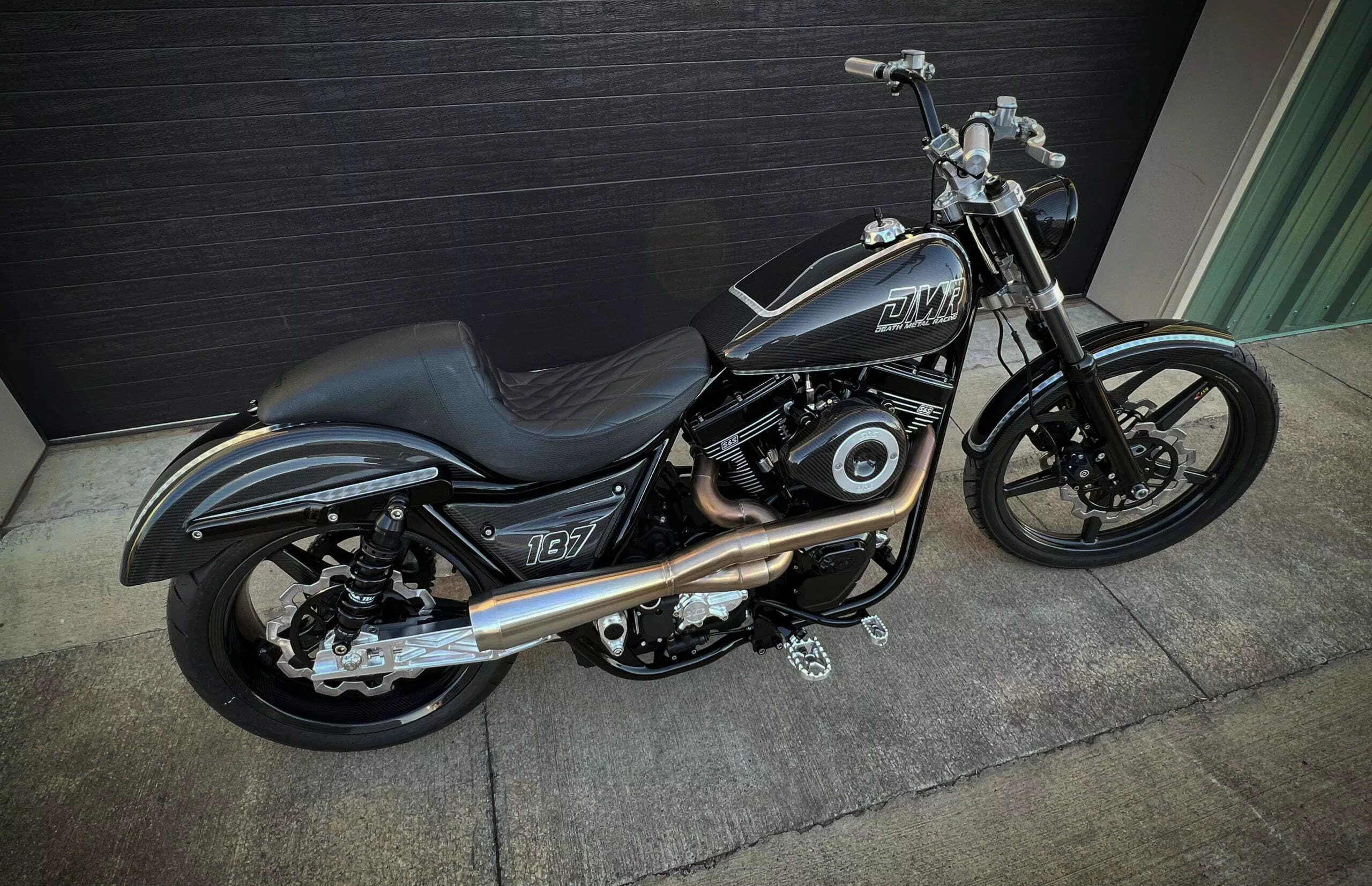 The overarching theme of this FXR was performance. "It's super fast. It has a [S&S] 143 with B3 Heads that are ported and polished, Super G carb bored out bigger than stock, and an an R&D transmission," Brad mentions. "We're getting ready to add thunder jets and do a little more carb work, too." R&D Transmission did all the trans internals on Brad's beast. With all that extra power, you need the right transfer to get the rear wheel synced up.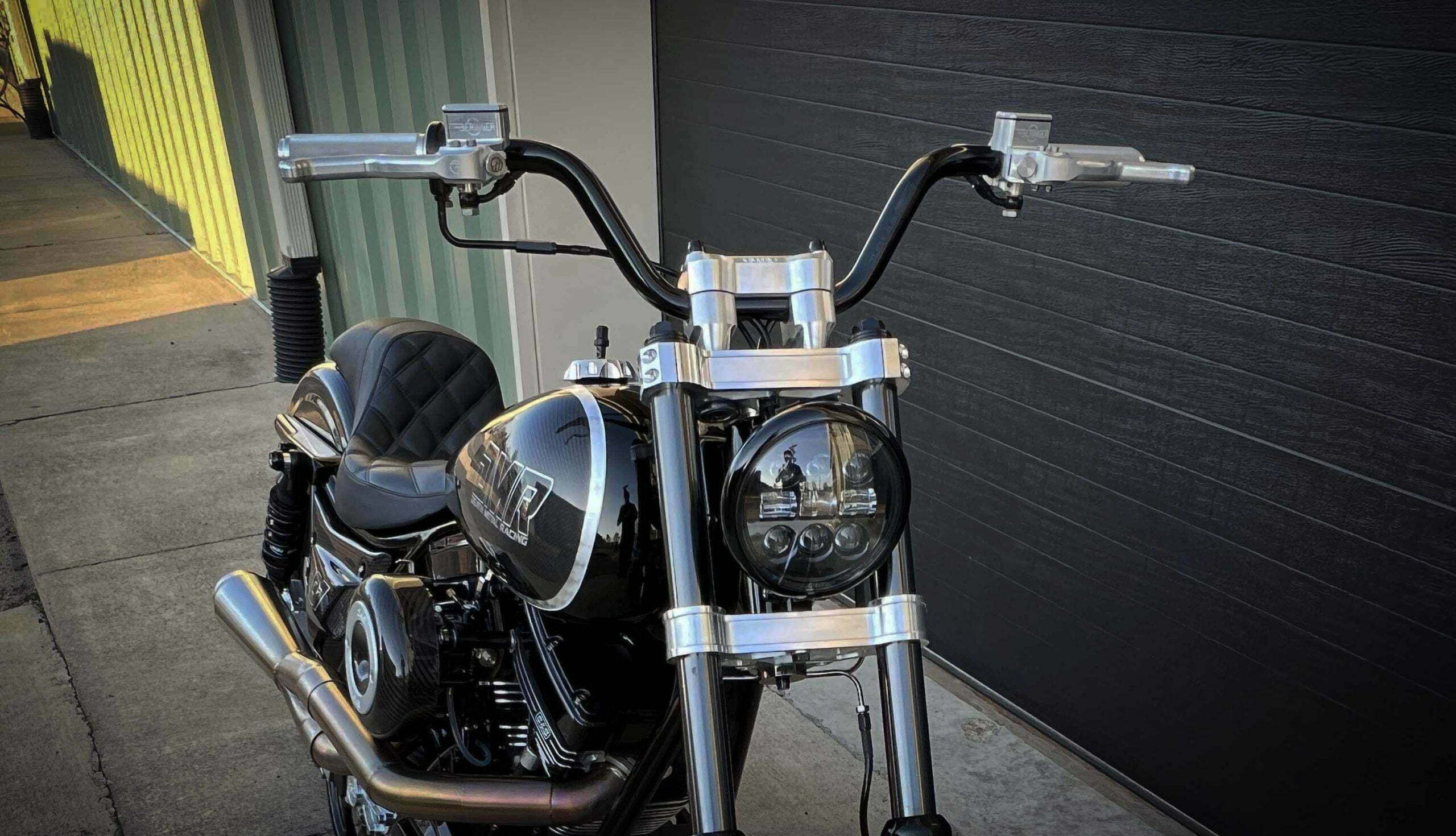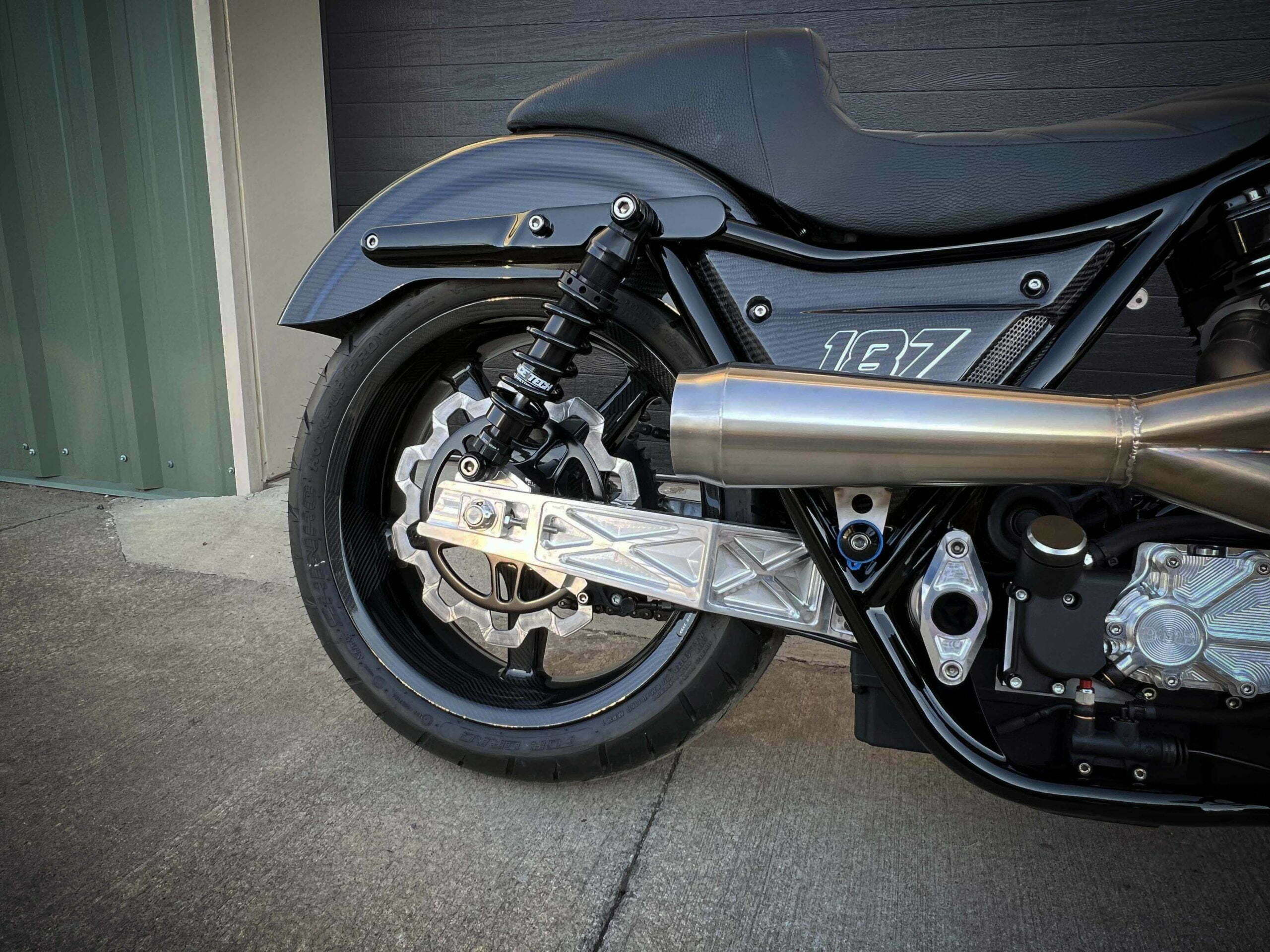 BST carbon fiber wheels, as well as carbon fenders and side covers were added to reduce weight. Kyle, at Forever Rad, vacuum wrapped the factory FXR Low Rider Custom tank in real carbon fiber. Brad got to work doing the voodoo that helped cement his reputation as a painter. Well, maybe not exactly since Brad's recent portfolio includes some pretty over the top designs. "I've done so many over the top paint jobs, I just wanted something clean and I was shooting for a FXR Low Rider Custom," Brad states. Brad also wanted a 21-inch skinny front wheel/tire combo with a 17×7-inch rear with cheater slick. Brembo brakes with DMR rear brake brackets hide the rear caliper behind the Pops Garage Fab billet swingarm. On the front wheel, two small Brembo P34 calipers with a dual disc setup were selected. 
Brad's been a quite the busy guy as of late. Building custom motorcycles on a deadline is one thing, but he also manages the day to day task of getting his Death Metal Racing parts to eager customers across the globe. "I've been working on this thing for probably a year and a half to two years just gathering parts for it but the last 2-3 weeks I've been working 12-13 hours a day to get it finished for Daytona," Brad says. It came down to the wire but he got it done. And it's paid off. Brad won the FXR Bazaar custom bike show and received a Best of Show  in the FXR class at Hardcore Cycles Bike Show just a few days ago. It's clear he built a show-winning FXR. We look forward to seeing Brad's efforts on the drag strip, watching him channel his former self and taking the checkered flag aboard his new FXR.