Today, Harley-Davidson Motor Company debuts "Roll Your Own," an integrated marketing campaign that evolves the company's efforts to break the stereotype of who rides Harley-Davidson motorcycles and how they ride them.
Elevating the attitude and style of motorcycle riders across the United States, the new campaign features real Harley-Davidson riders and introduces the call to action of #RollYourOwn.
"The new work shows there is no one way to ride a Harley," said Dino Bernacchi, U.S. Marketing Director at Harley-Davidson. "The new creative is about each rider defining their independence and attitude, whether kicking up dirt on the track or sliding through the curves on ice."
The new campaign debuts today with a series of :60 and :30 broadcast ads , print ads, online advertising and social content. The campaign will air during the NCAA Men's Basketball Tournament, as well as on theCHIVE and Heavy.com.
Showing the unique ways people ride a Harley-Davidson is just part of how the company celebrates rider individuality. The other unique way is how riders personalize their Harleys. This spring U.S. dealers will compete in a bike build-off battle with the Harley-Davidson® Street® 750 motorcycle being featured throughout the campaign. Bike builds will happen around the country, and in the end, one dealer will ultimately be crowned the "Custom King." The resulting customized Street motorcycles will roll into all major Harley-Davidson promotions and among the company's promotional partners, including UFC® and ESPN X Games.
The Street 750 motorcycle is the perfect canvas for this competition and campaign, with its attitude built to take on the urban world. Now through May 31, customers can start rolling their own on a Street 500 or 750 for as low as $99 a month*, to experience the fun of riding a Harley.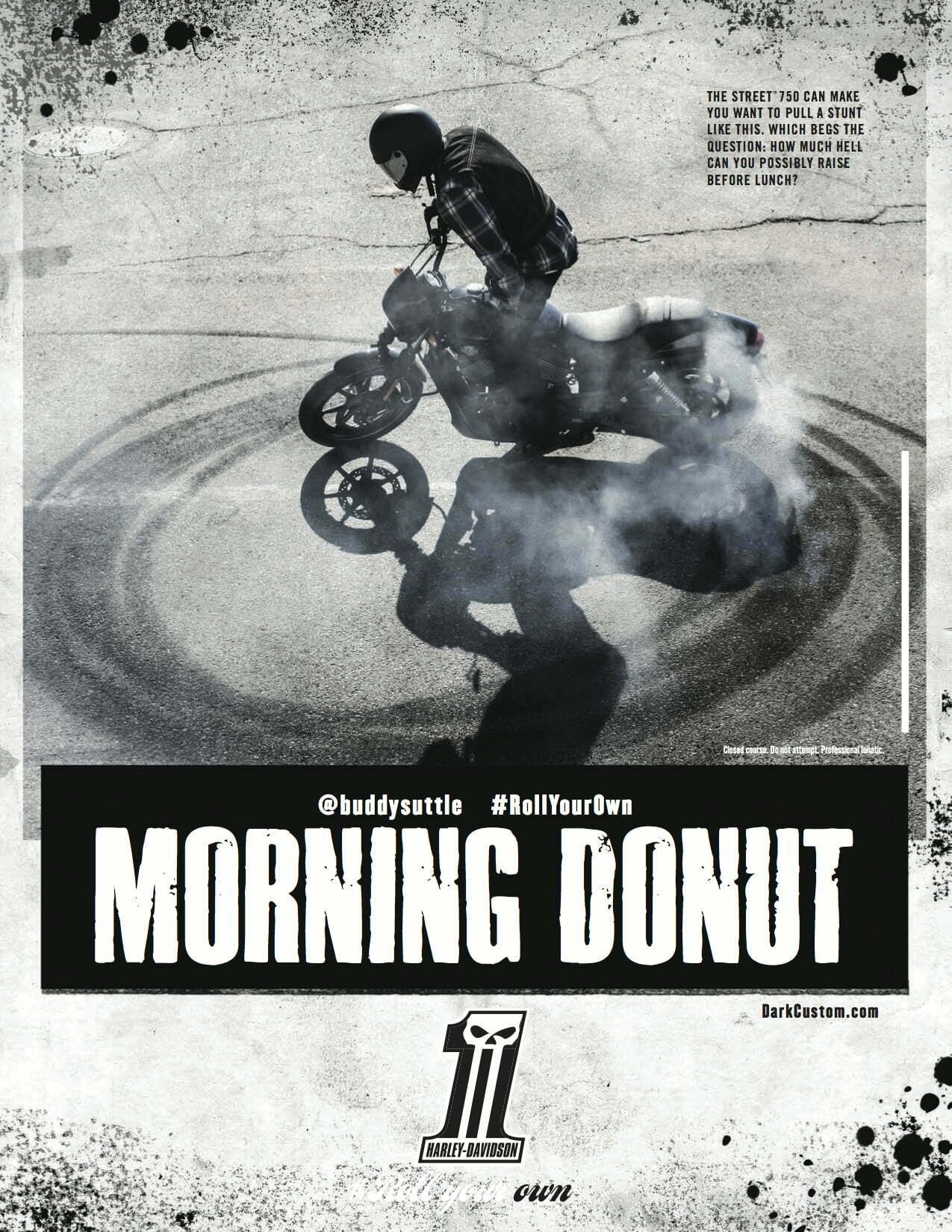 Also as part of the campaign, fans and riders are encouraged to share their "Roll Your Own" experiences across Harley-Davidson's social channels using #RollYourOwn.
"Through consumer-generated content, we'll spotlight how professionals in performance sports such as flat track racing and hill climbing are taking Harley-Davidson motorcycles right to the edge," said Bernacchi.