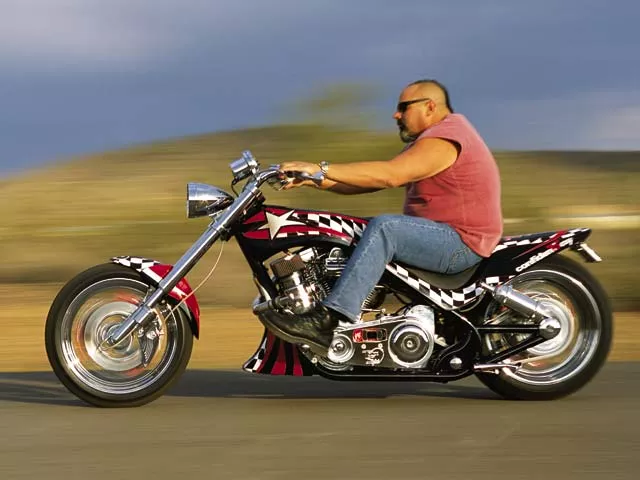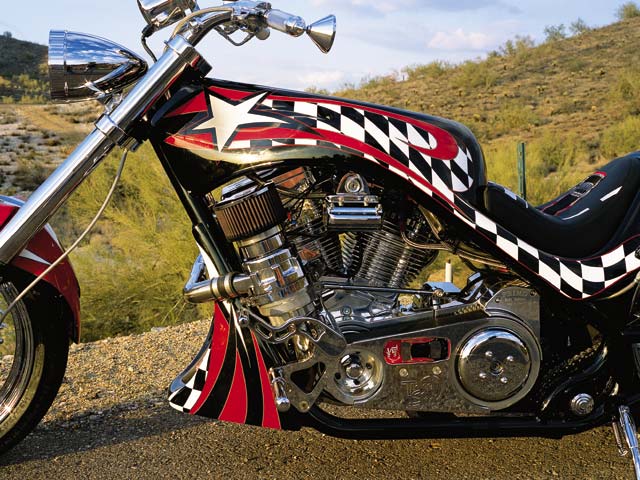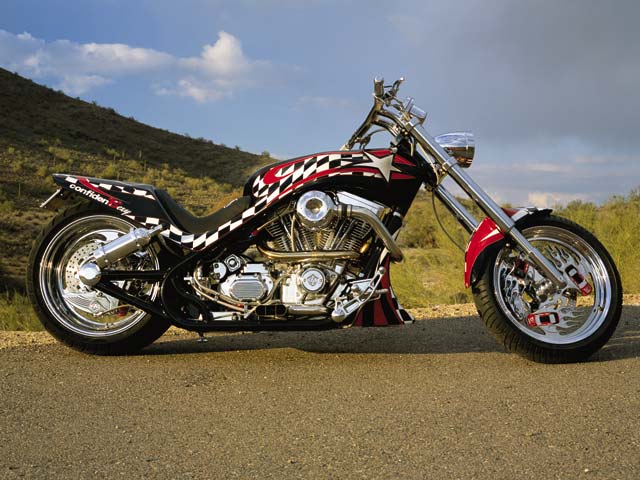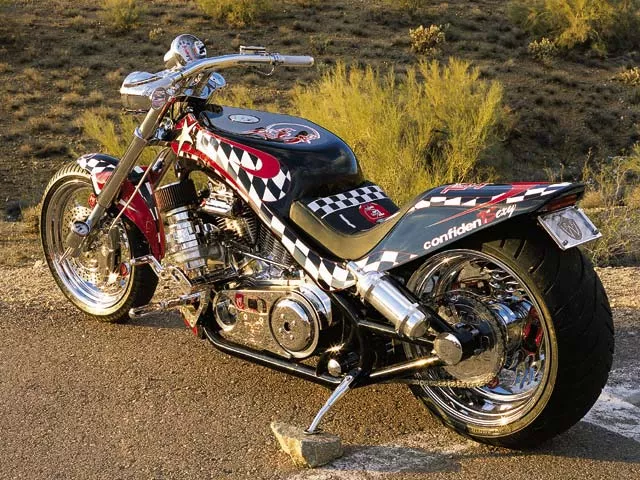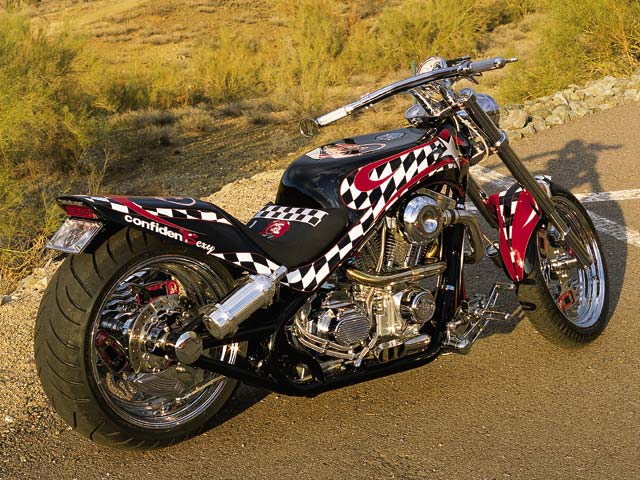 NASCAR enthusiasm has been sweeping the nation over the last few years, and many companies that want to promote themselves and get in the public eye have jumped in with big-time sponsorship programs. Lately, the only thing out there that has chipped away at NASCAR's popularity is the public's interest in motorcycles.
Knowing this, TrimSpa asked Roger Bourget and his Bourget's Bike Works crew to build a bike for them inspired by their NASCAR race team racecar. Roger envisioned a pro-street bike with more power than most people can handle, and great styling to match.
The Bourget's crew started out with one of their '03 Auti-Mo frames with 45 degrees of rake and no stretch in the downtubes or backbone, for a sportier look and stronger overall shape. To give the bike an aggressive stance up front, a 3-inch-under Mean Street inverted fork was fastened to the neck with B.B.W. Narrow Glide triple-trees.
When it came time for a set of wheels for the bike, Roger had something special planned. The wheel design started as a three-spoke with flames pouring from the trailing edges, but it wasn't good enough for Roger, so he added the TrimSpa NASCAR racecar painted on each spoke with flames surrounding each car. In the front is an 18-inch wheel covered by a 120 Avon, and the rear sports an 18×9-inch wheel and a 250mm tire. With plans for a powerful drivetrain, Roger wanted to be sure the speed machine was capable of stopping, so he used B.B.W. six-piston calipers and 11.5-inch rotors at either end of the bike.
The next part was really going to make things interesting — the motor. Roger started with a low-compression 100ci all-S&S; evo-style motor built by the Bourget's crew specifically for a Lineweber turbo and nitrous. Supplementing the motor is a CV carb, an Aerocharger air cleaner, a Crane Hi-4 ignition, a custom B.B.W. exhaust system, and a big bottle of nitrous bolted to either side of the rear of the bike. A Primo 3-1/3-inch beltdrive and clutch transfers power from the motor to the JIMS transmission.
After the frame and motor components were compiled, the crew got to work on the sheetmetal for the project. Instead of actual metal, they used carbon fiber for all the bike's skin because it is lighter. Up front is one of B.B.W.'s cafe-style fenders, and the rear fender, seat area, and gas tank are all one piece. There is no oil bag because all of Bourget's bikes keep their oil in the frame, but there is an aerodynamic chin spoiler that channels air around the engine. As usual, B.B.W. used Deano's to paint the bike in vivid red, black, and white, just like the TrimSpa racecar.
As soon as the painted carbon fiber pieces returned to the shop, Roger and crew bolted on the last parts of the bike. B.B.W. drag-style bars with built-in risers were bolted to the triple-trees, an Autometer speedometer was fastened to the lower left-hand side of the frontend's lower legs, and an oil pressure gauge was mounted on the handlebars. Of course, B.B.W. used its own hand and foot controls, pegs, mirror, and taillight. Then, it used a Headwinds headlight and capped it all off with a custom seat, also made in-house.
Four months after starting the project, the Bourget's crew was finished. TrimSpa was more than happy with the way things had turned out and couldn't wait to start showing the bike off, but not before Roger had a chance to test-ride the bike first. He swears he only hit the nitrous button once or twice.