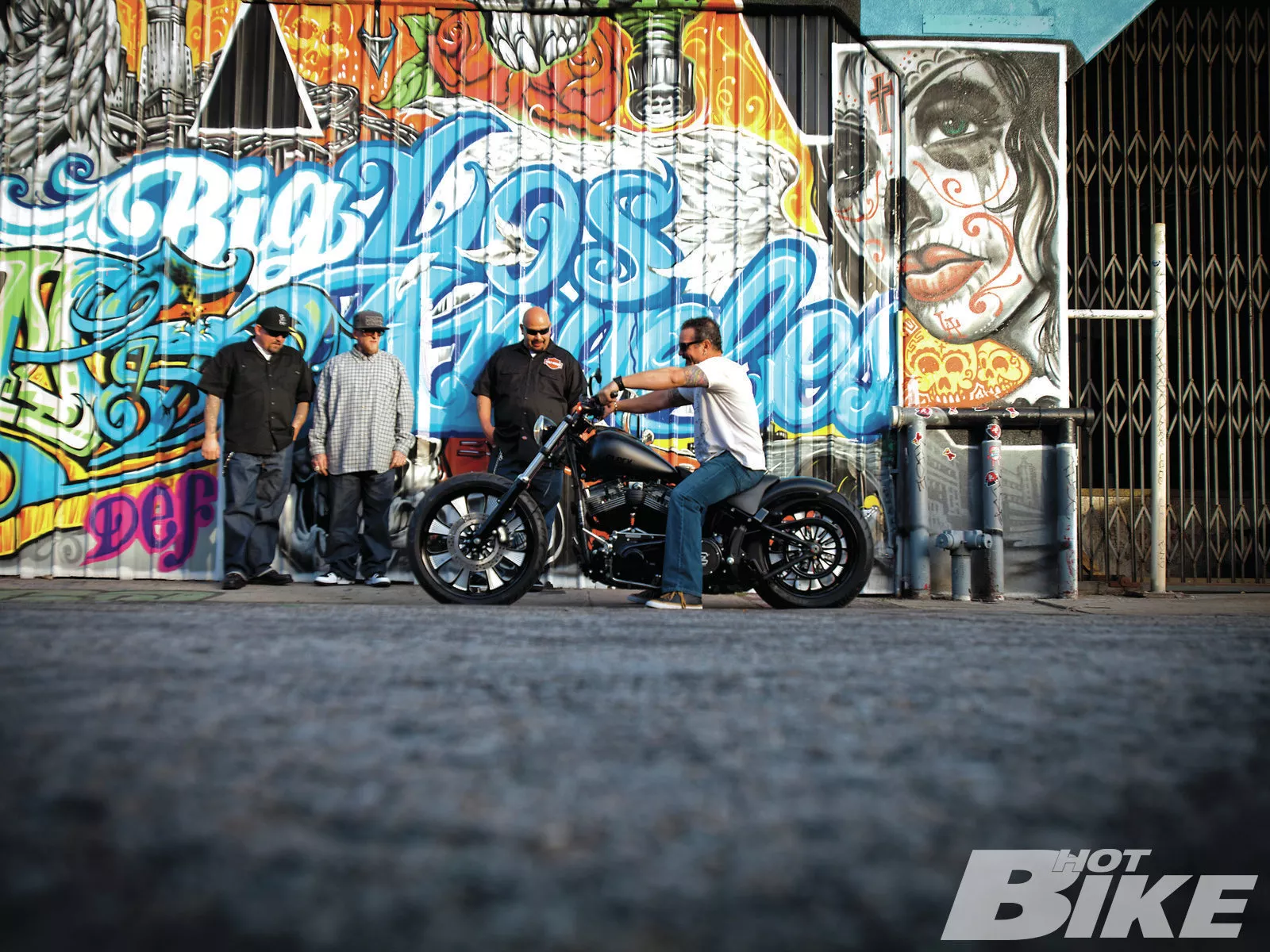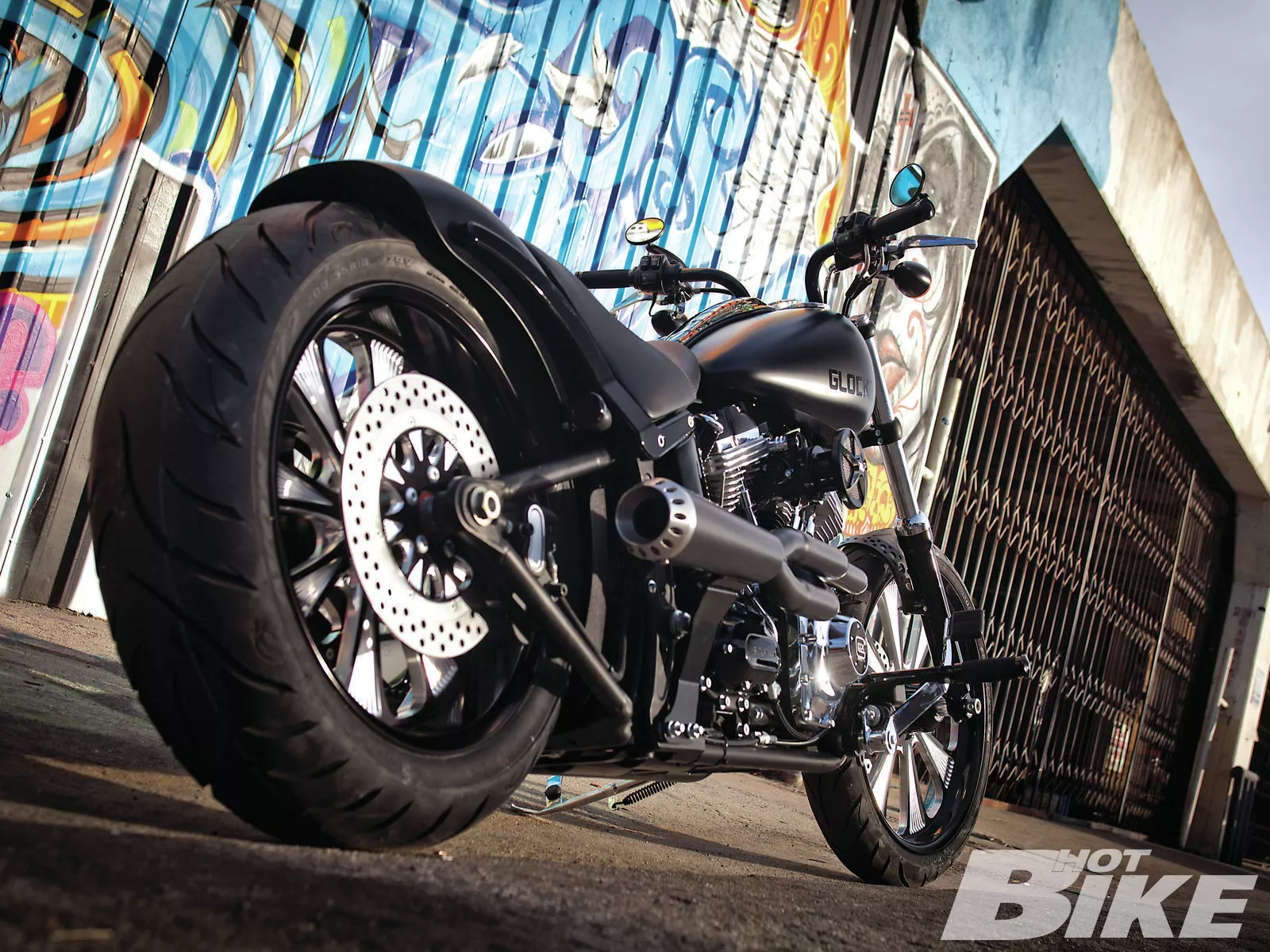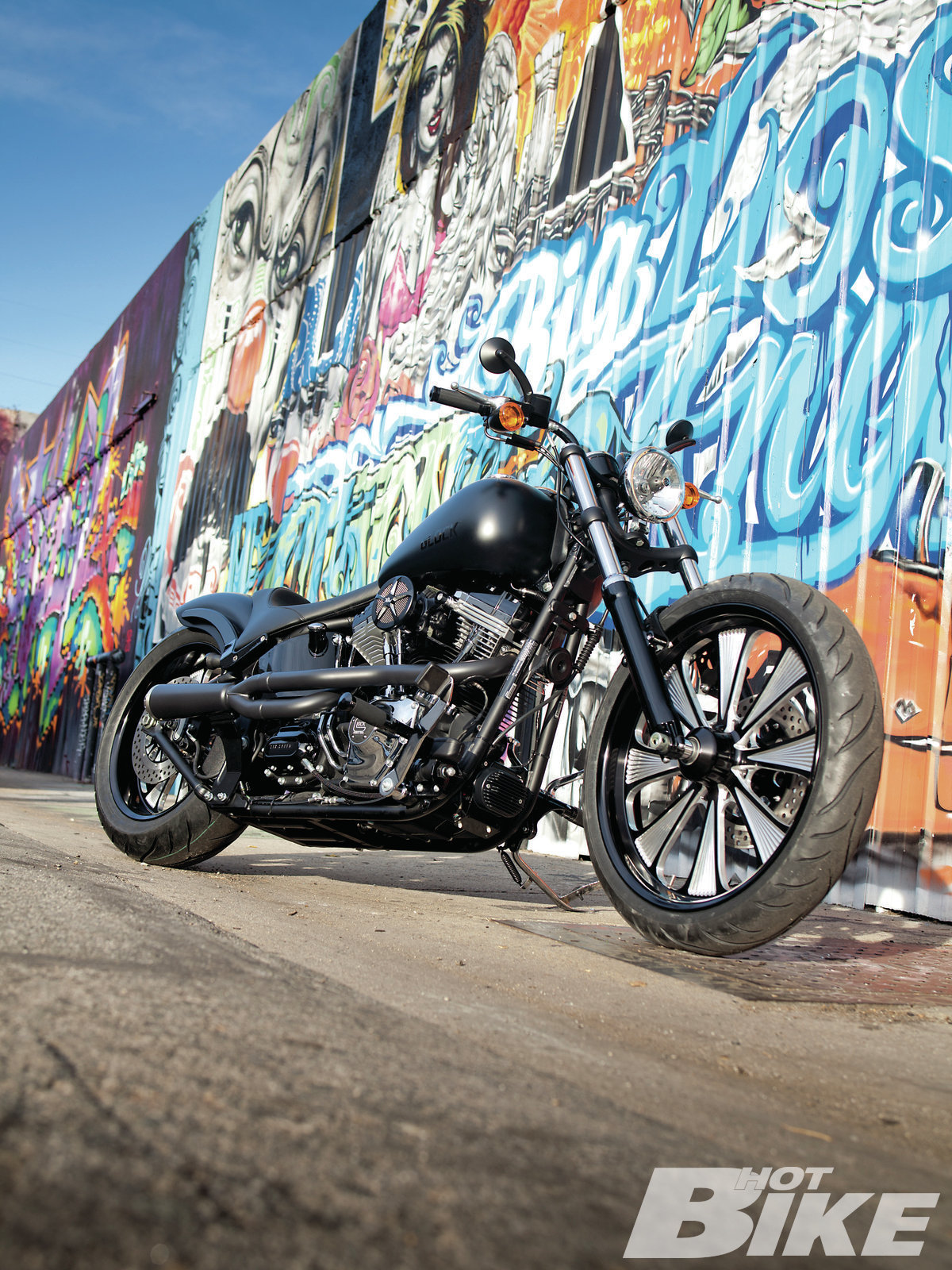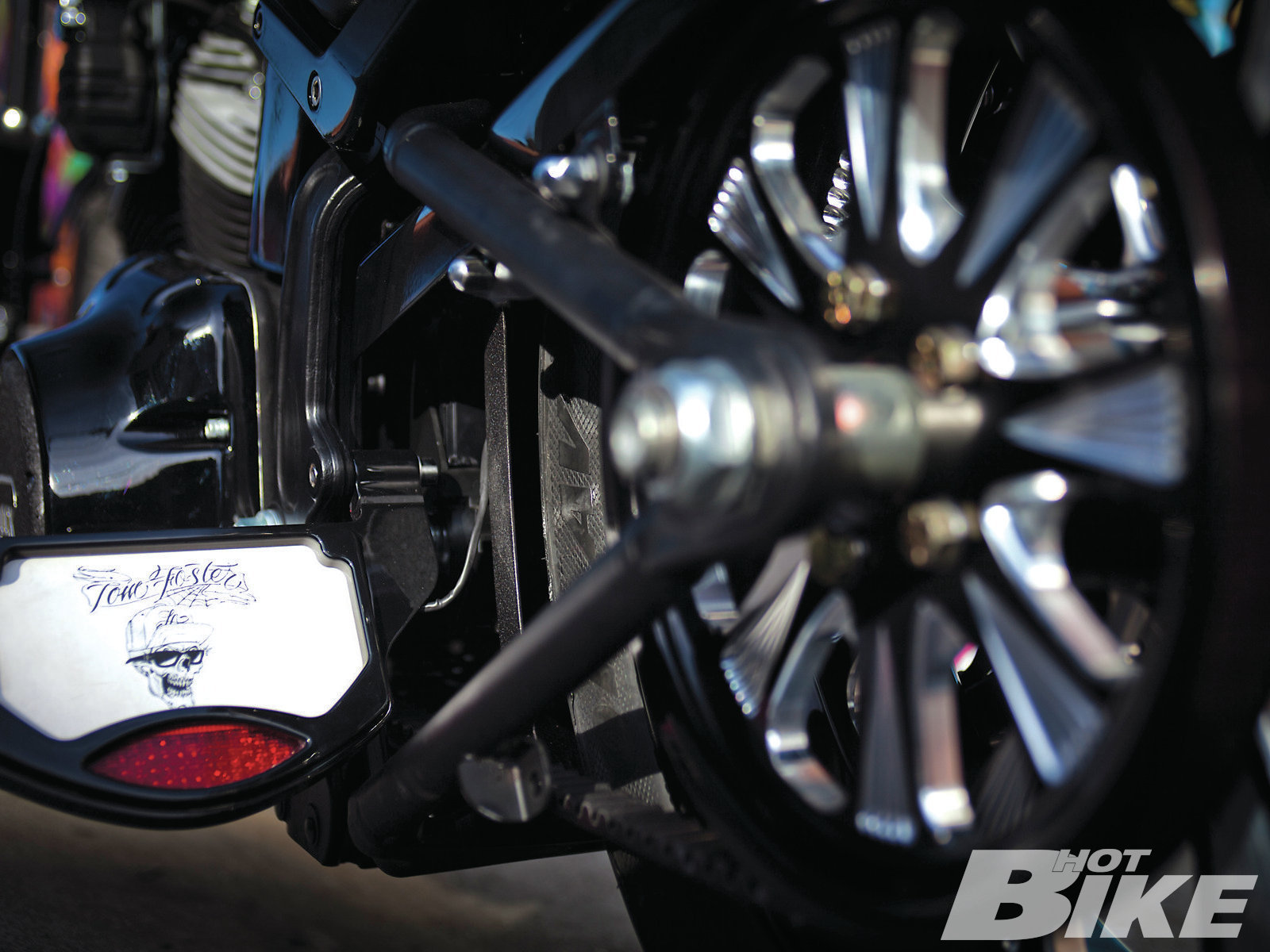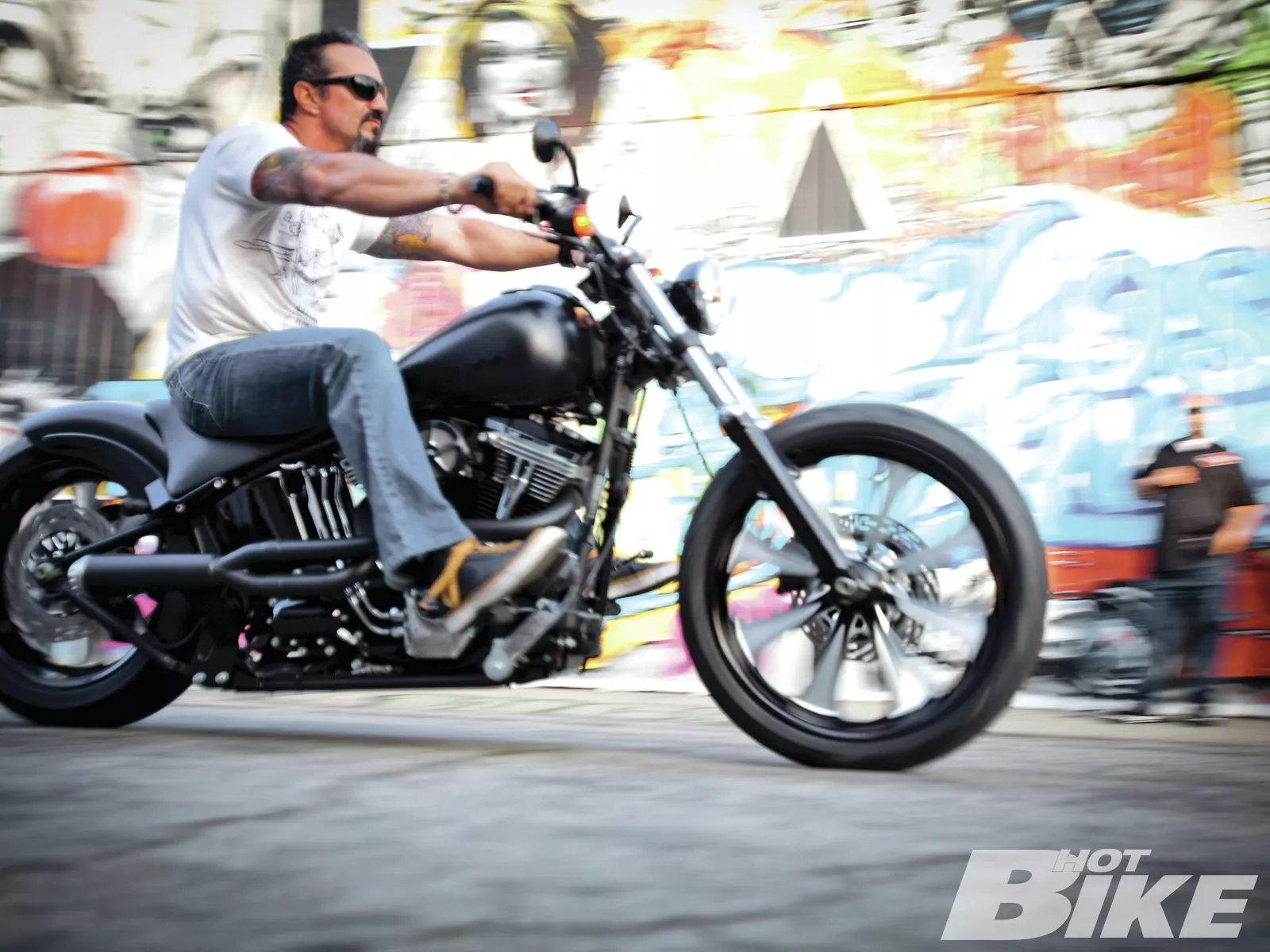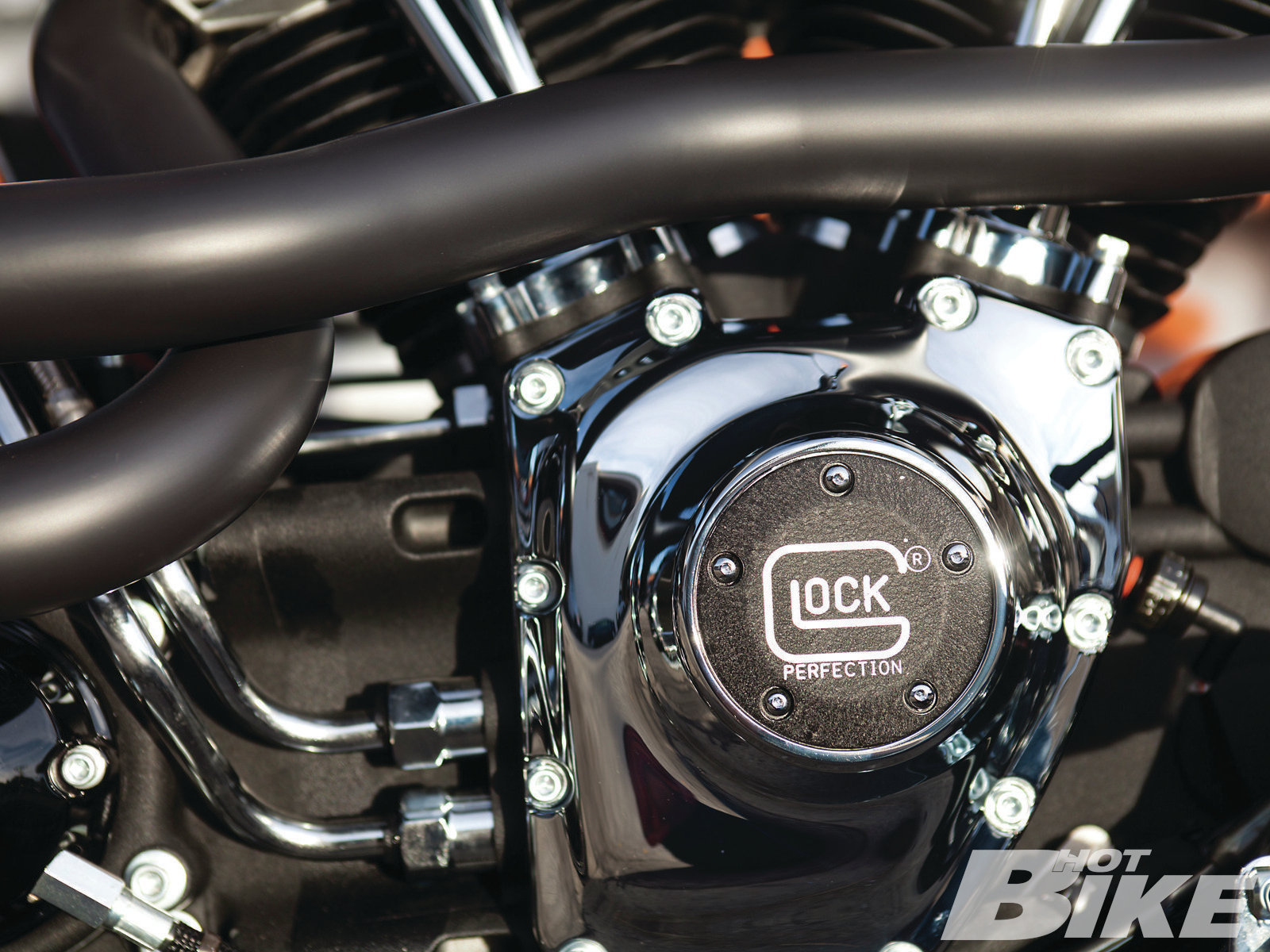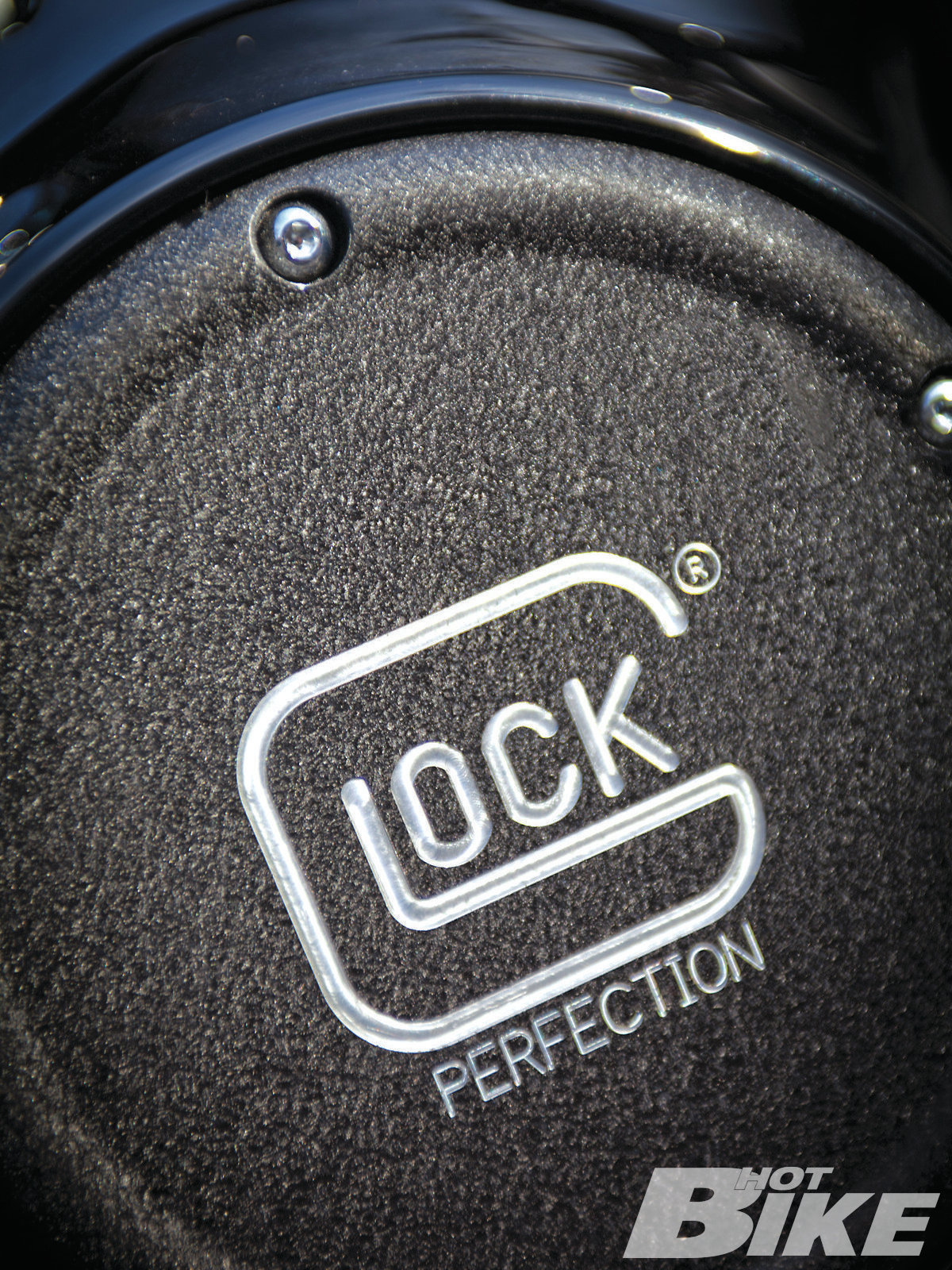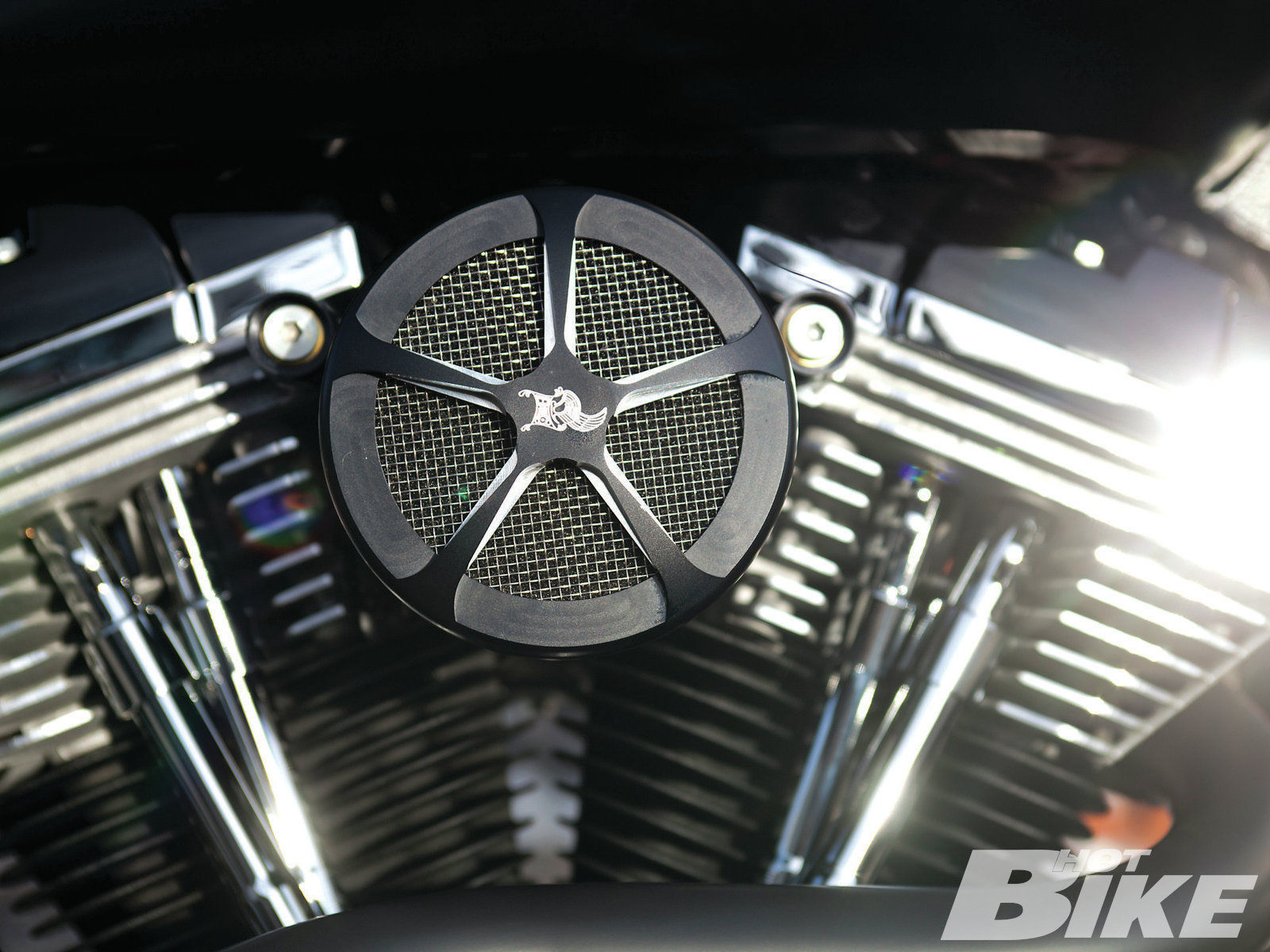 Most master builders would turn up their noses if asked to do a simple stock bike modification project. For those legitimately within the "master class" of custom motorcycle designers, if it's not a full-tilt custom from frame to finish, it's a waste of time. But it's a little different when one of the most respected and successful brands in the world comes knocking at your door. Such was the case when master-builder Tom Foster got a call from Glock, the trusted firearm manufacturer.
In 1981 Glock turned the world of commercial handguns upside down, thanks to its lightweight design comprised of polymer materials. Now just more than 25 years later, Glock is firmly established as the standard by which pistols are measured, and is the preferred handgun of choice for more than 65 percent of US law enforcement.
As a culmination of celebrating Glock's incredible 25 years of success in the United States, Glock wanted to do something extra special at the 2012 Shot Show, the largest international trade event for the firearms industry. Putting on a VIP party like no other in Shot Show history was a good start, but it wasn't enough. Bringing out runway models from each of the countries in which Glock has successfully built its business, certainly helped make things special. But show-stopping models weren't even enough. This once-in-a-lifetime anniversary event needed a show-stopping centerpiece. Glock's annual Shot Show party was planned as a VIP experience that would feature runway models, a unique taste of each region of the world that Glock has a presence, various regional prizes and an impressive, exclusive grand prize.
For this unique giveaway, Glock brought in Tom to find out if he could create a motorcycle that exemplified the classic design and unmatched performance that had made Glock an industry leader in handguns. Tom was asked to base this project on a brand-new stock Harley Davidson. The assignment was to deliver an extensive stock modification that could fall within the secure protection of an H-D manufacturer's warranty, while still turning heads.
As a master builder known around the globe for ground-up customs from frame to finish, this is not the typical route that Tom agrees to pursue. However, because of his immense respect and admiration for the Glock brand and its pistols, Tom accepted the assignment and put in a call to his friends at Glendale Harley-Davidson. After surveying the current lineup of 2012 bikes, he decided that the new Blackline Softail would be ideal for this project. The Blackline easily allows for the modifications that would transform it from a simple stock bike, to something most would not expect to see sitting on a retail showroom floor.
As for parts, Tom could have put in the necessary calls to a variety of industry friends and family to cover everything needed for this project. But this time, he decided to make a call to his friends at Custom Chrome International (CCI). Tom knew that a project like this would provide the ultimate showcase for the CCI catalog, and the myriad of products the company sells to transform the ordinary into extraordinary. This project was about transforming and elevating a stock bike to "custom" status, and that is exactly what CCI promises with its seemingly limitless catalog of parts and accessories. Tom's instincts proved correct, and CCI agreed to supply the necessary parts to bring Tom's vision for the bike to reality.
From the beginning, this motorcycle was not designed to be a "theme bike." There wasn't a customer in the world that could make Tom fall down into the realm of gimmicks and gadgets. There'd be no pistol triggers acting as ignition switches. There'd be no gun barrels as risers or rifle scopes instead of mirrors. Rather than downgrade the innovation and integrity of Glock's brand with cheesy gimmicks, this was going to be a motorcycle that paid tribute to Glock for its understated and classic style, and its commitment to reliability, durability, and classic design. This bike reflected the same simplicity that Glock boasts of its products. Like Glock's pistols, the bike would be a sleek and streamlined display of function over flash—a creation that evoked a sense of strength and class, but above all else, performance.
The Blackline itself provided the perfect starting point. Its stock black motor, bars, and sheetmetal played perfectly into the classic, practical, sleek look that Tom was after with this project. Working from back to front, Tom employed a 200mm rear-end conversion kit from Heartland USA. There is arguably no element that more immediately transforms a stock bike into the look of a custom than a rear-end conversion from Heartland USA. The wider rear tire, lower-profile rear fender and leather seat, smooth lines of Heartland's rearend struts, and the entire kit's combined effect on the bike's suspension and overall stance is nothing short of game-changing.
_
"The combination of flat and gloss black tones with quick shots of aluminum interspersed throughout, give this bike the understated look, reminiscent of Glock's overall design style."
_
Tom utilized a 2-into-1 exhaust that is near and dear to his heart—the Vance & Hines RSD Tracker. This is the same exhaust system that he designed when he was cutting and grinding with Sands' RSD team for Discovery Channel build competitions. This is an exhaust that synchronizes performance and speed, two elements that are always at the forefront of his projects. A CCI velocity stack was added to slightly raise the bar in terms of intake capability and performance, while also providing the perfect visual to complement the bike's overall aesthetic. Tom also went with a variety of accessories in matte black finish from CCI, including Avon grips, hand and foot controls, and mirrors. Finally, the bike would ride on a pair of machine-cut black-on-aluminum CCI Sinister wheels.
When ready for paint, Tom called upon longtime friend Rich Evans to deliver some subtle accents, such as the Glock logo featured on the fuel tank. The logo was shot in gloss black against the matte black tank to create a sophisticated contrast that evoked a sense of manufacturer's quality. The combination of flat and gloss black tones with quick shots of aluminum interspersed throughout, give this bike the understated look, reminiscent of Glock's overall design style. For the finishing touch, Tom had both the derby cover and the points cover powdercoated in black, with Glock's "Perfection" logo milled into each.
The Glock bike was delivered to Las Vegas the day prior to the 2012 Shot Show, and thanks to an unforgettable grand prize drawing at the party the following evening, this bike was the star of the show. But don't get any ideas. Despite how well things went for him and for Glock, Tom won't be doing anything less than ground-up, full-blown customs anytime soon. HB
Specifications
| | |
| --- | --- |
| Bike Owner | Glock |
| Shop Name | Crazyfastcracker Inc. |
| Shop Phone | (323) 428-5830 |
| Shop website | crazyfastcracker.com |
| Year/Make/Model | '12/H-D, Foster/Glock Edition |
| Fabrication | Tom Foster |
| Assembly | Tom Foster |
| | |
| Engine | |
| Year Manufacturer | '12/H-D |
| Type/size | TC/103ci |
| Builder | H-D |
| Cases | H-D |
| Cylinders | H-D |
| Heads | H-D |
| Rocker Boxes | H-D |
| EFI | H-D |
| Air Cleaner | CCI |
| Exhaust | Vance & Hines |
| | |
| Transmission | |
| Year/Manufacturer/Type | '12 /H-D /six speed |
| Case | H-D |
| Clutch | H-D |
| Primary Drive | H-D |
| | |
| Frame | |
| Year/Manufacturer | '12/H-D |
| Rake | Stock |
| Stretch | Stock |
| | |
| Suspension | |
| Manufacturer Front | H-D |
| Length | Stock |
| Triple Trees | H-D |
| Manufacturer | Rear |
| Swingarm | H-D |
| | |
| Wheels, Tires, and Brakes | |
| Manufacturer Front/Type | CCI/"Sinister" |
| Size-Height/Width | 21×3.5 |
| Tire/Size | 120 x 21 |
| Caliper | H-D |
| Rotor | CCI |
| Manufacturer Rear | CCI |
| Size-Height/Width | 18×5.5 |
| Tire/Size | 200×18 |
| Caliper | H-D |
| Rotor | CCI |
| | |
| Finish/Paint | |
| Color | Murder Black |
| Painter | Rich Evans Designs |
| Graphics | Rich Evans |
| | |
| Accessories | |
| Front Fender | Fork Brace |
| Rear Fender | Heartland USA |
| Fender Struts | Heartland USA |
| Gas Tank & Cap | H-D |
| Oil Tank | H-D |
| Handlebars | H-D |
| Hand Controls | H-D |
| Foot Controls | H-D |
| Footpegs | CCI |
| Headlight | H-D |
| Taillight | Heartland USA |
| License Mount | Heartland USA |
| Seat | Heartland USA |