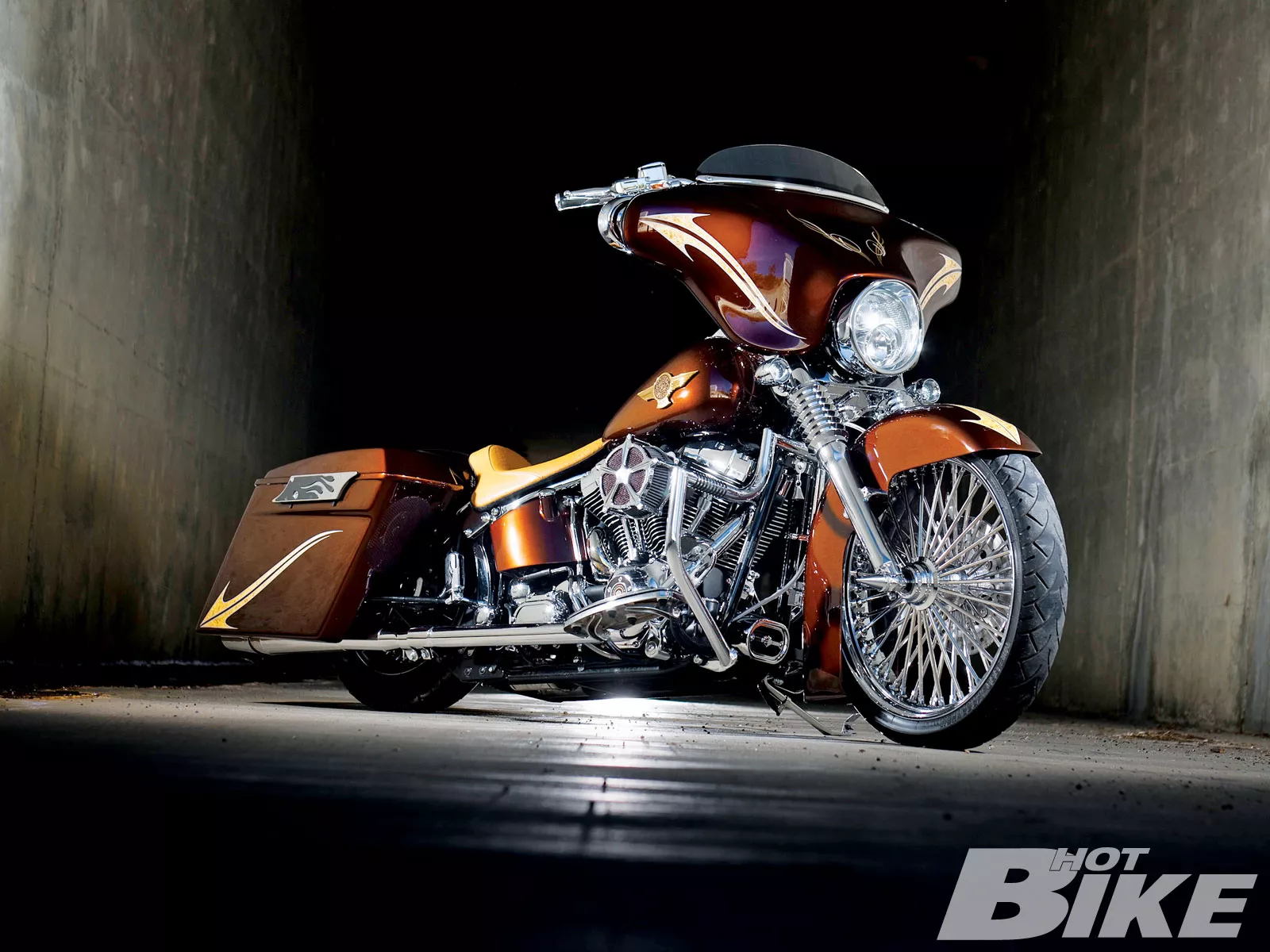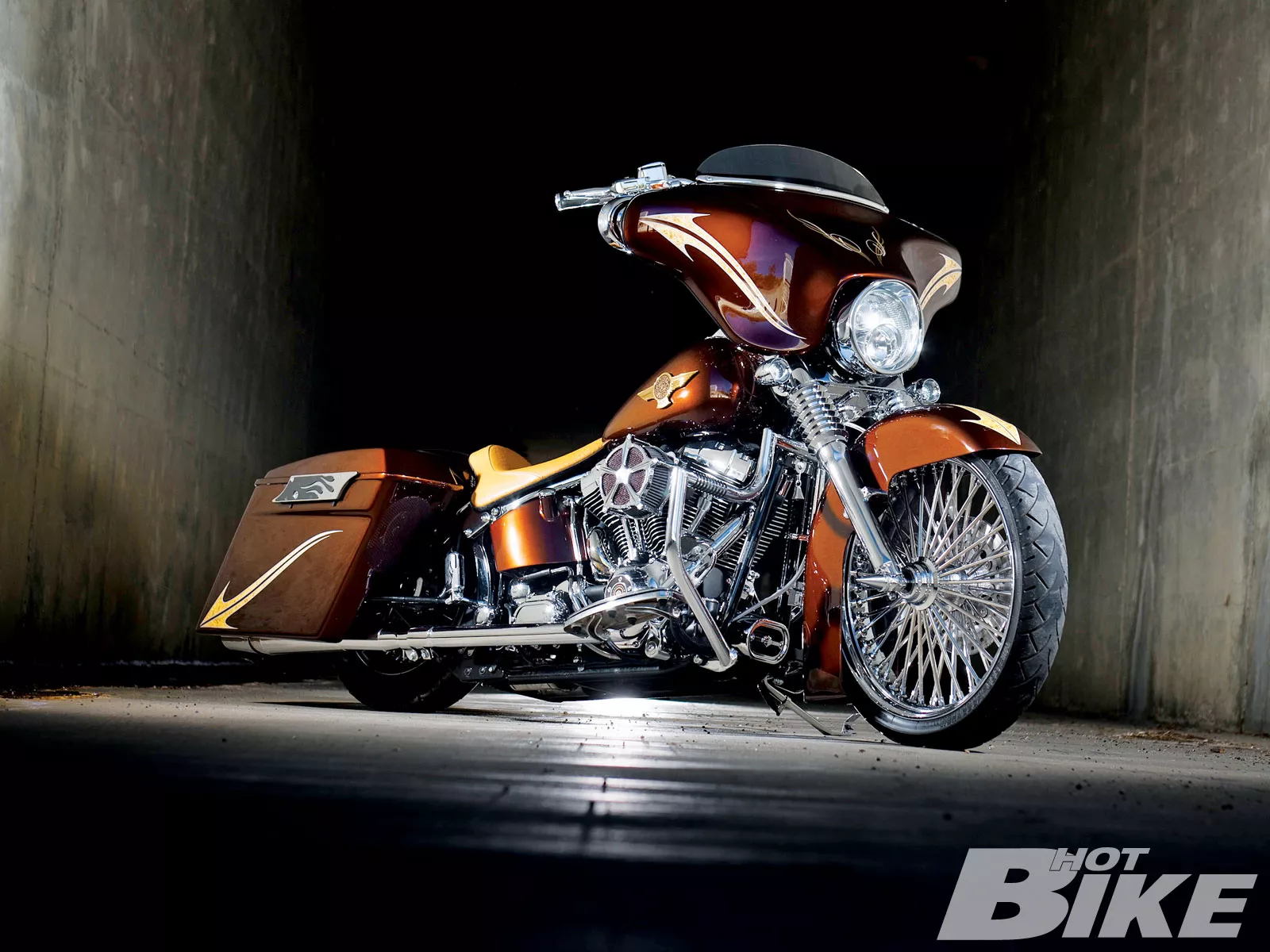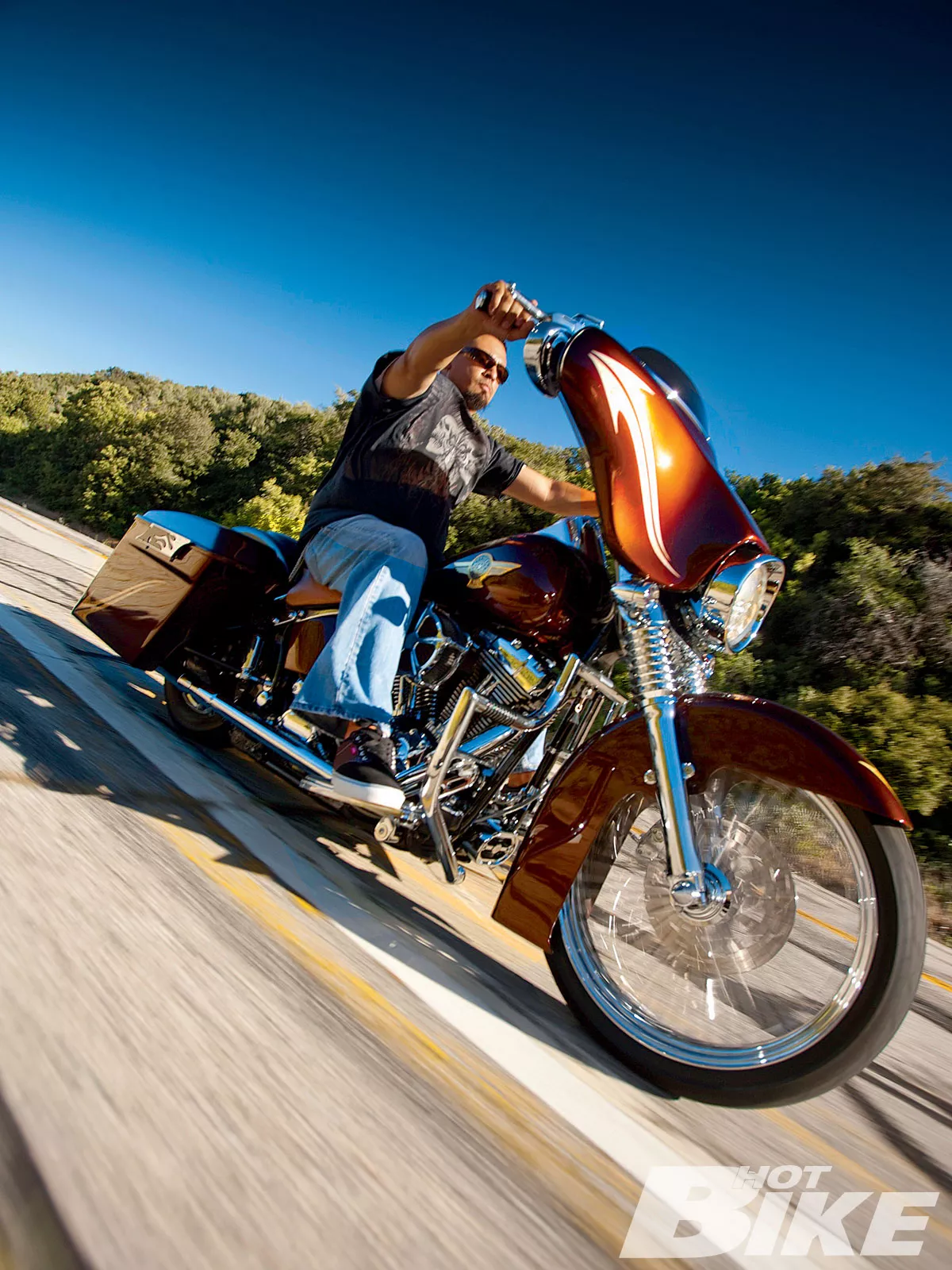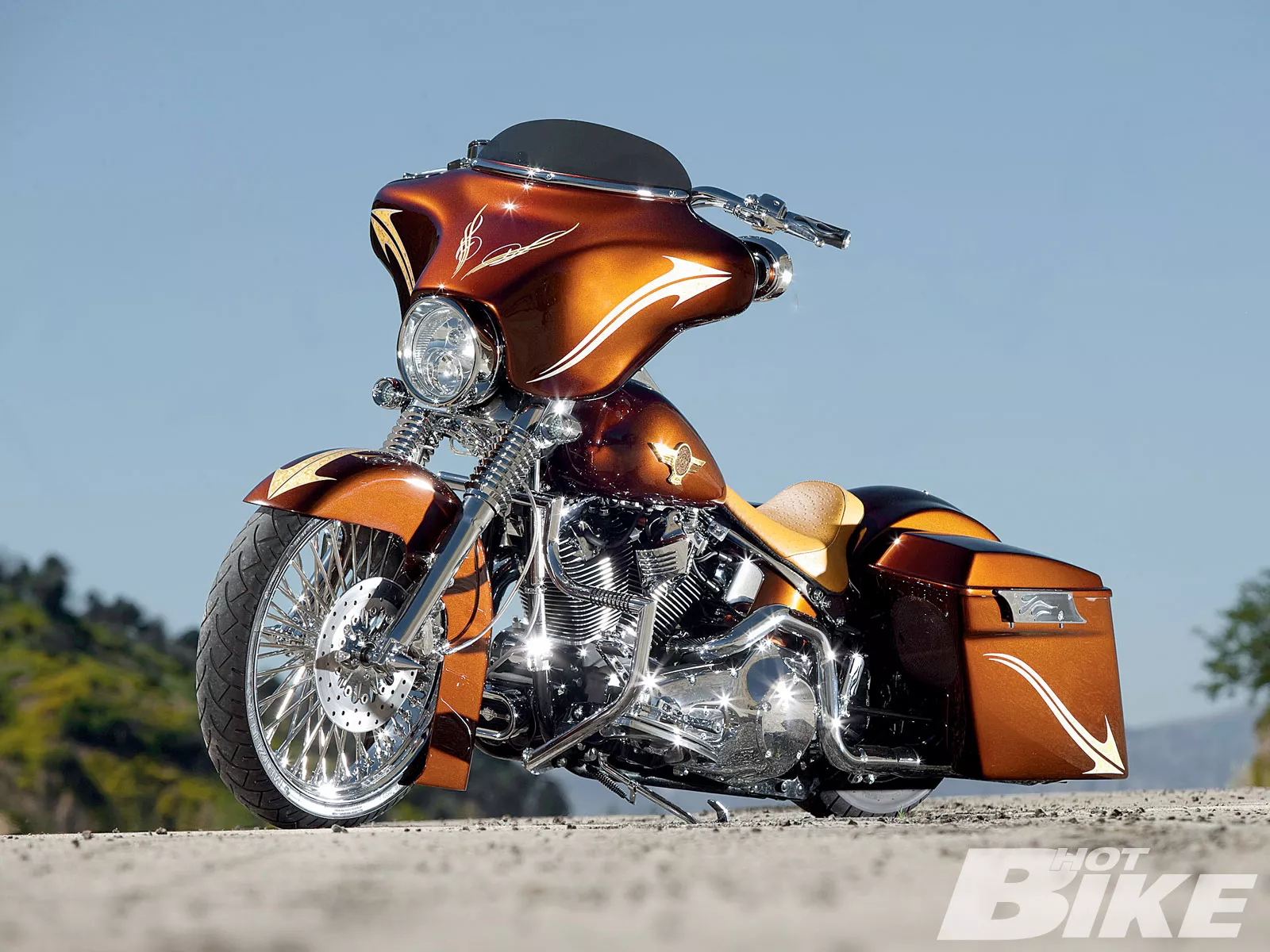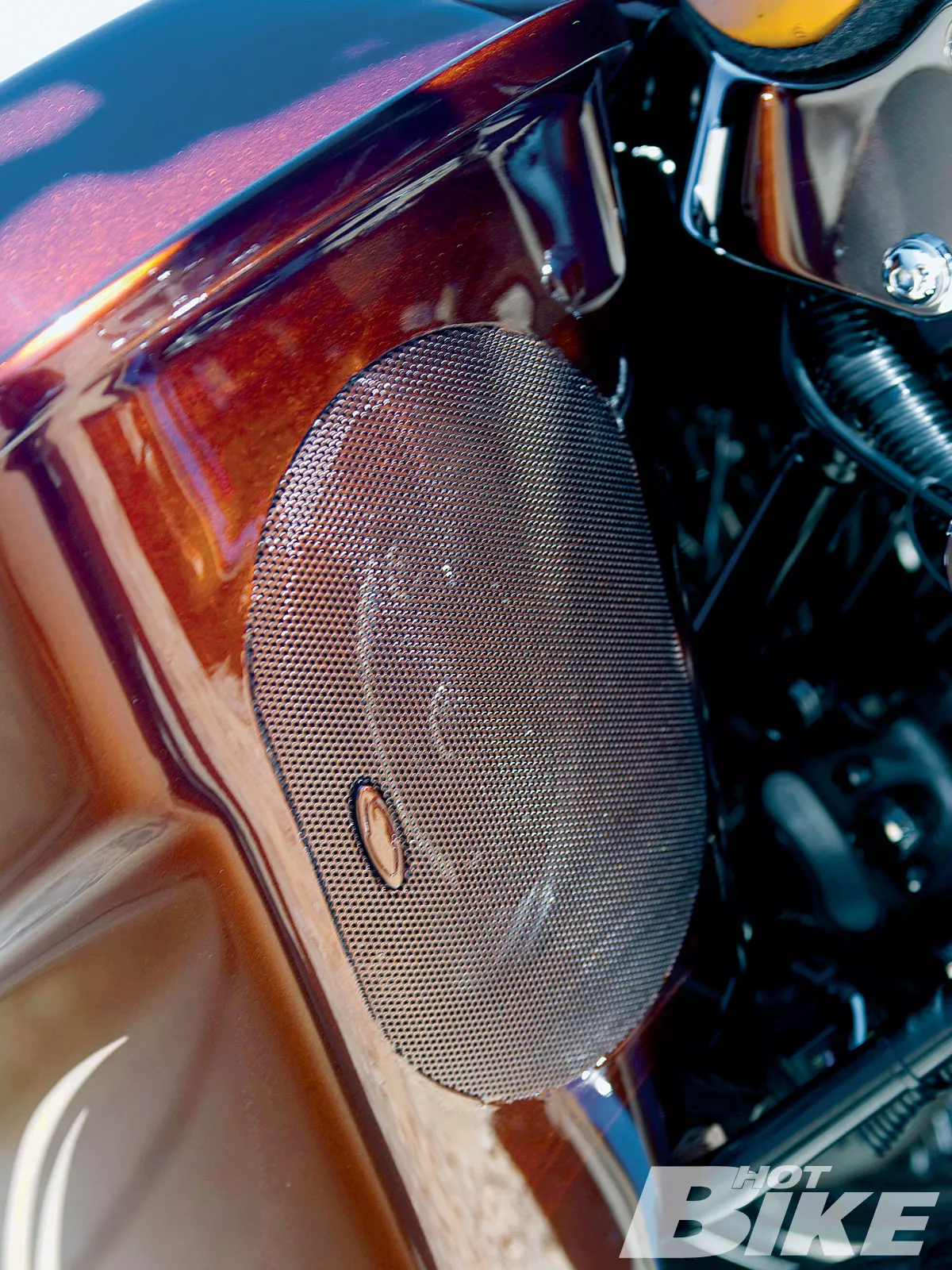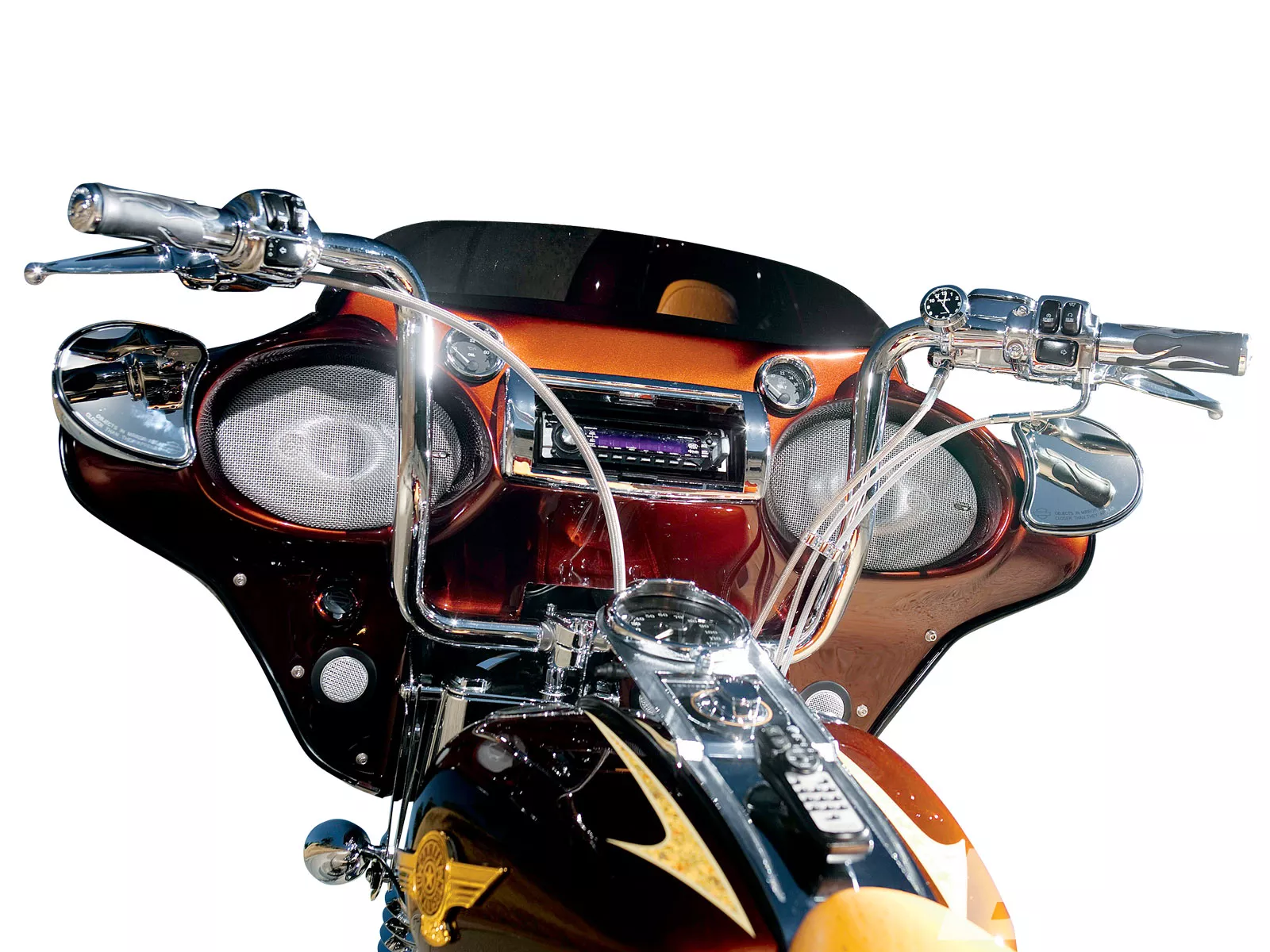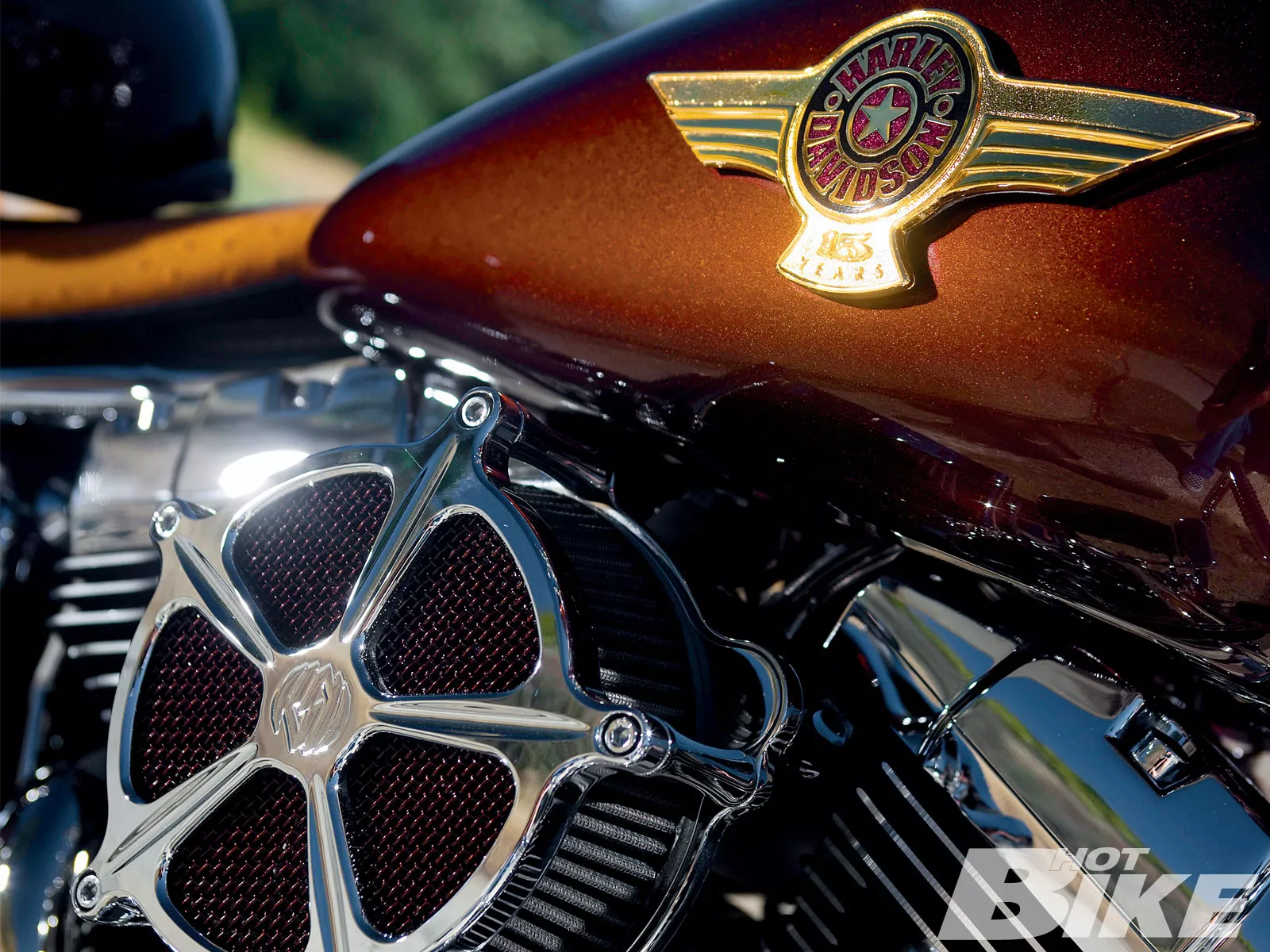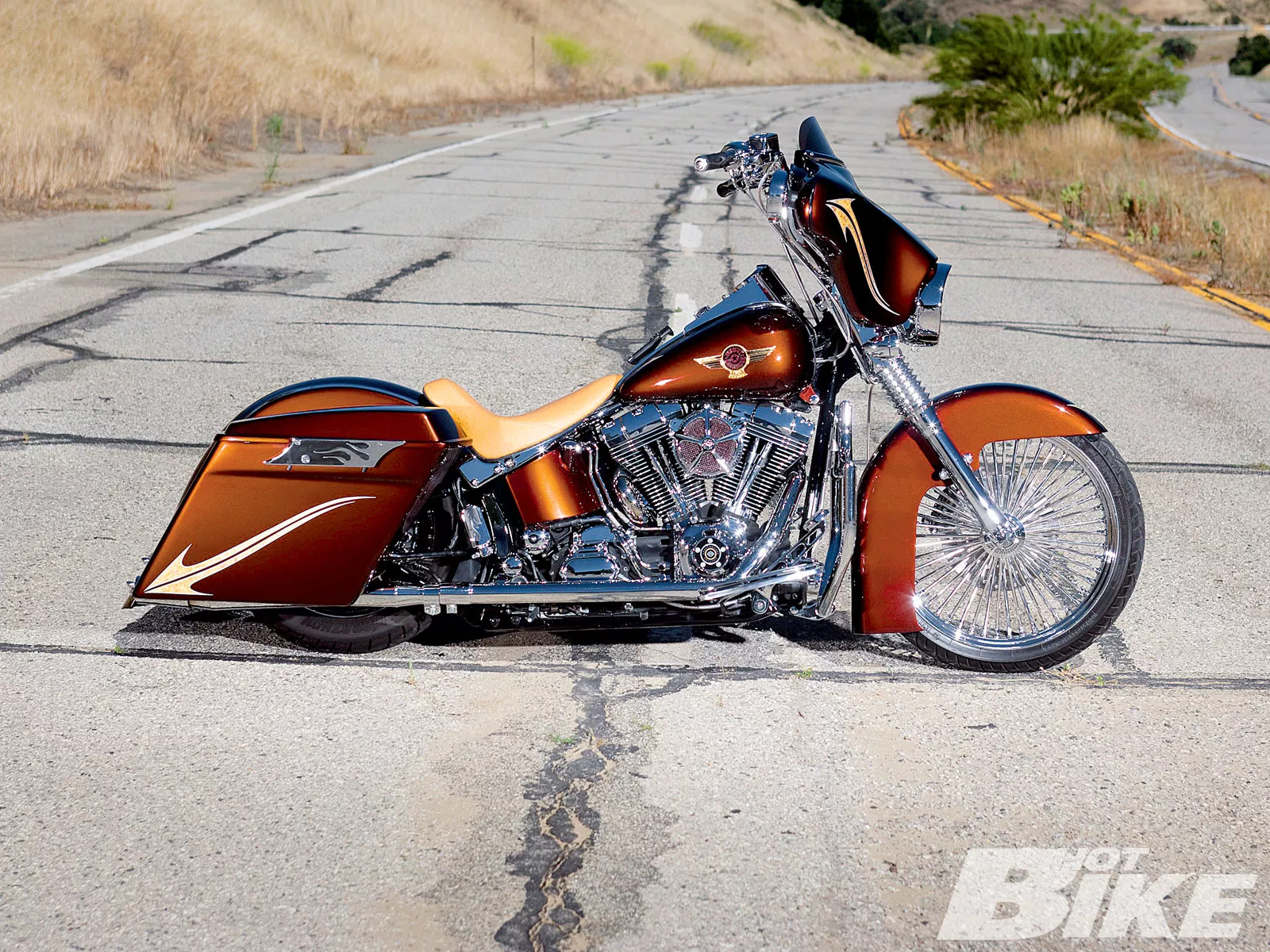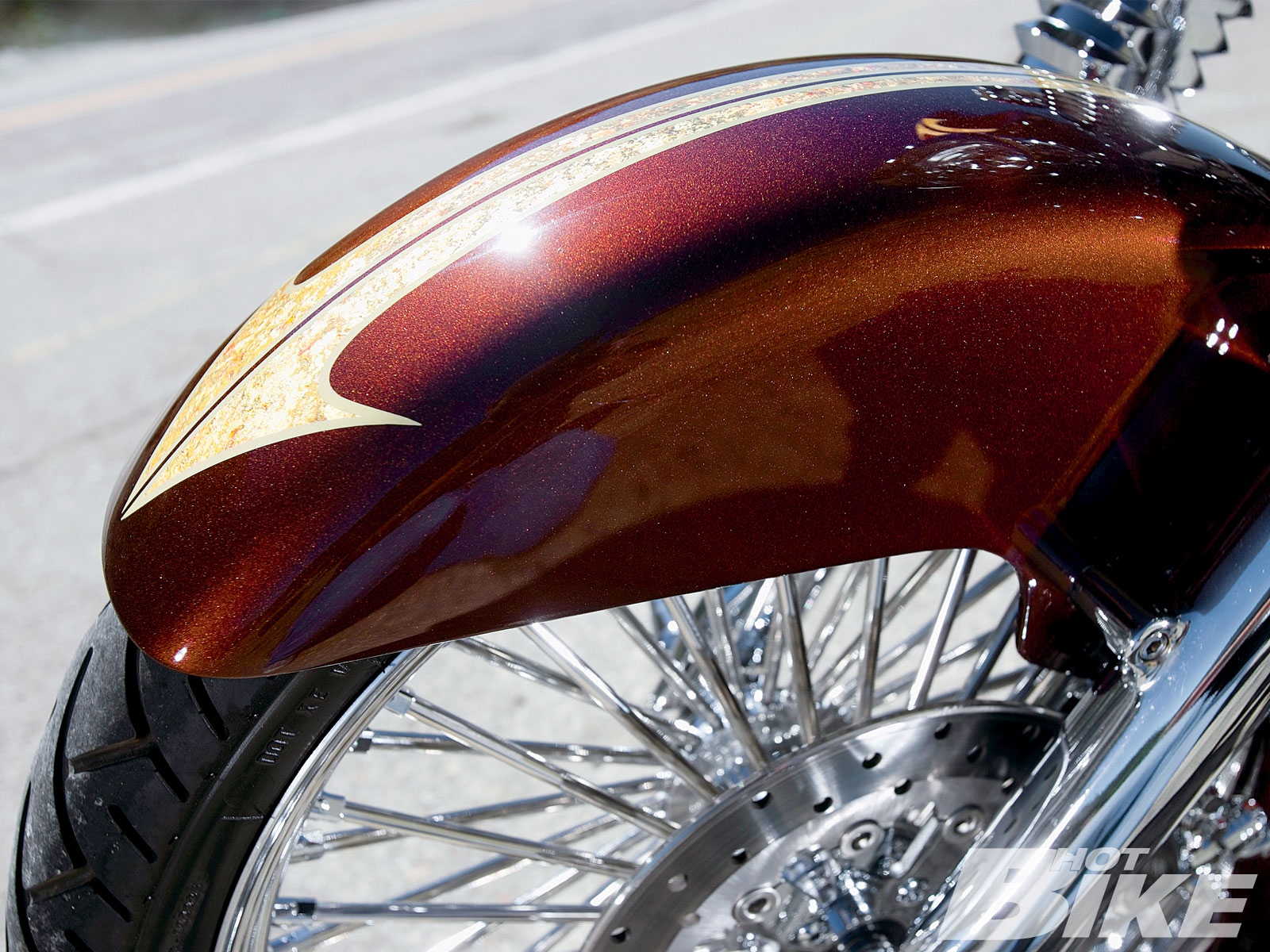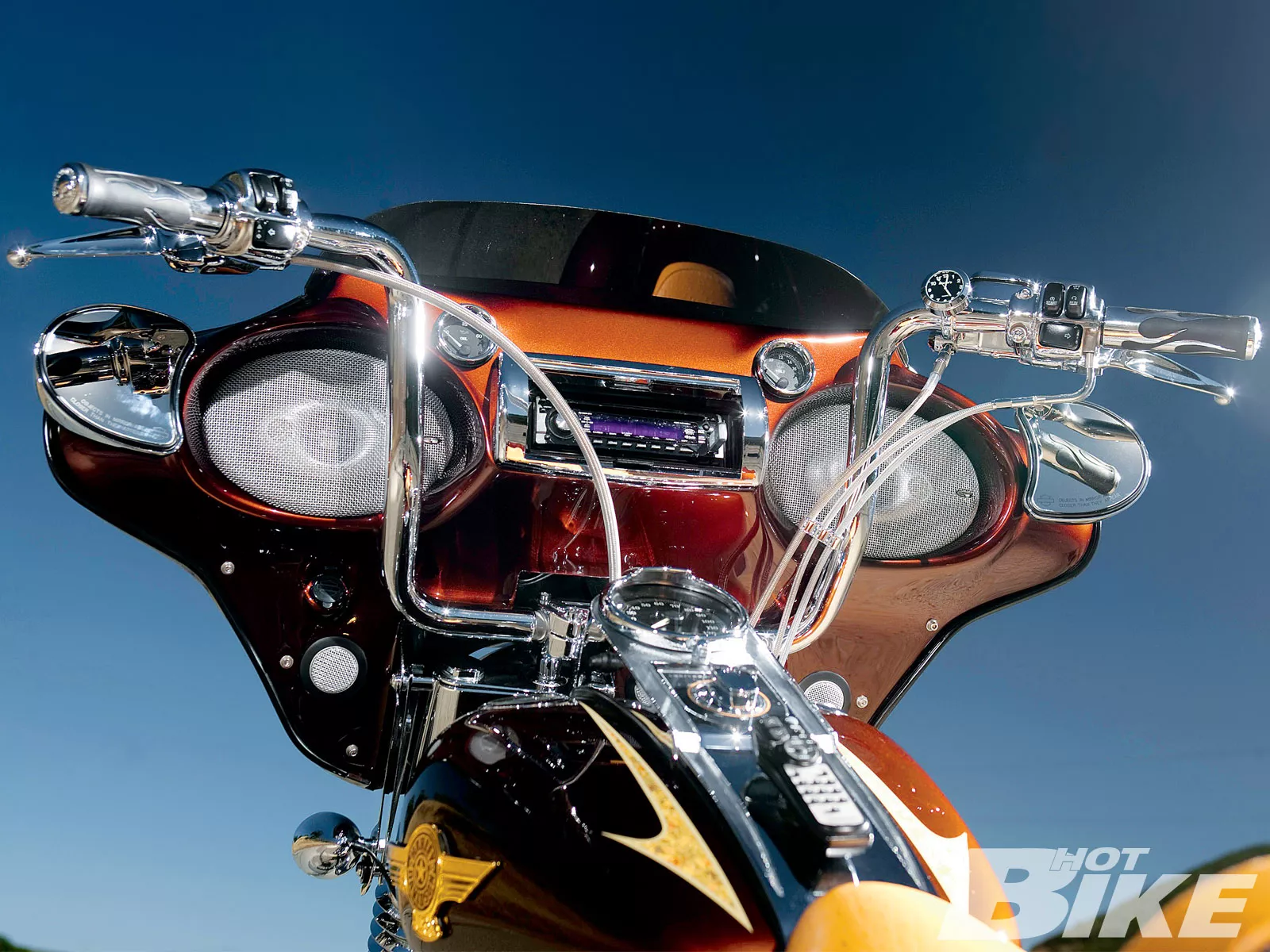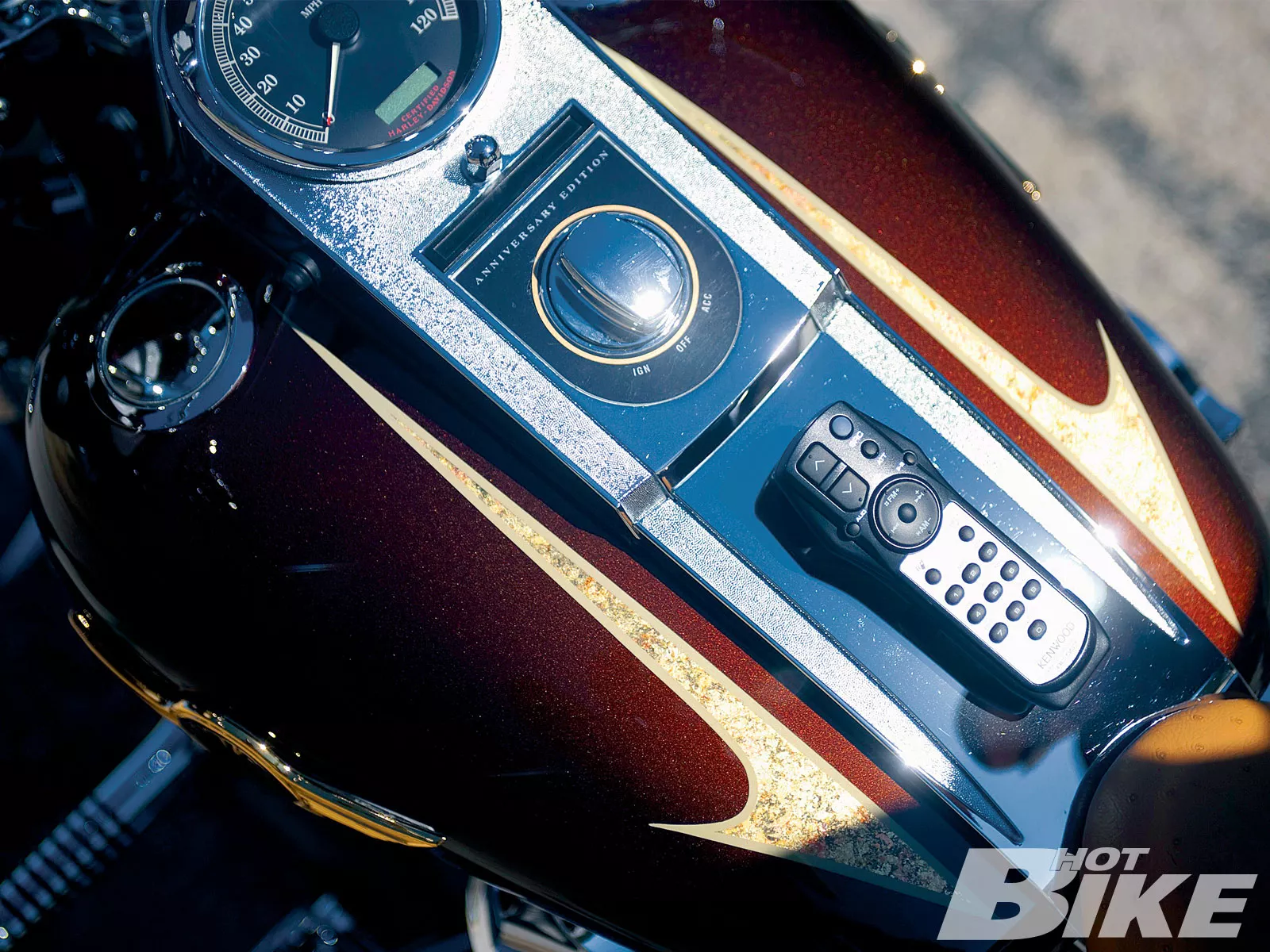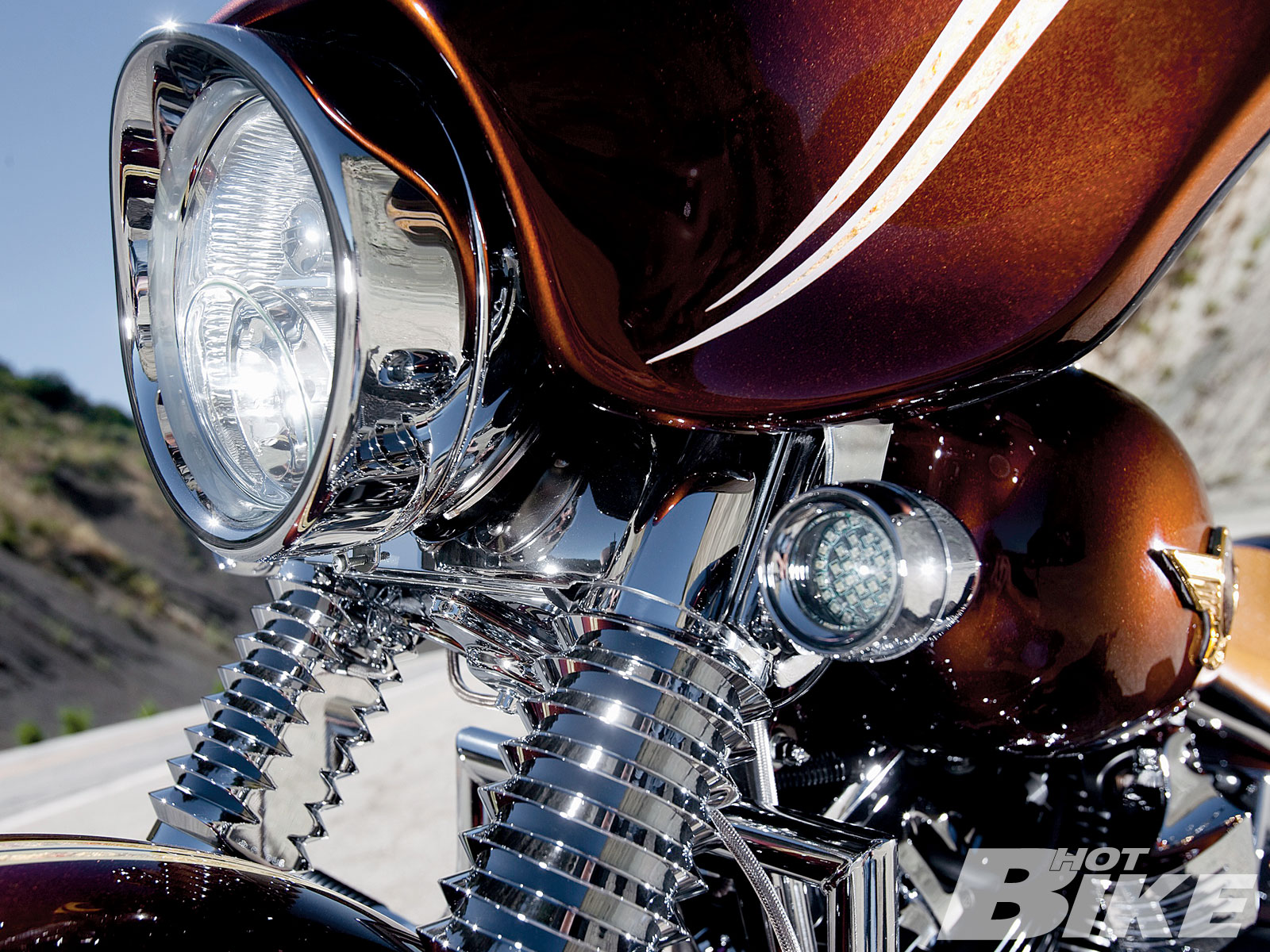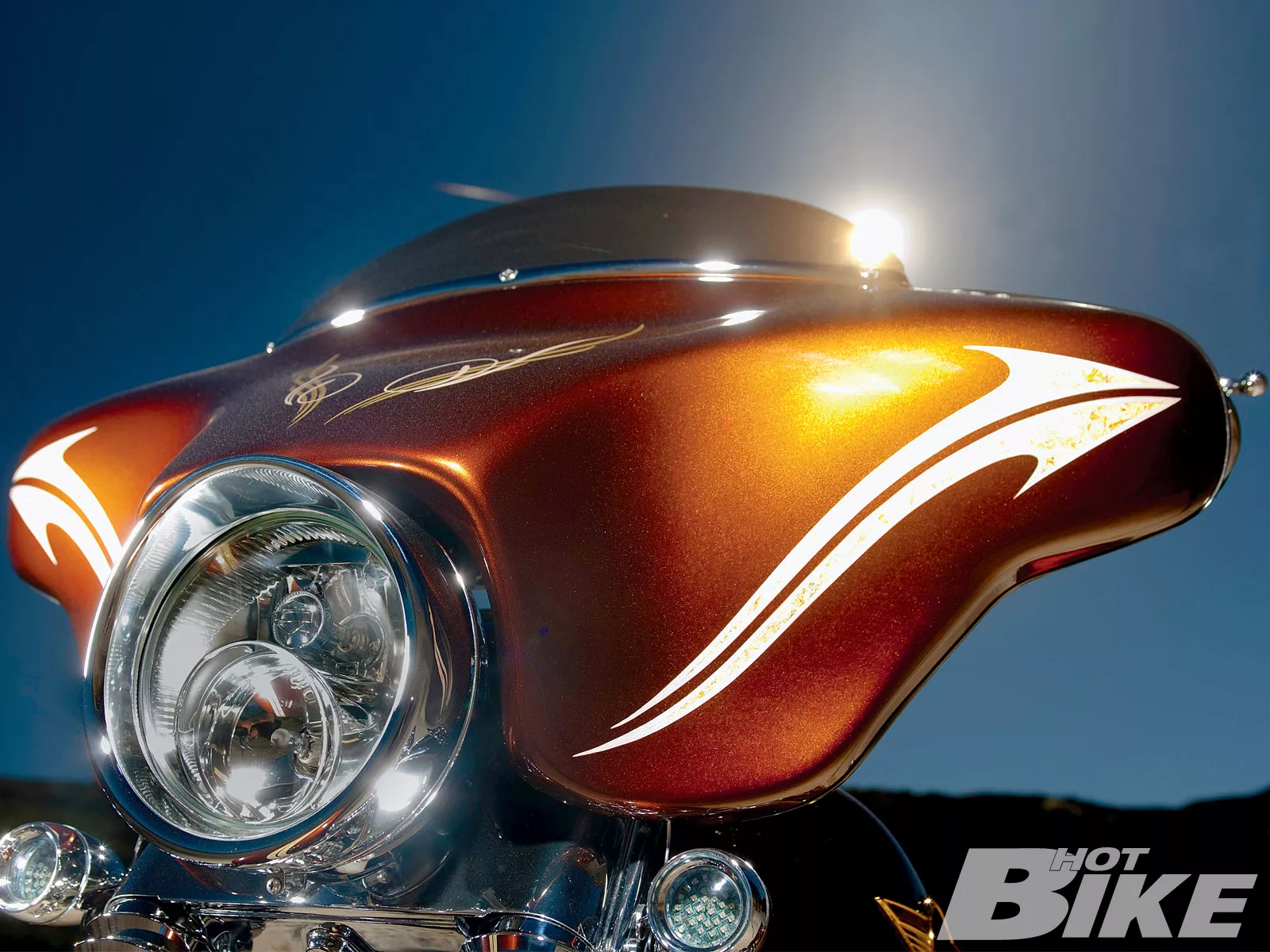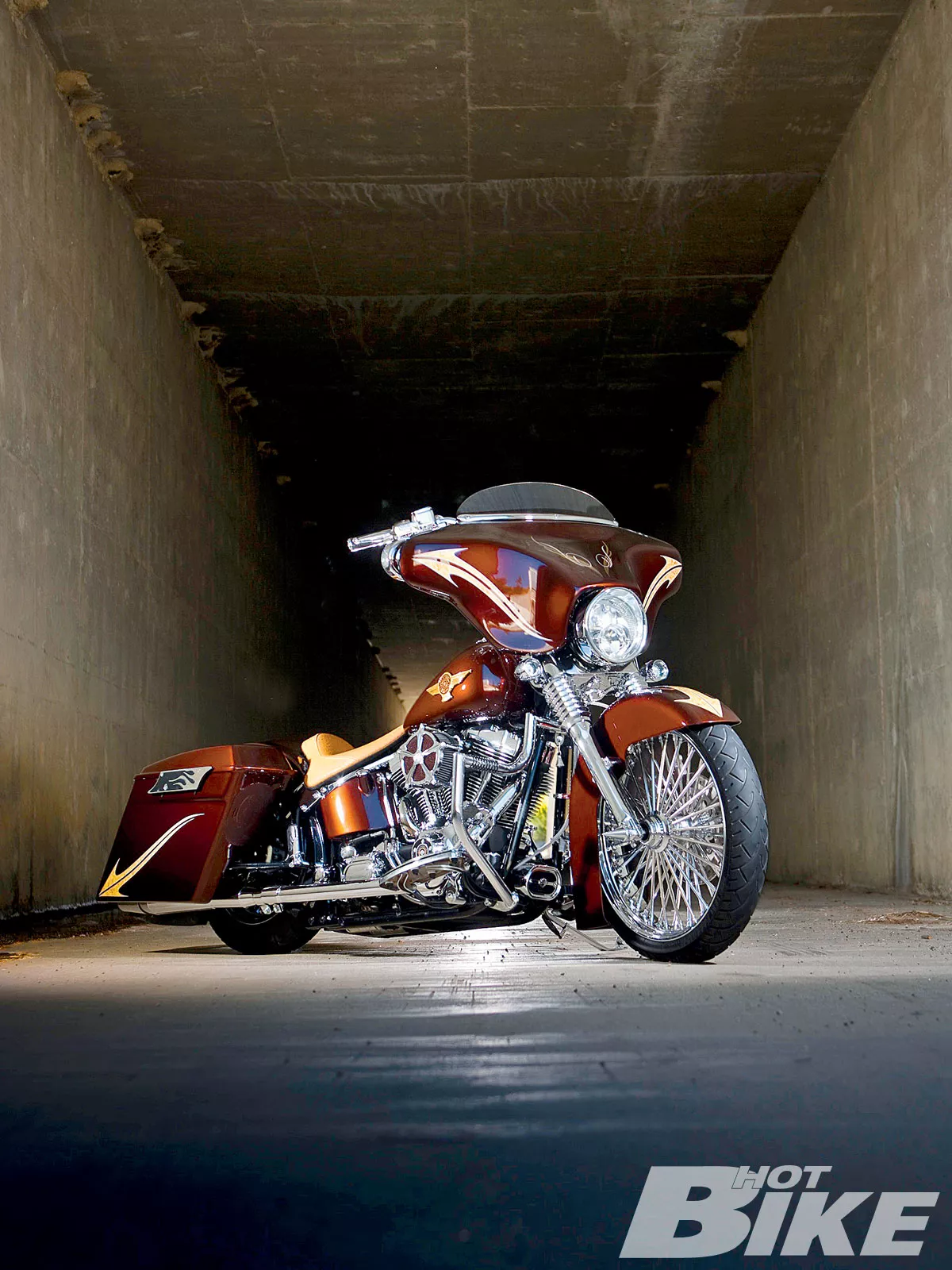 I built this bike because I wanted something different, a showstopper. I wanted something that would make you look twice, maybe three times. As they say, the third time's a charm," stated Gerard Jimenez, owner of this once stock 15th Anniversary Fat Boy.
Like most, Gerard had a long history with fixing things up and making them look and run better, but in his early years his time was spent with four wheels rather than two. And again like most, as he got older Gerard's tastes changed and he moved to motorcycles. He first spied this Fat Boy at a dealership in Fresno, California, but as luck would have it, he was in a long line of people wanting to get their hands on the 95ci, chrome-laden limited edition. Far and wide, up and down northern California, Gerard searched for a bike that wasn't yet claimed at a dealership, but was S.O.L. And even though many a slick salesmen tried to divert his eyes over to other models like a Road King or Deluxe, Gerard was insistent on the Anniversary Fat Boy. Even though he hated the gold medallion on the side of its tank, it was no big deal because he could easily peel it off if he could just get his hands on one.
"I checked H-D dealers from Fresno to Folsom, and I heard the same thing, 'These bikes sell before they get here,' Gerard said. At this point, I began to think about the Softail Deluxe with a stock 88ci, so I went back to my local dealer in Modesto and began to talk to the sales person. He showed me a Road King and a Softail Heritage, and told me for the money, he would recommend an Electra glide. I looked at it and thought, this would be great if I was a lot older. Remember this was in early April 2005; baggers were just about to blow up."
With a lot to think about, Gerard returned home discouraged, yet anxious. About a week later he got an unexpected call from his local dealer, letting him know the original deal fell through and the bike was available for him to purchase. "I rushed down to the local dealer and put my down payment on the bike," Gerard told us. "The sales person then took me to the back and showed me the wooden crate the bike was in. The rest is history. In the year I bought it, I put about 15,000 miles on it. I could not stay off of it. I was hooked. If there was a run that weekend, I was there."
Like all Harley owners, it happened, the stock Fat Boy just wasn't cutting it and it was time for a facelift. Intrigued by the Road King, Softail Heritage, and Electra Glide he had considered purchasing a year earlier, Gerard thought it might be cool to turn his Fat Boy into more of a long-distance bike.
"Nobody I knew had done this to a Softail at the time. Being that it was 2006, baggers were just getting really popular. I had made a choice to bag the Fat Boy and put music on it. I may have been one of the first in Modesto to bag a Softail. As the parts person from the local dealer told me, I'm not sure how this Bagger Tail kit really works; this is the first one we've sold. Once I put some stock bags on it and had music driven by an iPod flush-mounted on the dash, I noticed the brand-new Street Glide Harley had released. I then realized I might have bought too early. What was I to do? I considered putting my bike up for consignment, and trading up to a Street Glide."
Realizing he'd actually be stepping down in displacement and losing a bit of cash on the deal, Gerard decided to stick with the Softy and continue with his own bagger vision. "I got a Dragonfly fairing, and that changed everything. The fairing was supposed to be detachable, but once I started riding with it, I never took it off, with the exception to get it painted," Gerard told us. "Next I decided to swap out the bags I had for a set of stretched Bad Dad bags and one of its stretched rear fenders. I couldn't believe how low the bike sat from the ground once I dumped the High Low Air Ride I installed. I felt that because the back end was so low, I had to change the front fender to match. I went with the Sinister Industries 21-inch fender, which brought the whole bike together. At this point the bike looked badass; definitely a one of a kind. I felt I had to take it to the next level; I had to paint it, but not just regular paint, I had to get Kandy paint. I talked to my buddy, Horacio Ramirez, owner of Kreative Koncepts and we went through a color book."
As anyone who's ever painted anything knows, choosing a color can be one of the hardest decisions to make. After noticing that his first choice of Kandy Tangerine was a pretty popular color for custom motorcycles, Gerard decided that Kandy Brown could be just as elegant and seemed to be a less popular color, perfect for standing out in a crowd. However, to give a little more flavor and appeal, Horacio added a taste of Cinnamon to give it a beer-bottle brown look. Graphics were another tough choice for Gerard and with a background in graffiti, he wanted to create his own images for his bike. After being reminded by his wife that flames and skulls were on just about every bike in all the magazines he had, Gerard began working on his own designs. "I wanted something simple and plain, but yet flashy and definitely different, so I came up with the split arrows that ended up being done in gold leaf which was inspired by the 24k gas tank emblems that I originally didn't care for when I first bought the bike," Gerard said. "Once the bike was painted, I was then pushing for time to have it back together in time for my first bike show in 2010. This show was the Arlen Ness show in San Mateo, where after two long days I took First Place in the Full Custom Softail class. At that point I felt I had done well. Next, I took it to the Laughlin River Run where I had it parked with my good friends at the Sinister Wheels booth. Jeff Holt came by and saw it, and felt it was good enough to have it in the magazine. The next day, Eric Ellis, stopped by and talked to me about getting a photo shoot done and I guess the rest is history. As I think back to what I originally started with, I feel that it would have been cheaper had I bought a Street Glide, but I know that I ended up with a one-of-a-kind bike, and it was all well worth the hard work.
SPECIFICATIONS
| | |
| --- | --- |
| BIKE OWNER | Gerardo Jimenez |
| YEAR/MAKE/MODEL | '05 H-D/Fat Boy |
| FABRICATION | Various Local Shops |
| ASSEMBLY | Owner |
| BUILD TIME | Never done |
| | |
| --- | --- |
| ENGINE | |
| YEAR/MANUFACTURER | '05/H-D |
| TYPE/SIZE | TC/95ci |
| BUILDER | H-D |
| CASES | H-D |
| CYLINDERS | H-D |
| HEADS | Stock H-D |
| ROCKER BOXES | H-D |
| EFI | H-D |
| AIR CLEANER | Roland Sands Design |
| EXHAUST | Samson True Dual Headers/Thunder Headers |
| | |
| --- | --- |
| TRANSMISSION | |
| YEAR/MANUFACTURER/TYPE | '05/H-D/Five-speed |
| CASE | H-D |
| CLUTCH | H-D |
| PRIMARY DRIVE | H-D |
| | |
| --- | --- |
| FRAME | |
| YEAR/MANUFACTURER | '05/H-D |
| RAKE | Stock |
| STRETCH | Stock |
| | |
| --- | --- |
| SUSPENSION | |
| MANUFACTURER FRONT | H-D/Burly 2-inch drop |
| LENGTH | Stock |
| TRIPLE TREES | H-D |
| MANUFACTURER REAR | High-Low Air Ride |
| SWINGARM | H-D |
| | |
| --- | --- |
| WHEELS, TIRES, AND BRAKES | |
| MANUFACTURER FRONT/TYPE | Sinister Wheels |
| SIZE-HEIGHT/WIDTH | 21×3.5 Big Daddy |
| TIRE/SIZE | Metzeler/120/90/21 |
| CALIPER | H-D |
| ROTOR | H-D Floating Tear Drop |
| MANUFACTURER REAR/TYPE | Sinister Wheels |
| SIZE-HEIGHT/WIDTH | 16×3.5 Big Daddy |
| TIRE/SIZE | Metzeler/150/80/16 |
| CALIPER | H-D |
| ROTOR | H-D Floating Tear Drop |
| | |
| --- | --- |
| FINISH/PAINT | |
| COLOR | Kandy Beer Bottle Brown, Gold Leaf |
| PAINTER | Kreative Koncepts-Horacio Ramirez |
| GRAPHICS | Kreative Koncepts-Corbett Graphics-Owner |
| PLATING | West Coast Chrome |
| UPHOLSTERY | Castillo Upholstery |
| | |
| --- | --- |
| ACCESSORIES | |
| FRONT FENDER | Sinister Industries |
| REAR FENDER | Bad Dad |
| FENDER STRUTS | H-D |
| GAS TANK & CAP | H-D/H-D Digital Flush Mount Gas Caps |
| OIL TANK | H-D |
| FAIRING | Dragonfly |
| GAUGES | H-D |
| MIRRORS | H-D |
| HANDLEBARS | 13-inch Cycle Smiths |
| GRIPS | H-D flames |
| HAND CONTROLS | H-D Chrome |
| FOOT CONTROLS | H-D Flames |
| FOOTPEGS | H-D Flames |
| HEADLIGHT | H-D |
| TURN SIGNALS | Küryakyn LED |
| TAILLIGHT | Radiantz |
| LICENSE MOUNT | Küryakyn |
| SEAT | Danny Gray |
| SADDLEBAGS | Bad Dad |
| SADDLEBAG LATCHES | H-D Flames |
| AUDIO | Kenwood Deck, Alpine PDX4.150, |
| | (two) Kenwood three-way 6×9 front, |
| (two) Arc Audio Foose tweeters front and | |
| (two) Pioneer five-way in bags | |