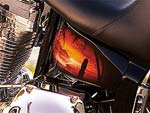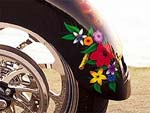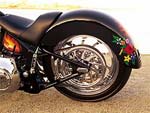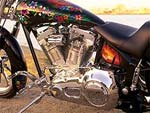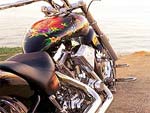 In the words of Dirty Harry, "A man's got to know his limitations." This simple statement couldn't be more true — whether you're talking about bad guys or building a custom motorcycle. Alan Tomota is a shining example of heeding this advice. Tomota's no bad guy; rather a guy who wanted a custom bike, but didn't have the facilities or time needed to tackle the project himself. Instead, Alan took on the project, the same way a general contractor goes about building a house. He found the people who were the best at their craft and orchestrated the project himself. From specifying the frame to designing the graphics, Alan would see the project through from its inception to completion.
One day a few years back, Alan was perusing the pages of HOT BIKE magazine when he came across a green motorcycle built by Jim Nasi, owner of Jim NasiCustoms and its sister parts company, Saxon Cycle, both in Phoenix. The bike absolutely floored Alan. He loved the clean lines along with the less-is-more way of thinking. It wasn't long after seeing that bike in the magazine, that Alan started planning his soon-to-be new ride.
Alan got things kicked off by ordering a Daytec frame and swing arm that were shipped to Jim Nasi, and Billet-4-U respectively. The frame, sporting 2 inches of backbone stretch, arrived at Nasi's shop, and Jim got busy fabricating some graceful gusseting between the backbone and downtubes. Also sent to Nasi's shop was a WCC rear fender that Jim wasted no time trimming to get it to fit just right. At that point, he knocked out a pair of internal struts and welded them to the fender. Keeping the rear fender as clean as possible, Jim got out his shears and started to cut an opening at the back of the fender. Once he was done, there was a beautiful frenched license plate opening just waiting to be filled.
Meanwhile, with all the work going on in Phoenix, somewhere in Colorado the hardworking guys at Billet-4-U took Alan's Daytec swing arm and modified it to accept a Performance Machine driveside brake setup.
Trying to stay ahead of the game, Alan lined up Iron Sledz of Chatsworth, California, where Cory would perform the assembly of the motorcycle. The first items to arrive were the frame and rear fender, then the boxes full of suspension components.
Cory took the 2-inch-under Sullivan's fork tubes and married them to a pair of Sullivan's triple trees. The frontend was then hung from the 35-degree neck, so a 21-inch RC Components Spokester wheel could be mounted with one of RC's hidden axles. While he was working up front, Cory clamped the long, smooth WCC front fender to the lower legs, drilled some holes, and mounted it. Out back, Cory bolted the swing arm to the frame, and for a smooth ride, he installed a set of chromed Works Performance shocks. To get the bike rolling around, Avon tires, P.M. calipers, and RC rotors were installed.
A polished 113ci S&S; motor would be used to propel the bike past pretty much anything that got in its way. Once it arrived at the shop, Cory wasted no time installing the all S&S; motor that was complemented by a Crane ignition and a set of Samson Big Guns exhaust. Taming all that horsepower is a polished Jims five-speed transmission tethered to the motor via a BDL enclosed chain primary.The bike was getting close to being sent to the painter, but not before an aluminum D&D; gas tank was stretched and mounted and a Daytec oil tank was set in place. Cory called Alan to let him know the bike was ready to be pulled apart and sent to paint. Alan told him not to touch a thing before he got there. When he showed up, he studied the bike carefully. As he stepped back, a big grin emerged on his face, "This is exactly what I was looking for," he told Cory.
Now came the part of the project that would pull everyone's efforts together — the paint. Alan met with Al Martinez, of Al Martinez Painting, located in Orange, California. As it turns out, Tomota's family is from the Hawaiian Islands, so Alan wanted to use the bike as a canvas proclaiming his love for the 50th state, while keeping the look of the bike clean. This was accomplished by the use of gloss- black over the frame and the sheetmetal. Laid down over the basecoat were four, tasteful Hawaiian-styled murals, along with brightly colored island flowers scattered around the bike. Martinez even flush-mounted an LED taillight in the rear fender that lights up to look like a lava flow spewing from a volcano.
Alan needed to make one more trip to Iron Sledz with the painted parts before final assembly could begin.
The motorcycle was finished up with the addition of Ness bars and risers, P.M. hand controls, a Headwinds headlight, Accutronix foot controls and pegs, and, a seat from Jim Nasi that capped things off.
With all the parts of the projects now combined, Alan feels honored and proud to have been able to work and coordinate a project with so many talented people. Guess his limitations were higher than he thought.
The bike absolutely floored Alan. he loved the clean lines along with the less-is-more way of thinking.