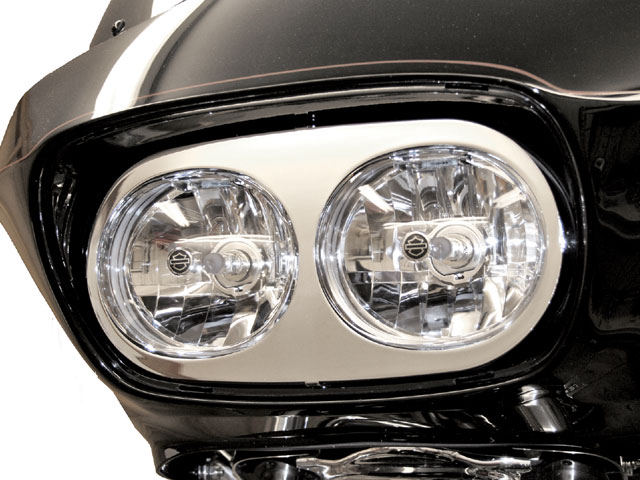 Bulletpruf K-Clutch
$450
Bulletpruf aptly named their company after the way they manufacture their products, and the new K-Clutch is just that. With an extra friction plate and steel plate installed in the assembly, Bulletpruf says it will increase your torque. More torque, more power. Hell, you might even be able to drag your boat behind your bike. This replacement clutch is made for '90-'93 setups, and it won't drain your bank account.
Contact
MC Advantages
(800) 726-9620
www.mcadvantages.com
Cyclesmiths Highway Peg
$162.35
With the newest addition to their popular "banana-style" footboard line, this highway peg is manufactured just like the rest of their foot board line out of billet aluminum with a tucked rubber inlay that comes with or without chrome rivets. You can choose a chrome footrest, or if you like the blacked-out look, they're also available in black powdercoat.
Contact
Cyclesmiths
(909) 987-3890
www.cyclesmiths.com
Covingtons Cycle City Risers
$155.95
Simplify your frontend with these 1-inch risers from Covingtons Customs. Made from billet aluminum and precision CNC-machined, these black risers will fit your 1-inch diameter bars with ease. You can choose either black or chrome, and this specific style is available in also 3-inch and 6-inch rise.
Contact
Covingtons Cycle City
(580) 256-2939
www.covingtonscyclecity.com
Hell's Foundry Chrome Faceplate
$99.95
Get a facelift without going under the knife with the new Face Plate from Hell's Foundry. Road Glide owners can upgrade their frontend in a matter of minutes simply with a flathead screwdriver. Weighing in at only one pound, this faceplate is made from chromeplated steel and is sure to make your headlamps sparkle.
Contact
Hell's Foundry
(866) 999-4355
www.hellsfoundry.com
Procharger Intercooled Superchargers
Contact For Price
If the thought of covering your opponent in the aroma of burnt rubber-and your rear tire's tread-gives you goosebumps, then you're like us and you like to go fast-very fast. ProCharger's Intercooled Superchargers feature a self-contained oiling system, billet impeller, and an air-to-air intercooler system with custom throttle body or carburetor bonnet. ProCharger claims that the new Supercharger will increase horsepower on stock motors by 45 to 75 percent. Ay Caramba! They are now available for '07 and up H-D Touring models and '94-'06 carbureted H-D Twin Cams.
Contact
ProCharger
(913) 338-2886
www.procharger.com