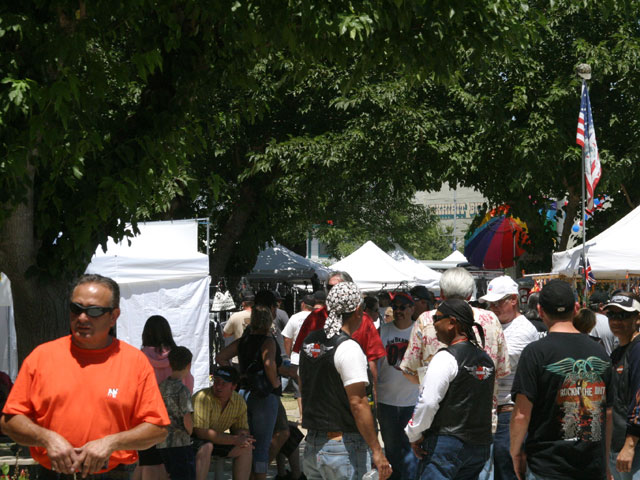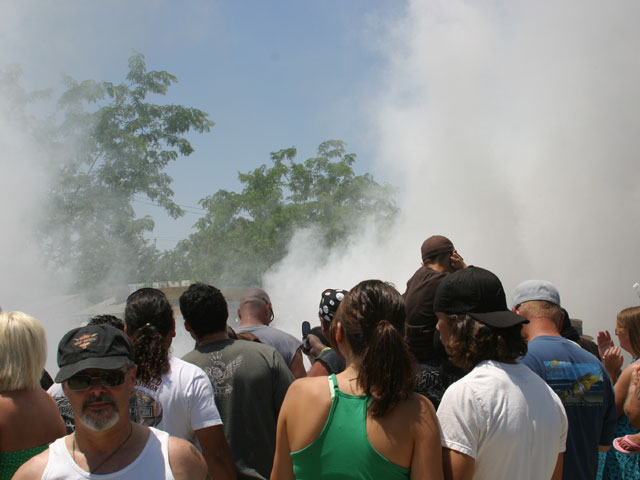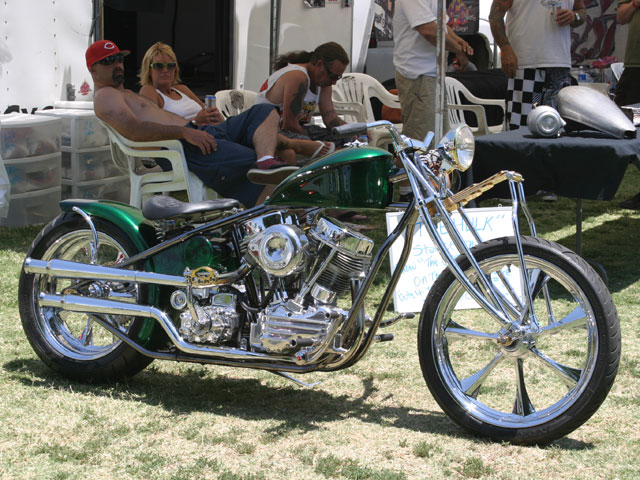 Bakersfield? Where the hell is Bakersfield? Is that on the way to Vegas?
Sorry dear friend, but Baker (home of the giant thermometer) is not the place of which I speak.
Bakersfield is located in Central California. And as a native Field-ian from "Bake-O," (I moved to Southern California about eight years ago) I'd heard plenty of good things about the Bakersfield Thunder Run, but had never attended. I headed North to the place of my birth to see what the 2008 Bakersfield Thunder Run, which took place on June 13, 14, and 15 at the Kern County Fairgrounds, had in store for me.
When I descended down the long grade of the Grapevine, toward the San Joaquin Valley, a warm (sweltering warm) breeze overcame me and my skin started to leak. I was reminded of the good times of cooking eggs on the sidewalk and diving into my 90-degree backyard pool. I was back, and I definitely did not miss the weather! I pulled off the 99 Freeway and went straight to the fairgrounds. I parked my bike and dismounted, removing my leather jacket and full-face helmet. I was drenched in perspiration. But even though sweat continuously ran down my cheeks, underneath my sunglasses, I didn't mind because it was a good reason to rejuvenate with an ice-cold beverage of the frothy persuasion.
The venue was packed with eager enthusiasts checking out what some of the builders had on display. Scott Long from Central Coast Cycles had his Incredible Hulk bike out in front of his trailer. Greg Westbury from Westbury Custom Cycles' new bagger turned plenty of heads. A few of Chica's chops glistened in the sunlight, and Eric from local shop LE Customs brought some of his creations to show off.
The bike show was impressive and there were plenty of good candidates. From modified Harleys to full customs, there was no shortage of goodies to swoon over. Speaking of swoon, the bikini contest didn't disappoint in the slightest and the dancing delights of the Purrfect Angelz dance crew made the show even more exciting. One good thing I remember about the Bakersfield summers is that the girls tend to wear very little.
The grounds are set up for easy access so that you can park your RV without any hassles. Or bring a tent and camp out the good old-fashioned way. Either way, you can join in the shenanigans if you like and you don't have to drive around once the show is over. Heck, you don't even have to leave the fairgrounds at all. It was pretty inexpensive: $25 for two nights of camping and two days attendance to the event for tent camping. RV camping, add additional $85 per RV for the entire weekend.
The overall weekend was good and I thoroughly enjoyed myself in the triple-digit temps. If you plan on attending, just remember to stay hydrated (water too, not just beer). I'll be back next year to join in the festivities (www.bakersfieldthunderrun.com). Hopefully, I'll see you there!