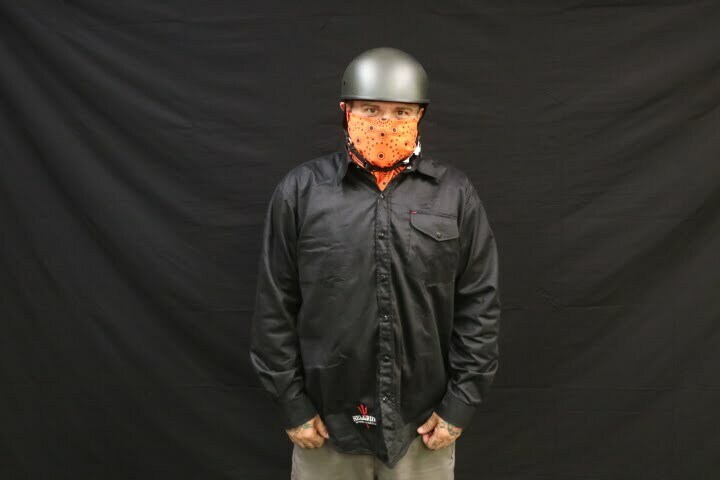 Silly Swedes Cycle Source Carbonator Beanie Helmet
I'm not a "novelty helmet" type guy. This usually means I wear a full-face or a 3/4-helmet when I ride. It's not that I am a protection freak or some sort of helmet Nazi, but all the DOT-approved beanie helmets I have seen tend to give you that "dickhead" look. That was until I road with the Carbonator helmet. This helmet is constructed with real carbon fiber, making it like it wasn't even on my head when racking up the miles. I also like the strap system, which has a beefy quick-release buckle. This no-nonsense helmet is DOT approved, keeping the fuzz off your back as well. After some time riding with this helmet I have found it to sit low on even my big head. It's small, light, and looks good. Don't believe me? Try one out for yourself at sillyswedescyclesource.com.
**Hellride Apparel Black Armored Kevlar Shirt **
Like most of you, I don't really like to get all leathered up when riding. It's not that I don't like the protection that dead cattle provide, but the look is just not that cool to me to get outfitted in form-fitting leather. Tell you what… I'll just save that stuff for the heavy-metal fanboy revivalists I see on the interwebs head banging to YouTube videos. Instead, I'll just keep rolling around in this full-Kevlar button-up from Hellride Apparel. This garment looks much more NWA than Judas Priest, and I'm down with that. It's built from quality materials and has Kevlar coverage in the chest, back, and the entire sleeves. The shirt has snaps instead of buttons (something I like a lot) and comes in a loose-fit kind of style for daylong riding comfort. Good stuff indeed. Check 'em out at hellrideapparel.com.
Start the holiday shopping for the big hairy biker in your life here.