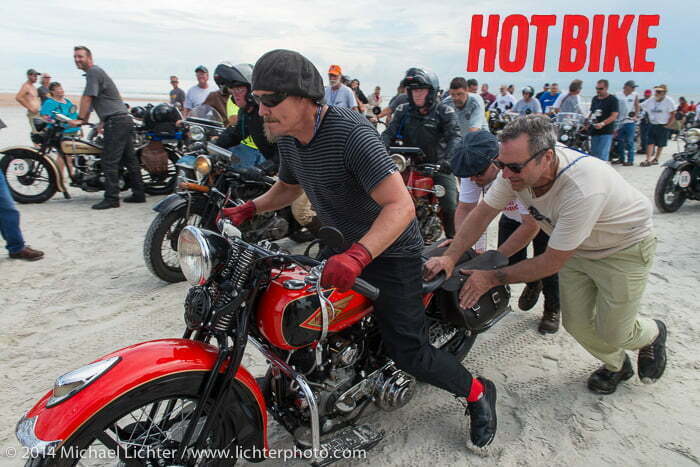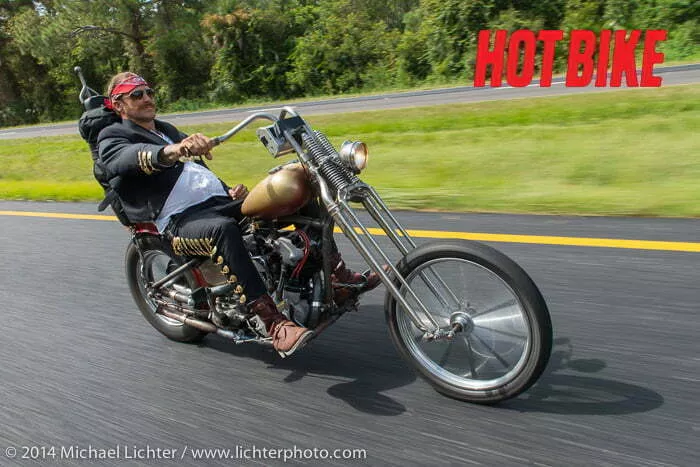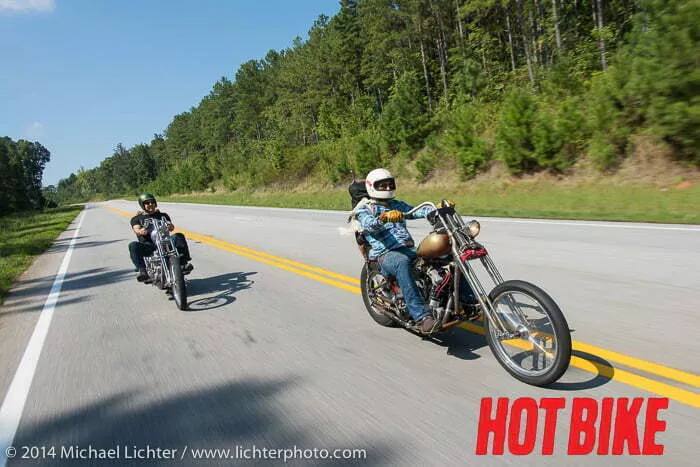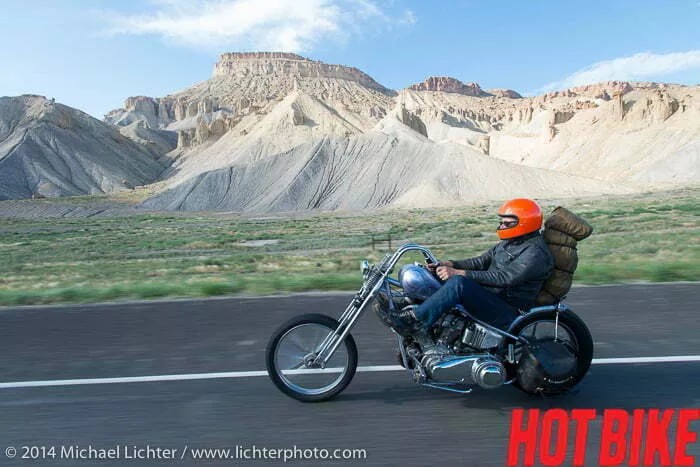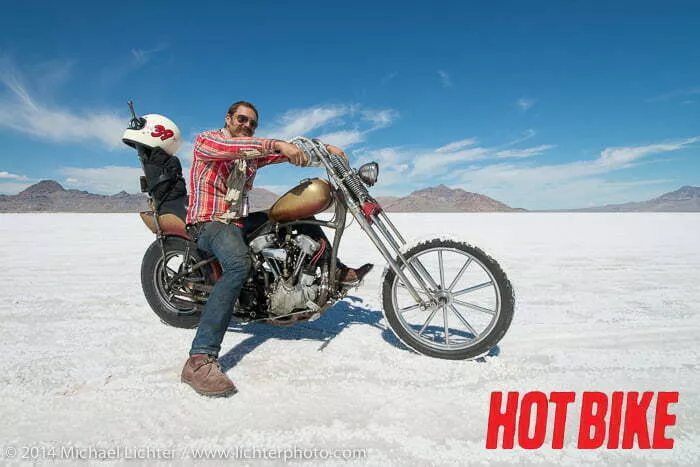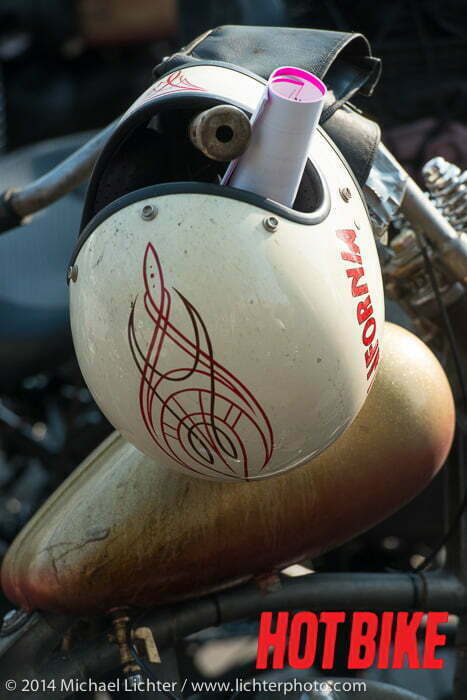 Before embarking on this coast-to-coast adventure about the Chopper Dudes, this story has to look back, first to 2012 when Bill Buckingham crossed the finish line of the Motorcycle Cannonball Cross-Country Endurance Run II on his stock 1929 Harley-Davidson JD. It was right then and there that Bill decided he would do the run again, but it had to be done on a chopper. As soon as it was announced that the next Cannonball would include engines through 1936, Bill started acquiring parts for a first-year Knucklehead, which resulted in finding a '36 motor, '36 transmission (with the original gears in it), and '36 hubs that he brought to his friend Kosuke (Kosuke Saito, simply known as "Ko-Ski," of Sunrise Cycles.) A deal was quickly worked out trading fab work for shop space, and the project took off. This light, skinny Big Twin was completely hand-built from the frame to the "Challenger" wheels. After winning top accolades at the Born-Free show, rather than storing the bike safely away, number "40" plates were mounted to each side and the bike was off to Daytona Beach, Florida, for the start of Cannonball III.
Bill wasn't alone in wanting to stir up the antique world, as he shared his idea of riding a chopper coast to coast in a field of 100 old restored motorcycles with Cannonball II riding partner Sean Duggan. Sean immediately knew this is the way it had to be and also set off in the pursuit of '36 Knucklehead parts. With help from Steve Szymanski from Industrial Chassis (who completely redid the '33 H-D VL frame), Craig Jackman (a tattoo artist friend and a Cannonball III rider as well who built the oil bag, exhaust pipes, and under-seat auxiliary gas tank), and then master mechanic Robert Hernandez (from Rabbit Hole Vintage H-D Works in Phoenix, Arizona, who built the motor), Sean completed the fab and assembly work in his own shop. The long-term plan for this bike, in addition to riding the Cannonball, was to be Sean's daily rider because daily riding is exactly what he does in Southern California, where he also works in the film industry.
As bikes arrived in Daytona Beach, Florida, for the start of the Motorcycle Cannonball, mobile shops were set up in the hotel parking lot where teams started doing their last-minute bike prep. Sean and Bill did the same with their team, Craig (the same Craig who helped Sean with the fab work) riding his dual-carbureted '36 Harley-Davidson hot rod VL, and Sean's motorman Robert, who was going to act as team mechanic wrenching on all the bikes each night. Robert also built Craig's motor. It was great that each team member was also qualified to work on their own bikes, which helped things go smoother every night and was of course needed since you had to work on your own machine during the long daily rides.
As other Cannonballers saw the two choppers with their "Invader/Challenger" style mag wheels, pull-back handlebars, rigid-frame mounted seats, and long Springer front ends, there wasn't as much shock as surprise (sprinkled with a bit of dismay) in their reactions. In sharp contrast to all of the other MCR participants, these guys never posted photos of their choppers on the Cannonball site, so no one knew what they were up to until they appeared that day. With raised eyebrows, they wondered whether this irreverent chopper team had what it took to make it from coast to coast compared to most of the other Cannonball riders who were steeped in the antique world and linked together through the AMCA (Antique Motorcycle Club of America) and its network of swap meets and shows.
With almost 100 riders on the MCR, each riding on their own or in small groups at their own pace, I could go days without seeing some of the riders, but the way Bill and Sean rode, it seems I saw them almost daily with my first encounter being on the morning of stage one. They came into view after popping over a rise in the road, their big smiley faces racing toward me, and I couldn't help but exclaim, "Here come the chopper dudes!" And from that point on, it stuck. They were the "Chopper Dudes." The name also seemed to fit the shroud of irreverence they wore as they flew down the highway every day. There wasn't any "babying" of these nearly 80-year-old machines and certainly no thought as to their value. They just rode hard and fast and always with a smile. What fun!
As it turns out, that first day did have some setbacks. Bill melted an oil line that needed a roadside fix, and then, since they couldn't find where their partner Craig had disappeared to, they waited for him over a super-long lunch. By the time they got out, it was raining hard and Bill's battery blew up, requiring them to jump Bill's bike from Sean's several times. Overall, the nearly 4,000 miles to Washington were not particularly eventful, which was a good thing. They were able to relax and enjoy the road, the great stops, the people they met along the way, and the awesome scenery. Bill actually said that he almost felt like he was cheating because the Cannonball didn't have quite the challenge for them that so many of the other riders were experiencing, but then don't you deserve this when your bikes are so prepped and ready? (And when there's a little luck behind you!) I did wonder though, with those narrow handlebars and very laid-back seat, just how easy the ride really was, but this was answered by fellow Cannonball rider Alan Stulberg of Revival Cycles and rider of an extremely reliable Brough Superior who, after riding Bill's bike for a number of miles, said, "This motorcycle scares the living shit out of me!" Bill just laughed and responded, "I really like it, man."
Sean's bike was also trouble free, at least until near the end of the run when he snapped a chain in Nevada for another roadside repair, but this time there wasn't a long lunch and no more points lost. Then after the Cannonball was over, when there were no longer points at stake, Sean had his rear wheel bearing go out from a misaligned wheel. Talk about luck being behind you. The nice guy who helped him out in Oregon brought him back to his shop, loaned him a KTM to ride 70 miles to pick up replacement bearings, gave him space in his shop out of the rain to work on the bike, and any tools he needed were right there at his disposal. Sean also figured he probably caused the misalignment with a bad chain adjustment after the chain went out, so this may have been his punishment!
In the end, the Chopper Dudes rode every one of the possible Cannonball miles. At the finish banquet in Tacoma, everyone could see that after the riders who received perfect scores of 3,938 points (one for each mile ridden), Bill and Sean took the next two finish slots with 3,913 points. Not too shabby for a couple of choppers.