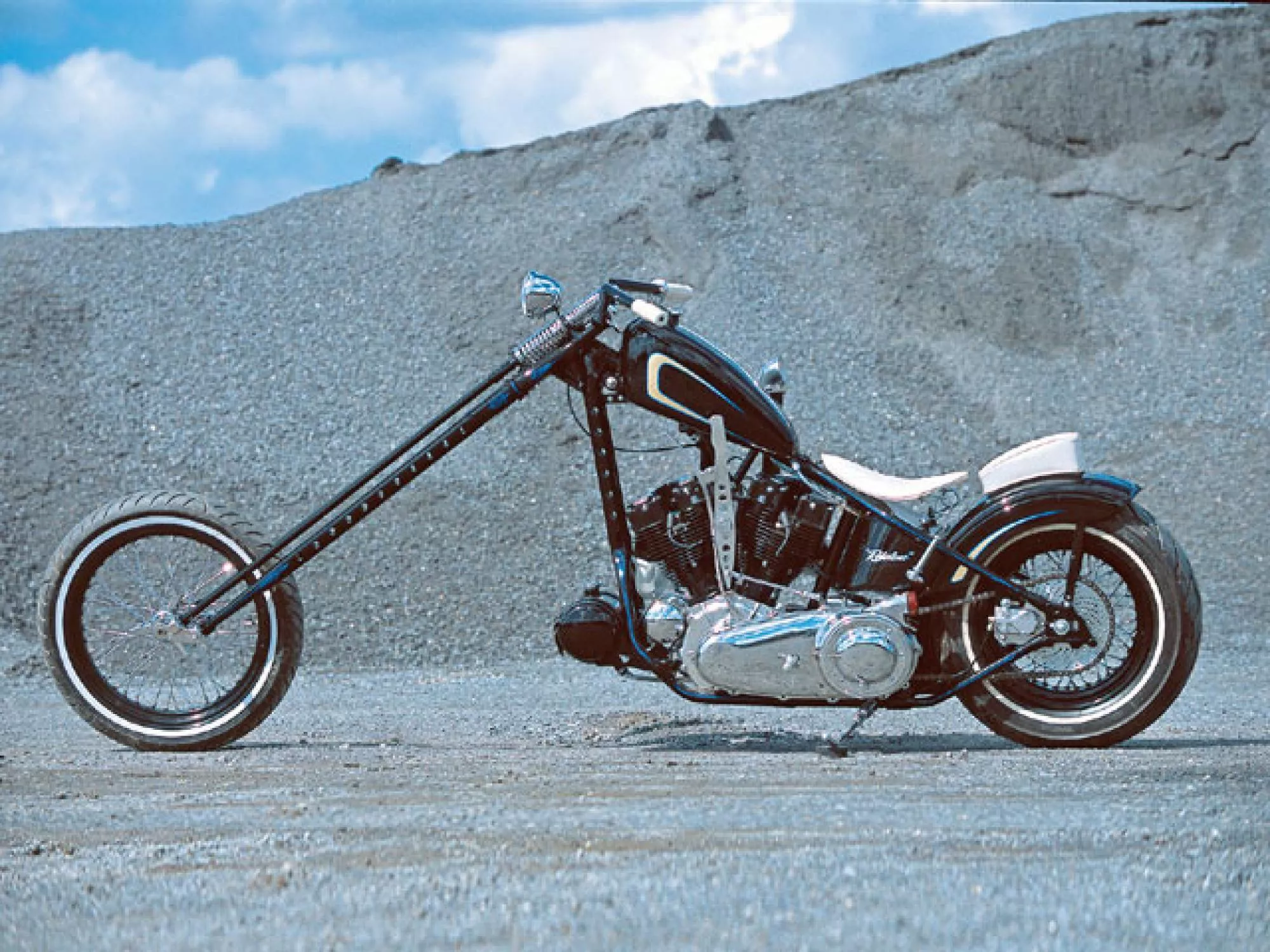 Those Finns take their Kustom Kulture very seriously. Ever since he was a kid, Juha Kaukola has been in love with hot rods and muscle cars-and his bikes show it. From the Stromberg carbs down to the wheel spinners and Lakester-style exhaust, Juha's Shovelhead, named "Rebelene" after a Stray Cats rockabilly hip-shaker, is a true hot rod Harley.
The little village Lapua, right in the middle of Finland, has a fearsome reputation. It has been said for centuries that the Lapuans carry bigger knives and drink more moonshine than any other Finns. Back in the '20s and '30s, it was so bad that the police didn't even dare to go there for fear of getting beat up or hanged from the nearest tree. Those people are the ancestors of Juha Kaukola. We also know that he has elite close-combat training from the army, where he served in a crack troop regiment. This isn't a guy that we'd like to pick a fight with. Juha has steel-blue piercing eyes and a strange way of speaking through tightly clenched teeth. But he claims in his heavily accented English to be a regular nice guy. "Sure, I know how to cut throat," Juha said. "But if shit happens, I'd rather run away. That's easier, more better."
Juha runs a little one-man custom shop, Kustom House, on the outskirts of Lapua. The place looks like a mix of Finnish and redneck American style. Juha's well-worn Chevy Caprice without mufflers completes the image of hillbilly country. He admits that business is kind of slow, there's no abundance of stock market executive types waiting in line to order 70-euro custom bikes in these parts. He's thinking of closing the parts shop to concentrate exclusively on making frames. The Kustom House frames will have the old stock H-D type cast motor mounts, steering heads, rear axle mounts, etc, but in cast steel instead of iron. "Also, I have some offers to come and work for a famous hot rod builder in California," Juha said. "But it's not so easy, I have a wife and four kids. Plus, I'm a Finn which means I love it here in Finland and I don't want to live anywhere else."
Not having an abundance of cash to work with, Juha has an unusual strategy for being able to create awesome machines like this one. Like all dealers, he keeps getting lists from the big parts distributors like Custom Chrome and Zodiac, where they offer to sell discontinued parts at bargain prices. Juha has made a science out of buying this kind of stuff really cheap for building his bikes. "Like this engine, it's almost 100% assembled out of the discontinued and reduced price stuff. The "knovelhead" rocker boxes are the only exception. If I remember correctly, they are the only parts of the motor that I've had to pay the full price for. Those and the gas and oil caps are the only really expensive parts on this machine."
This project actually started with the rear wheel. Juha had a nice wheel with a black rim and a fat whitewall tire that he thought looked so cool he had to build a bike for it. The first thing you notice about the ol' gal Rebelene is her pair of Stromberg carbs, complete with hot rod type air horns. Juha proudly tells us that the U.S.-made Stromberg Model 97 was a favorite choice of the flathead Ford guys back in the old days. Putting the carbs up in the air like this means a fuel pump is necessary. Juha has hidden the fuel pump along with all the other electrics in the dummy horseshoe oil tank-the actual oil tank is the cylinder in front of the motor. "I have to admit that I haven't run the bike in yet. I'll do that with a normal carb, then I'll put the Strombergs back on and start adjusting them properly."
The frame as well as the forks are made by Juha himself. All the little lightening holes in the forks and frame are another nod to the world of classic hot rods. He had planned a 20-inch-over fork, but then 45 Parts Depot in the Netherlands started selling Harley-type springers in lengths up to 20 inches over. So he had to have more and made himself a springer 23 inches longer than stock.
The shifter lever looks like one of the long knives that the Lapua area is infamous for and Juha has even made the clutch hydraulic by using an old Hurst brake cylinder. "Some Americans call this kind of shifter lever a 'tractor shift.' I guess they used to have them on some old John Deere tractors. Actually, I was planning to construct a shifter lever that you push inward towards your ass to actuate the clutch, then shift, then let it back out and go. But there wasn't enough time. Maybe for my next bike."
The FXR center-mounted brake pedal may be a strange choice for a machine like this, but it shows how this thrifty fellow uses old parts that friends have thrown away. "I collect all kinds of old junk that others don't want, stuff that may come in handy one day. I'm not afraid to admit that I don't have much money. When you have four kids and a fleet of gas-guzzling American cars to support, you have to cut corners any way you can."
At the Custom Bike Show in Norrtlje, Sweden, he won a six-speed RSD gearbox which he plans to use in his next project. Juha has promised his wife Pauliina to build a cool chopper for her for the summer of 2006. "But she's really short, so I'll have to make it extremely low. I've been thinking of using the six-speed tranny with an electric starter, but mate it to an old '50s pre-unit Triumph engine! That's a combination I've never seen before-guess it should turn a few heads."
Check out our Bikes page for cool custom chops and more.