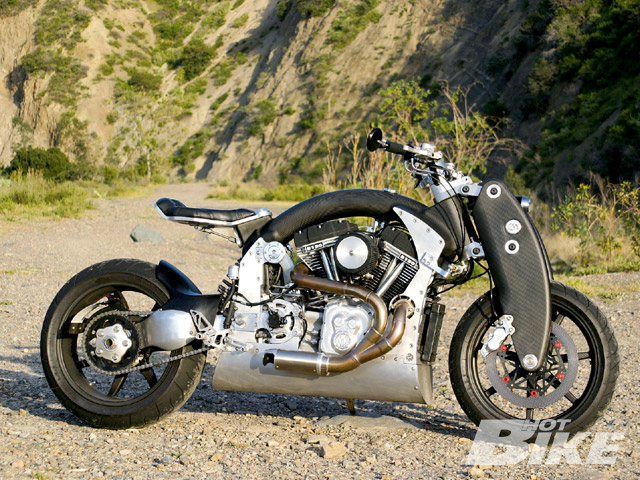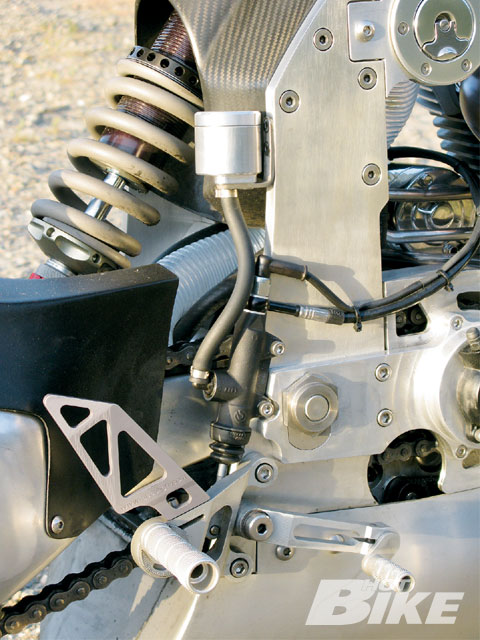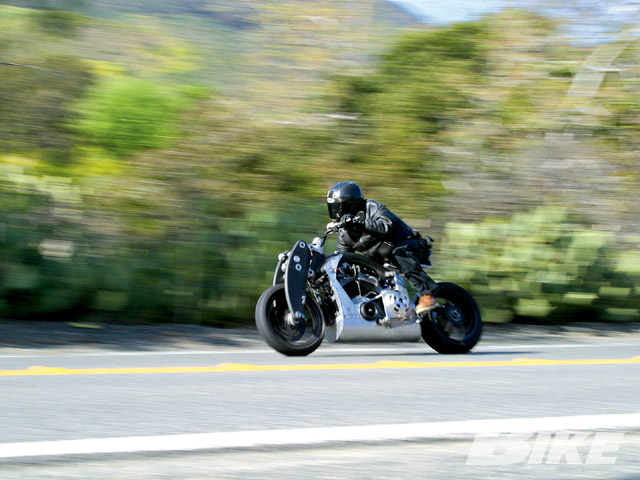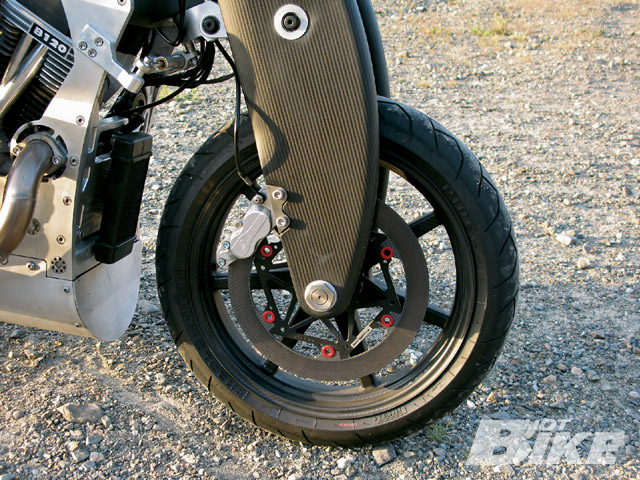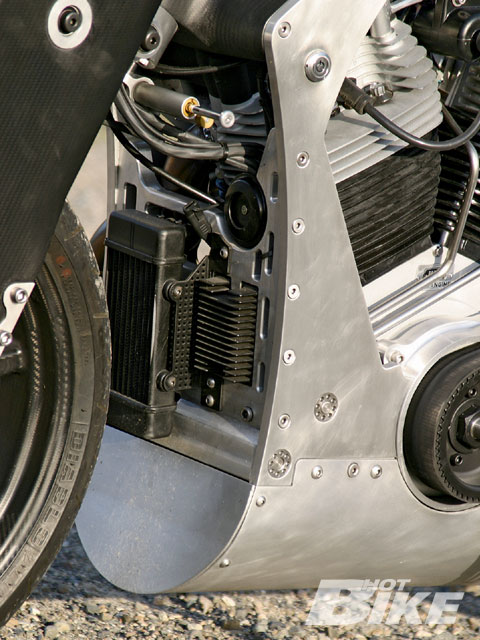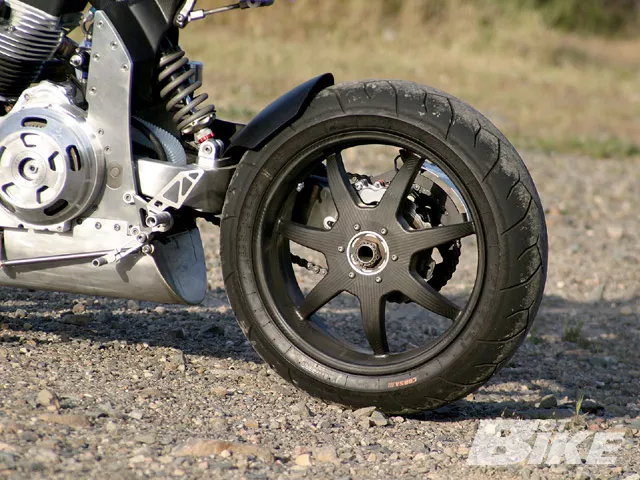 Each month HOT BIKE gets to test ride bikes from different manufacturers to let the readers get an insight on what we think of the bike; how it handles and feels; our likes and or dislikes. It's always cool when you get to ride a new bike for the first time. I would like to start off by saying that the B120 Wraith from Confederate Motor Company was one test bike that I was looking forward to getting and riding and not looking forward to giving back after just a few days of fun (hint-hint we want this bike back!).
For a long time Confederate was that mystery company that we all knew about but had rarely seen any of its models on the streets, at least around the HOT BIKE headquarters. Well, we finally got the chance to see what Confederate was all about when the company sent us its B120 Wraith for a little test and review time.
Confederate Motor Company, founded by Matt Chambers in 1991 in Baton Rouge, Louisiana (now located in Birmingham, Alabama), set out to create machines utilizing a holistic, avant-garde process for celebrating the art of rebellion, according to Confederate. As far as manufacturers go this bike falls into a little different rider category. With a very limited number of bikes built each year it was obvious why we did not see more on the street or were even given one to test ride.
A few years ago I called Confederate and asked what it would take to get one of the Hellcats to do a test ride and write-up on the bike. Unfortunately I was told that there were none available at the time to give us, they were all spoken for. Each year only about 25 or so bikes are handcrafted, custom built one at a time, and everyone of those bikes were already sold and the customers were waiting for their bikes. So we would just have to wait. Two years later we got a call asking if we were still interested in getting a bike, and the B120 Wraith was available for the weekend. Well they didn't need to ask twice, and we were all looking forward to riding this bike.
Once the bike was dropped off I was amazed at all the details from the fuel lines to the voltage regulator. Everything on the bike had its place and it was where it needed to be. The bike is 390 pounds with a 62-inch wheelbase and an overall length of 82 inches. The stance and appearance of the bike is somewhere between sport bike and Mad Max movie prop. As soon as I was in the seat I felt the riding position was a bit forward for me due to the mid-controls, but the seat itself was high enough to have a comfortable bend in the knees. Due to my weight and size the suspension was a little soft, however the rear Penske coil-over shock with titanium spring was fully adjustable. The shape of the seatpan was a bit off, as if it was trying to emulate a bicycle seat but just didn't pull it off. It might need to be trimmed down on the nose of the pan, making it thinner up front so that it doesn't rub against the inner thigh.
The Wraith is powered by a proprietary 120ci JIMS balanced Twin Cam with 4.125-inch bore and 4.5-inch stroke giving the bike 125 hp and 130 lb-ft of torque. Behind all that power is a proprietary close ratio five-speed transmission. I would have liked to have seen a sixth gear for highway riding. The primary is also a Confederate proprietary design for this chassis, and the 2-inch open belt drive is machined from aircraft grade aluminum.
The chassis is a triple load-path carbon fiber monocoque design (a technique that supports structural load by using an object's external skin as opposed to using an internal frame or truss that is then covered with a non-load-bearing skin) with an aircraft grade CNC billet bulkhead and the oil housed in the frame (backbone). The fuel tank is a 3.5-gallon aluminum fuel cell that's been form-fitted under the chassis with a fill port on the right side of the bike. The swingarm is single sided and machined from aircraft grade aluminum as the frontend is a double wishbone design, machined from the same aircraft grade billet aluminum linked to aerodynamically designed carbon fiber wing blades. The wheels are made of carbon fiber with the front measuring 17×3.5, as the rear is 17×5.75 inches. The stopping power is handled by a CNC machined, billet four-piston caliper up front with a 320mm carbon fiber rotor, and the rear is a Brembo two-piston caliper with a 220mm steel rotor. From what I could tell there is room to add a dual disc setup for the front, which would help to stop a bike like this with all this power.
I headed north to the foothills of the Angeles Crest Mountains to test this bike in and out of the miles of switchbacks. From my starting point it was about 40 miles or so to get the base of the road, by the time I had gotten there I had noticed the many number of cars that had tried to keep up with me to get a better look at the bike. Then, as I stopped to top off the bike with fuel I met the one guy who did. He was still trying to figure out what I was riding. For the next hour or so I was talking to all the sport bike riders who had also stopped to get gas, trying to answer all their questions about the bike. This is a bike that gets more attention than anything I have ever been on, even more than the widest and longest bikes out there.
Once I was able to head out, I had a trail of riders that wanted to see the bike in action. So the pressure was on, and the bike performed very well. Every time I pushed the bike over into a turn, it responded back with a solid feel in the handlebars and the frontend. As I accelerated out of the turns the short wheelbase made the bike feel as if I was going faster than I was. At one point it felt as if I was pushing 75-plus mph only to be at 55 mph at a smooth 2,200 rpm. Back out on the highway I was able to open the bike up a bit more, this is where the riding position was important, as the wind was pushing on my chest I needed to tuck low to the frame like on a sport bike and had to hold my chin against my chest in order to keep the wind from pulling my head off. Overall, the bike was fun to ride, handled great with a lot of power once you got into a comfortable riding position this may not look like the bike you would ride cross-country, but if you did you would get there fast. As long as you don't mind feeling like a rock star with all of the attention the bike will get. You'll need a rock star salary to afford one of these special machines as the limited quantity and preciscion components come with a $90,000 price tag. Check out the Confederate website to learn more about the bike.