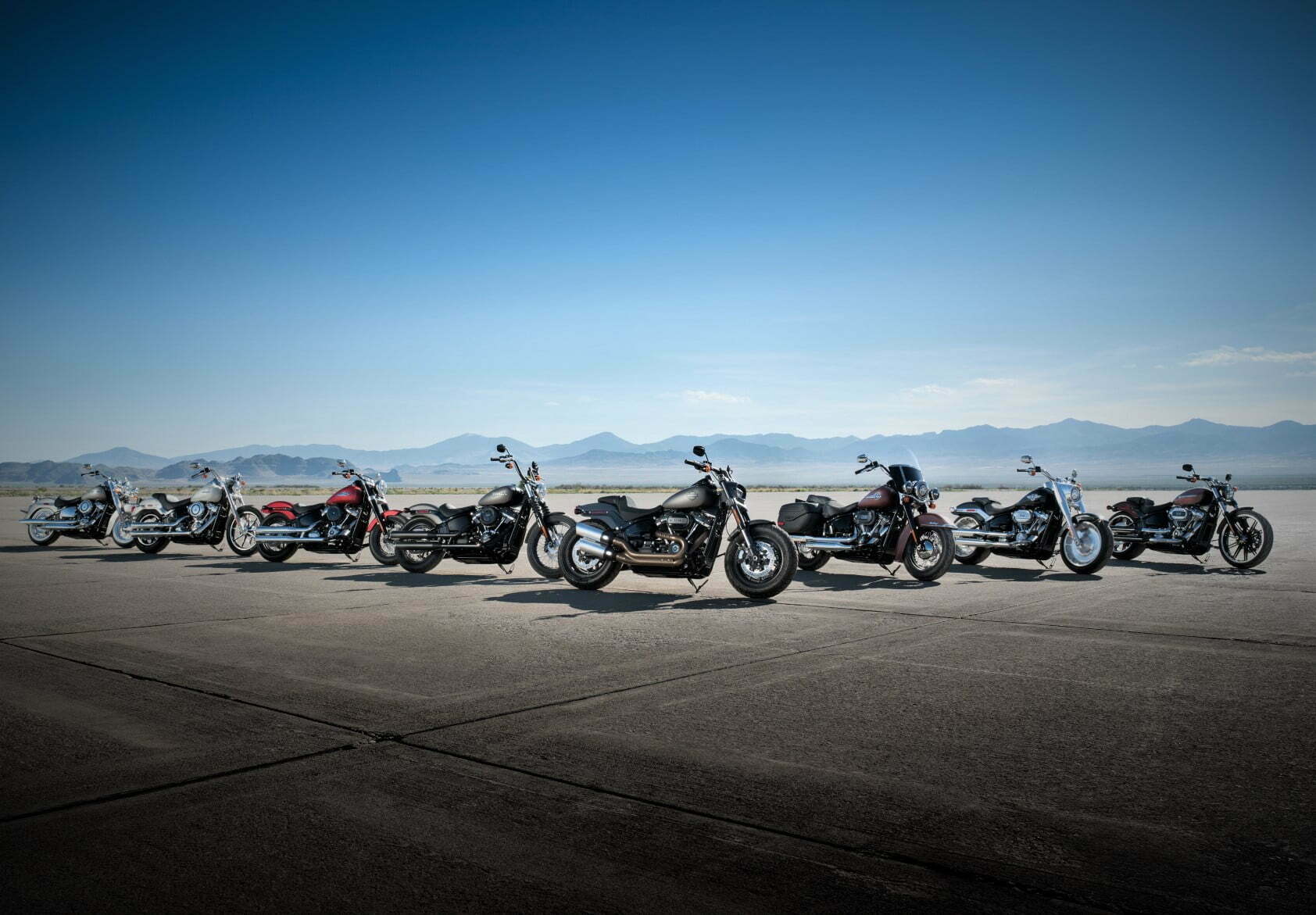 The 2010s lurched and stumbled into being amid a global financial crisis, with a relentless international recession from the late 2000s putting a damper on much of the motorcycle industry for the following years. Despite the economic drag, there were some highlights that rose above the quagmire of the industry's continuing sales slide. With the year gone, and the decade (for some of us, anyway) now in the books, we took a look at the most significant two-wheelers to hit the US between 2010 and 2019. While not all of them necessarily defined the decade so much as they recorded it, and many might not make a best-of list, but each one was unique in its time of release and an important marker on the road out of the recession. As far as we were concerned, anyway.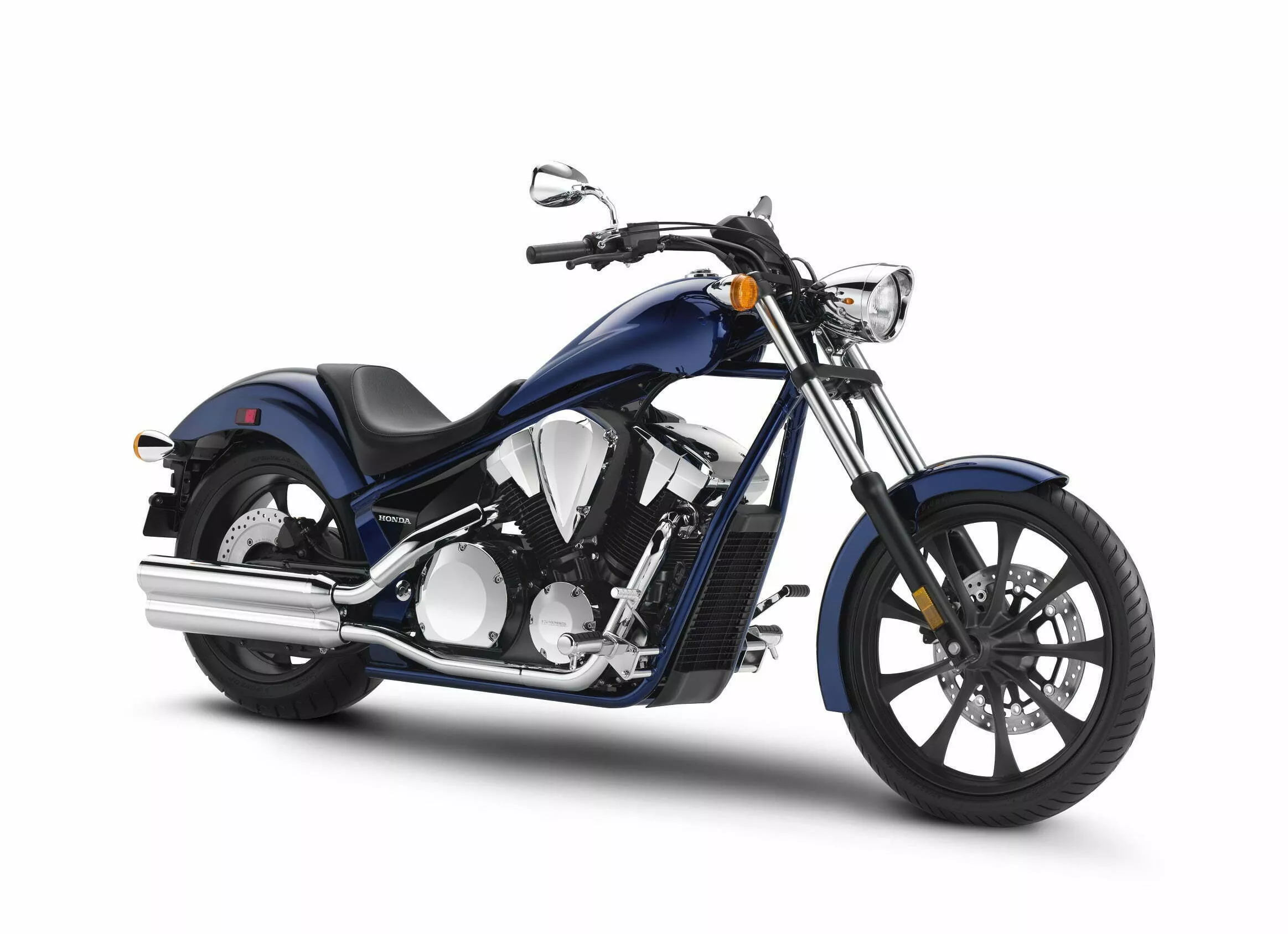 Honda Fury
In the first year of the new decade, the Fury was the bike that grabbed everyone's eyeballs in 2010. It's still wild to us that a conservative Japanese company would even bother to build a mass-produced middleweight chopper, and the fact that it still appears in the 2020 lineup feels like some sort of vindication. Sure, you'll get nothing but raspberries from old-school dudes, but for sheer chutzpah, ya gotta hand it to Honda</a>; it built a clean-sheet chopper-style bike that looks and works better than anybody could imagine.
The swept and sculpted fuel tank alone is award-worthy and the 71.24-inch wheelbase is the longest Honda's ever produced. A big, skinny, 21-inch front hoop and cut-down fender pair perfectly with the 32-degree fork rake, so, again, a tip of the hat to Honda for having the balls to crank out an off-the-rack, sub-$10K chopper when it seemed like the rest of the industry was curling up into a ball.
Even if the Fury wasn't a bike that would set the tone for the decade, we definitely think it was a standout. On our first ride, we said, "…compare how it works to anything called 'chopper' that came before it, and it completely kicks ass. It's smooth, satisfying, [and] makes all the right noises.…"
Related: 2010 Cruiser of the Year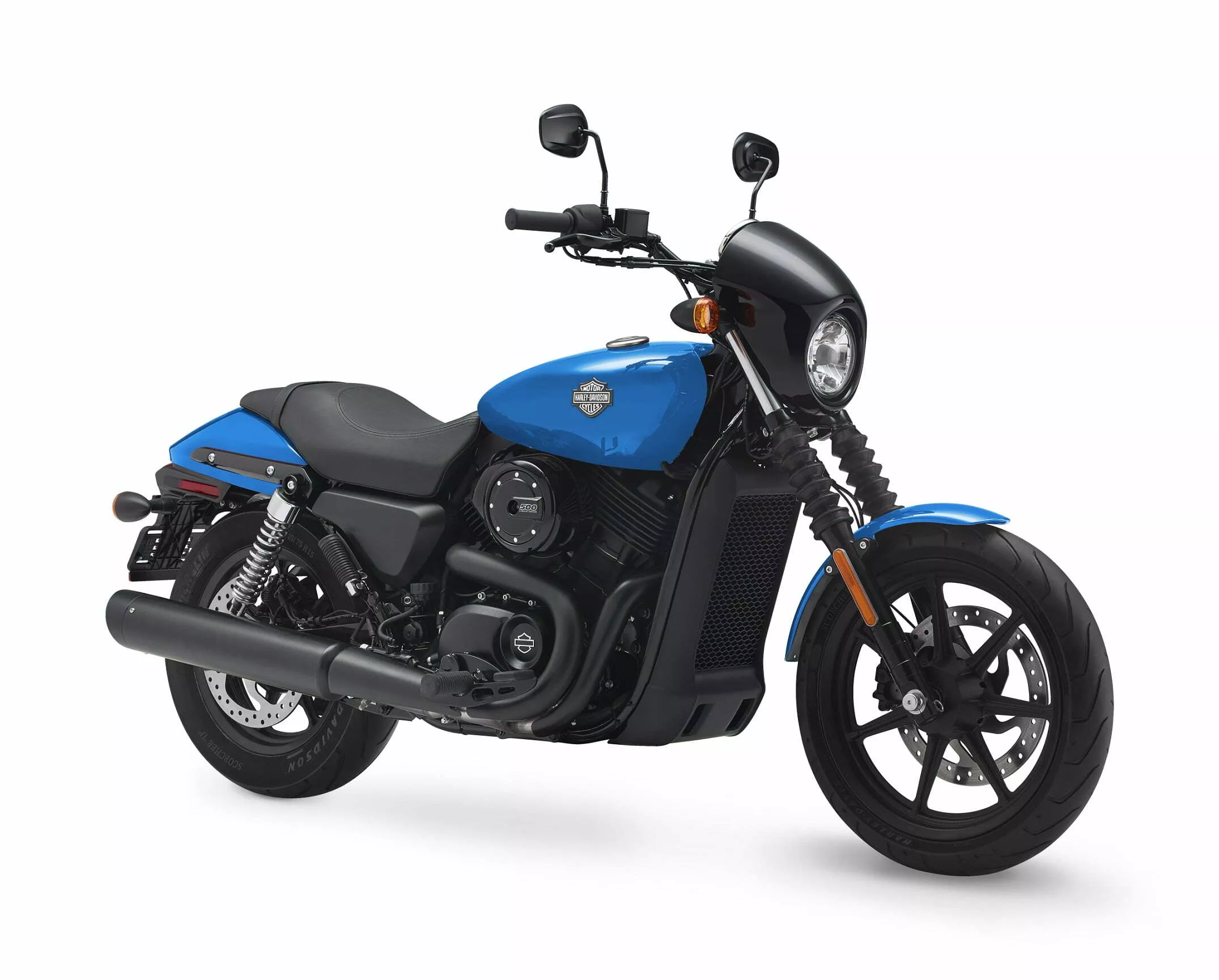 Harley-Davidson Street 500/750
The Street 500 or 750 isn't likely to be on anybody's list for bike(s) of the decade, but for us, the liquid-cooled entry-level Harley was definitely an omen of things to come when it rolled out in 2014. For one, they were Harley's first all-new models in 13 years and, in a nod to changing rider demographics, arguably The Motor Company's first lightweight motorcycle in several decades. Both bikes got a version of Harley's all-new SOHC water-cooled 60-degree V-twin engine, dubbed the Revolution X, with the 750 powered by a 749cc iteration and the Street 500 a 494cc mill with a smaller bore. United States and Canadian models are now built at Harley's York, Pennsylvania, facility, with production of units for the rest of the world at Harley's India subsidiary in Bawal, thus allowing H-D to sidestep super-high Indian tariffs and price its bike competitively for that growing market. The Street line was smaller and lighter than any other H-D models, and the price point was the lowest for Harley's US lineup. As an overall global business maneuver, we can now see that launching this new platform was the right move for Harley.
Related: Harley Reveals New Street 750 and 500 Bikes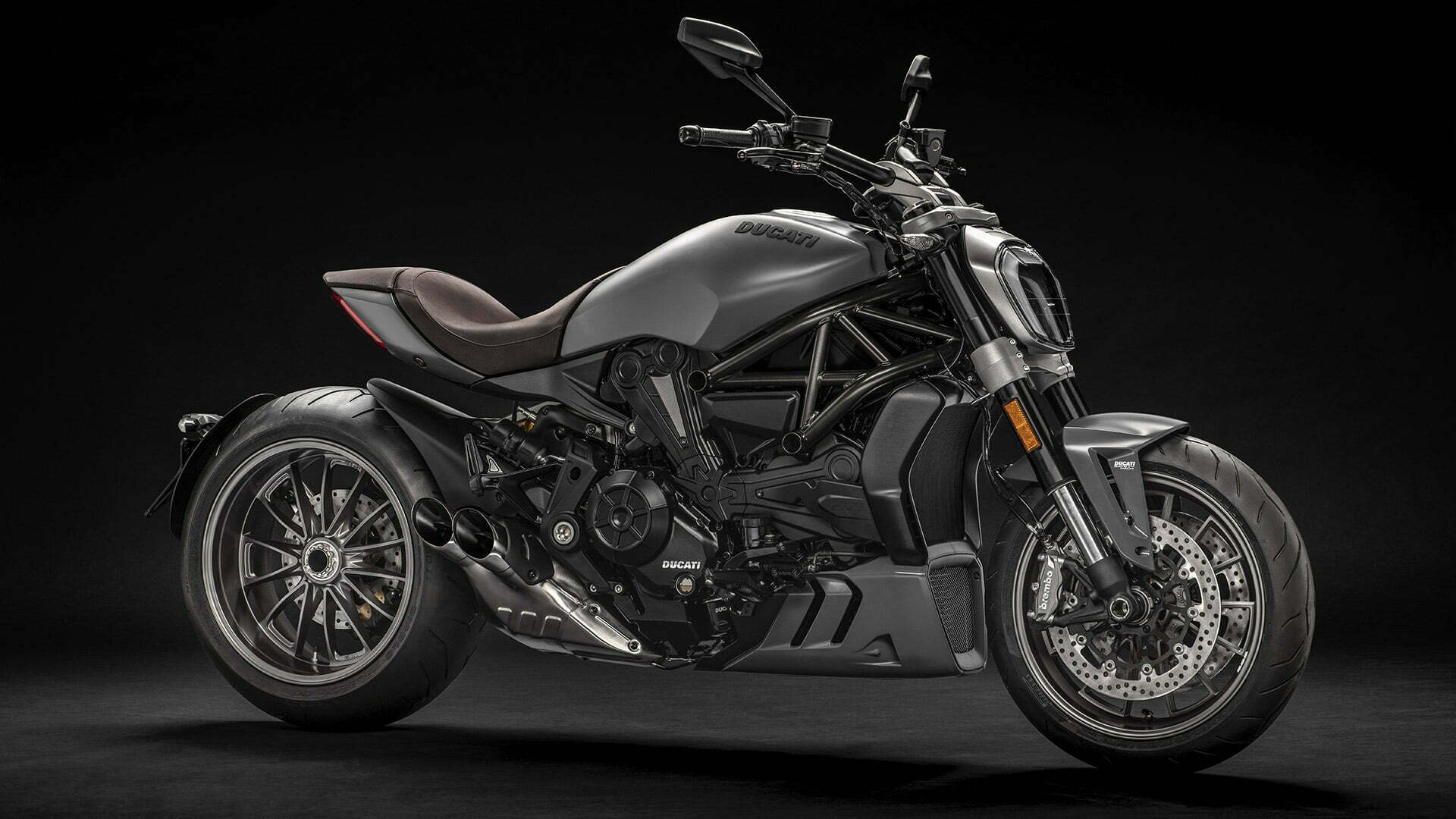 Ducati Diavel
One of the biggest splashes of the decade came from Ducati's genre-crushing Diavel, which translates into "devil" in the local Bologna dialect. And the Diavel has been all about performance from its introduction back in 2010. If Ducati fan boys were afraid their favorite brand was compromising its principles to build a bike that was neutered, they needn't have worried—the Diavel was wicked fast and a helluva lot of fun to ride. A couple of years later, Ducati would build on the original, paradigm-shifting Diavel with the XDiavel, giving it a variable-valve-timing 1,262cc version of the Testastretta V-twin packed into a different chassis, with more relaxed, cruiser-y ergos. The blistering performance continues to the present day with the more evolved Diavel 1260, Cycle World's best cruiser of 2019. The revamped 1260 S received an upgraded 1,262cc Testastretta DVT engine cranking out a whopping 139 hp and 85 pound-feet of torque on the dyno. It's always been one of the most powerful power cruisers around, and during our test of the 2015 Diavel Carbon we summed up the bike's potential in one sentence, "By any objective measure, the Diavel is stone-cold awesome."
Related: 2011 Ducati Diavel | First Ride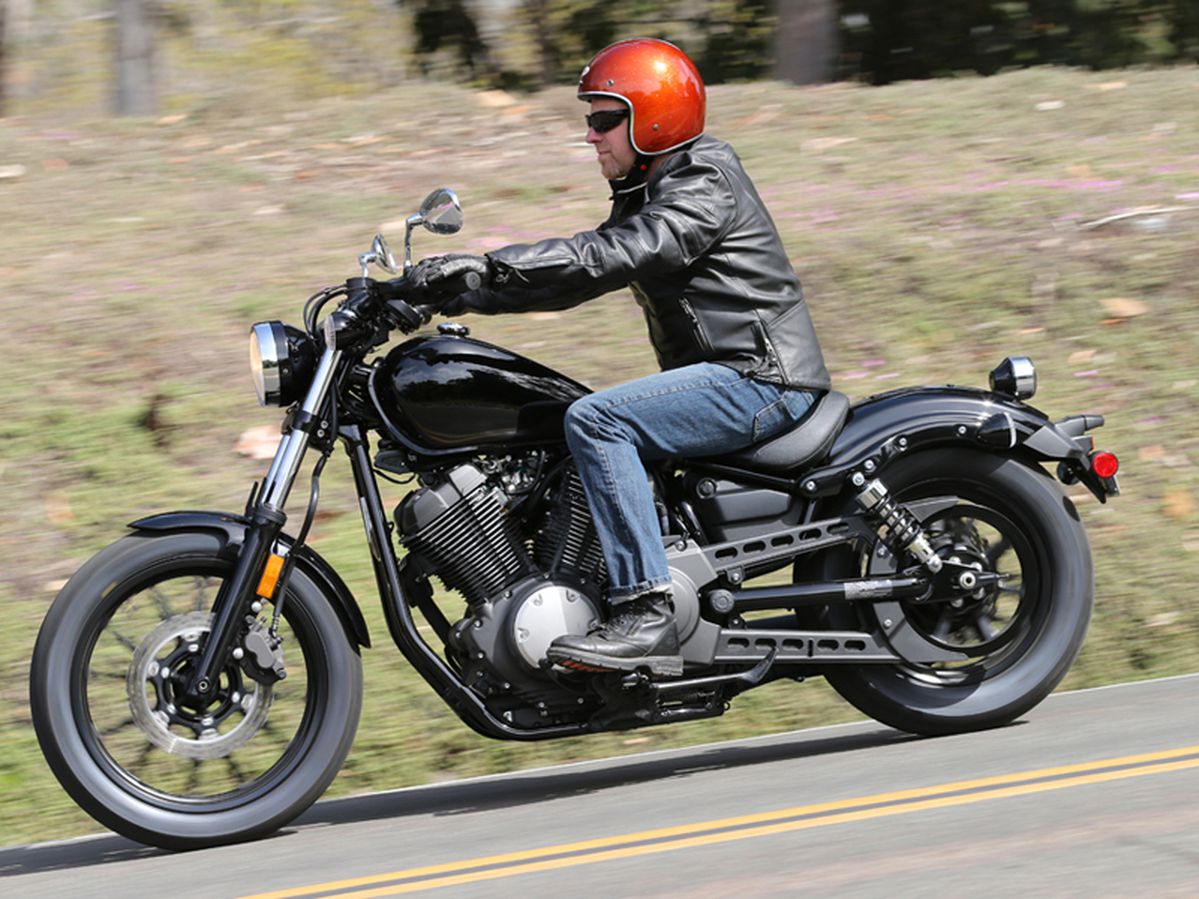 Yamaha Bolt
It started life as a Star model and now the budget-friendly Bolt finds itself in Yamaha's Sport Heritage category, underscoring just how versatile this little scrapper is—heck, it has outlasted all of Yammy's other cruisers. With a foundation of solid bones and basic elements like a twin-downtube steel frame, bobbed fenders, wire-spoked wheels, a conventional fork, twin shocks, and classic styling touches coupled with a reasonable price point, the Bolt was meant to be a do-it-all machine capable of handling commutes, highway blasts, or just your basic cruise. Low-maintenance tech includes forged aluminum pistons, electronic fuel injection and ignition for the 60-degree V-twin, plus a quiet and durable belt final drive. It won't win any innovation prizes, but the air-cooled 942cc engine still brings pent-roof combustion chambers and lightweight forged aluminum pistons to produce gobs of usable power. When we first rode it, we knew that with the Bolt, Yamaha (né Star) "had a bona fide hit on its hands," thanks to a low seat height, short-wheelbase chassis, and compact vibe that would appeal to shorter beginner and intermediate riders (though taller dudes can feel at home on this machine too).
Of the available options, our money's on the Bolt R-Spec, which adds cast aluminum wheels, special paint, performance-oriented shocks, and a dash of chrome.
Related: 2014 Star Bolt | First Ride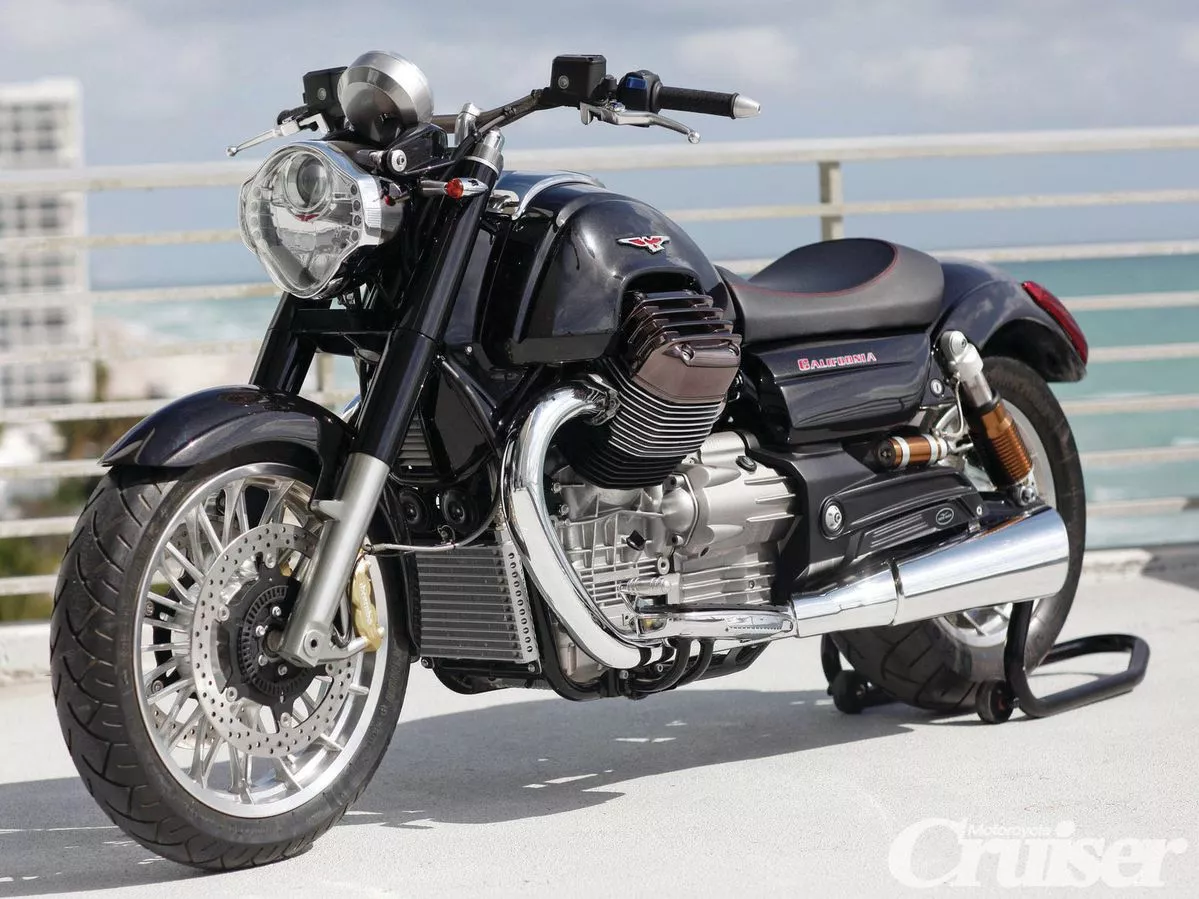 Moto Guzzi California 1400
Guzzi's California was one of the most anticipated releases at the 2012 EICMA show, and when it was finally unleashed on the world in 2014, the model heralded a new wave of advanced features for the long-sleepy cruiser category—it was the most technologically advanced cruiser on the market with the largest V-twin engine made in Europe (boasting ABS, three-level traction control, and ride-by-wire technology) at the time. In short, you couldn't underestimate the significance of Guzzi's all-new 1,400cc cruiser, which arguably took a big step in elevating the long-running Italian marque from an iconic but funky has-been to a modern, fully formed, and highly competent contender in the performance cruiser wars. Penned by star designer Miguel Galuzzi (of Ducati Monster fame), the muscular-yet-elegant California combined lovely Italian styling with up-to-date technology and gobs of stump-pulling power, making a motorcycle that, in our opinion, made some of its peers look positively antiquated that year—except for the then-also-new Triumph Thunderbird. Those electronic rider aids gave the California more of a technological advantage over other bikes of the class, and it was, as Galuzzi put it, "…an ultra-modern cruiser, splendid to ride at low speeds, but also ready for a bold and fun ride at a moment's notice."
Related: Moto Guzzi California 1400 Flagship Cruiser | California 2.0
2014 Moto Guzzi 1400 California Test Ride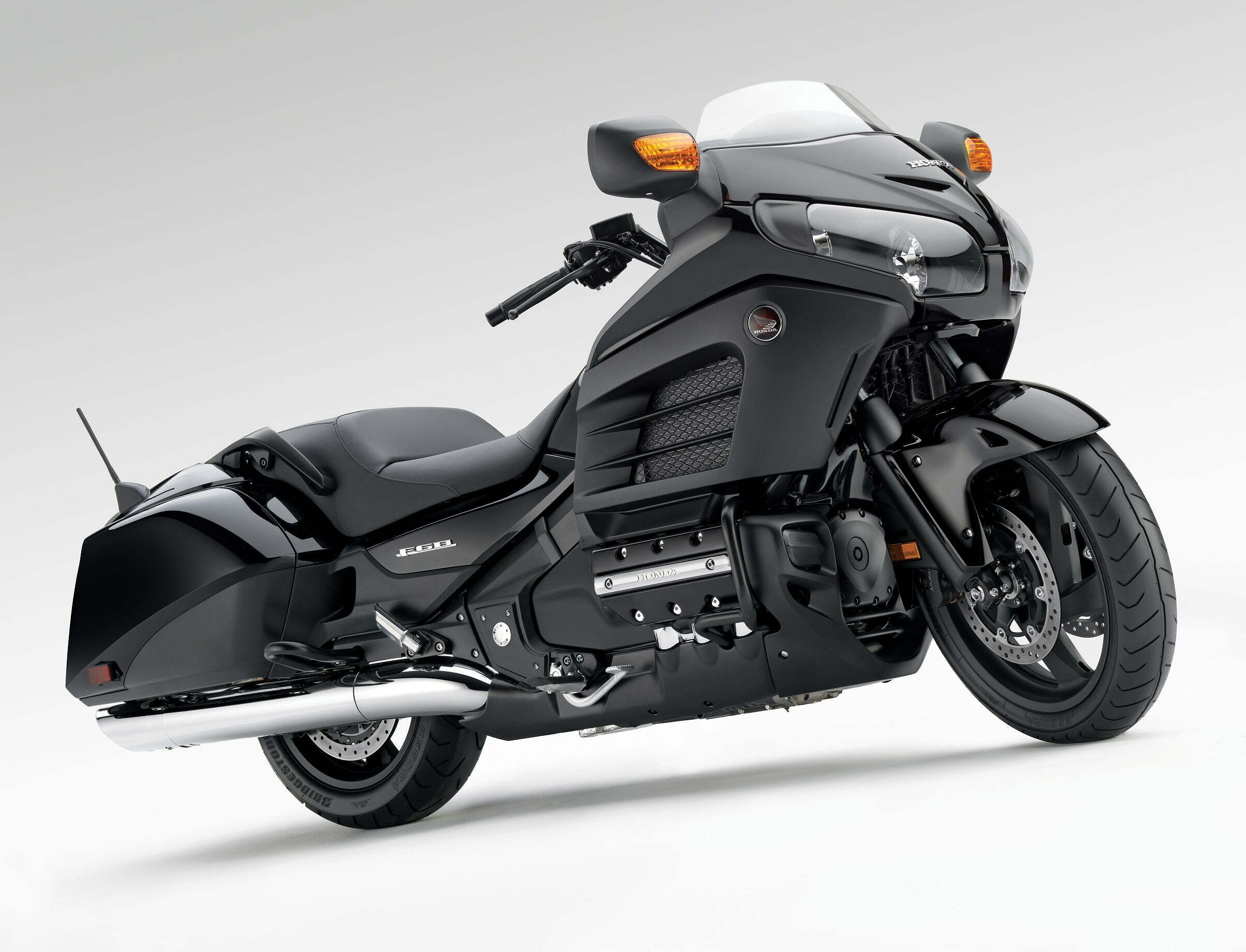 Honda F6B
Stripped down, blacked out, and slicked up. When the F6B was first announced in 2013, many of the Honda faithful did a double take; here was the company (once again) messing with one of its most sacred cows, the evergreen Gold Wing. What the hell? Big Red's bold attempt to tap into the bagger lifestyle crowd may have been seen as just a knee-jerk styling exercise at the time, but in practice, we liked riding it even more than the standard Gold Wing, loving the "ridiculously linear, instantaneous power," and handling that "works in a way its bigger brother simply can't match." Plus we liked the fact that the F6B looked "much, much cooler than your Grandpappy's Gold Wing."
The gist of it was that "Honda's post-modern bagger carried the basic chassis and six-cylinder engine of the standard Wing, but chopped the top case. Other contemporary cues come in the form of a shorty windscreen…, a restyled lower cowl, and the now ubiquitous blacked-out treatment to engine, frame, and wheels." In transforming one of the most capable touring machines into a touring cruiser, we felt that Big Red created something else entirely: a performance bike for a whole new audience—with just a few basic changes.
Related: 2013 Honda Gold Wing F6B GL1800B/GL1800BD | First Look
Indian Chief
Perhaps the story of the decade was the Sturgis introduction of the all-new, Thunder Stroke 111-powered Indian Chief (along with stablemates the Vintage and Chieftain) in 2014, the company now under the stewardship of Polaris. The anticipation for the resurrected brand had been building for years and expectations were high at the launch. To their credit, the all-new Indians did not disappoint; after our first ride we called the new Indian Chief "a massive evolutionary step forward…in terms of fit, quality, and performance." With its vintage lines, abundant chrome, and beautifully valanced fenders the bike was a looker, but it was also a mechanical gem, based on an aluminum chassis and an exquisitely finished yet burly V-twin. We were thoroughly impressed by that "beautifully engineered Thunder Stroke 111 engine—counterbalanced, fuel injected, and driven by wire, the Stroke puts out claimed max torque of 119 pound-feet at 3,000 rpm via a six-speed transmission." We concluded by saying, "It's the real deal, impeccably engi­neered with top-shelf finish, yet priced competitively," and "as far as entrances go, the company has made a grand one." It's also incredibly impressive to see just how far Indian has advanced its entire lineup in just six short years.
Related: First Ride 2014 Indian Chief & Vintage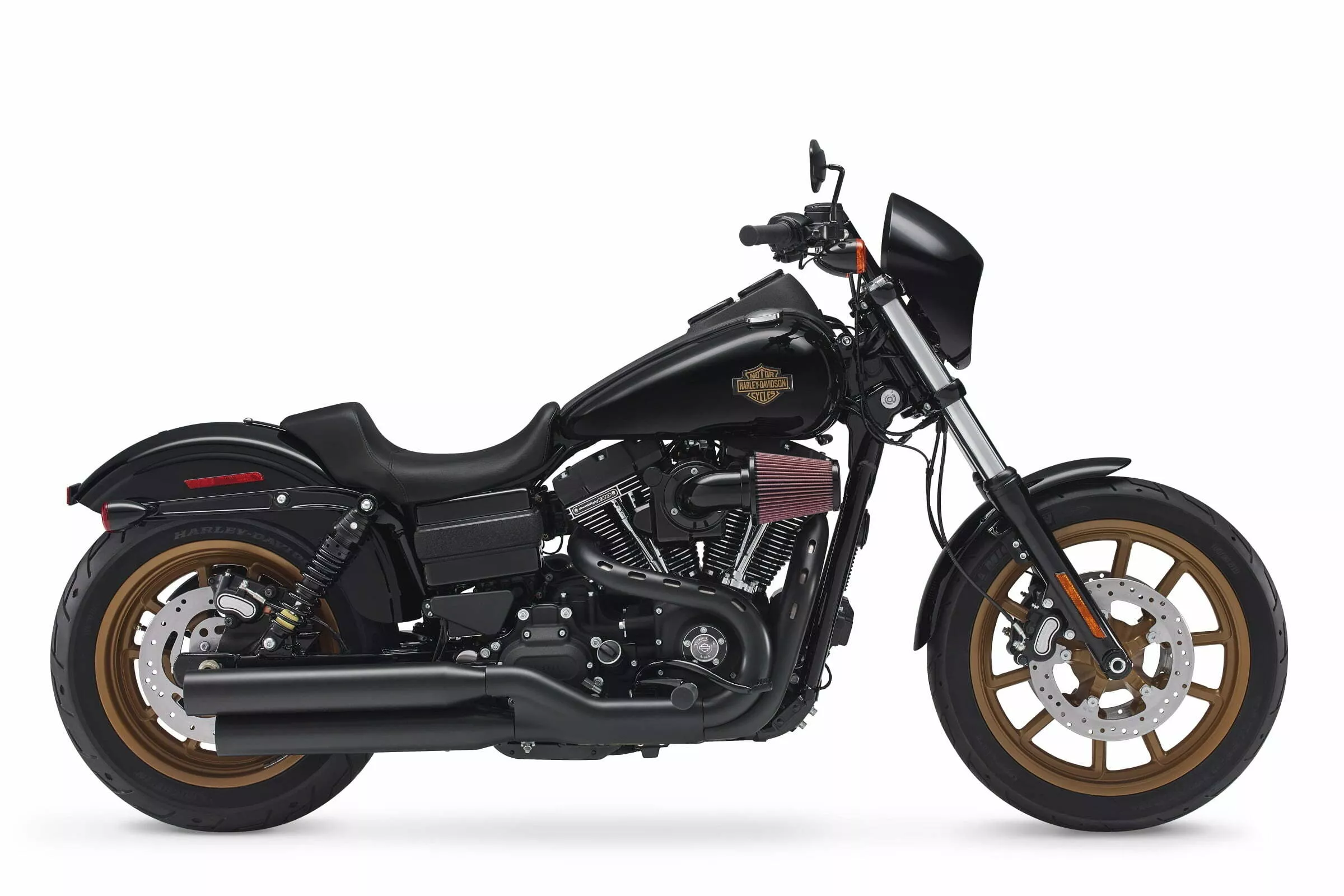 Harley-Davidson Low Rider S (2016)
Okay, okay, so it's a Dyna. And we felt the newer 2020 Softail-based Low Rider S was in fact "lighter and faster than its predecessors." But that bike will be talked about in the next decade roundup; the 2016 Dyna Low Rider made its mark on a generation—ask anyone. Cycle World called the Low Rider S "the best cruiser Harley-Davidson has ever made"; Motorcyclist said it was "the best Dyna ever to wear those [bar-and-shield] badges." We were a bit more matter-of-fact in our look at the 2016 rig, saying, "The best-handling model in the H-D lineup has finally got the big engine boost that we've been waiting for, as well as upgraded suspension and brakes." But no matter who you're talking to, the 2016 Low Rider S was widely regarded as the best new model in Harley's lineup, with almost every journo calling out the fact that it turned and stopped better than anything from Milwaukee prior to that, with a Screamin' Eagle Twin Cam motor bringing just the right amount of rumble and absolutely shining in that application. The styling also got a pretty universal thumbs-up, with a slick chopped rear fender right out of a custom shop, wide bars, gorgeous teardrop gas tank, and the badass Magnum Gold split five-spoked cast aluminum wheels acting as exclamation points.
Related: 2016 Harley-Davidson Dyna Low Rider S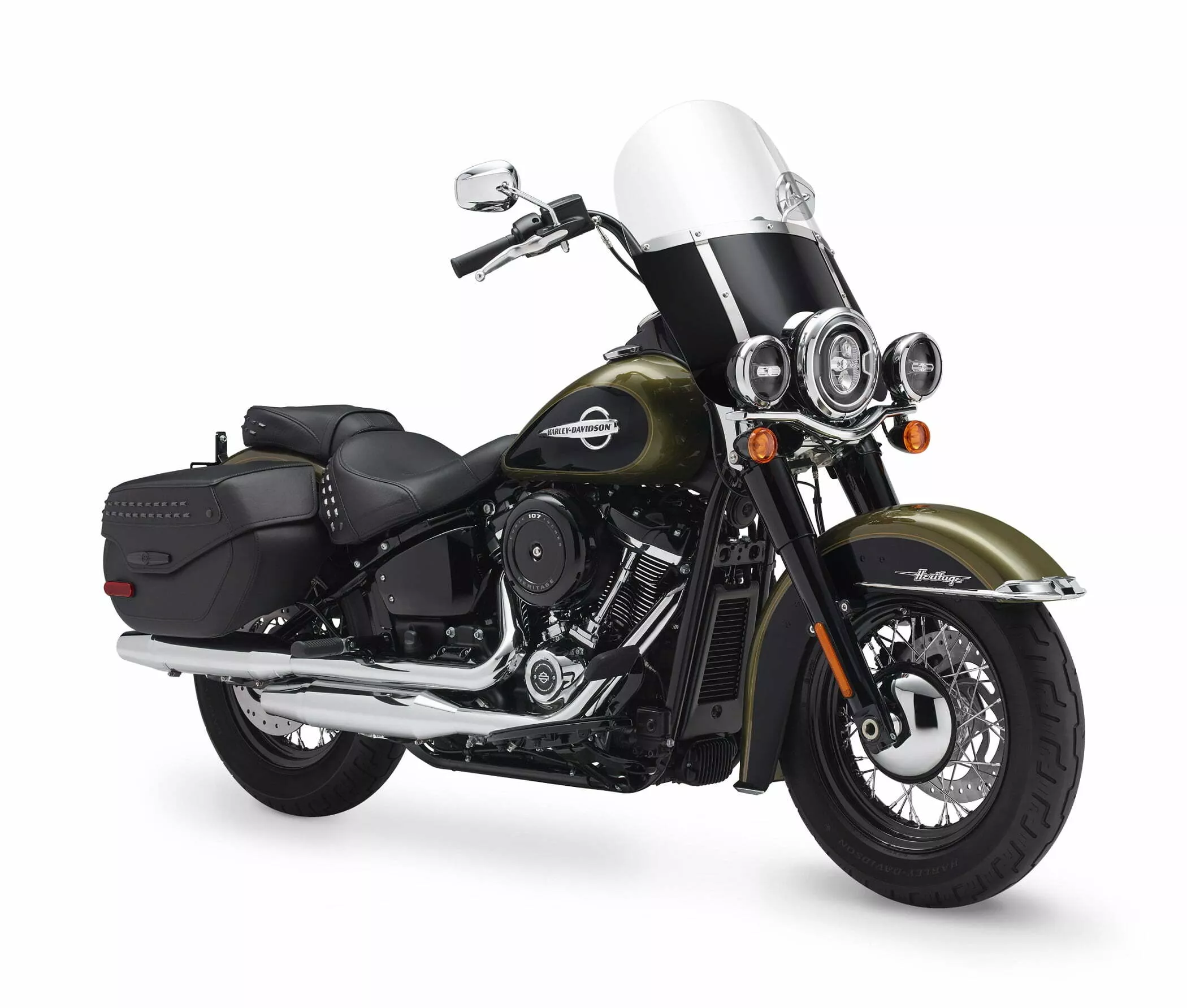 Harley-Davidson Softail Line (and Milwaukee-Eight engine)
Yes, a manufacturer's entire lineup of new motorcycles made the cut for headline news of the 2010s. And because it was Harley-Davidson, naturally it was a huge deal—eight new models rolled out all at once.
The beating heart of all those new Softails was the Milwaukee-Eight engine which itself debuted in 2016; that was also a massive undertaking, being H-D's first totally redesigned powerplant since the Twin Cam 88 in 1999. But it all came down to the big unveil of the new Softail line for 2018, at the time the largest product development project in H-D's 115-year history. The consensus was, overall, that Harley had hit a Grand Slam: Of the new Fat Boy, Low Rider, Deluxe, Heritage Classic, Breakout, Fat Bob, Street Bob, and Slim, we said, these "are not your old Softail… This is a set of new bikes, and they're awesome." We went on: "The new chassis design is a vast improvement, and the addition of the Milwaukee-Eight improved the ride in a huge variety of ways." We capped it off with, "They have the look and sounds that I've always loved, it's just no longer coming from an antiquated bike. Riders have asked Harley-Davidson to produce something modern that would compete with other motorcycles in the category without having to rely so heavily on emotion, and I think they did it exceptionally well."
Related: 2018 Harley-Davidson Softail Line: First Ride Review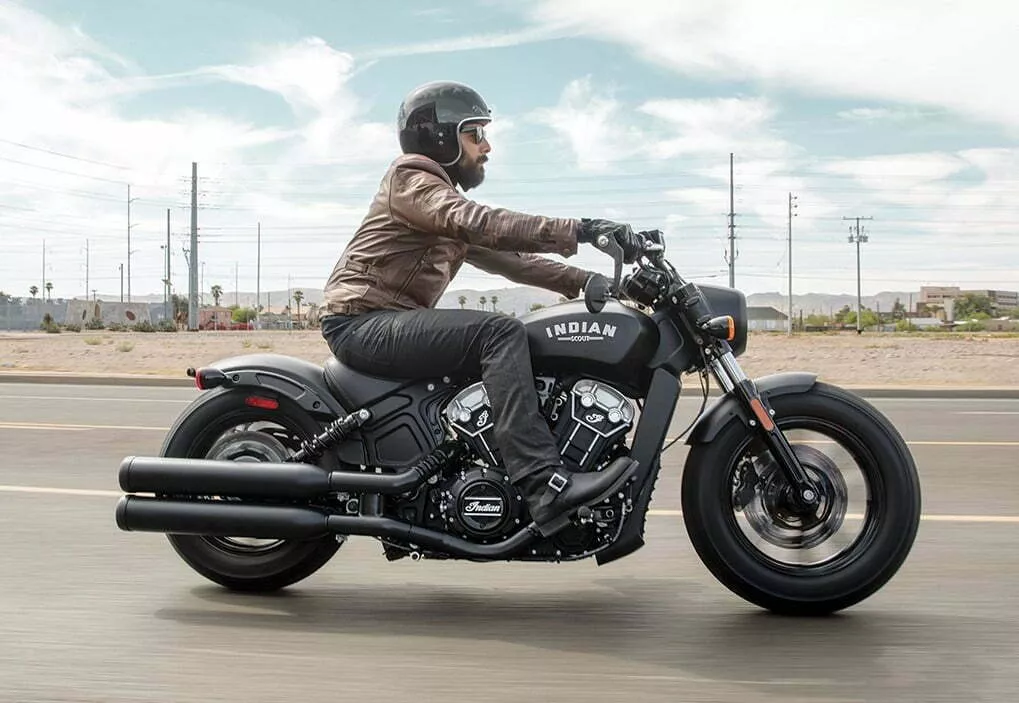 Indian Scout
Indian's Scout redefined what an American cruiser looks like when it first debuted, and several moto mags picked it as their top choice for the 2015 model year. We felt the bike's liquid-cooled 69ci V-twin proved itself a worthy foil to the air-cooled Big Twins that had long dominated the industry, and the cast aluminum frame also delivered some surprisingly excellent handling characteristics. Frankly we weren't used to a middleweight cruiser with this much style, class, and performance—despite the chunky 130 front tire, it steered lightly and precisely, with a nicely consistent ride quality to boot. The engine, we speculated, had much more power to untap, and Indian has expanded upon it with a line that now includes the Scout Bobber and Scout Sixty. It's one of Indian's most accessible, sporty, and well-balanced platforms, no matter what kind (or size) of rider you are.
Related: 2016 Indian Scout ABS
Triumph Bonneville / Street Twin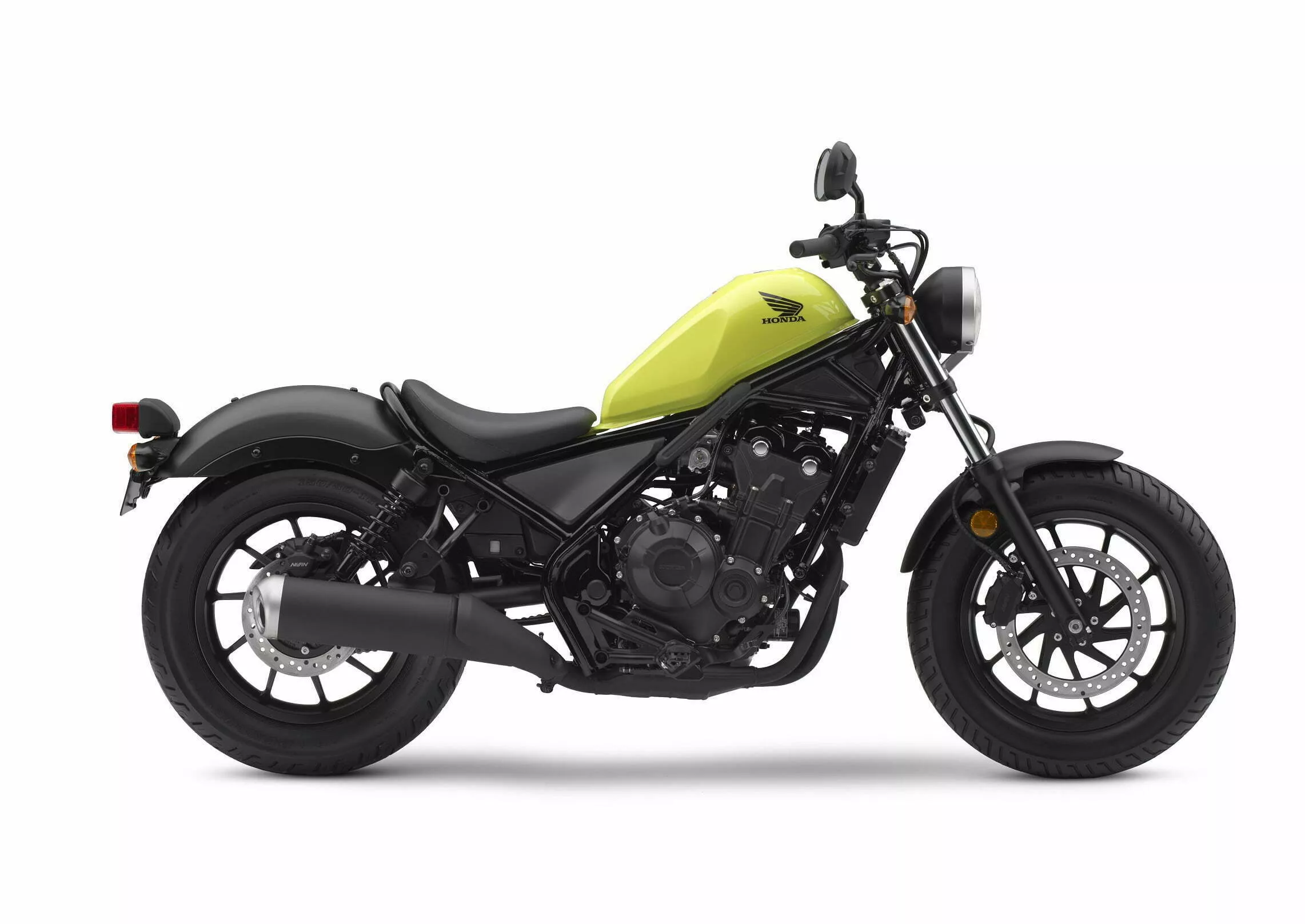 Honda Rebel 300 / 500
Much like the original Rebel put its stamp on the 1980s, the modern iteration spoke to the more minimal trends of the 2010s. The Rebel 300 was our Cruiser of the Year in 2017 for a variety of indisputable reasons, including price and performance. With one chassis supporting two engine/model variations, the Honda Rebel 300 and 500 were not the most technologically advanced, or even badass bikes; their strength was in their simplicity, and ability to put new riders on bikes. The new Rebels are lightweight, narrow, and comfortable for a range of different-size riders, fitting everyone relatively well despite their compact size. These versatile ergonomics, the smooth delivery of power, and extremely affordable price tag make for an awesome daily commuter, capable weekend fun machine, and much much more.
Honorable Mention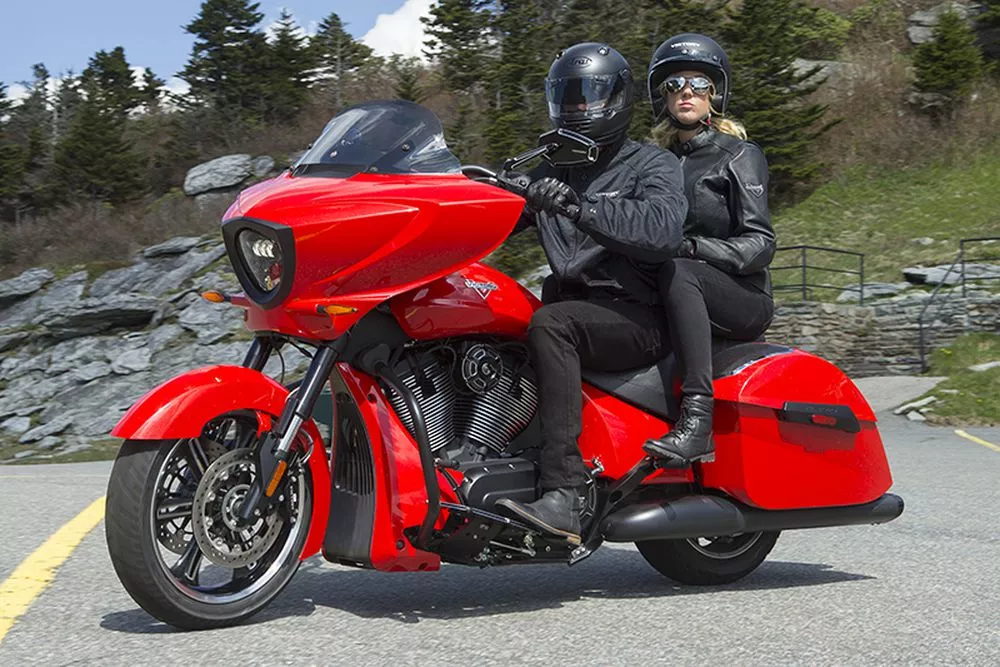 2010 Victory Cross Roads
We couldn't leave the 2010s behind without mentioning Victory at least once; the brand ripped a big, greasy treadmark on the decade with its unique package of American V-twin power and stylized lines. Some of the designs were awesome; some not so much. We were most smitten with the Cross Roads (and the more touring-oriented Country) for its sweet combination of good looks, comfort, and class-leading handling. RIP, Victory.
Related: Long-Term Bikes | 2011 Victory Cross Roads
The Leather Tuxedo Set | 2012 Victory Cross Roads LE VS. 2012 Harley-Davidson Road King Classic