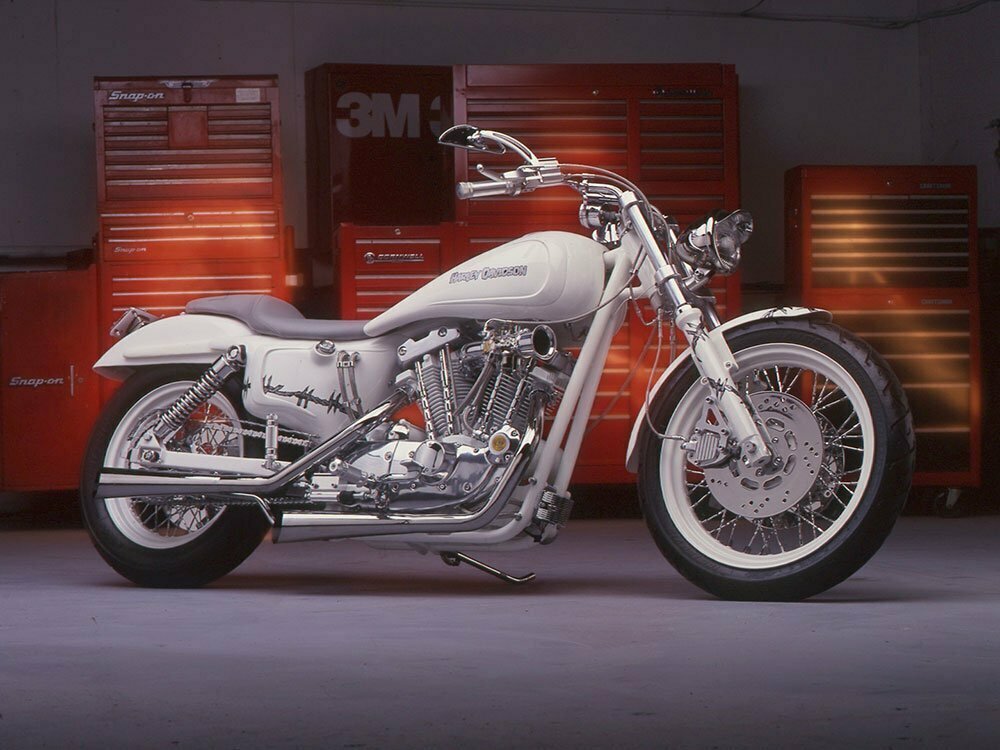 As customizers go, Andy Drobnjakovic is a relative newcomer to the art. He has custom-fabricated parts for over 50 bikes and painted many more, but has only constructed five complete motorcycles. And even though that's not very many, his stock in the customizing world is steadily increasing. Some of the bikes he's built are subtle, some are gaudy, but they all were made to order according to the explicit require­ments of each customer.
All, that is, except this sweet, black-and-white Sportster. No one ordered it; rather, this bike was rescued. When Drobnja­ko­vic, who hails from Brook Park, Ohio, found the Sporty, it was one of those lost, forsaken bikes that calls out to you like a homeless puppy shivering on the side of the road. If no one takes pity on it, it soon will end up in some boneyard or be abandoned in a desolate location. "The bike was all black-primered,"recalls Drobnjakovic, "and it was just hurt. It really needed some serious attention."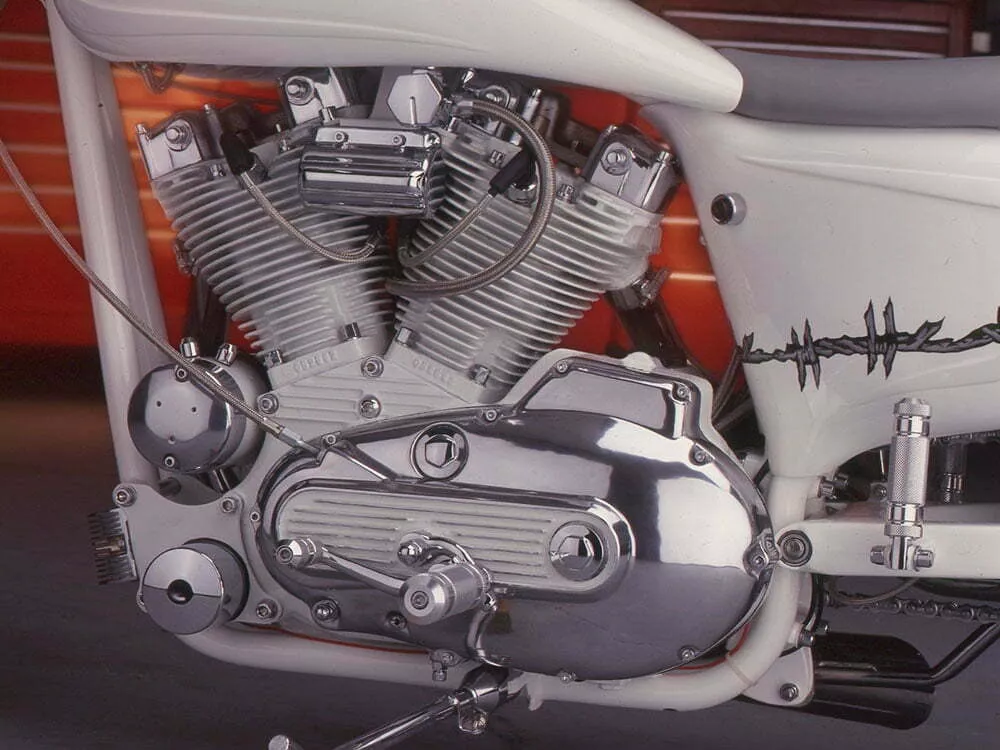 Being the tender-hearted sort, Drobnjakovic (who's of Serbian ancestry) took pity on the poor Sporty. He allowed it to more or less follow him home where he could give it shelter and some much-needed tender loving care. And after contemplating his options, he decided to rebuild and customize it.
"It's an '83 XL1100 Sportster," says Drobn­jakovic, "and the idea of making a custom out of it really appealed to me mostly be­cause nobody is doing iron-head Sportsters these days. I thought this would be more of a challenge, kind of like an 'I'll show you' bike. I also wanted to give it a sleek look with some body panels and make a clean break from tradition. I want­ed to turn it into something you really wouldn't expect from a Sportster."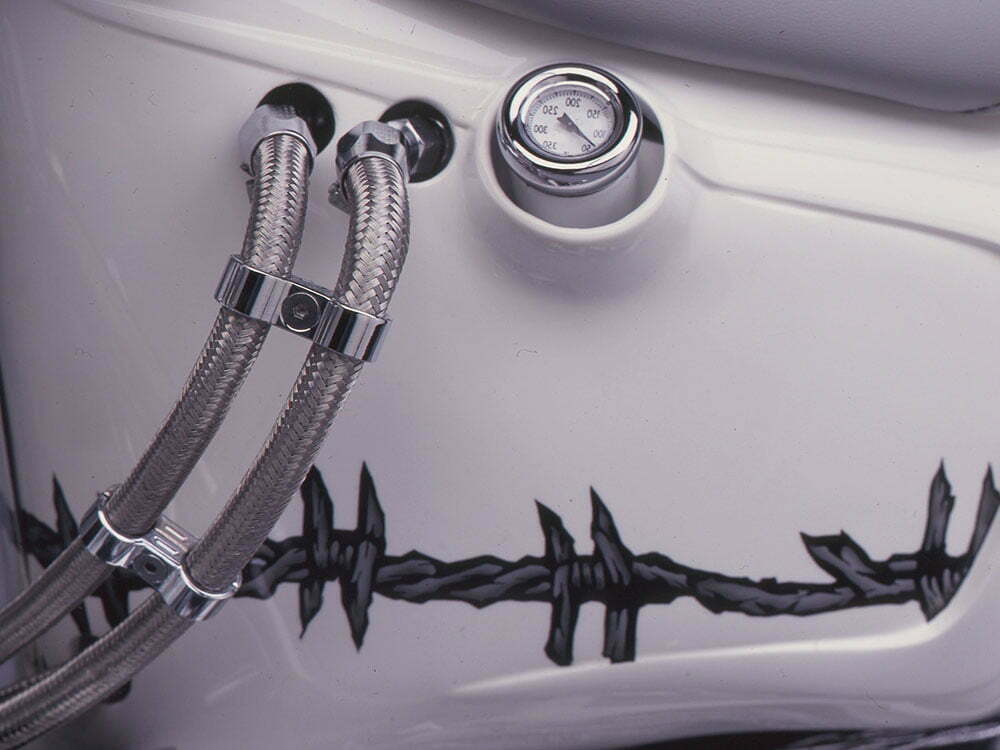 Drobnjakovic's first order of business was to send the frame to Donnie Smith, the master of Sportster frame and neck work, to have it stretched four inches and raked to 38 degrees. Once Drobnjakovic stretched the swingarm 21/2 inches, the bike had grown close to a foot longer than stock. Drobnja­kovic made the rear fender by starting out with an FL front fender and fabricating new mounting struts. The gas tank is an old FXR unit that he cut and stretched. The bike was far from finished, but already, it wasn't your traditional Sportster.
Drobnjakovic decided to leave the motor basically stock. "I made the intake manifold for it to give it an aggressive look," he says. "It shoots out forward, something that Arlen Ness has done before, and people seem to really like it." But that was the extent of the engine work.
It was about this time in the project when Andy's younger brother, Michael, saw the Sportster and fell in love with it. He started regularly coming over to Andy's house to check on the bike's progress and admire its long, sultry lines. Being a biker himself, he appreciated the work of art that was unfolding before his eyes. "For some reason," says Andy, "Michael liked this bike better than any other one I had ever created. He just loved it." Although Michael had never worked in the motorcycle business, he was an avid rider, and his big brother was his hero—so much so that he constantly encouraged Andy to stay with customizing, insisting that he had the talent re­quired to be a great bike builder.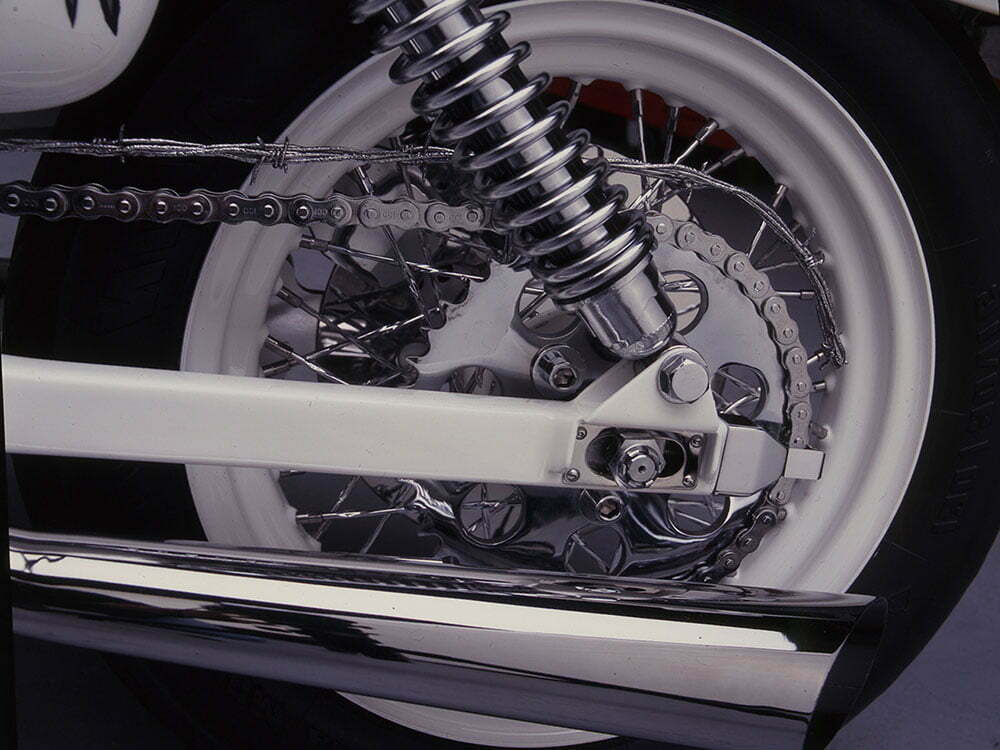 Work was progressing smoothly and both brothers were enjoying the sight of the ugly duckling slowly being transformed into an elegant swan. Then the unthinkable happened. While on a motorcycle ride with two friends, Michael was killed by a drunk driver who ran a redlight and crashed into all three riders.
After Michael's death, Andy was so heartbroken that he could barely bring himself to do any work on the Sportster. Progress on the project came to a virtual standstill. The forlorn bike that had barely survived a sad past was in grave danger of being abandoned once again. "I would look at it every day," says Andy, "and I would just pick at it, doing a little here, a little there. Finally, one day I just put everything else aside and said, hey, I've got to get this thing done."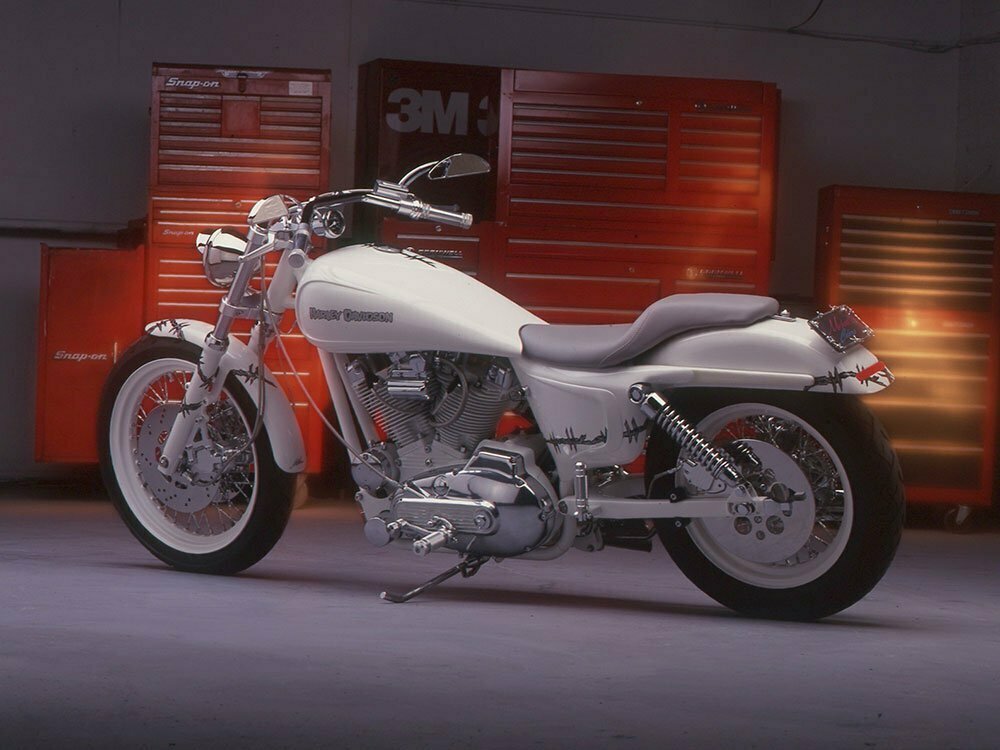 And so he did. Andy worked feverishly and continuously until every last detail was re­fined to perfection. He didn't stop until he could look at the sparkling, reborn Sportster that his brother had loved so much and say, with authority, it's finished.
We asked Drobnjakovic if he ever rides the bike, and he told us that, out of respect for Michael, he doesn't, and that he won't for a while. Maybe some time in the future he might ride it, he says, perhaps when the sorrow diminishes and some of the hurt goes away. Maybe when he doesn't see his brother's reflection in the Sportster's paint.
For now, the immaculate white Sporty sits peacefully in Andy Drobnjakovic's basement den. It's safe and warm there, where no one can harm it. And every day, Andy looks at the bike before he goes to work at his shop—the same shop and business his brother encouraged him to start.
The same business that Andy has named Michael's Colors.
This article was originally published in Cycle World's Big Twin April-May 2000 issue.
Andy Drobnjakovic wouldn't want anyone to think he's just a Sportster specialist. Nothing wrong with those unit-construction models or anything, but Drobnjakovic actually is most experienced in customizing Big Twins. His very latest effort, finished just after completion of the Sportster, is this hardtail built around a Chopper Guys frame and a mostly stock Evo engine. Drobnjakovic did all the fabrication himself, including the paintwork, as well as stretching the frame 5 inches and raking it to 38 degrees. RC wheels, Excell brakes, a BDL cover on the belt primary drive and a cool little Le Pera seat top off the details.
| Specifications | |
| --- | --- |
| Owner: | Andy Drobnjakovic |
| Base Machine: | 1983 XLH |
| Designer/Fabricator/Builder: | Andy Drobnjakovic 15325 Brook Park Rd. Brook Park, OH 44142 216/265-9216 |
| Paint and Chrome | |
| Molding: | Drobnjakovic |
| Paint: | Drobnjakovic |
| Graphics: | Drobnjakovic |
| Chrome: | Brown's |
| Polishing: | Drobnjakovic |
| Engine | |
| Year: | 1983 |
| Model: | XLH |
| Builder: | Tom Pomorny |
| Displacement: | 1100cc |
| Cases: | H-D |
| Lower end: | H-D |
| Rods: | H-D |
| Pistons: | H-D |
| Heads: | H-D |
| Cams: | H-D |
| Valves: | H-D |
| Lifters: | H-D |
| Ignition: | H-D |
| Coils/Wires: | Accel |
| Carb: | Keihin |
| Air Cleaner: | Velocity stack by Drobnjakovic |
| Pipes: | Paughco |
| Mufflers: | Paughco |
| Transmission | |
| Year: | 1983 |
| Type: | XLH |
| Clutch: | H-D |
| Primary drive: | H-D |
| Frame | |
| Year: | 1983 |
| Make: | H-D |
| Type: | XLH |
| Builder: | Donnie Smith |
| Modifications: | 34º rake, 3-inch stretch by Donnie Smith |
| Front Fork: | |
| Make: | H-D |
| Type: | FXR |
| Rear Suspension | |
| Year: | 1983 |
| Make: | H-D |
| Type: | XLH |
| Swingarm: | XLH, 21/2-inch stretch by Drobnjakovic |
| Front Wheel/Tire | |
| Wheel: | XLH, painted |
| Tire: | Avon |
| Rim width: | 16 x 4.0" |
| Brake: | GMA |
| Accessories | |
| Handlebar: | Ness |
| Risers: | None |
| Mirrors: | Ness |
| Gas tank: | FXR, modified by Drobnjakovic |
| Oil tank: | Softail |
| Front fender: | XLH, radiused & dropped |
| Rear fender: | FLH front, modified by Drobnjakovic |
| Headlight: | Paughco |
| Taillight: | Hi Tech |
| Turnsignals: | None |
| Seat: | Candy Man |
| Foot controls: | H-D |