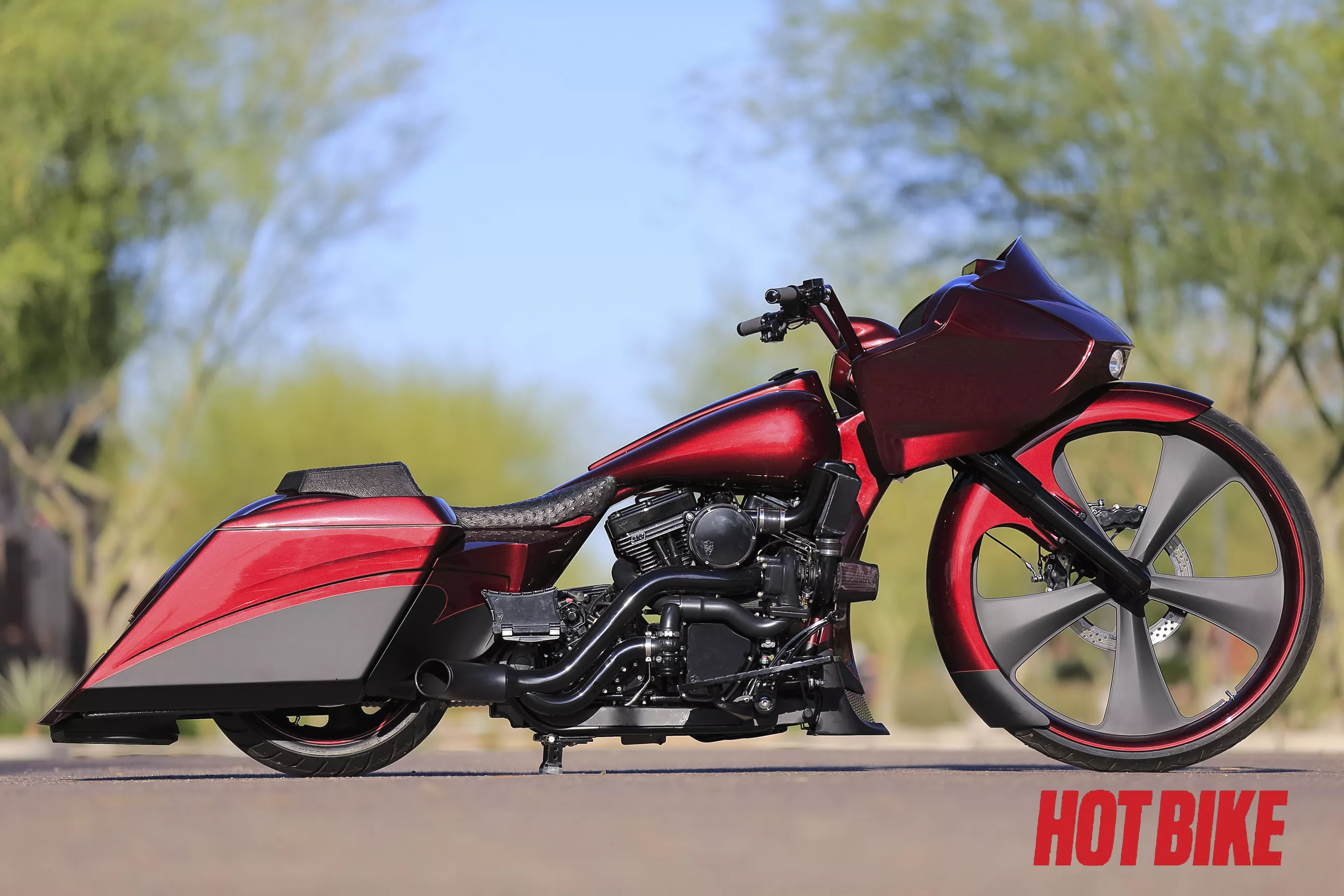 As this goes to print, I'm gearing up for the holidays and the long-standing battle between my father and I over who gets the remote when I visit for Christmas. It's his house, he's a decorated Vietnam vet, and I have a lot of respect for the man who didn't kill me every time I wrecked the car growing up, so he usually wins. Unless A Christmas Story is on TV. Then it's game on.
Like the Red Ryder BB gun in that movie, this 2013 custom Glide from Trask Performance is highly coveted by its owner. Unlike that gun, it's lousy for shooting cheesy bandits in a dream sequence.
No, this baby's all about speed. Well, speed and sweet electronics. Trask is known throughout the industry for its compact turbo system that makes big power gains while retaining dependability. It's also pretty compact for a turbo unit, so it doesn't look like a limp dick sticking out of the side of your bike (some other turbo systems can't make that claim). Nick Trask makes them in-house, along with the other accessories his company has to offer. Having said all that, Nick Trask knows his way around tuning a Harley motor. That knowledge wasn't lost on Lane Thomas who turned to Trask to transform his bike into this high-performance speed machine seen here.
This bike was already a custom bagger with a 26-inch wheel when Nick got his mitts on it. That's all well and good for most big wheelers, but Lane wanted one of the baddest bikes around. He also wanted all-day riding, tons of power, and something special in the sound department. Or, as Nick Trask puts it: "Lane wanted a bike that wouldn't just blend in but stand out from the crowd with elegance and taste. Building tough high-end bikes is what we do best, so Lane let us loose on his bike. The end result speaks for itself by making a statement but in a class all on its own."
That's a pretty bold statement. Still, this is far from Nick's first rodeo. We've been running stories on his iron since this magazine was a wee baby several years ago. Not only did Trask equip Lane's reimagined bagger with one of their own turbo systems, they muscled up the displacement to 111 inches in the process, using S&S parts throughout the motor build. The combination of turbo power and high displacement gives anyone who isn't a pro drag racer enough ponies for whatever trouble they want to get into.
Aside from the Hulk-tastic V-twin motor, there's a lot to catch the eye, too. Making the body parts flow more efficiently was the biggest challenge for Nick. The looks had to do justice to the powerplant without sacrificing feel on a long day or in a curvy road. Trask gave Lane's bike 2.0 a 30-inch front wheel to reflect the larger-than-life power coming from the motor but also used a Legend Air suspension out back so Lane can tweak ride quality to suit the road.
Beyond that, it also features an incredible electronics and audio system. Yes, we know, that's not the first time we've said that. How often do you see an iPad that slides out via a flip-out pistol holder? Lane can thank Rick at Creative Audio for that. He's the electronics wizard who not only installed that little trick (and the rest of the audio), but he also made it so all of the electronic components can be activated remotely through Lane's iPhone. You won't find a compass in the stock on Lane's ride, but that pistol-esque holster rig is pretty trick in its own right.
While I'm back home in Alaska having my annual "Christmas Battle of the Remote" with my dad, hopefully Lane Thomas is running around on his sweet custom bagger, stereo system blasting in the process. And he'll have Nick Trask to thank for that.