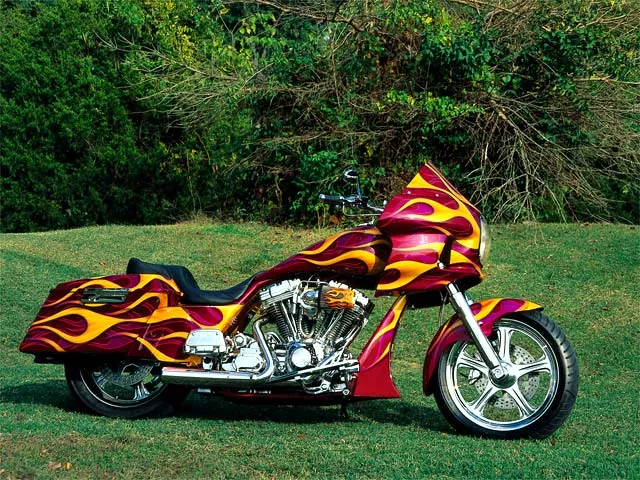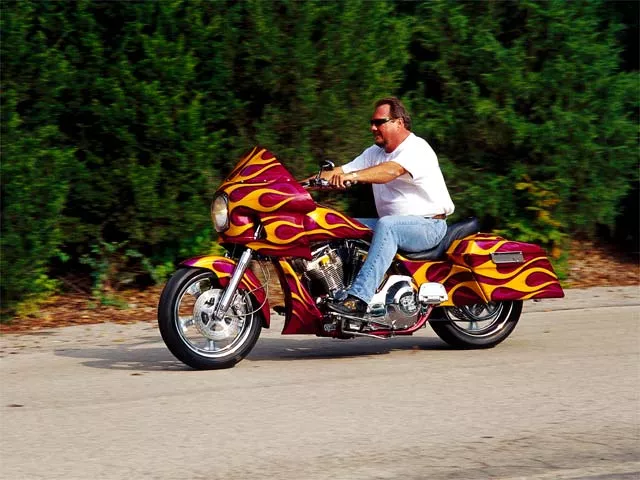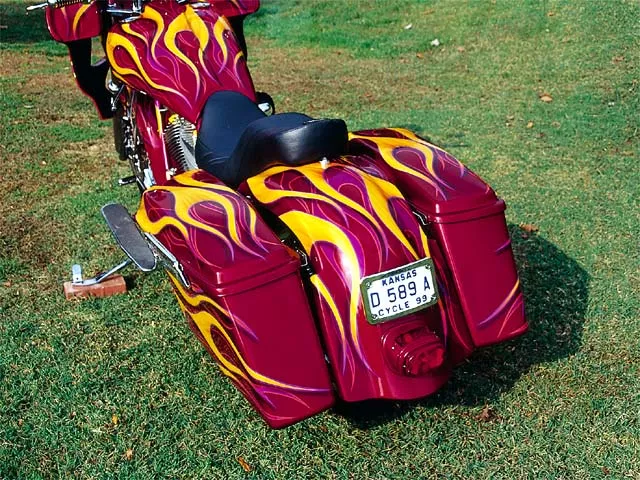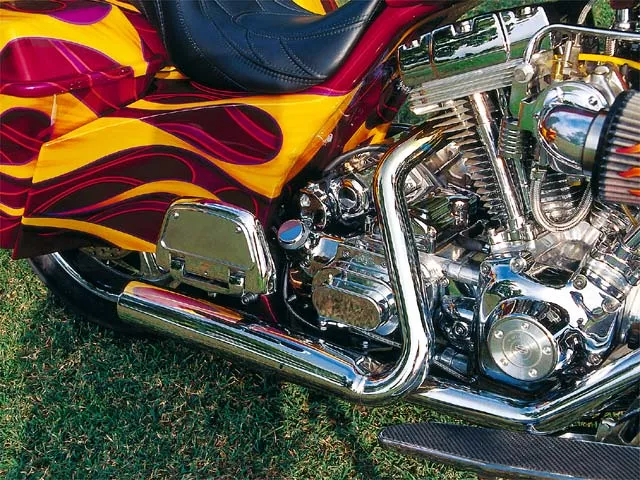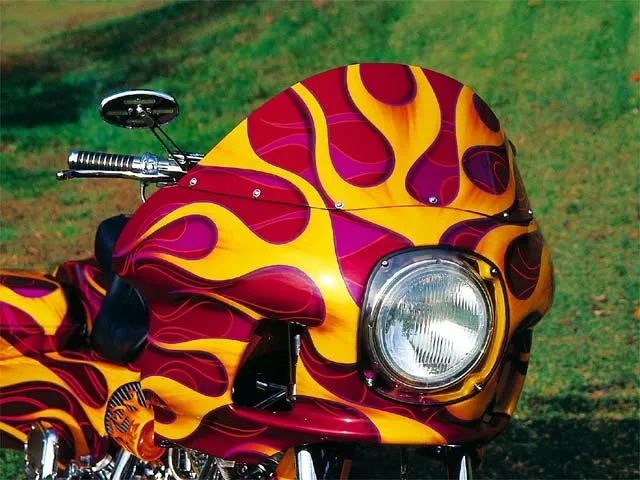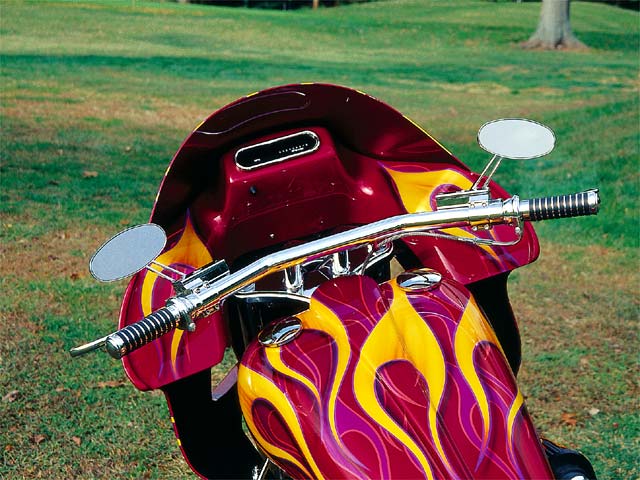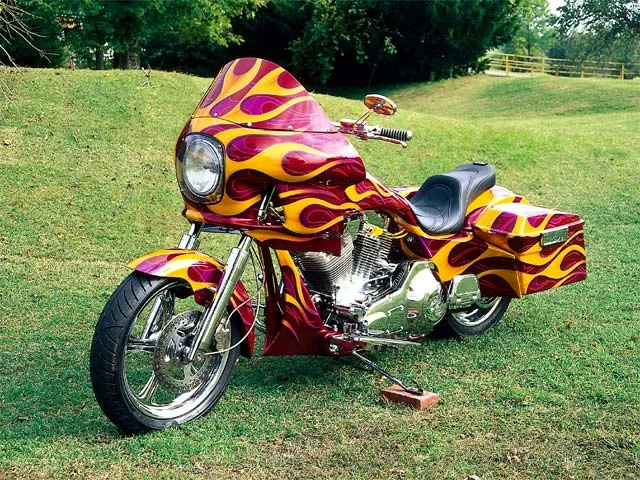 If you can get your eyes to look deeper than the incredible flame job on Kim Suter's new custom bagger, details abound. While that first glance might make you think it's a regular bagger with nice paint, you'll miss out if you don't take the time to find the well-hidden details. Kim does have a custom advantage over the average bagger owner though; he is the driving force behind K.C. Creations in Overland Park, Kansas.
Kim and his right-hand fabricator, Paul Harper, had put together a few different custom baggers for customers, when Kim decided he and his wife Cheryl deserved to travel in comfort. The first order of business was to find a well-worn FLHT as a basis for the project; a '92 popped up and things began moving quickly.
As soon as the bike hit the lift, Paul stripped it completely, leaving the frame, swingarm, and saddlebags in the keep-it pile. Frame modifications were next; 5 inches of forward stretch and kicking the neck out to 38 degrees gave the front of the bike an impressive stance.
Out back, the swingarm was flipped to help lower the entire chassis to match where Paul dropped the seat cradle down a few inches. Paul added panels to create a spoiler effect on the downtubes for more dimension in the chassis.
Suspension took an interesting twist: A 41mm MID-USA chrome fork in K.C. 4-degree trees up front and H-D air shocks in the rear — not a typical bagger assortment. Rolling stock came out of the K.C. back room; a pair of the shop's 18×3-inch 50-caliber wheels is covered with a 130 and 140 Avon. Stopping power comes from K.C. rotors and four-piston P.M. calipers.
Kim had lined up a new motor and trans for his project, but not what you might expect. He bought a brand-new 88ci Twin Cam, and shipped it to Kendall Johnson for hot rodding, displacement increases, and some darn pretty polishing by Russ Blatchford. Kendall did the heads, and added Wiseco pistons and HeadQuarters cams to match up with the modified S&S; G-carb and Forcewinder air cleaner. Kim bolted it up to an H-D primary and five-speed transmission, and his new bagger was ready to go fast.
Sheetmetal work is a specialty at K.C. Creations, so no corners were cut on this project. A Road King gas tank served as a starting point for Paul to build the stretched beauty that made its way into the project. Then a massive surround panel was fabricated to blend into the saddlebags and fill the area under the seat.
The bags were stretched and shaped a bit to work with the Ness rear fender, and a W.C.C. front fender was cut to fit the fork. As a crowning touch, an H-D FXRP fairing was given styling to match the rest of the bike. The K.C. paint crew — Scott, John, and Jason — then took over. When they finished, flames were everywhere — and they looked better each time Kim looked at them.
Final assembly was a breeze, starting with 1-1/4-inch T-bars and Mid-USA hand controls. An FXRP headlamp, Carriage Works floorboards, Drag Specialties foot controls, and a '68 FLH taillight left just one item missing — a seat. Kim knew that keeping Cheryl happy would be a good idea, so he blew off the idea of a low-profile seat and had Danny Gray construct an all-day comfort perch for the happy couple.
Kim hit the mark on this bagger — we doubt anyone around would call it a geezer-glide!