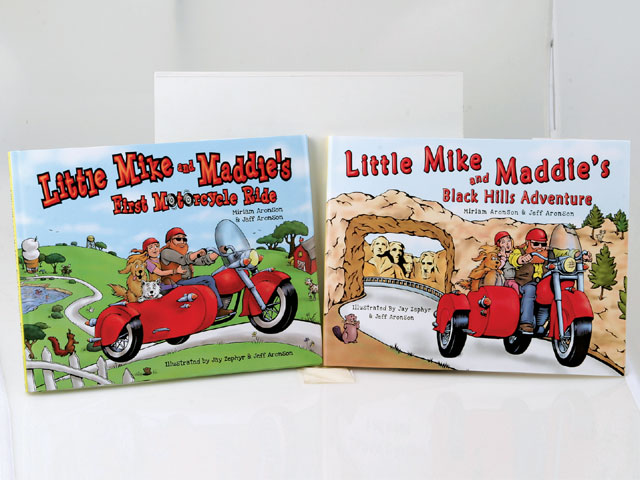 Motorcycle Media is your chance to send in media-books, DVDs, books on tape, eight-tracks, whatever-related to the motorcycle industry. Your material(s) will be checked in and reviewed by yours truly, then safeguarded on our shelves. This could be your space below. Drop your media in the slot addressed to: Motorcycle Media, HOT BIKE, 2570 E. Cerritos Ave., Anaheim, CA 92806.
Series Of Motorcycle Books For Children
If you have a child in your life, besides the usual motorcycle-related souvenirs like clothing, snow globes, keychains, and scale models, there's not too much out there for children. Authors Miriam and Jeff Aronson, both writers and riders, noticed the small niche of gifts for kids and decided to put something of their own out there to take home to the little ones. The folks at CrumbGobbler Press are offering the Aronson's Little Mike and Maddie series of motorcycle picture books for children, which are about the riding adventures of a couple of dogs.
Their debut book, Little Mike and Maddie's First Motorcycle Ride, is about a pair of dogs that receive plenty of love and treats from owners Big Bob and Amy, but what they really want is to go for a motorcycle ride. Folks can enjoy as the story unfolds from the thrill of the open road to the motorcycle adventure and the experience of riding for the first time. Debuting at the 2007 Sturgis Rally was Little Mike and Maddie's Black Hills Adventure, which is a story about the dogs' adventures in the beautiful South Dakota hills. Children and adults can enjoy the dogs' action-packed motorcycle escapades at the mother of all rallies. Watch for more exciting stories from Little Mike and Maddie and find out more information by contacting CrumbGobbler Press at (877) 490-7222, or by visiting www.crumbgobbler.com.
Choppahead's Look Into The Motorcycle Underground
We recently saw Chopper Animals and Mayhem Machines Volume 2 by Choppahead. According to the crew, the DVD is "bigger, better, and badder" than the first volume Choppahead, giving you a more inside look into the world of underground choppers and Kustom Kulture. If you're in our boat and haven't seen Volume 1, the DVD series is basically "a chopper documentary, an old skateboard video, and an episode of Jackass" all smashed together. But unlike the drama kings you might have seen building bikes on TV, this DVD crowns the home bike builder and the underground chopper scene.
Paying homage to the very essence of Kustom Kulture, the crew travels around the globe, featuring over 20 of the wildest and craziest home bike builders and customizers, as well as small shops and the underground motorcycle scene. With more than three hours of exciting footage, you'll get to watch event coverage from around the world, from bike shows in Japan to the Smokeouts in the East and West, profiles on bike shops around the globe, special features, as well as "mucho jackassery to tie it all together." Get your inside look of the Kustom Kulture and what's going on at Choppahead Kustoms by getting your copy at www.choppahead.com.